CoCo/AT1 bonds just like the rest of the bond market, had a bad year. However, they fared much better than the equity market and investment grade bonds. For example, the US CoCo/AT1 bond Index outperformed the S&P 500 that fell 19.1% and the LQD Investment Grade Bond ETF that fell 17.4% this year. With respect to the HYG High Yield ETF, the returns were similar. However, European CoCo/AT1 bonds outperformed US CoCo/AT1 bonds (as seen in the chart below). The European AT1 index fell by 6.5% during the year while the US AT1 index was down 9.8%.
The largest dollar AT1 deals in 2022 were shared between BNP Paribas, Barclays and BofA raising $2bn each. In terms of returns since issuance, Credit Agricole's 4.75% Perp was down the most, by 18.9% during the year, followed by BNP Paribas' 4.625% Perp.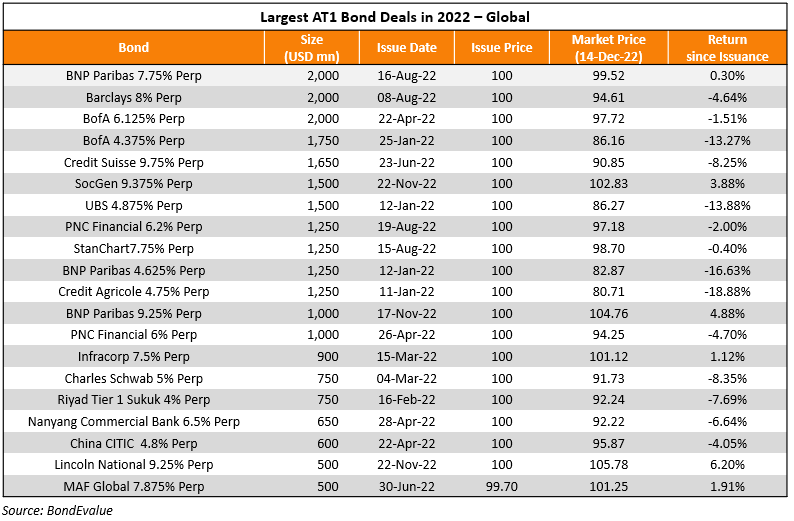 The worst performers within perpetual bonds were fixed-for-life perps. As the name suggests, these perpetual bonds do not carry a coupon reset. In a rising interest rate environment like 2022, these bonds tend to underperform as it is economically advantageous for issuers to not redeem the bonds on their call dates and continue paying lower coupons (vs. what they would have to pay if they refinanced the bonds). As a result, most fixed-for-life perps dropped from around par to lose 20-30% in value through the year. Some of them included the likes of Hong Kong corporates like NWD, Li & Fung, CK Asset and others. In this space, a noteworthy mention was German insurer Allianz that saw its dollar-denominated fixed-for-life 3.875% Perp drop 31.1% through the year  - the issuer did not redeem the bonds on the first call date of March 7 post which the note dropped over 5 points.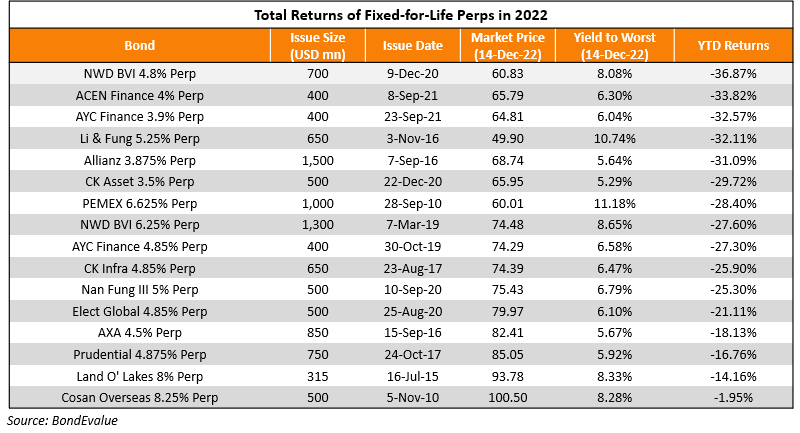 2022 saw only 20 dollar-denominated AT1 deals with the rise in interest rates being a hurdle to new issuances as it directly affected borrowing costs. Looking at the quantum of issuances, AT1 deal volumes stood at about $20bn, the lowest since 2017 that saw $19.5bn in deals. Broadly,
2022 also saw some perpetual dollar bonds that were not called on their first call date. Of notable mention were Allianz's 3.875% Fixed-for-Life Perp and FWD's 0% Perp, both of which skipped their calls. Both issuers did not mention the reason for skipping the call. Other issuers that skipped calls included Russian banks like VTB and Tinkoff that came under global sanctions.

Disclaimer
The materials and information contained herein are solely for general information reference and educational purposes only, and not intended to constitute nor as a substitute for legal, commercial and/or financial advice from an independent licensed or qualified professional. The information, opinions and views expressed herein are not, and shall not constitute an offer or a recommendation to sell, a solicitation of an offer to buy or an offer to purchase any securities, nor should it be deemed to be an offer, or a solicitation of an offer, or a recommendation, to purchase or sell any investment product or service or engage in any investment strategy.  Nothing herein has been tailored to the investment objectives or financial situation of any specific individual, are current only as of the date hereof and may be subject to change at any time without prior notice. No representation, warranty or claim whatsoever is made nor implied as to the accuracy or completeness of any material or information contained herein, nor we have no liability whatsoever for any error, inaccuracies or omissions. No reliance should be made on the materials or information herein for any investment decision, and we accept no liability whatsoever for any direct or indirect loss whatsoever which may arise from the use or reliance of any such material or information.  The business of investing is a complicated matter that requires serious financial due diligence for each investment.  No representation whatsoever on the suitability or otherwise of any securities, products, or services for any particular investor.  Each investor is solely responsible for its own independent investment decision based on its personal investment objectives, financial circumstances and risk tolerance, and should seek its own independent legal, tax and other professional advice prior to any such decision.
The inclusion of any hyperlinks or external links should not be seen as an endorsement or recommendation of that website or the views expressed therein.  We do not have any control over the content or actions of the websites we link to and will not be liable for anything that occurs in connection with the use of such websites.