The Chinese real estate sector saw a massive erosion in value this year, continuing the wave of defaults from 2021. Prominent defaults of Evergrande and Fantasia in late 2021 led to a severe liquidity squeeze acrossthe entire sector, exacerbated by an economic slowdown brought on by pandemic-related lockdowns in China. Some of the prominent defaults this year included the likes of Ronshine China, Shimao Group, Greenland Holding, China Aoyuan, R&F Properties etc. However, Beijing has announced a series of measures since November, sparing an end-of-year rally in some names including COGARD, Longfor, and Road King.
As expected, the Chinese property sector dollar bonds were the worst performer this year, down almost 38% with China high yield dollar bond index down 15.1% and the Asia ex-Japan dollar bond index down 13.4% (see chart below).
The flood of defaults and the need to avoid them saw many of these companies resort to debt restructurings. While many developers' restructurings are in plans and are likely to be detailed over the coming quarter, a few of them have already come out with restructuring details.
To access a dedicated dashboard on defaults in the Chinese real estate space, click on the button below.

As default and downgrade fears continued to haunt markets, even higher grade developers like Country Garden saw its bonds lose over 90% of its value to even trade at distressed levels of ~8 cents on the dollar at the height of fears in early November.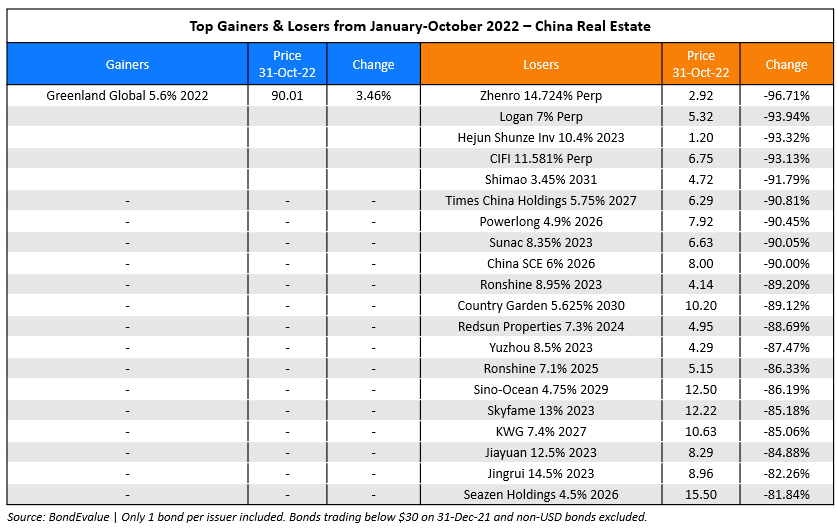 However, since November, Chinese dollar bonds saw a recovery in prices on the back of a string of relief measures from Beijing to help the property sector:
The table below shows the marked difference in the performance of these bonds since November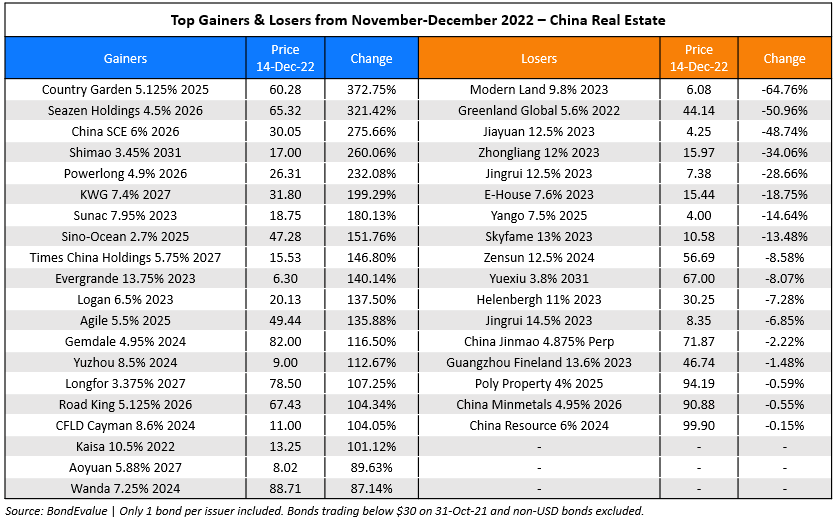 Disclaimer
The materials and information contained herein are solely for general information reference and educational purposes only, and not intended to constitute nor as a substitute for legal, commercial and/or financial advice from an independent licensed or qualified professional. The information, opinions and views expressed herein are not, and shall not constitute an offer or a recommendation to sell, a solicitation of an offer to buy or an offer to purchase any securities, nor should it be deemed to be an offer, or a solicitation of an offer, or a recommendation, to purchase or sell any investment product or service or engage in any investment strategy.  Nothing herein has been tailored to the investment objectives or financial situation of any specific individual, are current only as of the date hereof and may be subject to change at any time without prior notice. No representation, warranty or claim whatsoever is made nor implied as to the accuracy or completeness of any material or information contained herein, nor we have no liability whatsoever for any error, inaccuracies or omissions. No reliance should be made on the materials or information herein for any investment decision, and we accept no liability whatsoever for any direct or indirect loss whatsoever which may arise from the use or reliance of any such material or information.  The business of investing is a complicated matter that requires serious financial due diligence for each investment.  No representation whatsoever on the suitability or otherwise of any securities, products, or services for any particular investor.  Each investor is solely responsible for its own independent investment decision based on its personal investment objectives, financial circumstances and risk tolerance, and should seek its own independent legal, tax and other professional advice prior to any such decision.
The inclusion of any hyperlinks or external links should not be seen as an endorsement or recommendation of that website or the views expressed therein.  We do not have any control over the content or actions of the websites we link to and will not be liable for anything that occurs in connection with the use of such websites.