The first two weeks of 2023 has been one of the busiest starts to a year for the primary bond markets with $50.2bn of new corporate dollar bond deals, up 15.7% over the corresponding period last year. Issuers across regions have flooded the international bond markets with new bond issues to capitalize on the improved outlook for bonds, given slowing inflation leading to expectations of a slower Fed rate hike path ahead.
During this period, Treasuries have seen a strong rally with the 10Y and 30Y easing by over 35bp each to 3.50% and 3.61% respectively. Further, credit spreads have also eased with the US, EU and Asia ex-Japan IG spreads down 11.1bp, 10.75bp and 26bp since the start of the year to 81.58bp, 90.33bp and 132.38bp respectively. As a result, corporate and sovereign dollar bonds too have rallied with some new bond deals, particularly with longer tenors, delivering stellar returns since issuance given the higher duration.
2023 New Dollar Bond Deals – By Return Since Issuance
Among the major G3 deals globally, Hong Kong's 2053s lead in terms of return since issuance at 12.5% since it raised over $3bn via a multi-currency multi-tranche deal in the first week of the year. Among the major sovereign deals this year, other notable bonds with strong returns since issuance include Hungary's 2052s at 7.7%, Mexico's 2035s at 6% and Romania's 2053s at 5.7%.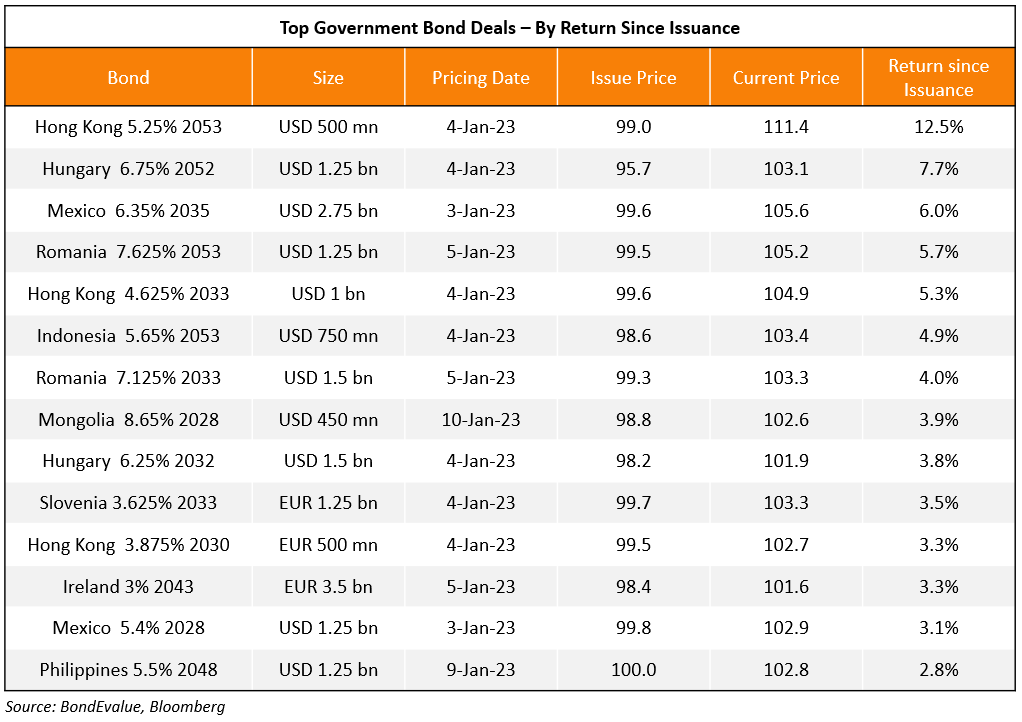 Among the new bond deals from corporates and financials, Socgen's 2053s have led the tables with returns of 7.1% since issuance, followed by KEXIM's 2033s at 5.6%, POSCO's 2033s at 4.7% and Ford's 2030s at 4.7%.