While 2022 has been an annus horribilis for most bond investors, there is opportunity looking into 2023. With rapid and aggressive rate hikes from the Fed, bond yields are now at levels not seen in over a decade. And given the uncertainty over an impending recession, bonds have emerged as the favored asset class. As the memo reads, Bonds are back. Don't just take our word for it. Some of the world's largest asset managers have thumped the table with calls to buy bonds.
"We lived in a decade and a half of the TINA [there is no alternative] world…And now it is so exciting, I think, to be in a world where there are some incredible opportunities staying very high in quality, short in duration, in the fixed-income markets and on yields that we could have only dreamed about because bonds are back — because it's BARB." –  Gargi Chaudhuri, head of investment strategy for the Americas, BlackRock's iShares
".…Value has returned to the fixed income markets. Just thinking about nominal yields, we'll start here in the United States, across the yield curve now, you could lock in a very high quality bond yield today. You could look for very high quality spread product, and very, very easily put together a portfolio up in the 6, 6 and a half, percent type yield range, without taking a lot of exposure to economically sensitivity assets." – Dan Ivascyn, Group Chief Investment Officer, PIMCO
"Investors may be able to lock in 5% bond returns for five years or more in 2023… It has been a long time since we have been able to say that."  – Kathy Jones, chief fixed-income strategist, Charles Schwab
With thousands of bonds available, it can be overwhelmingly difficult for investors to decide which bonds are worth investing in. To make things easier, we have put together an interactive bond screener – in the form of a scatter plot – to help you filter the broader dollar bond universe to find bonds that meet your custom criteria. The screeners are grouped into: Investment Grade Bonds, High Yield Bonds and Perpetual/AT1 Bonds. You can use the sliders and checkboxes to filter the bond universe by region, industry, yield range, remaining years to maturity, maturity type and rating.
How to Navigate the Bond Screener Tool:
The scatterplot tool plots all dollar bonds in our universe within a category (investment grade, high yield, AT1s) with remaining years to maturity or first call date on the X axis and yield to worst on the Y axis. Each dot represents a bond – hovering over it will give you the bond's details – coupon, maturity, current price, yield, etc.
The tool has a series of filters that you can use to narrow down the bond universe based on your custom criteria. The filters available are:
Yield: The yield slider allows you to define a yield range that you're looking for. You can click and drag the points on the slider to define the range. Eg: 5.00% – 9.00%
Region: The region checkboxes allow you to filter for bonds from your preferred regions. By default, all regions are selected. If you want to filter for specific regions, you can select the corresponding checkboxes. Eg: APAC, LatAm etc.
Industry: Similar to the region filter, you can use the industry checkboxes to select multiple industries. Eg: Banks/Financial Services
Rating: This filter lets you select for multiple credit rating ranges
For example, within HY dollar bonds, one can search for Asia ex-China and Hong Kong bonds rated BB+ to BB- that mature or are callable between 1-3Y with the following search parameters:
Region: India, Indonesia, Rest of Asia, Singapore
Years to maturity/call (X axis slider): 1 to 3
Rating: BB+ to BB-
Some of the bonds that appear in the results are listed in the table below.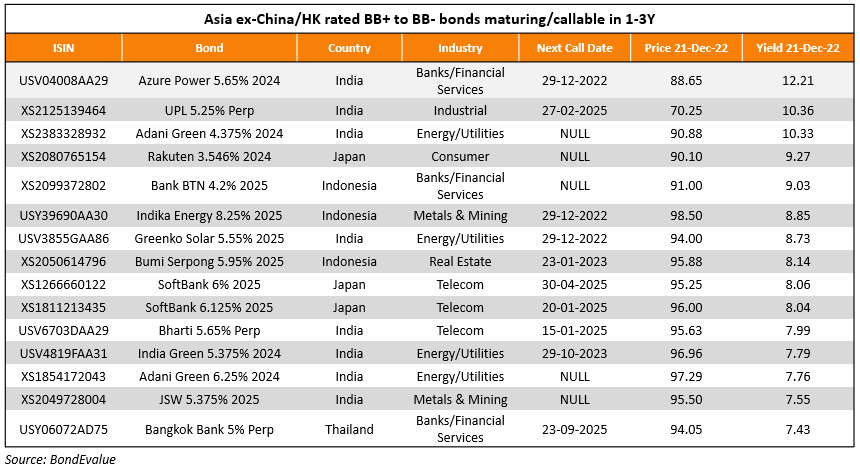 Click on the buttons below to go to the two other screeners created for Investment Grade Bonds and Perpetual/AT1 Bonds
Disclaimer
The materials and information contained herein are solely for general information reference and educational purposes only, and not intended to constitute nor as a substitute for legal, commercial and/or financial advice from an independent licensed or qualified professional. The information, opinions and views expressed herein are not, and shall not constitute an offer or a recommendation to sell, a solicitation of an offer to buy or an offer to purchase any securities, nor should it be deemed to be an offer, or a solicitation of an offer, or a recommendation, to purchase or sell any investment product or service or engage in any investment strategy.  Nothing herein has been tailored to the investment objectives or financial situation of any specific individual, are current only as of the date hereof and may be subject to change at any time without prior notice. No representation, warranty or claim whatsoever is made nor implied as to the accuracy or completeness of any material or information contained herein, nor we have no liability whatsoever for any error, inaccuracies or omissions. No reliance should be made on the materials or information herein for any investment decision, and we accept no liability whatsoever for any direct or indirect loss whatsoever which may arise from the use or reliance of any such material or information.  The business of investing is a complicated matter that requires serious financial due diligence for each investment.  No representation whatsoever on the suitability or otherwise of any securities, products, or services for any particular investor.  Each investor is solely responsible for its own independent investment decision based on its personal investment objectives, financial circumstances and risk tolerance, and should seek its own independent legal, tax and other professional advice prior to any such decision.
The inclusion of any hyperlinks or external links should not be seen as an endorsement or recommendation of that website or the views expressed therein.  We do not have any control over the content or actions of the websites we link to and will not be liable for anything that occurs in connection with the use of such websites.