US markets were mixed with S&P posting modest gains of 0.1% while Nasdaq slipped 0.2%. Citi and Wells Fargo reported strong earnings while BofA missed expectations even as the combined earnings of Citi, Wells, BofA and JPMC totaled $33bn. Consumer Staples and Real Estate up 0.9 % and IT up 0.7% provided support to the indices while Energy down 2.9% was a drag. US 10Y Treasury yields dipped 6bp to 1.34% after Fed Chair Powell said that the central bank will continue to increase its holdings of Treasury securities and that the Fed will ensure monetary policy will continue to deliver powerful support to the economy. European indices closed lower – DAX, FTSE and CAC were down 0.7%, 0.5% and 0.1% respectively. Eurostat data revealed that the euro zone industrial output fell by 1% vs. expectations of 0.2%. US IG CDS spreads were flat while HY tightened 1.7bp. EU main and crossover CDS spreads widened 0.2bp and 1.2bp respectively. Brazil's Bovespa was up 0.2%. Saudi TASI and Abu Dhabi's ADX were up 0.4% and 0.5% respectively. Asian markets are having a mixed start as traders await the Chinese growth data. The HSI and Shanghai are up 0.5% and 0.1% respectively while Nikkei and Singapore's STI are down 0.9% and 0.1% respectively. Asia ex-Japan CDS spreads were 1.9bp tighter. It's a busy Thursday for the Asian primary markets with nine new bond deals including 5 from Chinese property developers.
New Bond Issues
Kaisa Group capped $200mn 364-day sustainable notes FPG 8.65%
Agile Group $ 3.75NC2.75 sustainable bonds at 5.9% area
CSI Properties $ 4NC3 bonds at 5.75% area
Guangzhou R&F tap of $ 11.75% 2023s FPG 12.673%
Adani Electricity Mumbai $300mn 10Y SLB at T+285bp area
Minmetals Land capped $300mn 5Y sustainable bonds at 5.35% area
CCB Financial Leasing $ 5Y bonds at T+150bp area
Frasers Logistics markets S$ 7Y at 2.4% area

Jiangsu Dieshiqiao Home Textile $ 3Y credit-enhanced bonds at 2.45%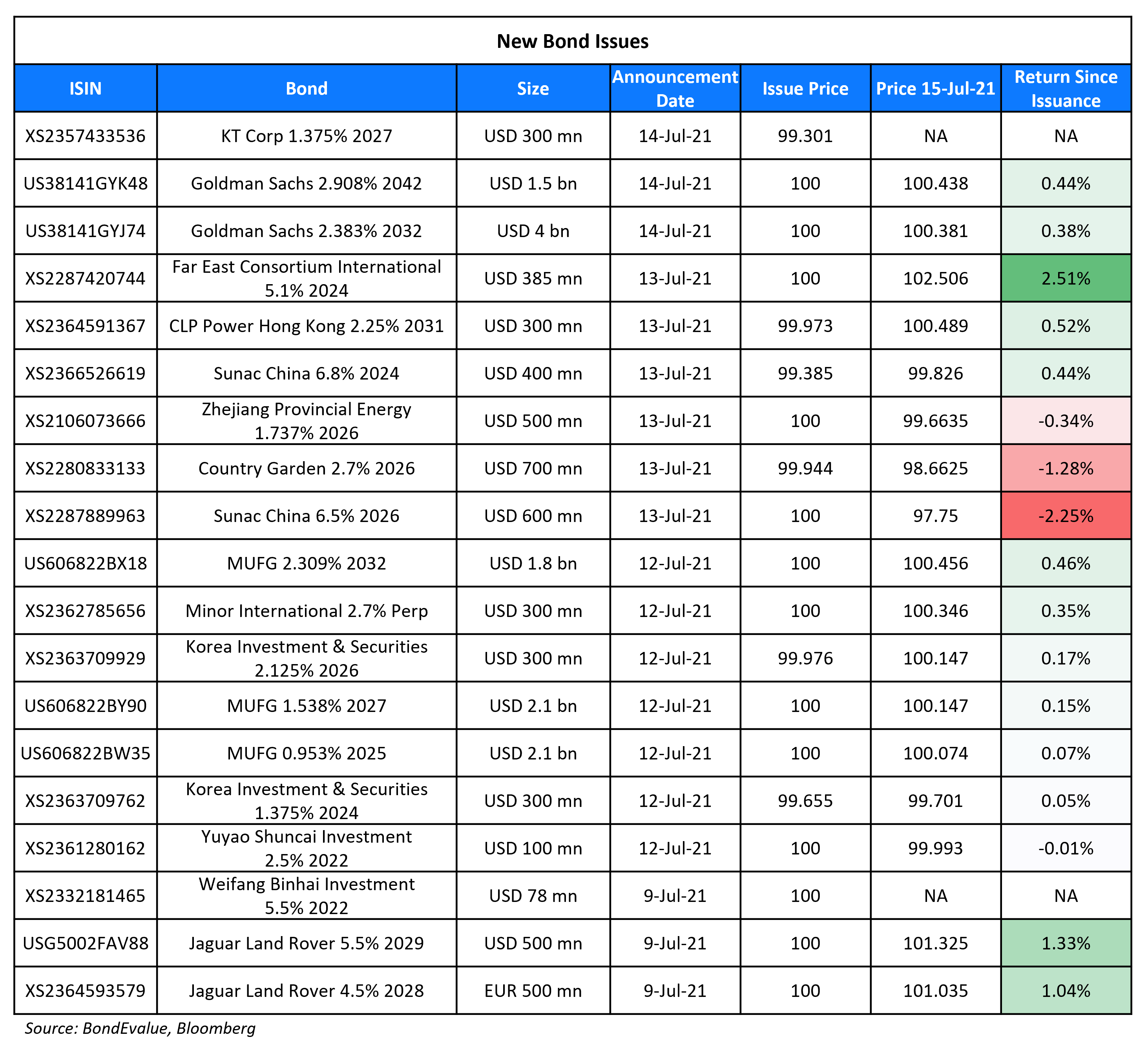 Goldman Sachs raised $5.5bn via a two-trancher. It raised $4bn via a 11NC10 bond at a yield of 2.383%, 22bp inside initial guidance of T+125bp area. It also raised $1.5bn via a 21NC20 bond at a yield of 2.908%, 25bp inside initial guidance of T+125bp area. The bonds have expected ratings of A2/BBB+/A and proceeds will be used for general corporate purposes. The new 11NC10s were priced 8.3bp over its 1.992% 2032s callable in January 2031 that currently yield 2.30%.
KT Corp raised $300mn via a 5.5Y bond at a yield of 1.508%, 32.5bp inside initial guidance of T+100bp area. The bonds have expected ratings of A3/A and received orders over $1.15bn, 3.8x issue size. Asia took 85% and the rest went to EMEA. Asset/fund managers bought 48%, insurers, pension funds, and sovereigns, supranationals and agencies 32% and banks and private banks 20%. Proceeds will be used for general corporate purposes.
New Bonds Pipeline
Temasek subsidiary Vertex Venture hires DBS for S$ bond investor calls

Nonghyup Bank hires for $ social bond
Rating Changes
Term of the Day
Greenshoe Option
A greenshoe option is an over-allotment in a security offering where the underwriter can sell more securities than the issuer initially planned if there is an oversubscription. Greenshoe options are known to be used in stock IPOs but can also be part of bond offerings. Pakistan is planning a local Sharia-compliant Sukuk up to PKR 20bn ($126mn) inclusive of a PKR 5bn ($3mn) greenshoe option where the funds will go towards helping flag carrier Pakistan International Airlines (PIA).
Talking Heads
Jerome Powell, Federal Reserve chairman
"I know people are very worried about inflation," Powell said. "We hear that loud and clear from everybody . . . it is really going through the economy and through every business." "It is still the same story. It is still the same parts of the economy that are producing this inflation. It is a pretty narrow group of things that are producing these high readings, but we are anxious like everybody else to see that inflation pass through." "We really do believe and virtually all forecasters do believe that these things will come down of their own accord as the economy reopens — it would be a mistake to act prematurely."
Frank Lucas, Oklahoma Republican lawmaker
"I'm nervous. How much longer can we sustain numbers like this before you become nervous?" "I will sleep with one eye open until these numbers begin to come down and if they do not, then I realise, like your predecessors, you'll have to take the necessary action."
Ann Wagner, Missouri Republican lawmaker
"I can tell you that the families and businesses that I represent . . . aren't feeling that these price spikes are very temporary."
David Scott, a member of Congress from Georgia
"A return to a more stable inflation rate would be indeed advantageous." "Wage increases will not keep pace, creating real hardship for people on fixed income, retirees, and low income households."
On treasuries rallying as Fed chair signals continued support
Mark Fielding, analyst at RBC Capital Markets
"Despite evident progress in terms of vaccinations and the expected reopening of global economies, markets have started to become more anxious that the expected growth rebounds might fade quicker than anticipated". "Bond yields have started to fall quite sharply again as a response."
Mark McCormick, global head of currency strategy at TD Securities
"We are likely seeing peak growth, peak inflation, and peak stimulus in many countries right now." "Markets are slowly absorbing this turning point, but with Delta [coronavirus] cases rising quickly, the outlook remains highly uncertain."
John Wraith, head of UK rates strategy at UBS
BoE policymakers "will undoubtedly still insist price pressures will be shortlived." "But the higher the rate goes in the interim, both absolutely and relative to their own forecast, the more that conviction will be undermined."
Collin Martin, fixed income strategist at Charles Schwab
"Corporations weathered the storm last year and have positioned themselves really well." "Couple that with yield-starved investors going into anything and everything that offer better than a 0% yield, and it's really the perfect storm to see spreads drop to those pre-financial crisis levels." "What kills a credit rally is the Fed tightening. More hawkish than expected rhetoric from the Fed can kill a credit rally as well." "We've seen very high inflation spikes and indications from the Fed for more hikes than anticipated. But the markets are just shrugging it off."
Tom Graff, head of fixed income at Brown Advisory
"It's a tough world as an investor, because valuations are awful but fundamentals are pretty good. Usually, fundamentals win out." "We're pretty cautious on high yield. We own some. That risk-reward is so skewed right now, but you need to be realistic. It's probably not going to go the other way anytime real soon."
Bill Ahmuty, head of the SPDR Fixed Income Group at State Street Global Advisors
"Because of all the downgrades that we saw last year, the credit quality in the market is higher than it's ever been historically." "That's helping to drive overall yields lower and spreads a little lower." "High-yield indices are higher in credit quality. You have lower projected default rates and you have this component where you're going to see rising stars over the next couple of years," he said. "There's a good fundamental backdrop there."
"Extraordinary operations are not a priority." "We must concentrate on how to bring UniCredit back to the role it deserves, giving autonomy and decision-making power to the periphery, which until now has always carried out the instructions of the centre."
Andy Maynard, a trader at investment bank China Renaissance
"Contrary to the geopolitical rhetoric, from an asset management point of view you cannot avoid looking at the Chinese market."
Thomas Gatley, analyst at Gavekal Dragonomics
"As tech loses favour, people want other sectors, and most of those sectors are better represented onshore."
Mansoor Mohi-uddin, chief economist at the Bank of Singapore
"There's a marked difference between Chinese bond yields and US Treasuries." "We'd expect that interest rate differential to continue to support the [renminbi]."
Patrick Wu, head of Asia emerging markets trading at Crédit Agricole
"People were quite bearish and underweight on Chinese bonds."
Top Gainers & Losers 15 Jul 2021*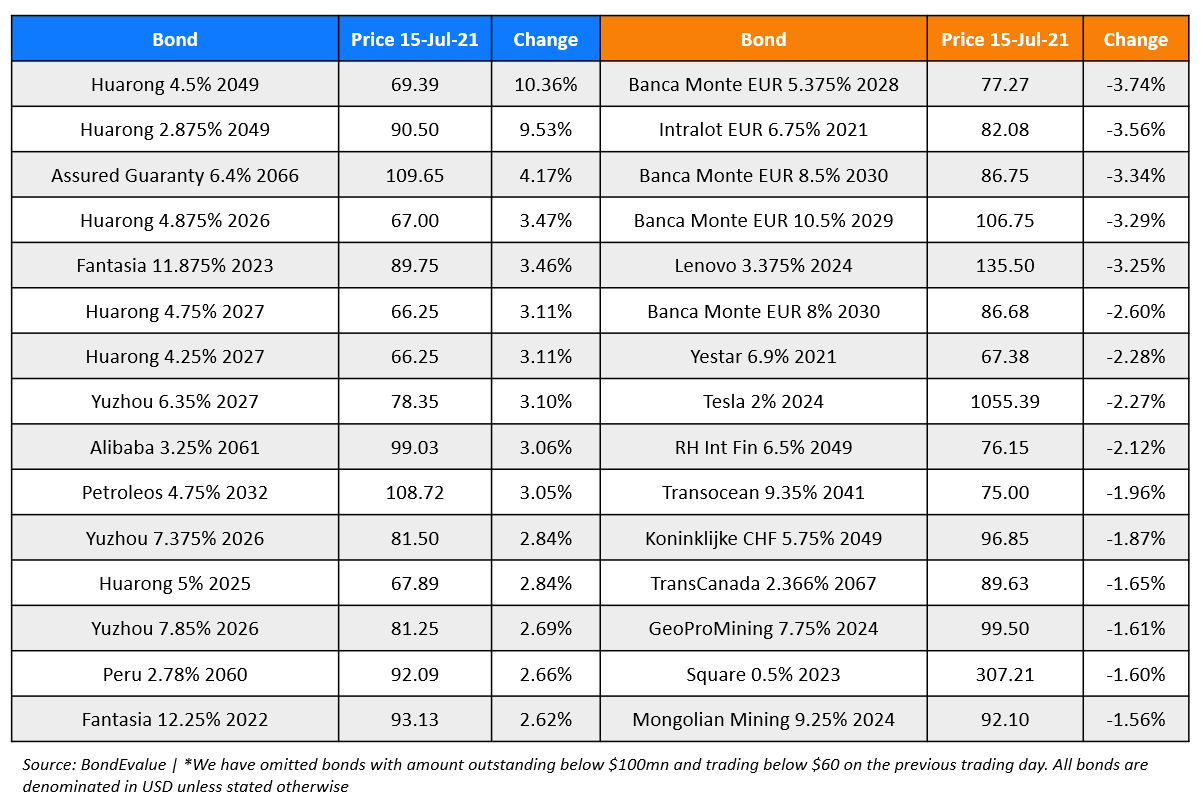 Other Stories:
QIB's Net Profits Up 12% to $438mn