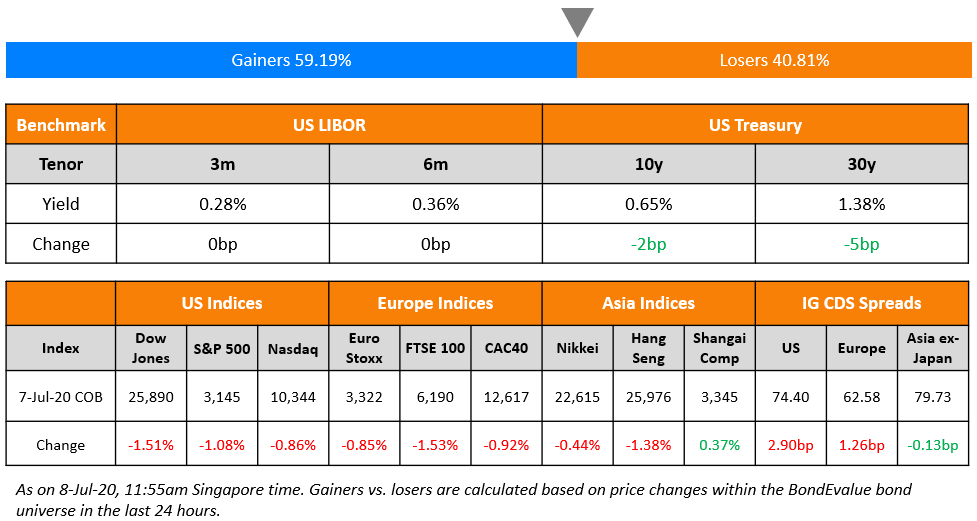 Wall Street broke its streak last night with the S&P down 1.08% as new spikes across the US fanned concerns that business re-openings may be scaled back. The Dow Jones was down 1.51% and the Nasdaq was down 0.86% after hitting a record intraday high. European stocks were also weighed down by the European Commission's warning of a deeper recession than previously thought. Treasuries found a safe haven bid and the 10Y and 30Y yields fell by 2-5bp. The Asian primary bond market continues to see issues as dollar deal momentum remains strong. Asian markets and US index futures are opening slightly higher this morning.
We have introduced new dates to our Bond Traders' Masterclass in August. Sign up now.

New Bond Issues
Overseas Chinese Town $ Perp NC3 @ 4.95% area
ABC International $ 3yr @ T+180bp area
Kaisa Group $ 3.2NC2.2/4.75NC2.75 @ 10.375/11.75% area
Yango Group $ 3.75NCNP2.25 @ 8.35% area
Bank of Communications Financial Leasing (BOCOM) raised a total of $800mn via a dual-tranche bond offering. It raised $350mn via 3Y bonds at a yield of 1.841%, 165bp over Treasuries and 35bp inside initial guidance of T+200bp area. It also raised $450mn via a 5Y floater at three-month Libor plus 170bp, 40bp inside initial guidance of 3mL+210bp area. The bonds, with expected ratings of A3/A, received final orders exceeding a total of $2.1bn, 2.x issue size.
Philippines' second largest bank by assets, Metropolitan Bank & Trust raised $500mn via 5.5Y bonds at a yield of 2.301%, 200bp above Treasuries and 35bps inside initial guidance of T+235bp area. The bond, with an expected rating of Baa2, received orders exceeding $2.5bn when final guidance was announced, 5x issue size.
Another Philippine issuer International Container Terminal Services (ICTSI) raised $300mn via perpetual non-call 6Y bonds at a yield of 5.2%, 42.5bp inside initial guidance of 5.625% area. The bond received final orders exceeding $1.35bn, 4.5x issue size. The bond's first call date is in February 2026. If the bonds are not called, the coupon will reset on May 5, 2026 and every five years thereafter to the prevailing 5Y Treasury yield plus the initial credit spread and a 250bp step-up. Royal Capital BV is the issuer and ICTSI is the guarantor. Proceeds will be used for refinancing and general corporate purposes, including funding a tender for ICTSI's $264.861m 5.5% senior perpetuals callable in May 2021 at US$1,007.50 per US$1,000 in principal amount.
Greentown China raised $300m via 5Y non-call 3Y (5NC3) at a yield of 5.65%, 55bp inside initial guidance of 6.2% area. The bonds, with an expected rating of Ba3, received final orders $3bn, 10x issue size. Greentown has also launched a cash tender offer to buy up to $150mn of its $600mn 4.55% bonds due November 2020 at a price of $1,005 plus accrued and unpaid interest per $1,000 in principal amount. The bonds are currently trading at 100.19 on the secondary markets. State-owned China Communications Construction Group, which owns 25% of the company according to Refinitiv, is the keepwell deed and deed of undertaking provider.
Huizhou-headquartered electronics company TCL Technology Group raised $300mn via 5Y bonds at a yield of 1.879%, 157.5bp above Treasuries and 57.5bp inside initial guidance of T+215bp area. The bonds, expected to be rated A1, drew final orders exceeding $1.97bn, 6.6x issue size. The bonds will be issued by wholly-owned subsidiary TCL Technology Investments and carry a standby letter of credit from Bank of China, Guangdong branch.
Rating Changes
Moody's downgrades Modernland to Ca; outlook negative
Kraft Heinz Co.'s Pound Sterling Notes Rating Lowered To 'BB+' From 'BBB-'
Coty Inc. Issuer Credit Rating Lowered To 'B-' From 'B' On High Leverage, Outlook Stable; Debt Ratings Lowered
Argentina's Foreign Currency Bonds Due 2028 And 2036 Downgraded To 'D' On Nonpayment As Restructuring Is Extended
Moody's assigns Baa3 ratings to EPM's proposed senior notes
Forum Energy Technologies Inc. Downgraded To 'CC' On Commencement Of Distressed Debt Exchange, Outlook Negative
Moody's assigns Ba3 to Greentown's new USD notes
Chinese Developer Tahoe Group Misses Local Bond Payment
Shenzhen-listed Tahoe Group failed to make an interest and principal payment of CNY 1.6bn ($228mn) on Monday "despite efforts to raise funds in many ways", the company said in an exchange filing. Tahoe, which develops luxury villas, has been facing a liquidity squeeze on the back of its large debt pile, high financing costs and a concentrated time period of debt maturities. The company had CNY 23.6bn ($3.4bn) in debt past due as of June 12, according to an exchange filing. "Due to the impact of an overall downward-trending property sector and the coronavirus pandemic, the company's inventory sell-through rate has fallen, and the sales prospect has worsened," the Fujian-based developer said. Fitch downgraded Tahoe twice in May from B- to CC while Moody's downgraded it to Caa1 from B3 in March this year. The company's 7.875% and 8.125% bonds due 2021 and 2023 dropped 15-16 points to 36 and 38 cents on the dollar on the secondary markets.
For the full story, click here
Softbank and Airtel's Green Energy JV Plans to Raise $600mn via Offshore Bonds
SB Energy, a joint venture between Japan's Softbank Group and India's Bharti Overseas, part of the Bharti Airtel group, is looking to raise $600mn via offshore bonds. The proposed five year green bonds will be issued by SB Energy Investments, a subsidiary of UK-incorporated SB Energy Holdings and will be guaranteed by 10 special purpose vehicles (Term of the day, explained below) that own five solar power projects in India with a combined capacity of 1,050 MW. The bonds are expected to be rated BB- by Fitch. According to a person familiar with the deal, "The reason behind selecting the issuing entity is the pricing cap set by RBI for any external commercial borrowing." This refers to the pricing cap set by the Indian central bank wherein Indian entities cannot raise offshore debt at a cost greater than 450bp over the Libor. According to IFR, proceeds will be used to subscribe to INR denominated debt issued by the restricted group guaranteeing the bonds. State-backed Solar Energy Corporation of India and NTPC are the sole offtakers for the solar plants under 25-year fixed-price power purchase agreements.
For the full story, click here

Sri Lanka Confident of Repaying Foreign Debt – Treasury Secretary S R Attygalle
Sri Lanka is seeking a $1bn repo from the New York Federal Reserve to boost dollar liquidity by pledging Sri Lankan assets in the US, Treasury Secretary S R Attygalle said. The central bank said it also advanced some dollars to banks through swaps and acquired forex as market jitters worsened during the start of the pandemic. Proceeds of the swap could be used to meet "contingent liquidity needs of the government," the finance ministry said.
Sri Lanka has lined up funding from several lenders including $300mn from the Asian Development Bank as well as France, the AIIB and the World Bank. They have also sought a $400mn swap from the Reserve Bank of India. Attygalle said Sri Lanka was confident of repaying foreign debt. $1bn of sovereign debt that is coming up for redemption in October will also be repaid, he said. China Development Bank has also given part of a $1.2bn loan, with the balance expected in the second half of 2020. Sri Lanka's 6.2% and 7.55% bonds due 2027 and 2030 traded ~3-4 points higher since Monday's close to 69 and 70 cents on the dollar respectively.
For the full story, click here
Term of the Day
Special Purpose Vehicle (SPV)
An SPV is a separate legal entity with its own assets and liabilities created by an organization (parent). SPVs are typically setup for a specific purpose such as issuing debt. SPVs can be in the form of limited partnerships, trusts, corporations or limited liability companies. Some benefits of setting up SPVs include:
Isolating financial risk for the organization that is setting up the SPV
Securitization of assets
Tax savings if the SPV is domiciled in a tax haven such as the Cayman Islands
Some SPVs can also be referred to as 'bankruptcy-remote entities' in that its operations are limited to the acquisition and financing of specific assets in order to isolate financial risk.
Talking Heads
On Investors Reactions to the Extended Putin Rule
Kevin Daly, senior investment manager at Aberdeen Standard Investments in London, whose firm holds OFZs
"It's mixed news – on one hand you are always concerned when a leader is extending his time in office by hook or crook," said Kevin Daly. "On the other hand you have to give credit where credit is due in terms of the fiscal management under his (Putin) leadership, which has been prudent."
Jim Rogers, veteran investor who has invested in OFZs
"Russian bonds are the only bonds I would buy now because they have high interest rates," said Jim Rogers.
Top Gainers & Losers – 8-Jul-20*