Amazon raised $12.75bn via a jumbo seven-part offering. Details are given in the table below: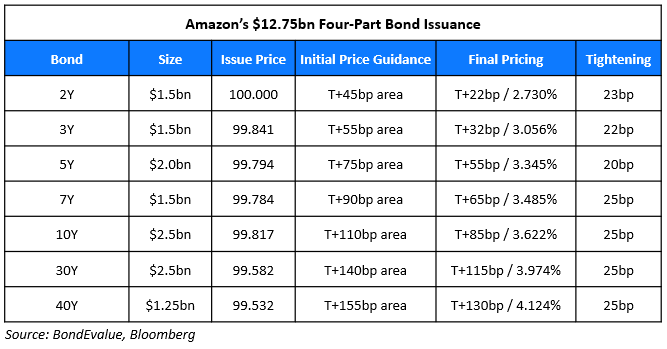 The bonds are rated A1/AA and peak orders stood at $40bn, 3.1x issue size. Bloomberg notes that Amazon had guided for an issue size of $10-12bn. Proceeds will be used for general corporate purposes, including but not limited to repayment of debt, acquisitions, investments, working capital, investments in subsidiaries, capital expenditures, and repurchases of outstanding shares of common stock. As of end-2021, Amazon's cash, cash equivalents and marketable securities were at an all-time high of $96bn. Amazon last issued bonds in May 2021, raising $18.5bn. Amazon's issuance is the second largest deal after edging past Goldman Sachs' $12bn six-part issuance in Q1. The largest deal yet in 2022 was AT&T-Discovery's $30bn 11-part deal which was also the fourth largest corporate dollar issuance ever.
The 2Y bonds were priced at a new issue premium of 23bp over its 0.45% bonds due May 2024 that currently yield 2.5%. The 30Y was priced ~9bp wider to its 3.1% bonds due May 2051 that currently yield 3.88%. The 40Y was priced ~11bp wider to its 3.25% bonds due May 2061 that currently yield 4.01%.