Temasek's Astrea VI launched the S$250mn ($186mn) retail tranche of the Class A-1 bonds this morning. The retail bonds, which has a minimum denomination of S$2,000 and in multiples of S$1,000 thereafter, carry a coupon of 3% and have a maturity of 10Y with a mandatory call in 5Y if the following conditions are met: (a) The cash set aside is sufficient to redeem all Class A-1 bonds, (b) There are no Outstanding Credit Facility loans.
As per the prospectus, if the conditions are not met by the end of 5Y, redemption will take place in any subsequent period when such conditions are met. If both the Class A-1 and A-2 bonds are not called after 5Y, the coupon would step-up by 100bp. The A-1 bonds also offer a bonus payment of 0.5% if the sponsor, Astrea Capital VI receives $421mn (50% of the issuer's equity) by March 18, 2026. The Class A-1 bonds carry a rating of A+ by Fitch and S&P. The issue will remain open to retail investors till non next Tuesday, March 16 and will list on the SGX-ST on March 19. The bonds are backed by a $1.5bn portfolio of 35 private equity funds, with the transaction flow explained in the chart below.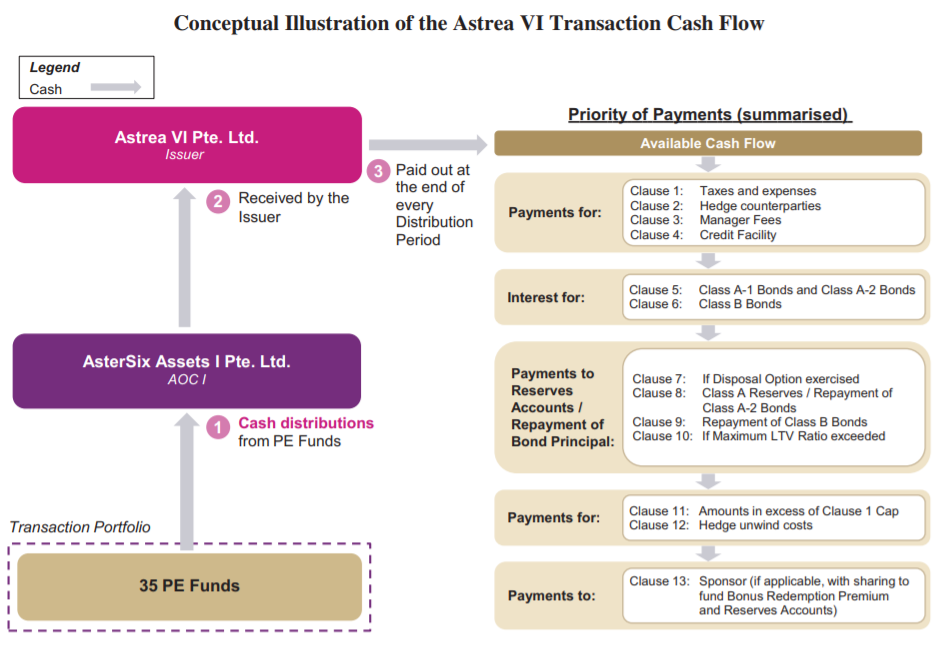 Source: Astrea VI Prospectus
The non-retail tranches were successfully placed to institutional and accredited investors on Tuesday with a strong order book of $3.2bn, 7x issue size:
S$132mn ($98mn) 10NC5 tranche of the A-1 bonds at 3%

$228mn of 10NC5 Class A-2 bonds at 3.25%

$130mn of 10Y Class B bonds at 4.35%
As per the company press release, high-quality institutions, which includes insurance companies, asset managers, endowments and foundations, accounted for 67% of orders with the balance 33% from accredited investors. 
For the Class A-1 bond prospectus, click
here