US Markets continued to hover around the record highs. S&P was up 0.3% and set another record while Nasdaq was broadly flat. Materials and Industrials up 1% led the gains, while Energy was down 1.7%. FOMC minutes did not give much clues on tapering of asset purchases. US 10Y Treasury yields dipped another 4bp to 1.31% – the lowest since February. European indices advanced with The European Commission upping GDP growth forecasts to 4.8% from 4.3% for 2021 and 4.5% from 4.4% for 2022. The DAX, FTSE and CAC were up 1.2%, 0.8% and 0.3% respectively. US IG and HY CDS spreads widened 0.4bp and 1.7bp respectively.  EU main and crossover CDS tightened 0.2bp and 2bp respectively. Saudi TASI and Abu Dhabi's ADX were down 0.1% and 0.2% respectively. Brazil's Bovespa was up 1.5%. China continues to increase its regulatory oversight over the companies listing in the US as Chinese companies' shares and ADRs are under pressure. Ride-hailing app Didi's shares have fallen over ~20% in the few days.  Asian markets opened in the red – Nikkei and Shanghai down 0.6% HSI down ~2% and Singapore's STI down 0.5%. Asia ex-Japan CDS spreads were 1.9bp wider.
Mitsubishi $ 5Y bonds at T+75bp area

Eastern Air Overseas S$ 5Y SBLC-backed note at 2.4% area

Beijing Capital Development Holding $ 5Y at T+300bp area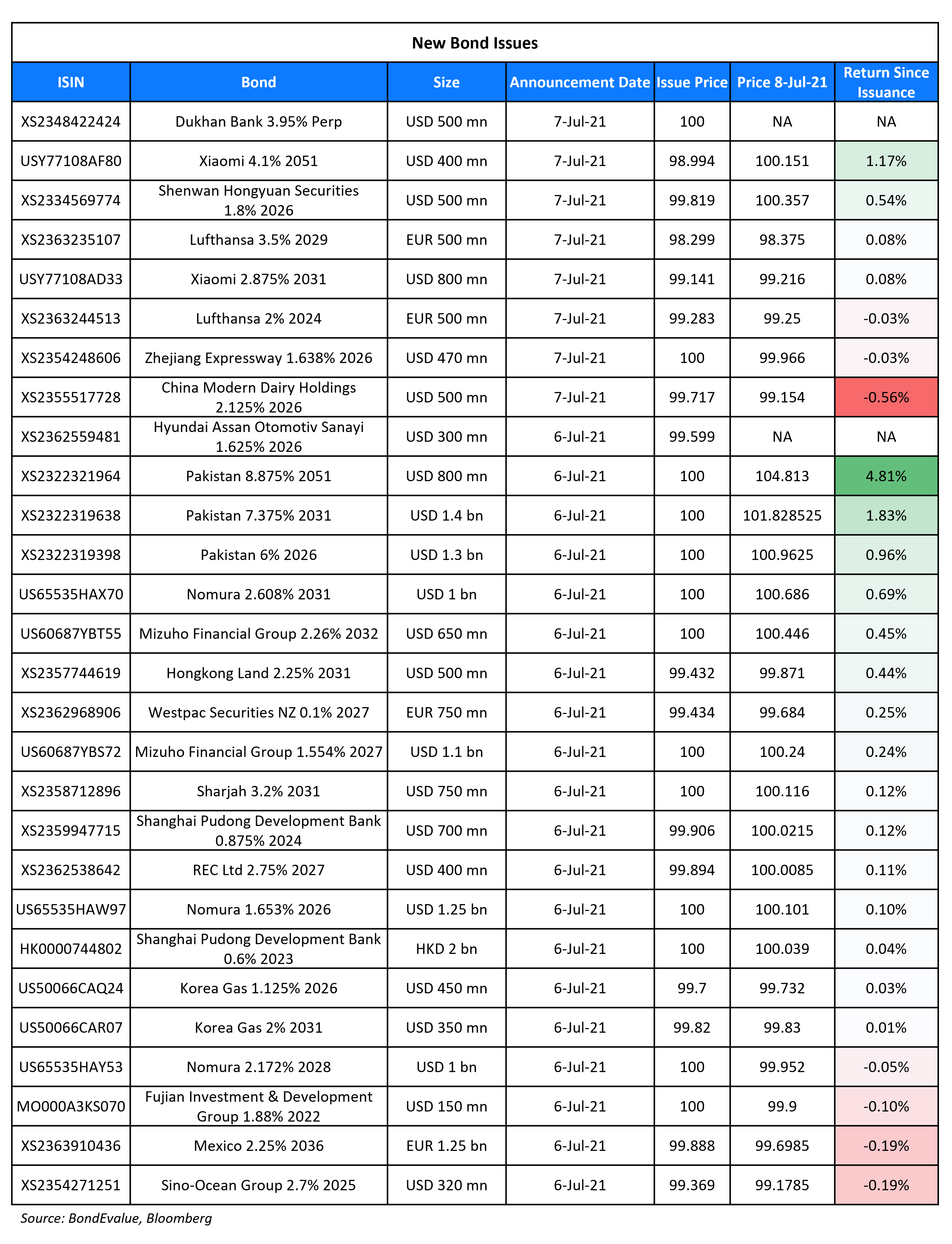 Xiaomi raised $1.2bn via a dual-trancher. It raised $800mn via a 10Y bond at a yield of 2.975%, 35bp inside initial guidance of T+200bp area. It also raised $400mn via a 30Y green bond at a yield of 4.159%, 40bp inside initial guidance of T+260bp area. The bonds have expected ratings of Baa2/BBB-/BBB, in-line with the guarantor, and received orders of over $7bn, 5.8x issue size. Wholly-owned subsidiary Xiaomi Best Time International is the issuer and the bonds will be unconditionally and irrevocably guaranteed by Xiaomi.
Lufthansa raised €1bn ($1.2bn) via a dual-trancher. It raised €500mn ($600mn) via a 3Y at a yield of 2.25%, 25bp inside initial guidance of 2.5% area. It also raised €500mn ($600mn) via an 8Y bond at a yield of 3.75%, ~18.75bp inside initial guidance of 3.875%-4% area. The bonds have expected ratings of Ba2/BB- and received orders over €1.9bn ($2.3bn). Proceeds will be used to strengthen liquidity.
Zhejiang Expressway raised $470mn via a 5Y bond at a yield of 1.638%, 45bp inside initial guidance of T+130bp area. The bonds have expected ratings of A/A+, and received orders over $4.9bn, 10.4x issue size. Proceeds will be used for general corporate purposes and for debt refinancing. The issuer is the largest listed toll-road operator in China in terms of total assets and net profits, as per IFR.
Dukhan Bank raised $500mn via a Perpetual non-call 5.5Y (PerpNC5.5) AT1 Sukuk at a profit rate of 3.95%, 42.5bp inside initial guidance of 4.375% area. The bonds are unrated. The issuer is Dukhan Tier 1 Sukuk Ltd. The first call date is on July 14, 2026 and first reset date is on January 14, 2027. If not called by the first reset date, the profit rate resets then and every five years thereafter to the 5Y Treasury yield + 308.1bp. The bonds have a dividend stopper until one profit payment has been paid in full (or set aside). A non-viability loss absorption would occur at the regulator's discretion with a partial write-down.
China Modern Dairy Holdings raised $500mn via debut 5Y bond at a yield of 2.18%, 30bp inside the initial guidance of T+170bp area. The notes have an expected rating of BBB and booked over $1.6bn, 3.2x the issue size. Proceeds will be used for refinancing and general corporate purposes.
Shenwan Hongyuan Securities
 raised $500mn via 5Y bond  at a yield of 1.838%, 55bp inside the initial guidance of T+160bp area. Shenwan Hongyuan Securities is the guarantor and its wholly-owned subsidiary
Shenwan Hongyuan
 International
the issuer. The notes have expected ratings of Baa2/BBB and booked orders of over $6.8bn, 13.6x the issue size. Proceeds will be used for working capital and overseas business development.
New Bond Pipeline
Fujian Investment & Development Group hires for $ bond issuance
Rating Changes
Term of the Day
Profit Rate
Profit rate is the term used to denote the payments on a Sukuk, akin to coupons on a normal bond. Sukuk holders receive a share of underlying profits rather than interest payments which are considered 'Riba', a premium that is paid tantamount to usury.

Dukhan Bank's

AT1 has a profit rate of 3.95%.
Talking Heads
State Minister for Money and Capital Markets Nivard Cabraal
"They said we will not be able to pay in 2020. We paid it,"; "Then they said it is 2021 that they will not be able to pay. Now we are paying in 2021. When we are paying in 2021 they are saying no it will be 2022 the problem will come."; "In 2022 also we will pay. Nobody needs to get excited, we will pay."; "Bond investors should realize the efforts we are taking,".
Roberto Perli, Cornerstone Macro analyst
"the market views the perceived Fed shift as harmful to the long-term prospects for the U.S. economy,"
Nicholas Colas and Jessica Rabe of DataTrek Research
"While the S&P 500 was charging to successive new highs last week, Fed Funds Futures and Treasuries were beginning to flash a yellow light,"; "It's too early to call this a full-blown 'growth scare,' but we think it's important that these two markets are less convinced of a 2022 Fed policy shift now than just six trading days ago."
Paul O'Connor, head of ESG debt capital markets in Europe at J.P. Morgan
"Investors want the more-challenged companies to come with a properly defined decarbonization [plan] which they can invest in,"; "Investors want to be able to say: We are decarbonizing our portfolios at the right rate to hit international targets."
Mitch Reznick, head of sustainable fixed income at Federated Hermes
"With companies like Enel, which are committing to make more and more of their debt sustainability linked, then the penalties for missing targets start to become increasingly material,"
On Petrobras' price hikes in Brazil and Petrobras being in a difficult position.
Joaquim Silva e Luna, Chief Executive Officer of Petroleo Brasileiro SA
"That's the reality, but it doesn't change the pricing policy,"; He added that increases were necessary due to the high price of oil in global markets and emphasized that all price increases are made for technical reasons, based on future prospects for supply and demand.
Top Gainers & Losers – 08-Jul-21*
Other Stories