Rallying technology, industrial and financial stocks led the way as global stocks advanced for another day. Wall Street is focused on the prospects of economic recovery as lockdown restrictions are relaxed. German auto stocks found a strong bid as the government proposed a $5.6bn stimulus package aimed at boosting local car sales. CDS spreads continue to tighten and US treasury yields were marginally higher on the risk-on sentiment.
Indian Dollar bonds lost some ground after Moody's downgrade of the Republic with IG corporate bond prices lower by 0.25%-0.5%. Asian markets are opening higher by 1-2% while US index futures are opening higher by 0.3-0.5%.
New Bond Issues
Singtel $ 10yr @ T+170bp area
Kaisa Group $ 364-day @ 8.375% area
CABEI $ 200-400mio 5yr final @ 3mL+145bp area
Yinchuan Tonglian $ 3yr @ 4.75% area
Resort and casino developer Sands China raised $1.5bn via a two-tranche deal. It raised $800mn via 5Y bonds at a yield of 3.819%, 350bp over Treasuries and 87.5bp inside initial guidance of T+437.5bp area. It raised $700mn via 10Y bonds at a yield of 4.427%, 375bp over Treasuries and 100bp inside initial guidance of T+475bp area. The new bonds are rated BBB- by Fitch, at par with the issuer. Orderbook details were not available at the time of writing. Sands China last issued 5Y and 10Y bonds in Dec 2018 at a yield at issuance of 4.606% and 5.436% respectively. The old bonds are currently trading at a yield of 3.15% and 4.4% on the secondary markets.
Hong Kong electricity generation company Hongkong Electric raised $500mn via 10Y bonds at a yield of 2.321%, 165bp over Treasurues and 55bp inside initial guidance of 220bp area. The bonds, expected to be rated A-, received orders worth $2.25bn, 4.5x issue size.
Rating Changes
Moody's takes rating actions on 11 Indian banks following sovereign downgrade
Moody's downgrades Gol to Caa1 from B1; outlook negative
Fitch Affirms and Withdraws Century Sunshine's Ratings
Reliance's Rating Affirmed; TCS & HDFC Among Others Downgraded by Moody's
Reliance Industries Limited (RIL) was the only company among the top three Indian companies by market cap to get its rating affirmed by Moody's, while HDFC and TCS got downgraded. It was a downpour of downgrades on Tuesday in the Indian corporate world as an aftermath of the sovereign downgrade on Monday. Corporate credit ratings are influenced by the sovereign ratings. The downgrades particularly hit companies in the banking, IT and energy sector. Eight companies in the non-financial sector and 11 in the banking sector were reviewed by Moody's. The ratings of TCS, HDFC Bank, Infosys and SBI were cut by a notch each. SBI is the largest state owned bank and HDFC is the largest private sector bank in the country. The rating actions on key corporates are tabulated below.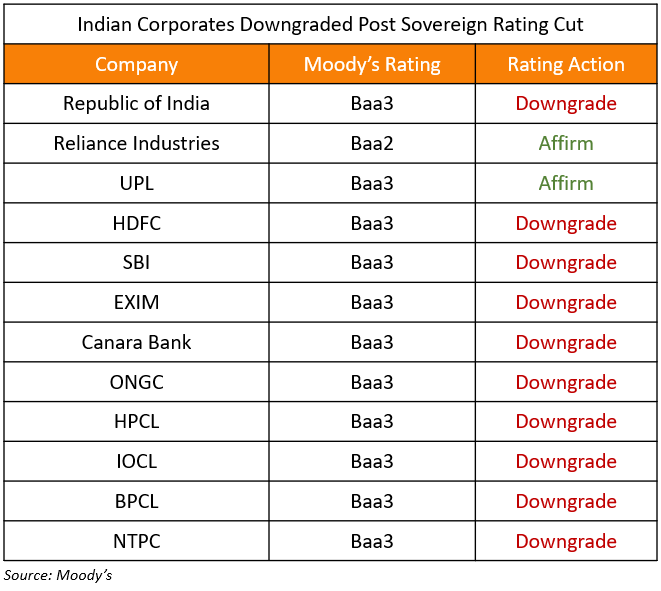 RIL had raised a total of Rs 78,562 crore ($10.46bn) last month by attracting investments from Facebook, General Atlantic, Vista Equity, Silver Lake and KKR in Reliance Jio. The other companies whose ratings were maintained included UPL Corporation Limited and Genpact Limited and the outlook was stable.
For full story, click here
Repsol Raises €1.5bn in Hybrid Bonds Following Firmenich's €750mn Hybrid Last Week
Spanish oil company Repsol raised €1.5bn via hybrid bonds (Term of the day, explained below) in two tranches. It raised €750mn each via non-call 6Y and non-call 8.5Y perps at a yield of 3.75% and 4.25% respectively. The bonds met with solid investor demand as orderbooks reached €11.5bn, 7.7x issue size, which allows Repsol to price the two tranches 75bp and 87.5bp inside initial guidance of 4.5% and 5.125% area. The proceeds will be used to buyback its €1bn 3.875% perps callable in March 2021. The new bonds are expected to have a rating of BB+/Ba1/BB+.
This deal follows Swiss fragrance-maker Firmenich's €750mn hybrid issue last week, which opened up the corporate non-financial perpetual bond market. Firmenich's bond met with strong investor demand as it received orders worth €4.3bn, 5.7x issue size. The bond was priced to yield 3.875% on May 27 and is currently trading at a yield of 3.385% on the secondary markets.
Hybrid issues from non-financial corporates are considered riskier compared to conventional bonds given that the option to repay principal lies with the issuer. Strong investor demand for the two Euro hybrid deals indicate a risk-on sentiment among investors.
For the full story, click here
US Mall Operator CBL Skips Coupon Payment; Domino Effect of Retailers in Financial Distress
US-based mall operator CBL & Associates Properties Inc skipped a $11.8mn coupon payment on its 5.25% bonds maturing in 2023 due on Jun 1. Unpaid rents from retailers have put CBL in a liquidity crunch, which prompted the company to draw $280mn from its line of credit, furlough employees and halt redevelopment investments last week. CEO Stephen Lebovitz said, "Our priority during this time of uncertainty has been to preserve cash." He added that the mall operator has been able to collect just 27% of billed cash rents in April and expects 25-30% of May rents, based on preliminary receipts and conversations with retailers. The missed coupon payment has invoked a 30-day grace period for CBL. A default on this payment could trigger cross defaults on its bonds due 2024 and 2026. This underscores the likely domino effect that retailer bankruptcies will have on commercial real estate owners.
CBL's 5.25% bonds due 2023 traded lower by ~2 points to trade at 23.38 cents on the dollar, while its 4.6% and 5.95% bonds due 2024 and 2026 were largely unchanged at 25.13 and 25.63 cents on the dollar respectively.
For the full story, click here
RBA's Yield Control Attracts Investors to Australian Govt Bonds
Australian government bonds have emerged as an attractive investment avenue for investors globally after the central bank chief stated that the possibility of negative rates was "extraordinarily unlikely" in a statement late last month. The Reserve Bank of Australia (RBA) has pledged to maintain 3Y yields at the 0.25% cash rate. This is in contrast to neighboring New Zealand, which has discussed the possibility of negative rates. The spread between the Aussie 10Y government bond and the 10Y Treasury has turned positive since March this year and currently stands at 26.3bp.
The positive spread over Treasuries has drawn investors to Australia's AAA-rated government bonds. "QE measures and the RBA's posturing on negative rates are helping to keep yields positive and that could be attractive for some," said Raymond Lee, a money manager at Kapstream Capital who is long three-year Aussie bonds as a hedge for riskier credit bets. "Australia has a yield advantage compared to places like New Zealand which is open to the idea of negative rates, or even the U.S. where the Fed is keeping yields low."
For the full story, click here
Yes bank's INR 8,415 Crore ($1.12bn) of AT1 bonds worth Zero; Bond Holders Circumspect
The rift between Yes bank and its bondholders has widened. Yes bank was issued a notice by Axis Trustee Services Ltd alleging lack of disclosures when it sought shareholders' nod to raise additional funds. It had invoked the Basel-III norms for emergency on March 15 and had written down INR 8,415 crore ($1.12bn) of AT1 bonds to zero. Further, on April 22, the bank sought shareholders consent to raise funds worth INR 5,000 crore ($665.78mn). The Trustee service alleged that Yes bank's communication to its shareholders only mentioned that the AT1 bonds were written off and failed to disclose that the write-offs had been challenged in the Bombay High Court . On May 29, Axis Trustee also countered Yes Bank's response that the assertions were baseless by alleging that the bank had resorted to publicity of the litigation as well. Yes Bank's 3.75% dollar bonds due 2023 remain largely unchanged at 91.25 cents on the dollar.
The increasing rift with the stakeholders could have wider implications on the bank's efforts to raise funds both domestically and through international markets. The ongoing spat could also impact the ability of other corporations to tap the bond markets with AT1 bonds.
For full story, click here
BEV Term of the Day
Hybrid Bonds
Hybrid bonds are called "hybrids" because they combine characteristics of both bonds and equities. These instruments may be issued by both banks and non-financial corporates. A common example of hybrid bonds would be perpetual bonds, which are fixed income securities without a maturity date (similar to equities) that pay a fixed coupon to holders (similar to bonds). Perpetuals typically have a call option, which allows the bond issuer to redeem the bonds at a fixed date. It is important to note that the option to redeem lies with the bond issuer, not the holder.
Spanish oil company Repsol raised €1.5bn via corporate hybrids, following Swiss perfume-maker Firmenich's corporate hybrid issue last week.
Talking Heads
On Steepening JGB Yield Curve – Akio Kato, general manager of strategic research and investment at Mitsubishi UFJ Kokusai Asset Management Co
"The yield curve is going to be on a steepening bias as the market faces more issuance,".."The spread between the 10- and 30-year bonds could extend toward 60 basis points as such wariness prevails, he said. "The BOJ has made it clear and the market understands that the central bank wants to steepen the yield curve,".. "Any signal of increasing purchases in super-long maturities could be taken as a major policy shift and hence the BOJ would want (to) be very careful about that."
On cross border outflows from Brazil – Robin Brooks, chief economist at the Institute of International Finance
Robin Brooks said that cross-border outflows from Brazil's stock and bond markets have been "off the charts" recently and he blamed Brazil's politics for scaring investors away. Investors have been discouraged by the firing of two health ministers and the resignation of Sérgio Moro, the popular justice minister. Stock market outflows from February to May sum up to $11.8bn and bond market outflows from February to April sum up to $18.7bn, according to the Institute of International Finance.
On hybrid bond issues – Julian Marks, lead portfolio manager of corporate hybrid strategy at Neuberger Berman
"Hybrids tend to be issued when markets are fairly stable. If markets stay steady for the next few weeks, we might see more issuance."…"Coupons on hybrids are cumulative in every case. "Even if coupons were to be skipped, they would be owed next year or the year after."
On Aussie government bonds – Raymond Lee, money manager at Kapstream Capital
QE measures and the RBA's posturing on negative rates are helping to keep yields positive and that could be attractive for some. Australia has a yield advantage compared to places like New Zealand which is open to the idea of negative rates, or even the U.S. where the Fed is keeping yields low."
Top Gainers & Losers – 3-Jun-20*