The past few months have been difficult to say the least for Chinese property developers, marred by a wall of looming debt payments, tight liquidity conditions and a series of credit rating downgrades. In fact, the pace at which the three major credit rating agencies Moody's, S&P and Fitch have downgraded issuer ratings of Chinese developers has been the fastest in the past five years with over 3x the number of downgrades to upgrades this year as of October 21.
The pace of downgrades particularly picked up in June this year starting with China Evergrande – the world's most indebted developer that is now staring at a default. Since then, there have been a total of 70 downgrade rating actions taken across the three agencies on Chinese developers, almost double the 38 downgrades in all of 2020. This is evident from the visualization below, which shows how much (and how quickly) issuer ratings of some of the popular Chinese developers have changed since June this year.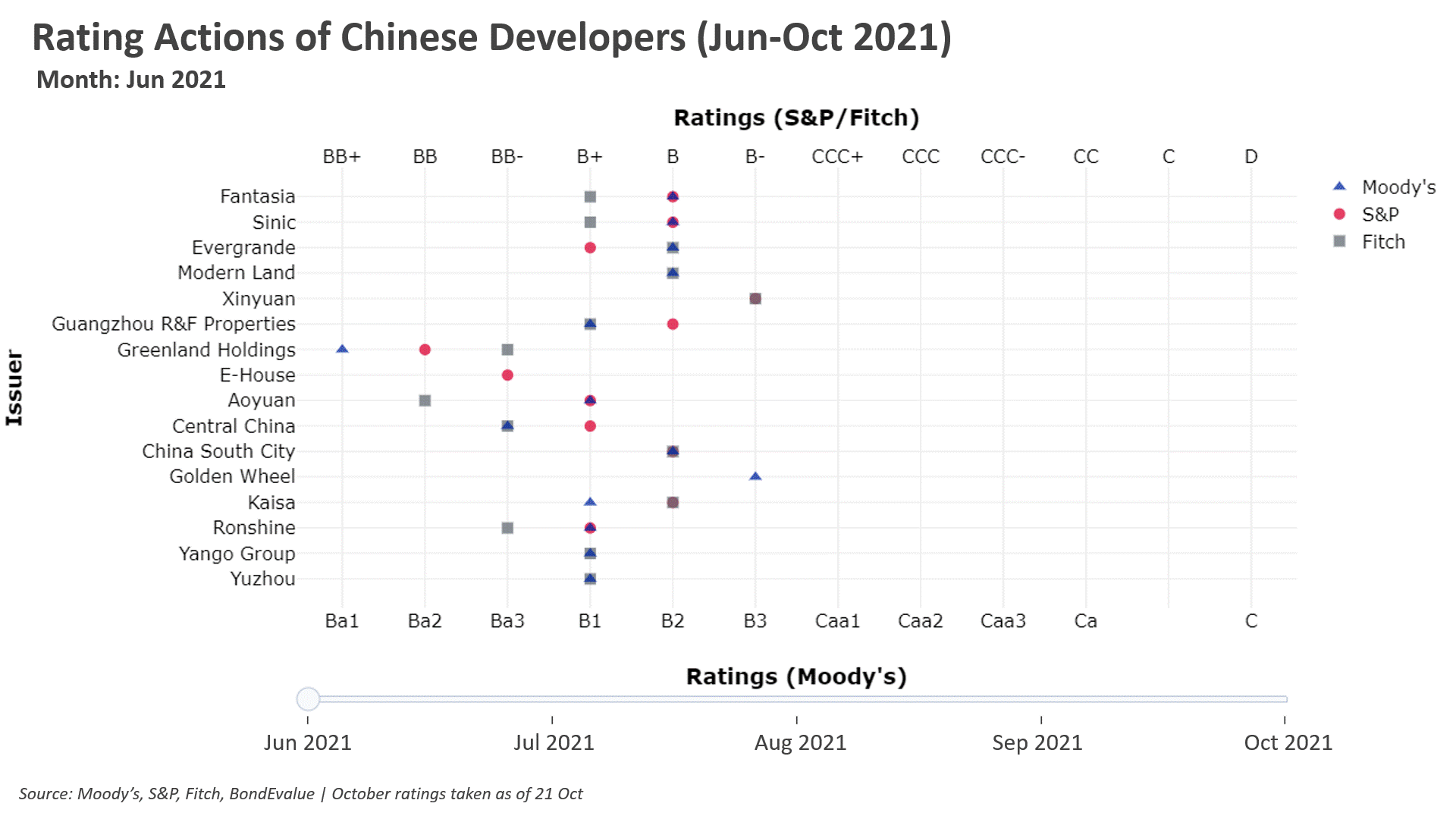 Beginning with Evergrande's financial distress saga that has captured the headlines due to its size, indebtedness and systemic importance, ruptures have emerged across its high-yield property sector peers too.
Fantasia

 got downgraded by the rating agencies post which the developer ultimately defaulted on its dollar bonds.

Sinic Holdings

 became the latest developer to default on its dollar bonds on October 18
Two others, namely 

Xinyuan Real Estate

 and 

Modern Land (China) 

have only narrowly escaped default by the skin of their teeth
In the table below, we have listed the prominent Chinese property developers that have been downgraded since June 2021 with the number of downgrade notches and current issuer ratings.