US markets remained closed for labor day celebrations.
European markets notched the best day in six weeks – DAX, CAC and FTSE were up 1%, 0.8% and 0.7% respectively. Saudi's TASI was also up 0.6% while UAE's ADX was down 0.1%. Brazil's Bovespa also closed 0.8% higher. The Chinese Vice President said that Beijing will back private business in a bid to boost investor confidence. Asian markets had a mixed start – HSI and Nikkei gained 1% and 0.9% in early trade. Shanghai was broadly flat. Singapore's STI was down 0.2%.
US 10Y Treasury yields climbed another 2bp to 1.34%.
EU Main CDS and Crossover CDS spreads tightened by 0.5bp and 2.7bp respectively. Asia ex-Japan CDS spreads widened 0.1bp. 
Euro zone bond yields meanwhile hovered around seven week highs amid rising expectations of inflation as the Euro 5Y5Y breakeven at a three-year high. Germany's benchmark 10Y Bund yield was at -0.37% and France's 10Y bond yield at -0.03% and Greece's 10Y at 0.79%. Pictet Wealth Management strategist Frederik Ducrozet said, "The ECB will have to articulate a more constructive economic outlook without giving the impression that a tighter policy stance is on its way, especially as the new strategy was just translated into a new, more dovish guidance."
---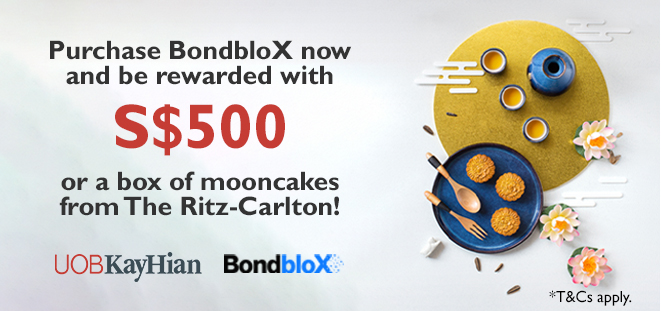 Celebrate the Mid Autumn Festival with BondbloX Bond Exchange and UOB Kay Hian. This festive period, purchase BondbloX, fractional bonds in $1,000 denominations via UOB Kay Hian and be rewarded with SGD 500 cash* or a box of mooncakes from the Ritz-Carlton.

---
New Bond Issues
DBS Group $ 5.5Y bond at T+65bp area

China Everbright Bank Luxembourg branch $ 3Y bond at T+80bp area

Keppel S$ PerpNC3 bond at 3% area

Starhill Global REIT raised $125mn via a 7Y bond at a yield of 2.23%, 12bp inside the initial guidance of 2.35% area. The bonds have expected ratings of       and received orders over $220mn, 1.8x issue size. Proceeds will be used to refinance debt and fund capital expenditure and working capital needs. The bonds will be issued by Starhill Global REIT MTN and guaranteed by HSBC Institutional Trust Services Singapore. The issuer will have a redemption option on a make-whole basis until maturity on September 13 2028. Fund managers and insurance companies bought 69%, banks 27% and private banks and other investors 4%. Singapore accounted for 99%. Starhill last raised S$100mn via a PerpNC5 priced at 3.85% in December.
KWG Group Holdings raised $100mn via a tap of their 5.95% 2022s at a yield of 6.5%, 15bp inside initial guidance of 6.65% area. The bonds are rated BB-. The Hong Kong-listed Chinese real estate company plans to use proceeds for debt refinancing.
Singapore statutory board National Environment Agency (NEA) raised S$1.65bn via its inaugural green dual-trancher. It raised S$350mn via a 10Y bond at a yield of 1.67%, unchanged from initial guidance. It also raised S$1.3bn via a 30Y bond at a yield of 2.5%, 5bp inside initial guidance of 2.55% area. The bonds are unrated and received orders over S$2.15bn, 1.3x issue size.
New Bonds Pipeline
JSW up to $1bn planned issuance

ICBC $6bn AT1 perp
JR East £ 7Y and € 13Y/18Y tranches
Denso hires for $ 5Y sustainability notes
GF Holdings (Hong Kong) Corp hires for $ SBLC-backed bond
Rating Changes
Term of the Day
Tap
A 'tap' refers to a bond issuance wherein the issuer issues more of an existing bond rather than issue a new bond. Taps, also known as re-openings, are common in the bond market and can be quoted as a price or yield during the initial price guidance stage of issuance.
KWG Group raised $100mn via a tap of their initially outstanding $200mn 5.95% bonds due August 2025.
Talking Heads
"The hurdle for strong consumption growth going forward appears much higher: the Delta variant is already weighing on Q3 growth, and fading fiscal stimulus and a slower service- sector recovery will both be headwinds in the medium term," said Walker.
Silvia Ardagna, chief European economist at Barclays
"From a macroeconomic perspective, whether they go from €80bn of PEPP purchases a month to €70bn or €60bn doesn't really matter." "The key questions are what happens to asset purchases after PEPP ends . . . and what they expect on inflation."
Jens Weidmann, German central bank president
"The risks are tilted to the upside right now." "If these transitory factors lead to higher inflation expectations and accelerated wage growth, the rate of inflation could rise perceptibly over the longer term."
Katharina Utermöhl, senior economist at Allianz
"Reflation is not inflation — mind the rollercoaster base effects."
Jacob Nell, head of European economics at Morgan Stanley
"Right now there is a disconnect between wage data, which remains flat, and the anecdotal evidence of some higher wage demands and pockets of staff shortages."
Spyros Andreopoulos, senior European economist at BNP Paribas
"This is the key discussion they are having: not whether to beef up their ongoing asset purchase programme to follow PEPP but how much flexibility there will be."
On the expectation of higher key rate and slower growth for Brazil in 2022 – in a note by Cassiana Fernandez and team, analysts at JPMorgan & Chase
A "tightening of financial conditions and the worsening of the water and electricity generation crises, weigh on agricultural output and reduce disposable income as prices are increasing."
Liu He, Chinese Vice Premier
"Guidelines and policies for supporting the private economy have not changed… and will not change in the future."
Louis Tse, managing director of Wealthy Securities
"The Chinese government realises that no matter how tough they are on regulatory changes, they realise they need the inflows into the Chinese market to help support their economy." "There has been a clearing of the air and people have calmed down, the buying has resumed especially in the A-share market."
Zhang Gong, China's head of the State Administration for Market Regulation
"There is an urgent need to coordinate and grasp the relationship between development and security, efficiency and fairness, vitality and order," he said.
Top Gainers & Losers – 07-Sep-21*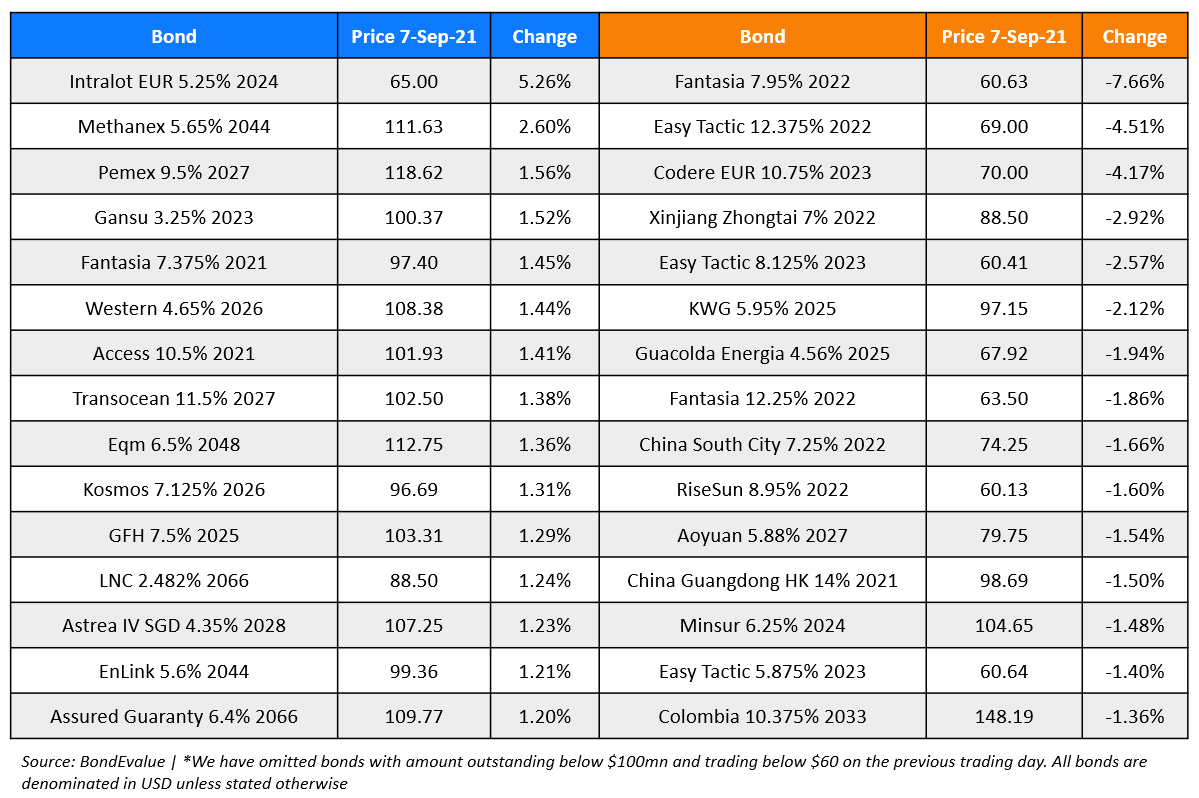 Other Stories:
---