Dell Technologies Inc. announced that Dell Inc., its wholly-owned subsidiary commenced a cash tender offers for certain outstanding bonds for up to $2.5bn in aggregate purchase price (excluding accrued and unpaid interest), details of which are given below: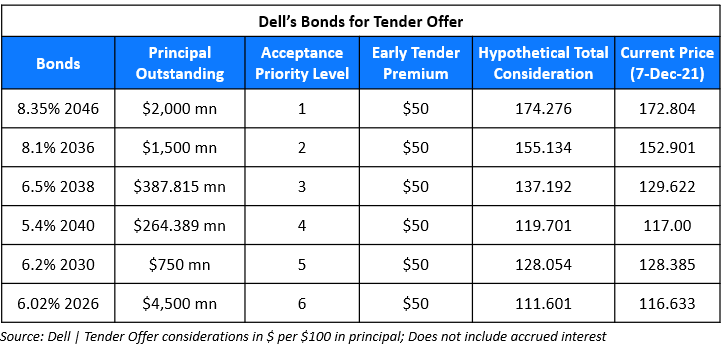 The 8.35% 2046s have a tender cap of $1bn while caps are not applicable for the other bonds.  The principal amount of each series of Securities that is purchased will be determined in accordance with respect to the Acceptance Priority Level (1 being the highest Acceptance Priority Level and 6 being the lowest). The Offers are scheduled to expire at 11:59 pm EST on January 4, 2022. Holders who validly tender the bonds before 5pm EST on December 17, 2021 will receive the applicable total consideration with the early tender premium.
Dell's bonds which are being bought at a premium consideration rallied – its 8.35% 2046s, 8.1% 2036s, 6.5% 2038s and 5.4% 2040s were up 3.5, 0.7, 2.1 and 2.3 points respectively.
For the full story, click here