US equity markets witnessed a strong rally on Wednesday as July inflation eased (details below) – the S&P and Nasdaq rose 2.1% and 2.9% respectively. Sectoral gains were led by Materials and Consumer Discretionary, up 2.9% each. US 10Y Treasury yields rose 1bp to 2.79%. European markets moved up as well – DAX, CAC and FTSE rose 1.2%, 0.5% and 0.3% respectively. Brazil's Bovespa was up 1.5%. In the Middle East, UAE's ADX and Saudi TASI rose 0.8% each. Asian markets have opened broadly higher – Shanghai, STI and HSI were up 1.2%, 0.5% and 1.9% respectively while Nikkei was down 0.7%. US IG CDS spreads tightened 6.7bp and US HY spreads were tighter by 38.2bp. EU Main CDS spreads were 6bp tighter and Crossover spreads were tightened by 33.8bp. Asia ex-Japan IG CDS spreads were widened 2bp.
US Consumer prices in July rose by 8.5%, lower than estimates of 8.7%. The print was also lower compared to June's four-decade-high reading of 9.1%. The modest deceleration was driven by lower energy prices, clothes and airline tickets. Prior to the inflation release, markets were pricing in a 68% probability of a 75bp hike at the September FOMC meeting. That probability has now fallen to 46.5%; markets are now pricing in a 53.5% probability of a 50bp hike, up from 32% on 9 August. Meanwhile in Singapore, Q2 GDP contracted 0.2%, lower than projections of zero growth. Full year GDP projections were revised down to 3-4% from 3-5% earlier.
New Bond Issues
Shandong Shipping $ 3Y at 5.3% area

Texas Instruments raised $700mn via a two-tranche deal. It raised
$400mn via a 10Y bond at a yield of 3.685%, 20bp inside the initial guidance of T+110bp area.
$300mn via a 30Y bond at a yield of 4.176%, 25bp inside the initial guidance of T+135bp area.
The senior unsecured bonds have expected ratings of Aa3/A+. Proceeds will be used for working capital and general corporate purposes.
Macquarie Group raised S$500mn via a 4NC3 bond at a yield of 4.5%, 25bp inside the initial guidance of 4.75% area. The bonds have expected ratings of A3, and received orders over S$860mn, 1.7x issue size. Proceeds will be used for general corporate purposes. The bond is callable on 18 August 2025 and if not called, the coupon will reset to the prevailing SORA plus the initial spread of 183bp. Fund managers and insurers bought 67% of the deal, banks 6% and private banks and others 27%. The new bonds are priced 36bp wider to its existing 3.9% 2026s that yield 4.14%.
New Bonds Pipeline
Energy Development Oman hires for $ sukuk
Tianjin Binhai New Area Construction & Investment hires for $ bond
NH Investment hires for $ 3Y and/or 5Y Green bond
Rating Changes
Term of the Day
Non-Farm Payrolls (NFP)
Non-Farm Payrolls (NFP) is a key data point that is released by the US Bureau of Labor Statistics (BLS) usually on the first Friday of every month. NFP measures net changes in employment excluding agricultural, local government, private household and not-for-profit sectors over the past month and is a key economic indicator in the United States. A high reading of the NFP is considered a positive sign for the US economy while a negative reading is considered a sign of a slowdown in the US jobs market. The NFP indicator is closely watched by traders, especially as it is one of the first monthly economic indicators to be released, and because of the direct relationship between job creation and economic growth.
Last Friday, NFP for July increased by 528,000, much higher than expected despite the Fed's rate hikes. Analysts and investors think that this month's NFP measure should quell fears that the US economy is on the brink of recession and is a good indication that the economy might be able to withstand higher rates in the near future. 
Talking Heads
On Debt Issuers Wondering If ESG Label Is Worth It as Skepticism Spreads
Jason Taylor, the managing director for sustainability advisory and finance at National Bank of Canada
"There's a number of issuers that are reconsidering the cost benefit trade-off…When you define a successful sustainable finance transaction, there's a lot of dimensions by which you can analyze it…One is the cost savings from the greenium. But if it comes with a high level of scrutiny post transaction, it can cause some people to really second-guess whether that one or two basis points is really worth the risk of having perhaps a couple of very uncomfortable articles written…Greenwashing across the board is going to be more and more scrutinized as we head into 2030…Greenwashing isn't necessarily always voluntary, but standards are also developing at a faster rate so those gray zones are dissipating more and more. Over time, the market's going to tighten up on its own."
On Implications of Cooler Inflation for the Next Fed Rate-Hike
Derek Holt, an economist at Scotiabank
"Whether it's 50 or 75 in September is probably going to go down to the wire…Right now, I'd give the bigger nod to the intensifying tightness in the job market that fans concern over wage-driven catalysts to future inflation versus the latest CPI print, but it's premature to judge the September move."
Michael Pond, the head of inflation strategy at Barclays Capital Inc.
"The July CPI prints makes it more likely that our call will be right for the September FOMC — a hike of 50 basis points…This is a necessary print for the Fed, but it's not sufficient…We need to see a lot more. You can think about this print as sort of like the weather — it's better today than it has been over the past few days. But it's still summer. There's still a lot of humidity out there. It's not great. So it's in the right direction. But we're certainly not not there yet."
Diane Swonk, the chief economist at KPMG LLP
"The Fed is no longer willing to rest on their laurels on a one-month move…The greater risk for the Fed is to stop too soon than stop too late. It will take a lot more cooling than this for the Fed to shift its decision rule, although in this economy, September seems an eternity away."
James Knightley, chief international economist at ING Financial Markets LLC
''Core inflation remains on an upward trajectory due to rising housing rental costs and service-sector inflation pressures…The case for a third consecutive 75 basis-point rate hike in September remains strong and will likely recover if we are right on core inflation moving higher in August."
On Investors shunning Pakistani bonds over rising default threat
Gareth Leather, senior economist at Capital Economics
"Going into the Ukraine crisis, Pakistan wasn't in a good place to start with…The explosion in commodity prices has led to a rapid deterioration in its current account and rising government spending."
Krisjanis Krustins, a director at Fitch's Asia-Pacific sovereign ratings team
"We still have a baseline that Pakistan will get board approval for a staff-level agreement so that some IMF funding comes through…We do have a negative outlook, and that is around the risk coming from politics and what that might do to the implementation of the deal."
Top Gainers & Losers – 11-August-22*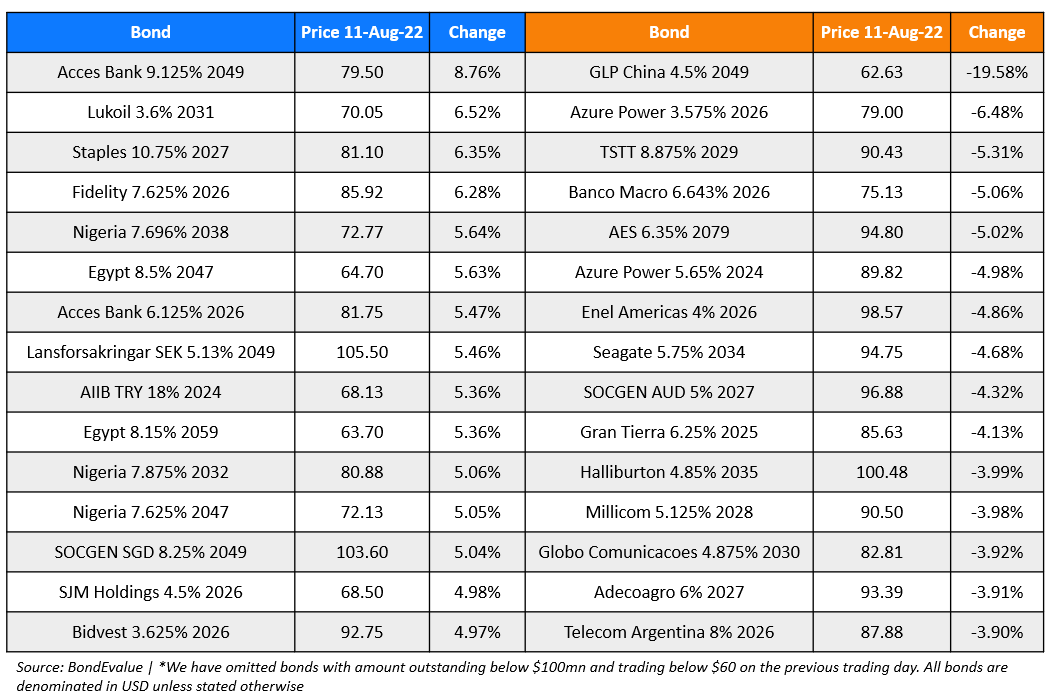 Other News