Markets are set to open with a mixed tone this week as Wall Street failed to give any strong signal in either direction on Friday. EU leaders are unable to agree on the details of the recovery fund as the frugal countries seek to limit payouts on the poorer countries. The US Congress will start debating a new aid package later this week. The US Treasury curve was steeper as the middle of the curve was unchanged but the short end was down a basis point while the long end was up a few basis points. Asian dollar bond spreads tightened last week and the new deal pipeline looks healthy. US and Europe IG CDS spreads were mixed.
We have introduced new dates to our Bond Traders' Masterclass in August. Sign up now.
New Bond Issues
China Huarong Financial Leasing $ 363-day @ 3.25% area
SPDB HK branch $ 3yr floater @ 3mL+125bp area
DoubleDragon Properties $ 5NC2 @ 7.25% area
GS Caltex $ 5yr @ T+190bp area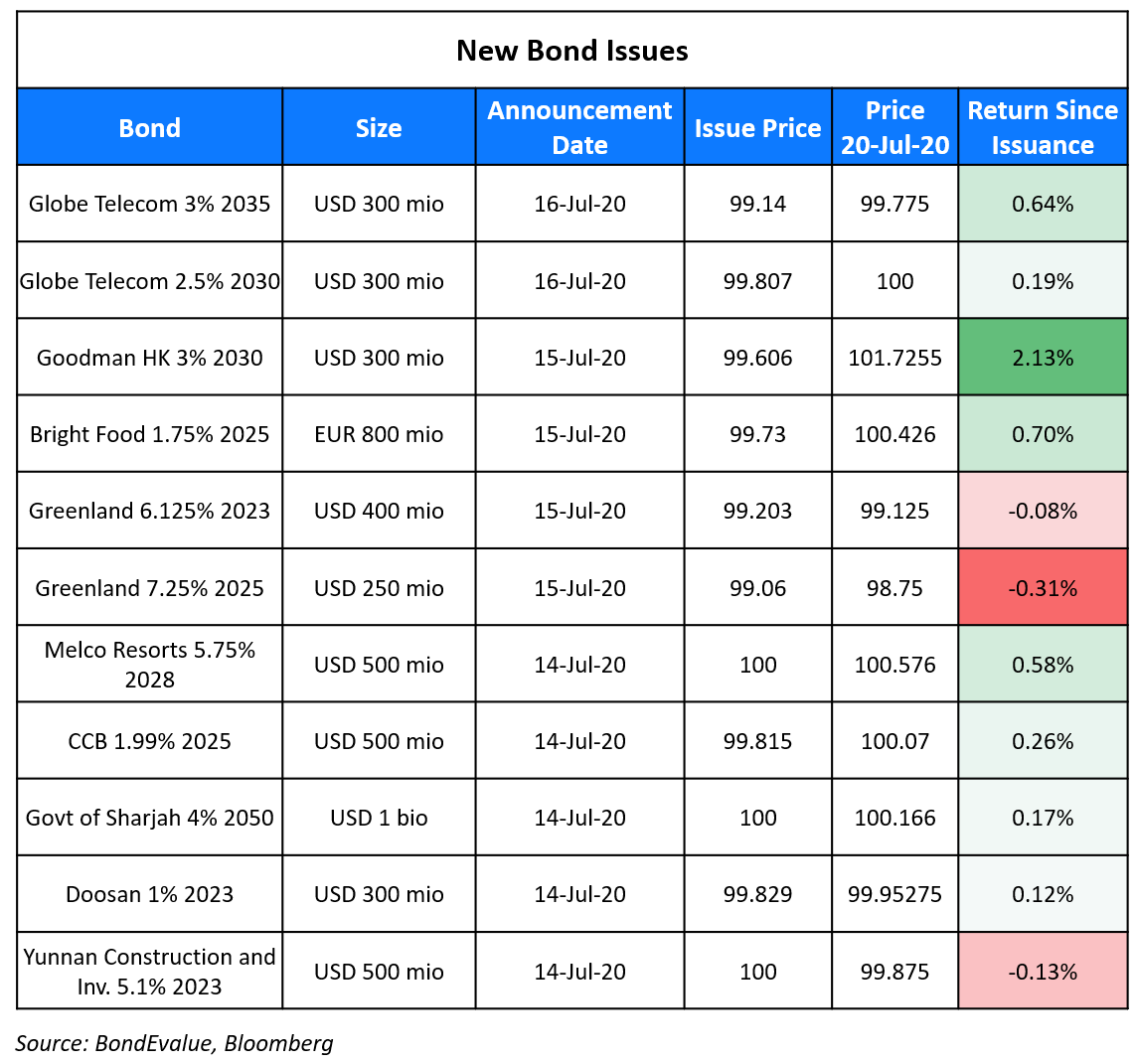 Rating Changes
Fitch Downgrades Modernland Realty to 'RD' on Completion of DDE, Upgrades to 'CC'
Fitch Downgrades Agung Podomoro to 'CCC-' on Heightened Liquidity Risk
Moody's downgrades California Resources' PDR to D-PD on bankruptcy filing
Kuwait Outlook Revised To Negative On Continued Depletion Of Fiscal Liquidity Buffer; 'AA-/A-1+' Ratings Affirmed
Fitch Affirms Slovenia at 'A'; Outlook Stable
Fitch Affirms Azerbaijan at 'BB+'; Outlook Negative
EU Leaders at Loggerheads Over The Proposed Stimulus of €750 Billion
EU leaders remained at odds even on Sunday evening on how to reduce the size of the proposed stimulus fund to revive the bloc's slowing economy at a summit over the weekend. The leaders of the 27 European Union members had met in Brussels on Friday to decide the disposition of the proposed recovery fund of €750bn ($856bn) and a 2021-27 EU budget of more than €1tn. However, the progress of the summit came to a standstill after disagreements between the wealthy northern countries and the not-so-wealthy southern states. The salient points of disagreements over the three days can be summarized as follows.
Summit chairman Charles Michel made a fresh proposal for restricting the grants to €400bn down from an earlier proposal of €500bn
The northern states of Austria, Denmark, Sweden and Netherlands rejected the proposal and put a hard stop at €350bn. The northerners favoured repayable loans to free grants. As per FT, the 'frugal' alliance of the four northern states backed by Finland wanted to reduce the grants from €450bn to €350bn coupled with another €350bn of loans in the stimulus to tackle the pandemic. The offer also had attached conditions on rebates which were linked to the contributions of the member states
France, Germany, Spain and Italy along with other member states favored grants of €450bn
The negotiations were further complicated by the other issue at hand – the union's next budget to the tune of €1tn that brought out the longstanding divisions including the budget rebates
The summit remained unresolved over the exact size of the EU budget and to the extent to which payouts could be used to leverage for reforms or whether to withhold funds from countries not adhering to democratic standards
These were refuted by Hungary and Poland who threatened to veto the deal over a proposal to bar the countries not adhering to democracy.
Charles Michel commented that "My hope is that we reach an agreement and that the headline … tomorrow is that the EU has accomplished mission impossible," and added "That is my heartfelt wish … after three days of non-stop work." European Central Bank (ECB) President Christine Lagarde said "Ideally, the leaders' agreement should be ambitious in terms of size and composition of the package … even if it takes a bit more time," conveying her sentiment on the importance of an 'ambitious' aid package.
For the full story, click here
Investors Turn to Inflation-Linked Bonds on Expectations of Higher Inflation
Investors are expecting the Federal Reserve to accelerate monetary stimulus and allow inflation to run above its target of 2% in the process. Last week, Fed Governor Lael Brainard said, "with inflation exhibiting low sensitivity to labor market tightness, policy should not preemptively withdraw support based on a historically steeper Phillips curve that is not currently in evidence." The Fed is scheduled to meet next on July 28-29. This has led investors to pile in to TIPS (Term of the day, explained below), pushing yields on the 10Y TIPS by ~65bp since the start of April to -0.85% currently. According to the FT, funds that invest in TIPS have witnessed inflows of $5bn in the week ending July 8 compared to outflows in March and April.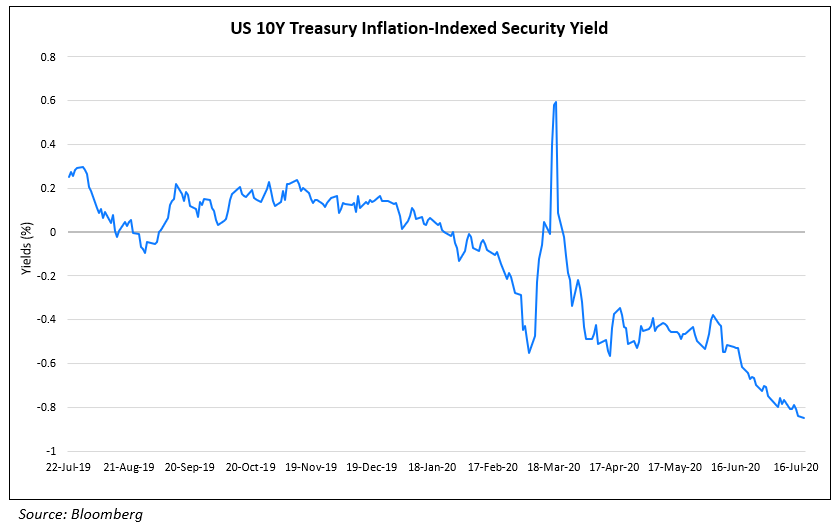 Expectations of higher inflation are supported by a recovery in global trade and commodity prices. Iron ore, a key ingredient in steelmaking has now overtaken gold with a return of 21% this year vs. 19% for gold, as per the FT. The Treasury will be selling $14bn of 10Y TIPS later this week, which will give a sense of investor demand for such securities. "The decline in real yields and the bid for safe-haven assets, such as gold, is another troubling signal of uncertainties ahead," Subadra Rajappa, head of U.S. rates strategy at Societe Generale wrote in a note. Greg Peters, head of multi-sector and strategy at PGIM Fixed Income echoed, "The fall in real yields speaks to the challenged growth environment going forward. What the bond market is telling you is that growth will be sub-par for quite some time."
For the full story, click here
China's Financial Regulator Seizes Control of 9 Companies on Concerns Over Corporate Governance
The China Banking and Regulatory Commission (CBIRC) seized control of several insurers, trust firms and stock brokers linked to billionaire Xiao Jianhua, one of China's most prominent businessmen. Huaxia Life Insurance, Tian'an Property Insurance, Tian'an Life, Yi'an Property Insurance, New Times Trust and New China Trust were placed under state ward to "protect the rights of policy holders, customers and serve the public's interest," said the CBIRC statement published on Friday. Separately, New Times Securities, Guosheng Securities and Guosheng Futures were placed under the state's management for a year, the China Securities Regulatory Commission (CSRC) said. "The seizures of the insurers and trust firms signify a very big clean-up operation by the regulators," said Gordon Tsui, chairman of the Hong Kong Securities Association. "It shows the country's commitment to clean up the market and to enhance the protection of policyholders and investors. Some of the insurance companies are too big to collapse, and taking them over with a restructuring plan is the only way forward to maintain the stability of the market." The seized firms will continue to operate as usual and their debts will be unaffected. However, their board of directors will be replaced by representatives from six state-owned financial firms that were appointed as custodians for the next 12 months. The firms – China Pacific Property Insurance, a unit of China Life, New China Life Insurance, PICC Property and Casualty, Citic Trust, and Bank of Communications International Trust – will manage one seized firm each, restructure its business, improve corporate governance and inject capital if needed.
For the full story, click here
Term of the Day
TIPS
TIPS or Treasury Inflation-Protected Securities are fixed income securities issued by the US Treasury whose returns are linked to the inflation rate. TIPS provide investors protection against inflation by adjusting the principal higher with inflation and lower with deflation, as measured by the Consumer Price Index (CPI). At maturity, investors are paid the higher of the adjusted principal or the original principal. Interest on TIPS is fixed, paid out twice in a year and is applied to the adjusted principal.
As investors expect inflation in the US to inch higher in the short- to medium-term, demand for TIPS is likely to increase.
Talking Heads
On Sovereign Downgrades by Credit Rating Agencies – Nirmala Sitharaman, Finance Minister of India
Speaking at the G20 finance ministers and central bank governors virtual meeting under the Saudi Arabia presidency, Sitharaman said "pro-cyclicality of credit rating downgrades by the rating agencies and its deterrent impact on policy options, particularly for EMEs."
On High-Yield Bonds of China's Property Market
Neeraj Seth, Head of Asian Credit at Blackrock
Neeraj Seth said he was "positive" on high-yield bonds in Chinese real estate. "We do like some of the stronger names, we are happy to extend our overall spread duration and duration risk on those. By and large, China is a very important part of Asian high-yield markets, and we are positive on Chinese high-yield, and most specifically, Chinese real estate high yield," he said.
Hayden Briscoe, head of fixed income for Asia Pacific at UBS Asset Management
"Urbanization and upgrading are key demand drivers. Property prices are recovering, and developer profitability is improving," Hayden Briscoe said. "China's recovery will benefit Asian high-yield bonds directly as China's share of the Asian high-yield universe is close to 50%," Briscoe added.
Top Gainers & Losers – 20-Jul-20*