US markets rebounded, making up most of Monday's losses as the S&P and Nasdaq gained 1.5% and 1.6% respectively. Industrials and Financials led the charge and were up 2.7% and 2.4%. Real Estate, Consumer Discretionary, IT, Energy, Materials, Healthcare and Communication Services were up more than 1%. Earnings reports continued with Netflix, UBS and United Airlines reporting their quarterly numbers (scroll down for details). US 10Y Treasury yields were flat at 1.21%. European indices also climbed more than 0.5% – CAC was up 0.8% and DAX and FTSE were up 0.5% each. US IG CDS spreads tightened 1.6bp and HY tightened 5.1bp. EU Main and Crossover spreads tightened 0.1bp and 1.45bp respectively. Brazil's Bovespa was up 0.8%. Gulf markets remained closed for Eid and oil prices remained sub $70/bbl. A Chinese Finance Ministry official said that China's fiscal revenue growth is likely to slow significantly in the second half. Asian markets were upbeat – Nikkei was up 1.4% and  Shanghai,  HSI and Singapore's STI were up between 0.2%-0.6%. Asia ex-Japan CDS spreads were 1.7bp wider.
---
Navigating The Bond Markets by Leveraging the BEV App | July 28
New to the BondEvalue App? We will be conducting a complimentary session on Navigating The Bond Markets by Leveraging the BEV App on July 28, 2021. This session is aimed at helping bond investors in tracking their investments using the BondEvalue App. Click on the banner below to register.

---
New Bond Issues
Indonesia $ 10Y at 2.55% area, reopens 2051s/2071s at 3.45%/3.7% areas

Lai Sun Development $ 5Y bonds at 5.1% area

China Grand Automotive $ 2.5Y final 9.75%, alongside tender offer

Chalco $ 3Y/5Y bonds at T+170bp/T+185bp areas

Vertex Venture S$ 7Y at 3.5% area

CSSC (Hong Kong) Shipping capped $500mn 5Y green bonds at T+185bp area

NongHyup Bank $ 3Y/5Y social bond at T+80bp/T+90bp areas

Jiangsu Century New City Investment Holding 364-day $ notes final at 6.5%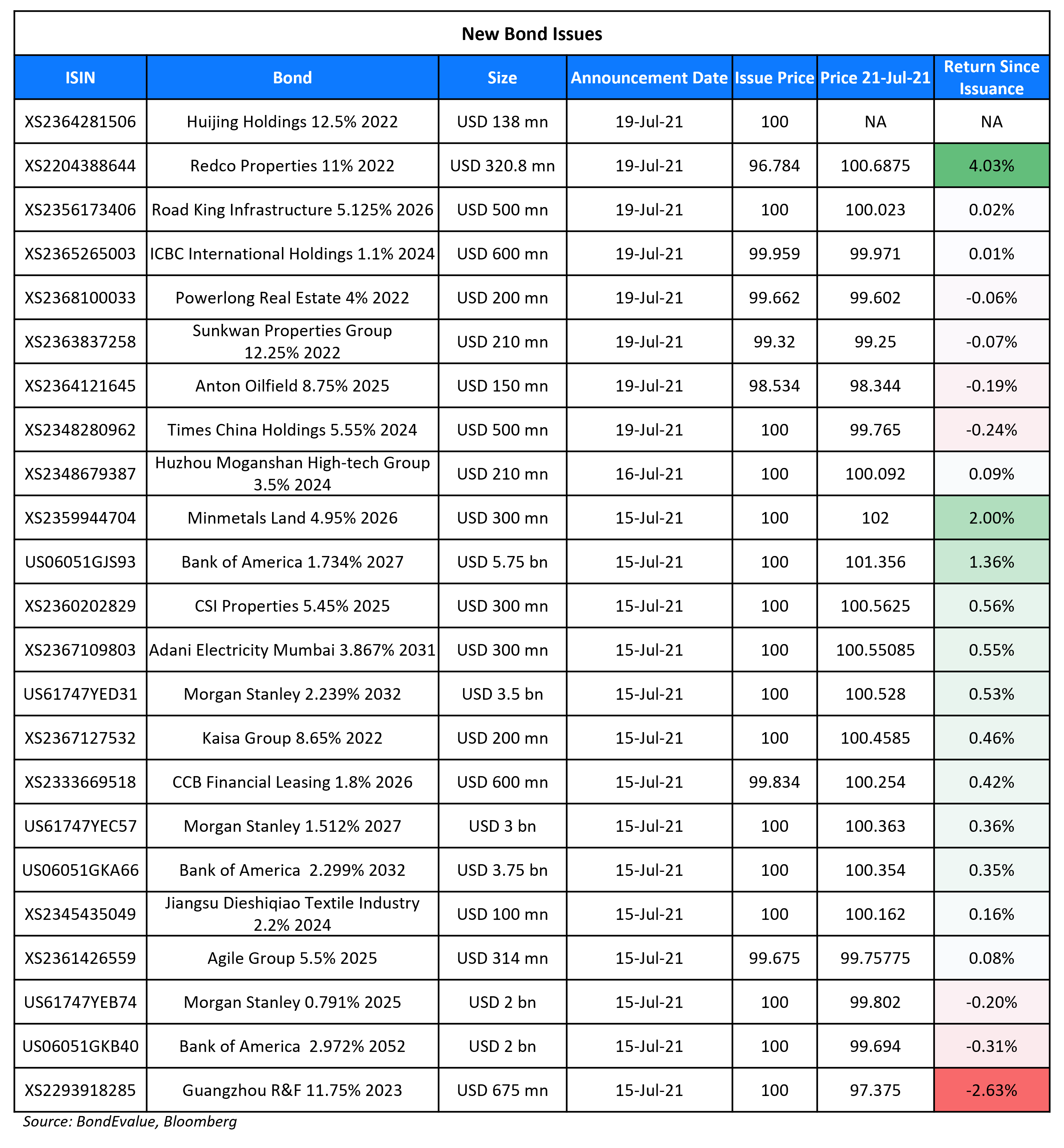 Bank of New York Mellon (BONY) raised $1bn via a two-trancher. It raised $500mn via a 5Y bond at a yield of 1.065%, ~14.5bp inside initial guidance of T+50/55bp area. It also raised $500mn via a 10Y bond at a yield of 1.8%, ~14.5bp inside initial guidance of T+70/75bp area. The bonds are rated A1/A/AA-. Proceeds will be used for general corporate purposes.
Wells Fargo raised $1.25bn via Perpetual non-call 5Y (PerpNC5) depositary shares at a yield of 4.25%, ~18.75bp inside initial guidance of 4.375%-4.5% area. The securities have expected ratings of Baa2/BB+. The depositary shares each represent a 1/1,000th interest in a share of Non-Cumulative Preference Shares, Series DD and were at an offer price of $25 per depositary share. The bonds are callable at $25 per depositary share (a) in whole or in part, from time to time, on any dividend payment date on or after 15 September 2026 (b) in whole but not in part before 15 September 2026 upon the occurrence of a "regulatory capital treatment event". Proceeds will be used for general corporate purposes including but not limited to, the redemption of some or all of one or more series of Wells' outstanding preferred shares and related depositary shares.
New Bonds Pipeline
Shandong Iron & Steel Group hires for $ unrated bonds; calls today

China Citic Bank International hires for $ PerpNC5 AT1; calls today

Ping An Real Estate hires for $ green bonds; calls today

Guangzhou Industrial Investment Fund hires for $ bond; calls start today
Rating Changes
Term of the Day
 Catastrophe Bond
Catastrophe Bonds also referred as Cat Bonds are risk-linked securities that are designed in favor of the issuer as these allow the transfer of risks related to a major catastrophe or a natural disaster to the investors. These are generally high yield debt instruments that payout to issuers in case of specific triggers. These bonds essentially act as insurance policies against natural disasters and are generally purchased by governments, insurance and reinsurance companies. In the event of a trigger event, the proceeds are paid to the borrower and the principal repayment and interest payments are either deferred or cancelled. In case the trigger event does not occur, the borrower continues to pay the interest and the principal as scheduled, similar to a regular bonds. These bonds gained traction after the frequency of natural disasters were on the rise.
The World Bank reported that it priced a Cat Bond that will provide Jamaica with financial protection of up to $185mn against losses from named storms for three Atlantic tropical cyclone seasons ending in December 2023.
Talking Heads
"We are not forecasting 1% just to get attention." "We wonder where the 2% forecasts come from, as it doesn't fit with our models." "To me, the likelihood is that you will see the loss of momentum in the recovery and in the data," Major said. "The sentiment data might have peaked. There's also very strong newsflow about Covid and what it could do to growth. That's the current narrative."
"This was just a hiccup. We continue to believe spreads are reasonably attractive particularly compared to the rest of fixed income," he said.
On protecting bond funds against inflation
Simon Bond, Director of Responsible Investment Portfolio Management at Columbia Threadneedle
"The shape of the yield curve will be affected by rising interest rates, or indeed cutting interest rates, but [bond managers] can cope with that reasonably easily – although it does shape how risk is balanced within a portfolio," he explained. "In comparison to equities, risks are lower and returns are lower, but at the same time investors are getting absolutely nothing from cash. Meanwhile, coupons on fixed income are decent at the moment, even given low interest rates." "Fixed income absolutely has a place within a balanced portfolio, but risks now are perhaps rising as expectations of inflation are coming through."
Sunil Krishnan, head of multi-asset funds at Aviva Investors
"We do need to question whether the range of potential outcomes [for fixed income] currently is a little different from what we have seen in the past," he reasoned. "This is not just in terms of what is coming through today in terms of inflationary data, but in terms of some of the underlying drivers such as incredibly strong private and public sector demand." "It is that latter part that we simply haven't seen over the last 15 years, and I think [investors] need to consider these factors."
Alex Ralph, fund manager at Artemis
"We do think that we can use the yield curve, as Simon [Bond] mentioned, to protect ourselves against rising government bond yields," Ralph said. "We also think that the central banks will be too late to raise rates, so we believe the yield curve will start steepening once more towards the end of the summer." "Therefore, we have made sure that we are positioned away from the long end of the curve."
"It's not a risk story." "The risk-off in equities hasn't actually been that dramatic as to cause this kind of move. So that's when you think there's something else and it does make sense that people taking off (short) positions is part of it."
Top Gainers & Losers – 21-Jul-21*