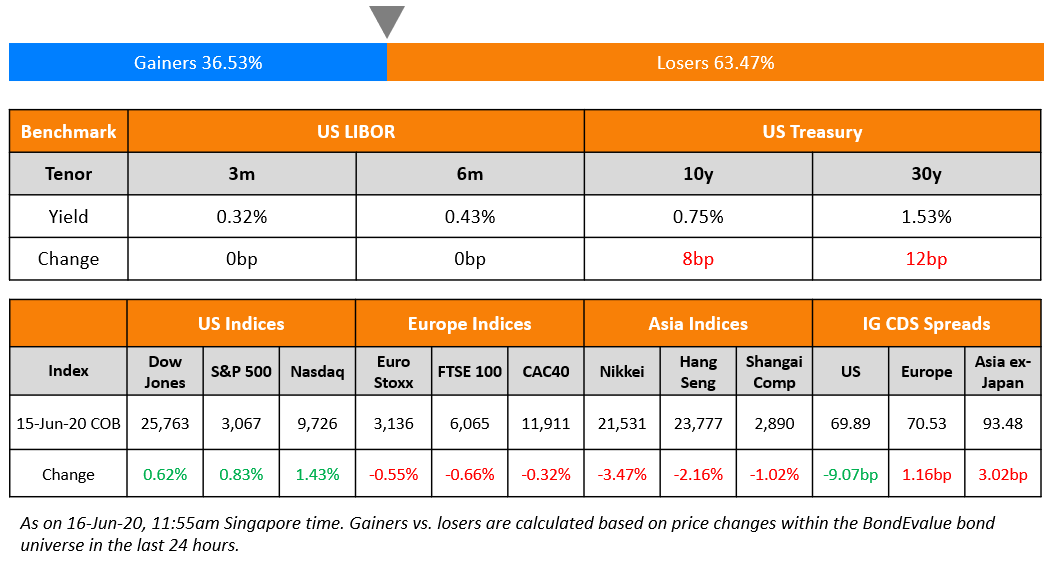 Markets reversed losses on Monday after the Fed announced more details of their corporate bond buying program. Investors shrugged off concerns about a second wave of the coronavirus in China and record hospitalizations in several US states. The Fed announced updates to the Secondary Market Corporate Credit Facility (SMCCF), which will begin buying a broad and diversified portfolio of corporate bonds. The SMCCF will purchase corporate bonds to create a corporate bond portfolio that is based on a broad, diversified market index of U.S. corporate bonds. This indexing approach will complement the facility's current purchases of exchange-traded funds. The combined size of the Facility and the PMCCF will be up to $750 billion. As the announcement was after Asian and European markets closed, these markets were down for the day. This morning is set to follow the late risk-on tone set by Wall Street. Primary issuers sat on the sidelines yesterday but the Fed announcement spurred a flurry of dollar issuance from Asian issuers today.
New Bond Issues
HDB S$ 10yr @ 1.265%
Indonesia $ sukuk 5/10/30yr @ 3/3.5/4.5% area
Ping An Real Estate $ 5yr @ T+330bp area
New World Development $ PerpNC6 @ 5.75% area
CNPC $ 3/5/10yr @ T+160/170/200bp area
Guangdong Hengjian Inv $ 5yr @ T+220bp area
Xianyang Financial Holdings $ 100 mio 3yr @ 4%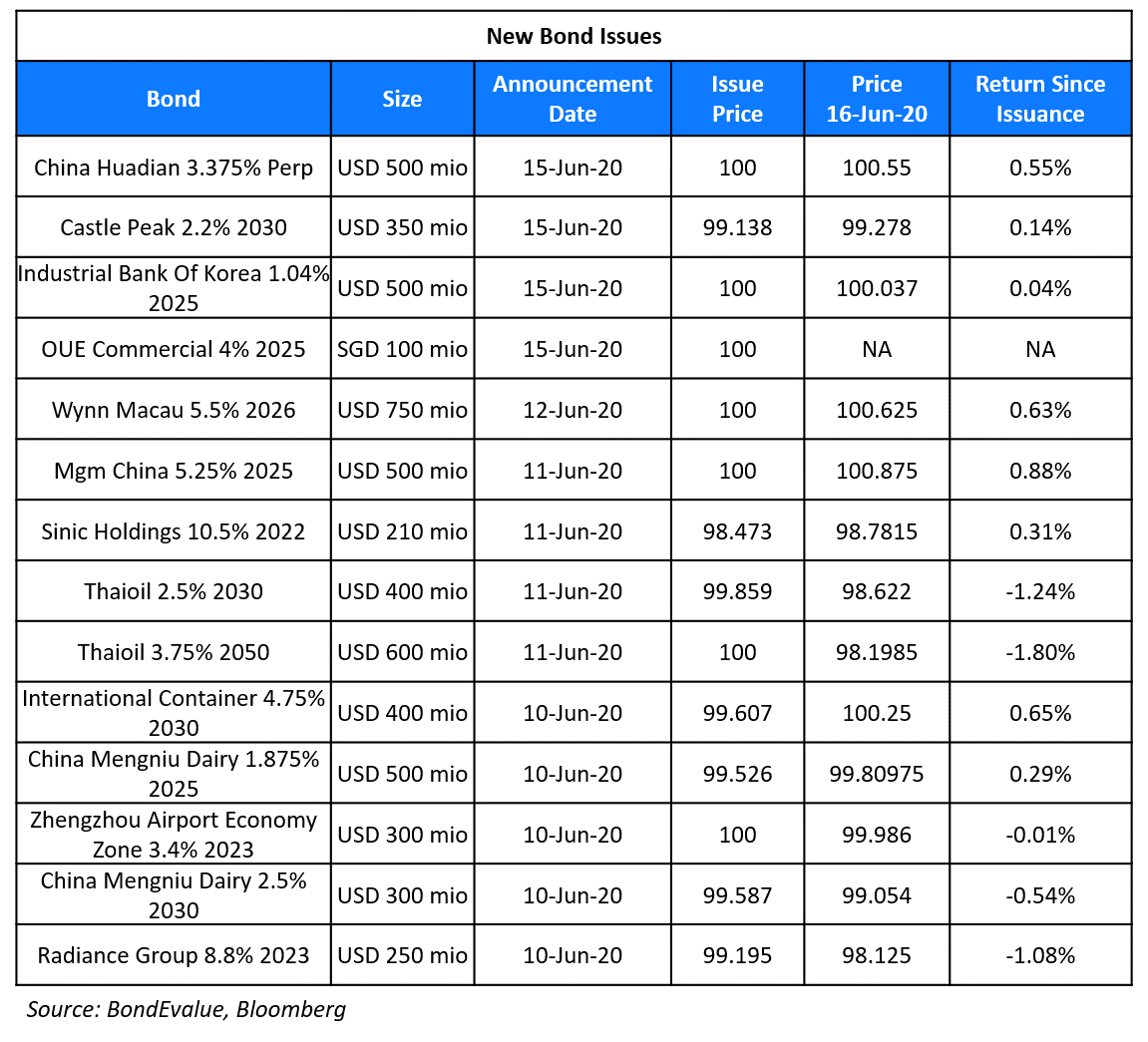 Industrial Bank of Korea (IBK) raised $500mn via 5Y Covid-19 response social bonds at a yield of 1.04%, 72.5bp over Treasuries and 42.5bp inside initial guidance of T+115bp area. The bonds, expected to be rated AA-/Aa2, received orders of over $3bn, over 6x issue size at the time of final guidance. This is the second Covid-19 response bond from Korea after Kookmin Bank raised $500mn in April.
Hong Kong-based power station operator Castle Peak Power raised $350mn via 10Y bonds at a yield of 2.297%, 162.5bp over Treasuries and 47.5bp inside initial guidance of T+210bp area. The bonds, expected to be rated AA-/A1, received orders worth $1.7bn, 4.8x issue size. Proceeds from the energy transition bond will be used to build an offshore LNG-receiving terminal and associated subsea and gas pipeline receiving station. This is the second energy transition bond from Asia from the same issuer in its efforts to switch from coal to natural gas, with the last bond issued in 2017. Castle Peak Power is 70%-owned by CLP Power Hong Kong and 30% by China Southern Power Grid International (HK).
OUE Commercial REIT Trust raised S$100mn via 5Y bonds at a yield of 4%, 340.7bp over the SGD SOR.
Rating Changes
Fed to Buy Broad and Diversified Portfolio of Corporate Bonds
The Federal Reserve Board issued a press release on Monday laying out a plan to lend to a Special Purpose Vehicle (SPV) that will purchase corporate debt in the secondary market from eligible issuers unders its Secondary Market Corporate Credit Facility. The SPV will buy individual corporate bonds in addition to the ETFs and corporate bond portfolios that track a broad market index. The SPV will apply to broad market index bonds that are issued in the US or are subject to US laws and have a remaining maturity of 5 years or less. To be eligible, issuers should have been rated at least BBB-/Baa3 by a Nationally Recognized Statistical Rating Organization (NRSRO) as of March 22, 2020 and if subsequently downgraded, should be rated at least BB-/Ba3 by two or more NRSROs at the time of the purchase. This is pursuant to the release made by Fed on April 9 in which additional actions were taken to provide up to $2.3tn in loans to support the economy. The salient features of the release are as follows:
The combined size of the

Corporate Credit Facility (CCF)

(Term of the day, explained below), which includes the Primary Market Corporate Credit Facility (PMCCF) as well as the Secondary Market Corporate Credit Facility (SMCCF), will be up to $750bn
The Department of Treasury will make a $75bn equity investment in the SPV. $50bn will be towards PMCCF and $25bn towards SMCCF
The CCF will leverage treasury equity ratios as per the following table to acquire bonds / syndicate loans from the eligible issuers at the time of the purchase
The purchase of the instrument from any eligible issuer is capped at 1.5% of the CCF
The maximum amount of bonds that SMCCF will buy is capped at 10% of the issuer's maximum historical outstanding bonds
SMCCF's will buy a maximum number of shares such that it does not exceed 20% of the ETF's outstanding shares
Bonds held by the SMCCF will not be sold for the purpose of tracking the index
BlackRock Financial Markets Advisory will be the sole investment manager initially. A competitive bidding process would be undertaken after the exigent need to commence operations of the facilities has passed
The program will terminate on September 30, 2020.
For the press release, click here and for the term sheet, click here
Moody's Downgrades Lippo Malls to B1; Outlook Negative
Moody's downgraded Indonesia's Lippo Malls to B1 from Ba3 with a Negative outlook. The downgrade is due to challenging liquidity conditions faced by Lippo Malls Indonesia Retail Trust (LMIRT). The strain on liquidity is on account of temporary closure of malls as a result of the ongoing pandemic, which is expected to cause a 39% reduction in revenue this year. Amidst the loss in the top line, LMIRT needs to service debt due in 2021 which is expected to be met through proceeds available from divesting its Pejaten Village and Binjai Supermall along with other external funding. The negative outlook is based on the prevalent market conditions as well as the volatility of the Indonesian Rupiah against the Singapore dollar.
The company's net debt/EBITDA is expected to weaken to ~12.4x in 2020 compared to 5.2x last year and the EBITDA/Interest is expected to weaken to ~1.2x from 3x last year. The short term debt is expected to increase to 24% from 8% last year. Recovery from the pandemic is likely to be slow and that too only in the next year. LMIRT holds S$145.7mn ($104.8mn) cash and cash equivalents as on 31 March 2020. This amount would cover S$115mn ($82.8mn) worth of revolving credit and bonds maturing in June 2020. However, LMIRT is likely to seek external funds for its S$315mn ($226.7mn) worth of loans maturing in Aug 2021 and S$140mn ($100.8mn) perpetuals callable in September 2021. LMIRT's exposure to Indonesia and the volatile market conditions as a result of gloomy market outlook, falling asset prices, adverse effect on the retail property sector as well as a possibility of a renewed outbreak leave the company in a vulnerable position. Fitch has a rating of BB with a negative outlook on the company. There have not been any significant changes in the company's bonds since the downgrade.
For full story, click here
Banks Nudge Finance Ministry & the RBI to Ease ECB Rules
Leading investment banks have requested the Indian Finance Ministry and the Reserve Bank of India (RBI) to ease the price cap on overseas borrowings for Indian corporates. As per the RBI's Master Direction – External Commercial Borrowings, Trade Credits and Structured Obligations (page 9), external debt with a maturity of/over three years are subject to an all-in-cost ceiling per year of Benchmark plus 450bp. The ongoing pandemic has negatively impacted almost every industry and region in the world. Indian corporates have not been spared, with their dollar bond yields rising on the secondary markets. As of June 12, 53 offshore Indian corporate bonds had a z-spread of over 450bp. Yields of bonds on the secondary market are an indication of the yield the issuer would have to pay to raise new bonds, assuming the bond structure remains unchanged. These 53 bonds are from 29 issuers, who would find it difficult to raise capital overseas given the all-in-cost ceiling of 450bp.
State-owned REC managed to raise $500mn worth of 3Y bonds last month at a yield of 4.86%, 450bp over the 3-month Libor at the time of issuance. If a state-owned company raised capital at the all-in-cost ceiling, one can assume that private companies (with some exceptions) would have to cough up more to raise capital. Jugeshinder Singh, CFO of Adani Group told the Economic Times, "Pricing caps should be removed for any public sale of bonds as we should leave pricing to the market." Shashank Jain, head of global corporate banking for India at MUFG Bank said, "Companies in certain sectors are struggling to raise financing locally. If external commercial borrowing price caps are selectively relaxed, they can tap offshore long-term capital which can be available at a higher cost."
For the full story, click here
BEV Term of the Day
Corporate Credit Facility (CCF)
On April 9, the US Federal Reserve established a Corporate Credit Facility (CCF) under the Coronavirus Aid, Relief, and Economic Security Act (the "CARES Act") to provide up to $750 billion in loans and other investments to support the US economy. This CCF program will utilize a special purpose vehicle (SPV) to manage the flow of credit to large employers through bonds and loans in the midst of the coronavirus crisis.
There are two parts to the CCF program:
The Primary Market Corporate Credit Facility (PMCCF), under which the SPV may directly purchase corporate bonds from "eligible" issuers
The Secondary Market Corporate Credit Facility (SMCCF), which will provide liquidity to the market for outstanding corporate bonds. They will do so by purchasing secondary market corporate bonds issued by eligible companies that were recognized as investment grade companies before the market collapsed.
Talking Heads
On using yield control curve – Robert Kaplan, Dallas Fed President
Kaplan said that he is sceptical of the Fed using "yield-curve control" as a tool to help the economy recover from the recession. "I worry about creating more distortions in financial markets," he said. "I'm not saying we shouldn't do it, but I'd have to see evidence that there is a reason to do it." Kaplan also said that the central bank was running some version of Modern Monetary Theory (MMT), the controversial idea that a surge in spending and higher budget deficits won't necessarily result in higher inflation for major developed economies. He mentioned he was worried about the high level of spending and the debt burden resulting from the response to the coronavirus pandemic, because he believes that the implications of using MMT are not well understood.
On the Fed's bond buying program – Dennis DeBusschere, head of portfolio strategy at Evercore ISI
"The reason credit spreads are tight is because investors believe that they would follow through on the program," DeBusscher said. "If they didn't follow through, credit spreads would move significantly wider and the Fed would have to purchase even more debt to shore up credibility."
On Lippo Malls credit rating downgrade – Junling Tan, Moody's Analyst
"The downgrade reflects LMIRT's increased refinancing risk, as the trust will be reliant on the proceeds from its divestment of Pejaten Village and Binjai Supermall, as well as external funding to address its 2021 debt maturity amid challenging market conditions for fund raising. The trust's liquidity has weakened to levels no longer consistent with its Ba3 rating," says Junling Tan, a Moody's Analyst.
Top Gainers & Losers – 16-Jun-20*