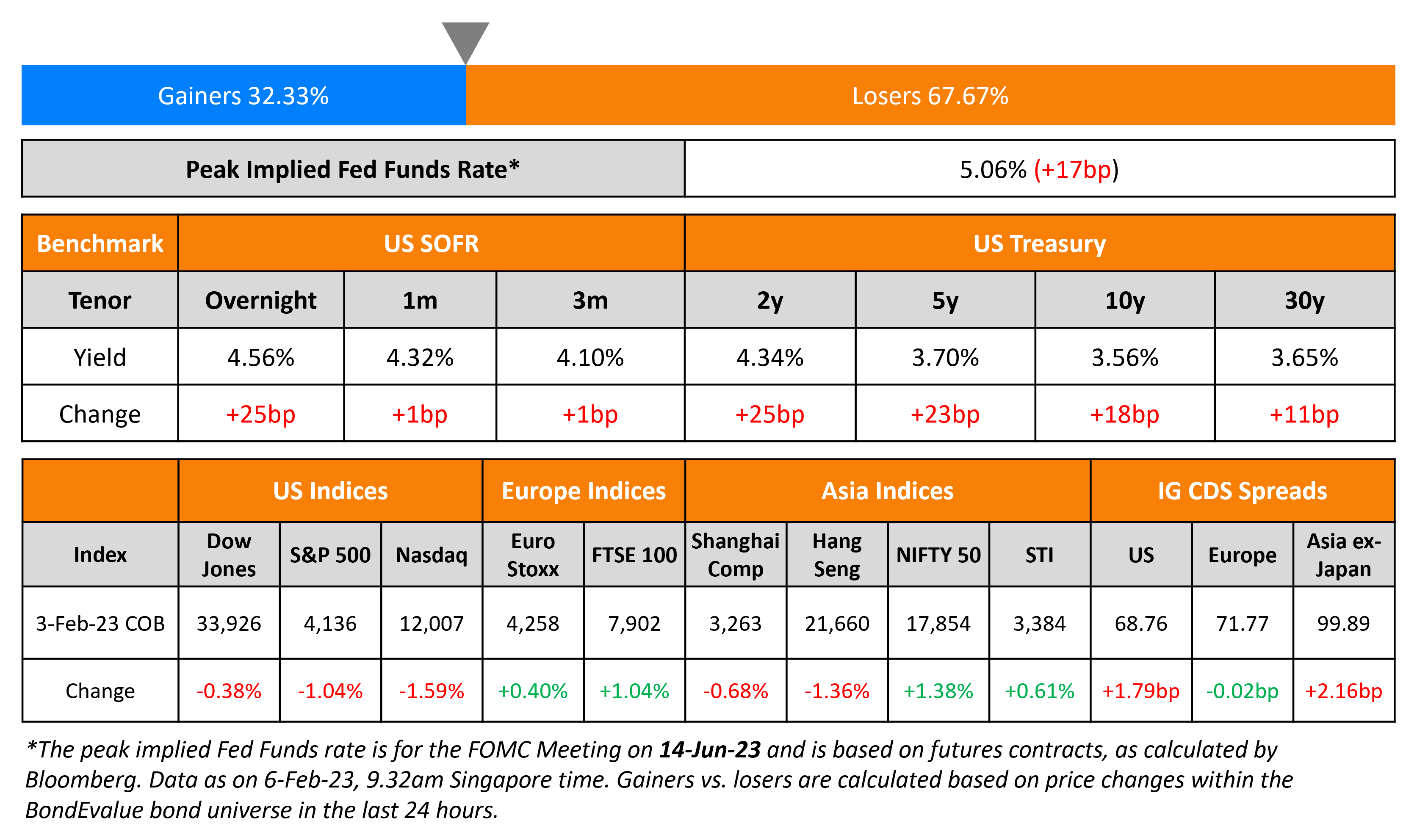 Bond markets saw a massive sell-off on Friday with benchmark yields sharply higher across the curve on following the strong jobs report. US 2Y and 5Y Treasuries sold-off with yields higher by ~25bp while the 10Y yield was up 18bp. US Non-Farm Payrolls came at 517k for January, significantly higher than the surveyed 188k and last month's revised 260k print. The unemployment rate was at 3.4%, lower than the surveyed 3.6%. This was its lowest print since 1969.Average Hourly Earnings YoY rose to 4.4%, higher than the surveyed 4.3%, but lower than last month's revised 4.8% print. Also, ISM Services beat was well above expectations of a 50.5 print, coming in at 55.2 further indicating some strength and expansion in the services sector of the economy.
The peak Fed funds rate jumped 17bp to 5.06% for the June 2023 meeting. Currently, the probability of a 25bp hike at the FOMC's March meeting stands at 97% as compared to last week's 89%. Markets are now watching Powell's commentary on Tuesday. US IG CDS spreads tightened by 1.5bp while HY spreads were 10.8bp wider. Equity indices were lower after the sell-off in bonds, with the S&P and Nasdaq down 1% and 1.6% respectively on Friday.
European equity markets also ended lower. The European main and crossover CDS spreads tightened by 5.9bp and 1.6bp respectively. Asian equity markets have however opened with a negative bias today. Asia ex-Japan CDS spreads were 2.2bp wider.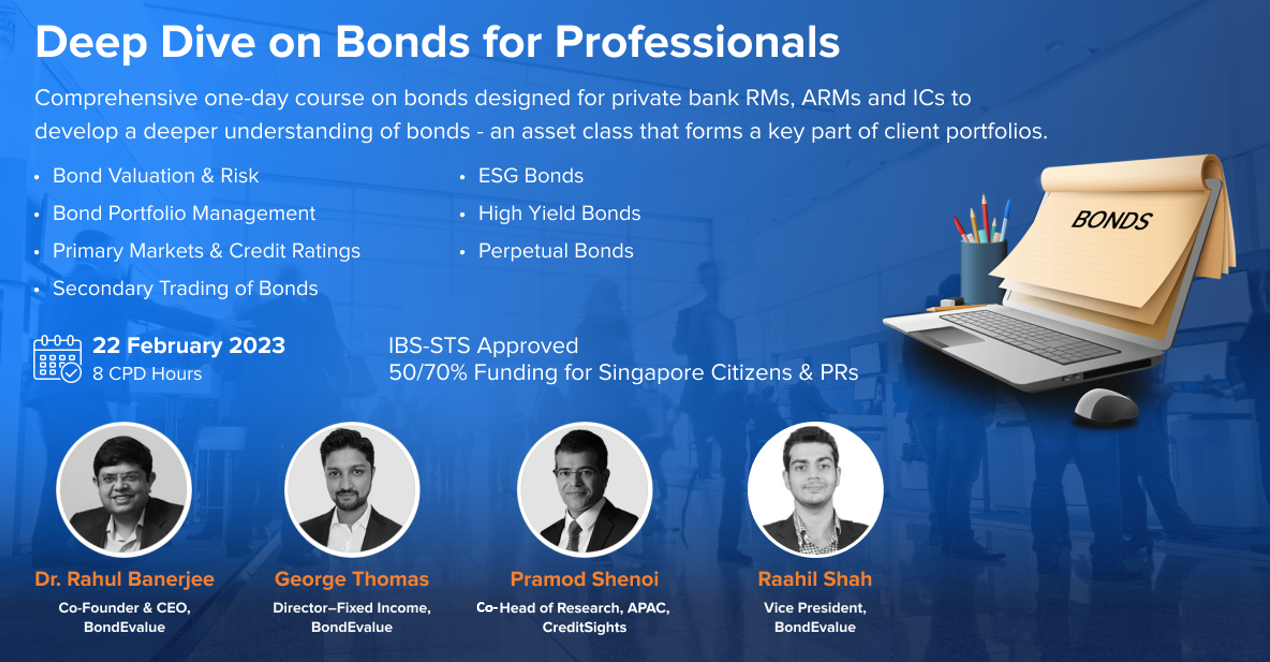 New Bond Issues

Nordea Bank raised €1bn via a 3NC2 bond at a yield of 3.69%, 27bp inside initial guidance of MS+75bp area. The senior bonds have expected ratings of A3/A/AA-, and received orders over €3bn, 3x issue size. Proceeds will be used for bail-in (Term of the Day, explained below) purposes. If not called, the current fixed coupon of 3.625% will be reset to 3m Euribor+48 quarterly.
New Bonds Pipeline
Khazanah Nasional Bhd hires for $ bond
Rating Changes
Moody's downgrades Intel's senior unsecured rating to A2; outlook negative
Nigeria Outlook Revised To Negative From Stable On Weakening Fiscal And External Metrics' 'B-/B' Ratings Affirmed
Outlook On Adani Ports And Adani Electricity Revised To Negative; Ratings Affirmed
Term of the Day
Bail-In Bonds
Bail-in bonds are bonds which would be written off in a crisis, before depositors would lose any money. Thus, in the event of a failure or likely failure of a bank, shareholders and bondholders may be bailed-in (bear some of the burden of writing-off debt) to absorb the losses, instead of a bailout by taxpayers.
Talking Heads
On Europe's Bond Recovery Falls at First Hurdle After ECB High
Azad Zangana, Sr. European economist and strategist at Schroders
"While we may not see many more rate hikes, it doesn't mean we're out of the woods yet. Investors need to understand that there is two-way risk for the rest of the year."
Ute Rosen, a senior derivatives specialist at Union Investment
"Everything is in place for higher rates — you have supported growth, sticky core inflation in Europe, as well as China"
On Sri Lanka completing pre-requisites for IMF aid – President Ranil Wickremesinghe
"We are successfully completing the difficult stage required to get support from the International Monetary Fund. We expect to get their consent without delay… I know that many of the decisions I have been compelled to take since assuming the presidency have been unpopular …. I will continue this new reform program with the majority of people who love this country"
On Yen Sliding After Amamiya Said to Be Approached as BOJ Governor
Dane Cekov, a senior strategist at Nordea Bank
"If this news is correct and Amamiya accepts the position, foreign investors will need to readjust their expectations of the BOJ abandoning its ultra loose policy soon. Some have hoped that the government would pick someone from the more hawkish camp"
Top Gainers & Losers – 06-February
-23*