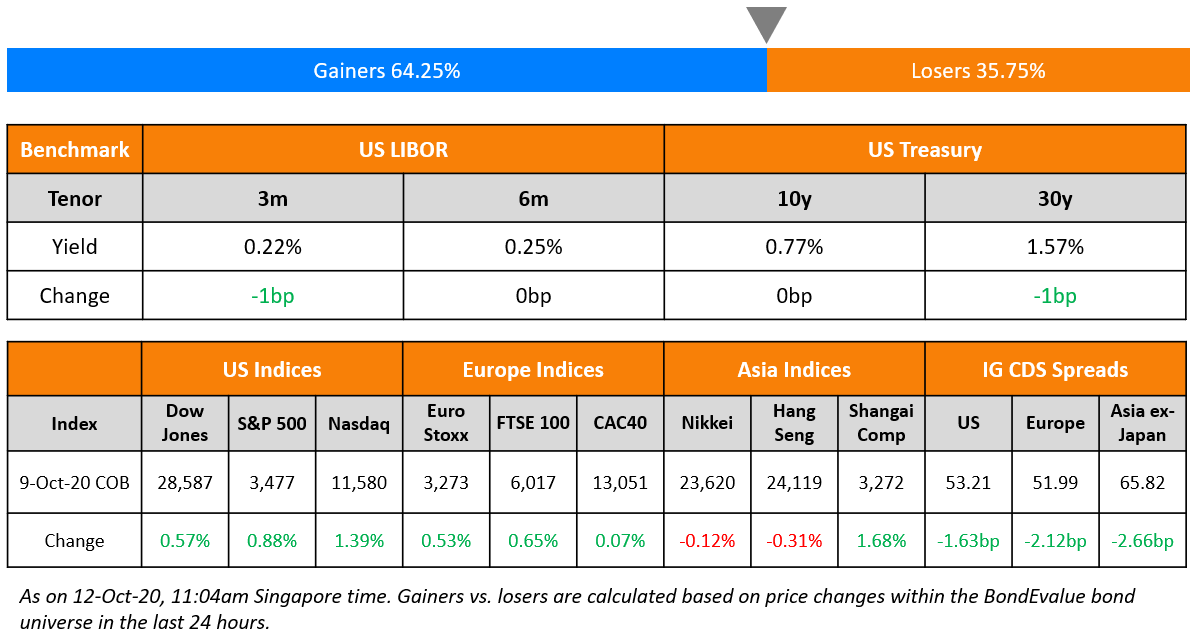 S&P ended up 0.9% on Friday led by tech and consumer discretionary sectors up ~1.5%. 10Y US Treasury yields moved 3bp higher mid-day but came back to end almost unchanged. Market activity in the US is expected to be light today due to the Columbus Day holiday while the following week sees US banks' earnings and inflation numbers out of the US and Eurozone. Optimism increased with Trump planning to increase the stimulus package to $1.8tn after calling-off negotiations earlier last week. However, House Speaker Pelosi opposed the deal yesterday. US IG and HY CDS spreads tightened by ~1bp while European CDS spreads tightened ~3bp on Friday. Asian markets are slightly higher today, up 0.5% while Asia ex-Japan CDS spreads were down 3bp.
New Bond Issues
JSW Steel $ 5.5yr @ 6.25% area
Fosun Intl $ 5NC3 @ 6.4% area
Logan Group $ 300 mn 5NC3 @ 5.7% area
Sinic Holdings $ 364-day @ 10.5% area
Jiangsu Hanrui Investment Holdings $ 3yr final @ 3.2% (+/-2.5bp)
New Bonds Pipeline
Bank of East Asia $ Perp NC5 AT1
Indika Energy $ Bond
SMC Global Power $ Perp NC5
China Merchants Commerce Financial Leasing $ Bond
China $6bn Bond
Turkey $ 5Y bond
Goshawk Aviation $ Perp with letter of support from NWS Holdings
Shinhan Card $ 3Y or 5Y Covid-19 response bond
Rating Changes
Moody's upgrades Bulgaria's ratings to Baa1, changes outlook to stable from positive
Fitch Upgrades GOL's IDR to 'CCC+'
Noble Energy Inc. Ratings Raised To 'AA' By S&P Following Close Of Its Acquisition By Chevron; Outlook Negative
Distribuidora Internacional de Alimentacion Upgraded To 'CCC-'  By S&P On Completion Of Distressed Exchange; Outlook Negative
Oi S.A. Issuer Credit Ratings Cut To 'SD'  By S&P On Approval Of Its Amended Reorganization Plan
Russian Gold Producer Petropavlovsk Downgraded To 'B-' By S&P On Corporate Governance Concerns; Rating On CreditWatch Negative
Moody's downgrades Weibo to Baa2 on Sina privatization; outlook negative
Fitch Revises Latvia´s Outlook to Stable, Affirms at 'A-'
CSN Outlook Revised To Positive  By S&P On Higher Cash Flows And Mining Division's IPO Prospects; 'B-' Ratings Affirmed
Brazilian Steelmaker Usiminas Outlook Revised To Stable From Negative By S&P On Expected Recovery, 'B+' Ratings Affirmed
Gerdau Outlook Revised To Stable From Negative By  By S&P On Faster-Than-Expected Demand Recovery; 'BBB-', 'brAAA' Ratings Affirmed
Fitch Withdraws Noble Energy's Ratings
The Week That Was
The prior week saw global bond funds receiving the second largest weekly inflows on record according to Bank of America – $25.9bn of inflows in bond funds with US government bond funds getting $3.8bn of inflows. The US curve steepened last week with the 2s10s up 6bp and the 30Y yield up 10bp. Also, the Commodity Futures Trading Commission (CFTC) reported that the 30Y treasury futures saw a record high net short position by 230,312 contracts. US 5s30s are around 3Y highs at 124bp.
US IG issuance led the primary markets for the week with over $25bn in deals. S&P reported US HY YTD issuance at $345.6bn, an annual record. Asia G3 ex-Japan dollar issuance were down ~25% WoW, given the Golden Week holidays in China. However, there were new deals from large names such as Baidu and Thai Eximbank and Kasikornbank.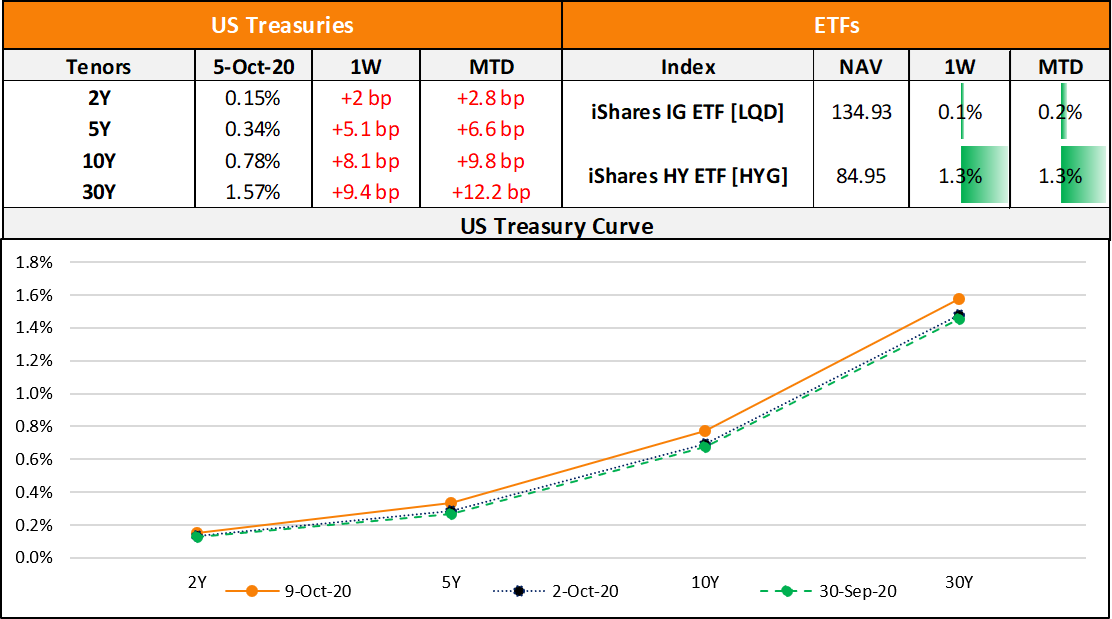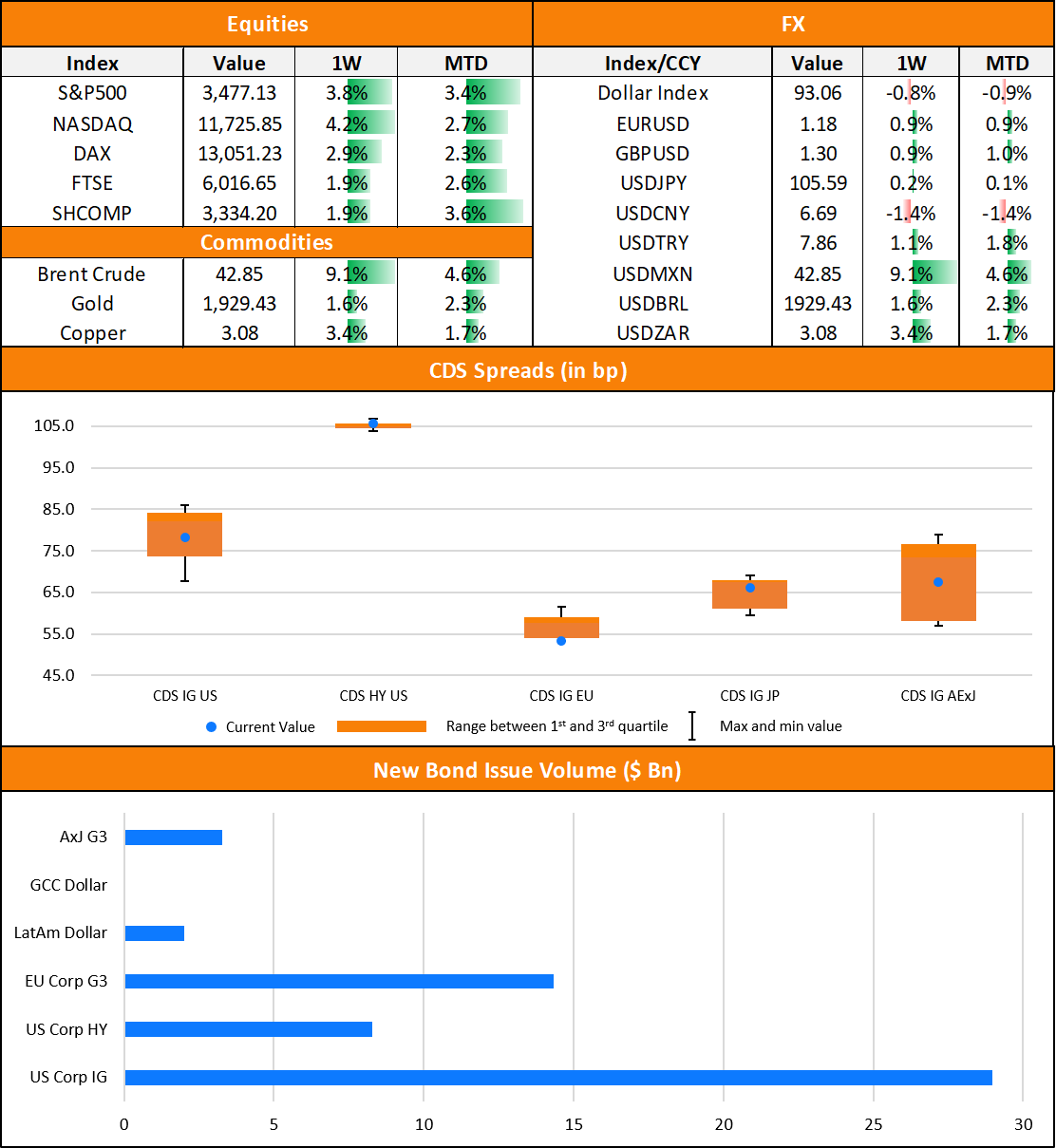 Source: BondEvalue, Reuters, Bloomberg
Vedanta's Delisting Efforts Fail; Dollar Bonds Fall
Vedanta Resources (B1) suffered a setback as subsidiary Vedanta Ltd. failed to complete its delisting offer. The delisting required a minimum promoter holding of 90% of the total paid-up capital – amounting to a minimum of 1,341mn shares to be tendered by shareholders at the exit price. Vedanta said that total shares tendered were 1,254.7mn, which was less than the minimum threshold. Sources had initially reported a tender of 1,370mn shares (120mn shares more than actually tendered), which was more than the threshold. Later on, it was mentioned that the 120mn shares were pending confirmation from custodians and were likely error entries. There were rumors that bankers to the delisting were approaching regulators to get a day of extension. On October 10, the company filed that "the Delisting Offer is deemed to have failed in terms of Regulation 19(1)" with the stock exchange and that the shares will be returned to the shareholders as a result. The delisting was an effort to help with corporate structure and acceleration in debt reduction over the medium term helping the group with its overall financial position.
Vedanta's dollar bonds are down over 7% – the 6.125% 2024s sold-off over 5 points to 66 cents on the dollar while the 9.25% 2026s were down 6 points to 71 since the delisting commenced on October 5, though they are higher since the announcement on May 12.
Turkey Raises Currency Swap Rate
The Turkey Central Bank raised the local currency swap rate (Term of the Day, explained below) by 150bp to 11.75% which is seen by analysts to be a precursor to a rate hike in the next meeting on October 22. In the meeting last month, the central bank raised rates by 2% with the TRY (Turkish Lira) down over 20% this year and inflation picking up. The increase in the onshore swap rate essentially pushes the cost of funding higher for Turkish banks and thereby increases lending rates. "It is encouraging that the central bank is more proactive as today's decision is essentially an emergency rate hike," said a Rabobank strategist. Turkish banks' dollar bonds were slightly changed.
For the full story, click here
NCB-Samba Merger To Result in the Gulf's Third Largest Lender
As a part of Saudi Arabia's "Vision 2030", its biggest lender National Commercial Bank is all set to merge with Samba Financial Group. The post-merger bank would be the third largest bank by assets in the Gulf after Qatar National Bank and First Abu Dhabi Bank. The merged bank would have combined assets of ~SAR837bn ($223bn). The deal values Samba at ~SAR55.7bn ($14.85bn). Saudi Arabia's sovereign wealth fund, the Public Investment Fund holds 44.29% in NCB and 22.91% in Samba. On completion of the merger, PIF under the chairmanship of Crown Prince Mohammed bin Salman, will hold 37.2% in the merged bank. According to NCB, "The merged bank will become the largest bank in the Kingdom and a leading bank in the Middle East region with 171 billion riyals in market capitalisation". The market cap of ~$46bn for the combined bank would be similar to that of Qatar National Bank QPSC, which has ~$268bn worth of assets. Samba's dollar bonds were largely stable with its 2.75% bonds due 2024 trading at 104 points.
For the full story, click here
Malaysia Airlines' Restructuring Deal Rejected by Lessors
The restructuring efforts of Malaysia Airlines have hit a roadblock as a group of lessors have challenged the plan being undertaken through a UK court. Law firm Clifford Chance sent a letter on behalf of lessors who claim to represent 70% of the airplanes and engines leased to the airlines stating that the plan is "inappropriate and fatally flawed". The letter, dated October 8, states that if the airline group "insists on proceeding with the proposed restructuring plan (RP), our clients will use all means at their disposal to challenge it on all possible grounds."
Reacting to the letter, Malaysia Aviation Group (MAG) chief executive officer Izham Ismail said the group would have "no choice but to shut it down" if lessors decide against backing the restructuring plan. According to the CEO, the restructure, which will require a cash injection from state fund Khazanah Nasional over the next 18 months, is planned over the next 5 years while achieving a breakeven in 2023. This is however based on the assumption that the demand returns to 2019 level by Q2 or Q3 of 2022. Malaysia Airlines Bhd said in a letter to lessors that it is unlikely to be able to make payments that are due after November unless it receives more funding from Malaysian sovereign wealth fund Khazanah. The coming week could see a decision by the airlines on the execution of plan B as the CEO had warned that in case there was no decision by October 11, the airlines could execute Plan B, which involves shifting the airlines operator certificate (AOC) to a new airline under a different name or leverage the AOC of its sister airlines Firefly and MASwings. "If you ask me, is Plan B credible? Of course, it is. We have all the skills sets in place." said Izham.
For the full story, click here
Distressed Tsinghua Announces Offer to Sell Stake in TusHoldings for $333mn
Tsinghua Holdings, a wholly owned subsidiary of distressed Tsinghua University announced via a filing on the Beijing stock exchange on Friday that it intends to transfer 107.73mn shares in TusHoldings. The filing states a transfer reserve price of RMB 2.23bn ($333mn) for the 107.73mn shares that account for a stake of 14.84%. Tsinghua Holdings currently owns 44.92% in Tus. Tsinghua Holdings' indirectly owned subsidiary, Tsinghua Unic Ltd's 4.75%, 5.375% and 6.5% dollar bonds due 2021, 2023 and 2028 have been trading at distressed levels of 75, 48 and 41 cents on the dollar respectively on the secondary markets.
For the full story, click here
Apollo Gets Court Approval for $1 Billion Bankruptcy Loan to Aeromexico
Alternative investment management company, Apollo Global Management won court approval to provide a $1bn bankruptcy loan to struggling Mexican carrier Grupo Aermexico. The debtor-in-possession financing was first announced on August 13 but was later pushed by a New York court due to a disagreement between Apollo and a group of Aermexico's bondholders. Under the new deal, both the minority lenders (bondholders) and majority lender (Apollo) will be able to decide whether to convert their debt to equity. The court approval will allow Aeromexico to access a further $100mn of the first tranche, of which $100mn has already been disbursed. On meeting certain conditions, it will be able to access $175mn of the second tranche, with incremental disbursements of $100mn on achieving further milestones. Unlike certain airlines in US and Europe, Mexican airlines have not received financial aid from the government, which led Aeromexico to file for bankruptcy protection in late June.
Aeromexico's 7% 2025s traded largely unchanged at 24.5 cents on the dollar.
For the full story, click here
Term of the Day
Local Currency Swap Rate
Local currency swaps are transactions where a bank lends a foreign currency to the central bank in exchange for equivalent local currency with interest payments, a specified maturity and set exchange rates. These interest rates are the local currency swap rates.
The Turkish central bank (CBRT) recently raised the lira rate on dollar swaps. Essentially, local Turkish banks exchange the dollars they have with the CBRT and in return would get Liras. Local banks would have to now pay a net interest rate of 11.75% to the CBRT. Policies like these are taken to increase local deposits and thereby reduce the incentive to buy dollars in order to preserve the value of the local currency.
Talking Heads
On aggressive economic assistance needed to boost US economy – Neel Kashkari, Minneapolis Federal Reserve President
"The reason the economy bounced back as strongly as it did in June and July is because Congress was so aggressive in the spring," Kashkari added. "We need Congress to continue to be aggressive so that the recovery can be stronger."
"We don't have the ability to target the assistance to one group or one region or one sector. Only Congress can do that. And it's much cheaper if you can keep people whole on the front end then if we have these continued layoffs and these continued bankruptcies and to try to rebuild it on the back end, Kashkari said. "That ends up taking a lot longer. That actually ends up being more expensive for the taxpayers."
"Right now, the U.S. government is able to borrow at very, very low rates. And so now is the time. If there is a need to run deficits, now is the time to go ahead and use that government's fiscal capacity to provide the assistance," Kashkari said. "There's no question over the long run we have to make changes. We have to make some decisions to get our fiscal house in order to get some balance, but right now is the time to provide assistance."
On pre-election Covid-19 economic stimulus deal unlikely due to vast difference in opinions – Mitch McConnell, U.S. Senate Majority Leader
"We do need another rescue package. But the proximity to the election and the differences of opinion what is needed at this particular juncture are pretty vast," he said. McConnell said he hoped lawmakers could rise above partisan jockeying to agree on "hopefully one last rescue package," but added: "I think that's unlikely in the next three weeks."
On bond market rally following Reserve Bank of India's assurance to ensure liquidity – Shaktikanta Das, RBI Governor
"In order to impart liquidity to state development loans (SDLs) and thereby facilitate efficient pricing, it has been decided to conduct OMOs in SDLs as a special case during the current financial year," Das said. "We look forward to cooperative solutions for the borrowing programme for the second half of the year. It is said that it takes at least two views to make a market, but these views can be competitive without being combative."
On the need for South Africa to close the gap between revenue and expenditure to avoid facing Argentina-like debt crisis – Tito Mboweni, South African Finance Minister
"What bothers me most is what I refer to as the hippopotamus's mouth … where revenue is declining while expenditure is going up. [We] have to close this mouth of the hippo," he said, noting that tax revenue for the year is expected to contract by over R300 billion. "We are headed for a fiscal crisis. Non-residents are selling South African bonds at an alarming rate," he added.
On the upcoming surge in euro-area bond likely to add fuel to Europe's bond rally – in a note by Rohan Khanna, UBS Group AG strategist and his team
"The period from now until year-end does provide a fertile backdrop for further spread compression," Khanna and team wrote, referring to the yield premium between peripheral debt and German bunds.
On the stunning performance of Asian bonds for boasting positive returns and yields amid pandemic – Arthur Lau, head of Asia ex Japan fixed income at PineBridge Investments
"With a better-than-expected credit matrix, earnings, and earnings outlook, we've become more constructive on Asian corporate credit profiles in the second half," says Mr Lau. "Solid diversifying characteristics, such as higher yield and shorter duration than peers, along with relatively low default risk, further strengthen the case for greater allocations to Asian debt in global portfolios," he adds.
"Our base case is that the debt-to-GDP position in Asia, on aggregate, will remain steady this year and next. And with economic growth outpacing debt growth, we think government finances will start to improve in 2022, much earlier than in developed markets," says Mr Lau.
On the opportunity in the attractive interest rates and high yields of corporate bonds – Win Phromphaet, chief investment officer of Principal Asset Management Co
"We can buy a good bond at a cheaper price with better returns but with the same quality of assets," Mr Win said. He added a cautious note to buy bonds not strictly based on coupon rate, but also with an understanding of the origin of the higher return.
Top Gainers & Losers – 12-Oct-20*