US markets witnessed a sell-off on Tuesday as July retail sales declined – Nasdaq and S&P were down 0.9% and 0.7% respectively. Consumer Discretionary, down 2.3% was the worst hit, followed by Materials, Industrials, Communication Services, Energy, IT and Financials, all down more than 0.8% while Healthcare, up 1.1% outperformed. European markets were mixed  – FTSE ended 0.4% higher while CAC ended 0.3% lower and DAX was broadly flat. Saudi's TASI and UAE's ADX closed higher by 0.6% and 0.9% respectively. Brazil's Bovespa, down 1.1% continued its downward rally. APAC stocks had a positive start – Singapore's STI, Nikkei, HSI and Shanghai were up 0.9%, 0.7%, 0.4% and 0.2% respectively even as Chinese regulators issued draft anti-monopoly rules. US 10Y Treasury yields widened 1bp to 1.27%. US IG and HY CDS spreads widened 0.9bp and 6.4bp. EU Main and Crossover CDS spreads widened 0.4bp and 2.2bp respectively. Asia ex-Japan CDS spreads were 0.3bp tighter.
In the US, retail sales in July dropped 1.1% vs. expectations of a 0.3% drop pulling the market sentiment down, with the decline led by automobiles. Sales declined 0.4% excluding automobiles.
---
Advanced Two-Day Course on Bonds | 26-27 Aug
If you are a finance professional or investor who would like to learn about bonds from senior bankers, sign up for our upcoming course with Singapore Management University on 26-27 August.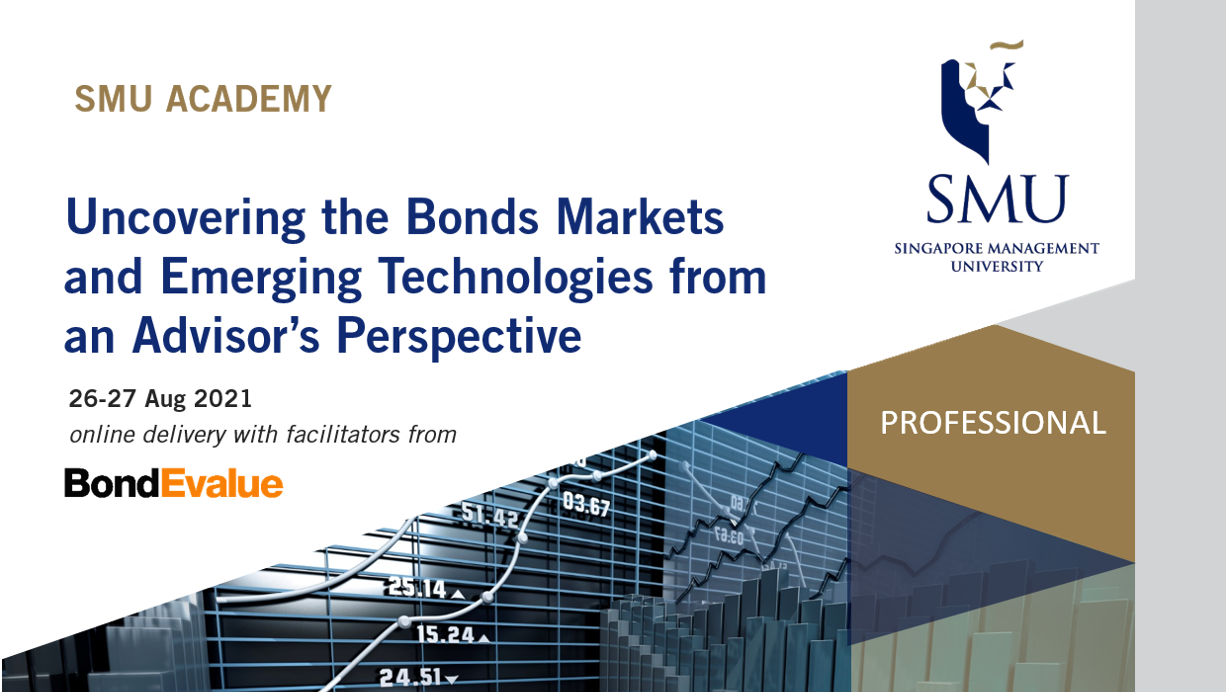 The course is designed for private bankers, relationship managers and advisors, and covers both theoretic concepts as well as real-world examples. SkillsFuture Singapore Funding is available for Singaporeans and PRs. Click on the link below to sign up.
---
New Bond Issues
HDFC Bank $ PerpNC5 AT1 at 4.125% area

Ping An International Financial Leasing $ 3Y at 3% area

China Jianyin Investment $ 3Y at T+150bp area

Henan Investment Group $ at 2.9% area

 

Baidu $ 5.5Y/10Y debut sustainability bond at T+115bp/T+150bp areas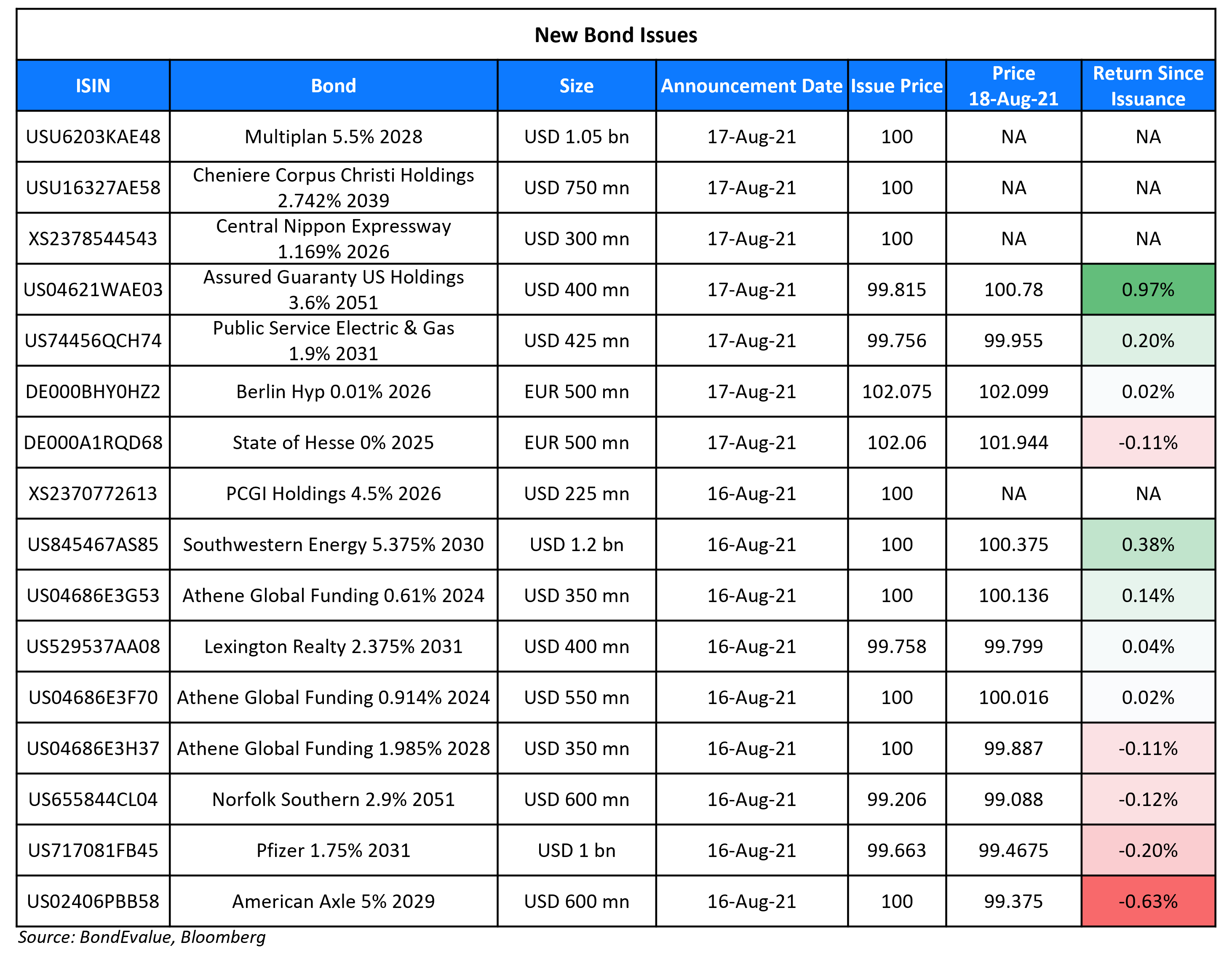 Central Nippon Expressway
raised $300mn via a 5Y bond at a yield of 1.169% unchanged from initial guidance. The bonds have expected ratings of  A1. Proceeds will be used for road building. Central Nippon Expressway is wholly owned by the Japanese government and operates a network of toll roads.
New Bonds Pipeline
Perusahaan Pengelola Asset hires for $ bond
Anhui Transportation Holding Group hires for $ bond
Shandong Gold Group $  bond
Rating Changes
Term of the Day
Subordinated Debt
Subordinated debt refers to any type of debt that rank below senior debts on the capital structure. In the event of liquidation, holders of subordinated debt would only be paid after all the senior debt is repaid. Thus, the ratings and yield of subordinated debt tend to be lower and higher respectively, to account for the greater risk associated with subordinated vs. senior debt. There are different kinds of subordinated debt that can include perpetuals/AT1s, payment-in-kind notes, mezzanine debt, convertible bonds, vendor notes etc. Subordinated debt rank higher to preferred equity and common equity in the capital structure. LMIRT's 7% Perp is a subordinated bond.
Talking Heads
"China is under-represented in global investors' portfolios but also, in our view, in global benchmarks." "It has the second-largest equity market, the second-largest bond market. It should be represented more in portfolios." "The starting point is so low. The direction of travel for China to be represented in global benchmarks is clear." "The spheres of influence between the two superpowers are moving apart. In the near term that can lead to market volatility. In the longer term, if you want to get China you have to go to China." "Think of this journey as one step forward, half a step back." "It's not about eliminating the risks, it's about are you being rewarded for the risks? We believe we are being compensated."
Duncan Tan, a strategist at DBS Bank
"Global investors are likely cautious around upcoming Fed taper and the prospects of weaker Asian currencies. Current wave of virus resurgences across Asia and the resultant downside risks to regional growth are also weighing on investor sentiments."
Khoon Goh, head of Asian research at ANZ
"Asia's resurgent virus situation, especially among ASEAN economies, has prompted us to downgrade our 2021 growth and FX outlooks for the region." "It has also triggered portfolio outflows, which will only ease and reverse when the current pandemic wave has meaningfully ebbed and growth recovery resumes," he said.
"While economic data still pointed to growth, second-quarter economic growth was a bit more uneven than the torrid pace of the first," said Peng. "After a correction to reset the supply-demand balance, the long-term trend reemerges. We might be at that critical juncture between the correction and the reassertion of the long-term trend in the rising rate saga," he said.
Top Gainers & Losers – 18-Aug-21*