US Treasury yields rose across the curve on Tuesday following the CPI print. US CPI for February came at 6.0%, in line with expectations and lower than last month's 6.4% print. Core CPI came at 5.5%, in line with the surveyed number and lower than last month's 5.6% print. This is the smallest rise in Core CPI since December 2021. The 2Y Treasury yield, more sensitive to the Fed funds rate, rose 13bp to 4.26% while the 10Y rose 10bp to 3.66%. The peak Fed funds rate too rose by 12bp to 4.96% as markets price in a 79% probability of a 25bp hike next week. The probability of no hike fell from 35% on Monday to 21% currently. Credit spreads in the US and Europe eased – US IG and HY CDS spreads tightened by 5.7bp and 24.8bp respectively. The S&P and Nasdaq staged a recovery, up 1.7% and up 2.1% respectively.
European equity markets bounced back as well, led by the Euro Stoxx, DAX and CAC up 1.8-2.0%. European main CDS spreads eased 3.4bp while Crossover tightened 18.9bp. Asia ex-Japan CDS spreads on the other hand continued to widen, up 3.6bp to 139.8bp. This takes the total widening since the start of last week to 31bp. Asian equity markets have opened in the green, led by Hang Seng and STI up 1.2%. On the data front, China retail sales for February rose 3.5%, in line with estimates and higher than the 0.8% growth seen in January. Industrial output on the other hand came in below estimates (2.6%) at 2.4% for the Jan-Feb period. Primary markets remain muted with no new deals this week so far.
---
 New Course on Bonds for Investors | 13 and 27 April 2023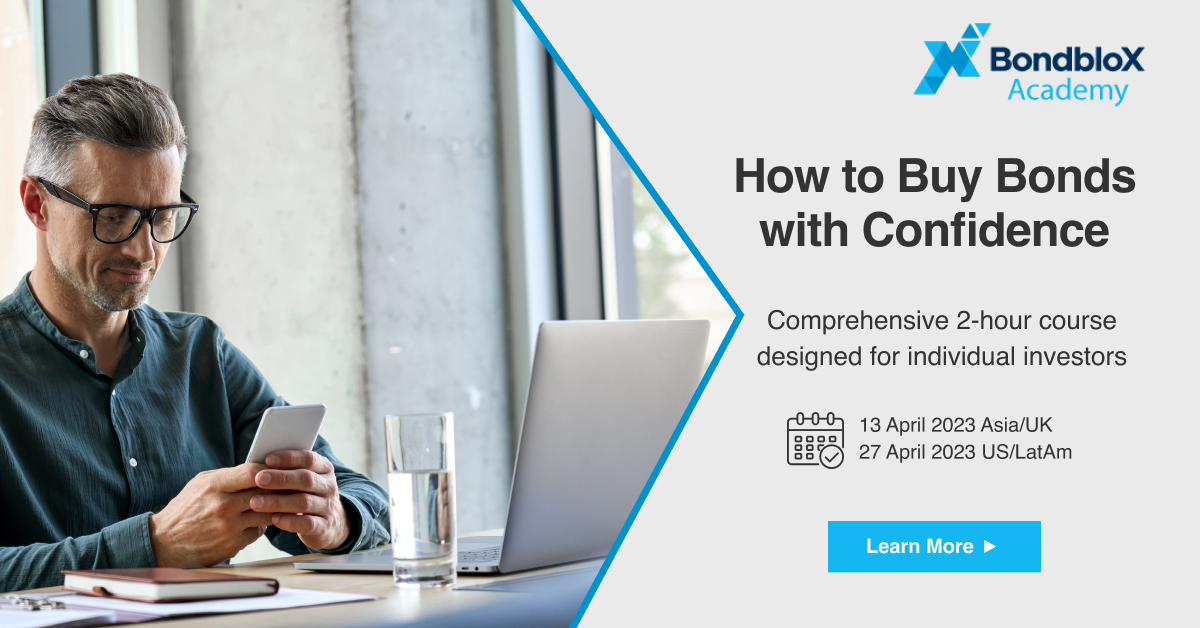 ---

New Bond Issues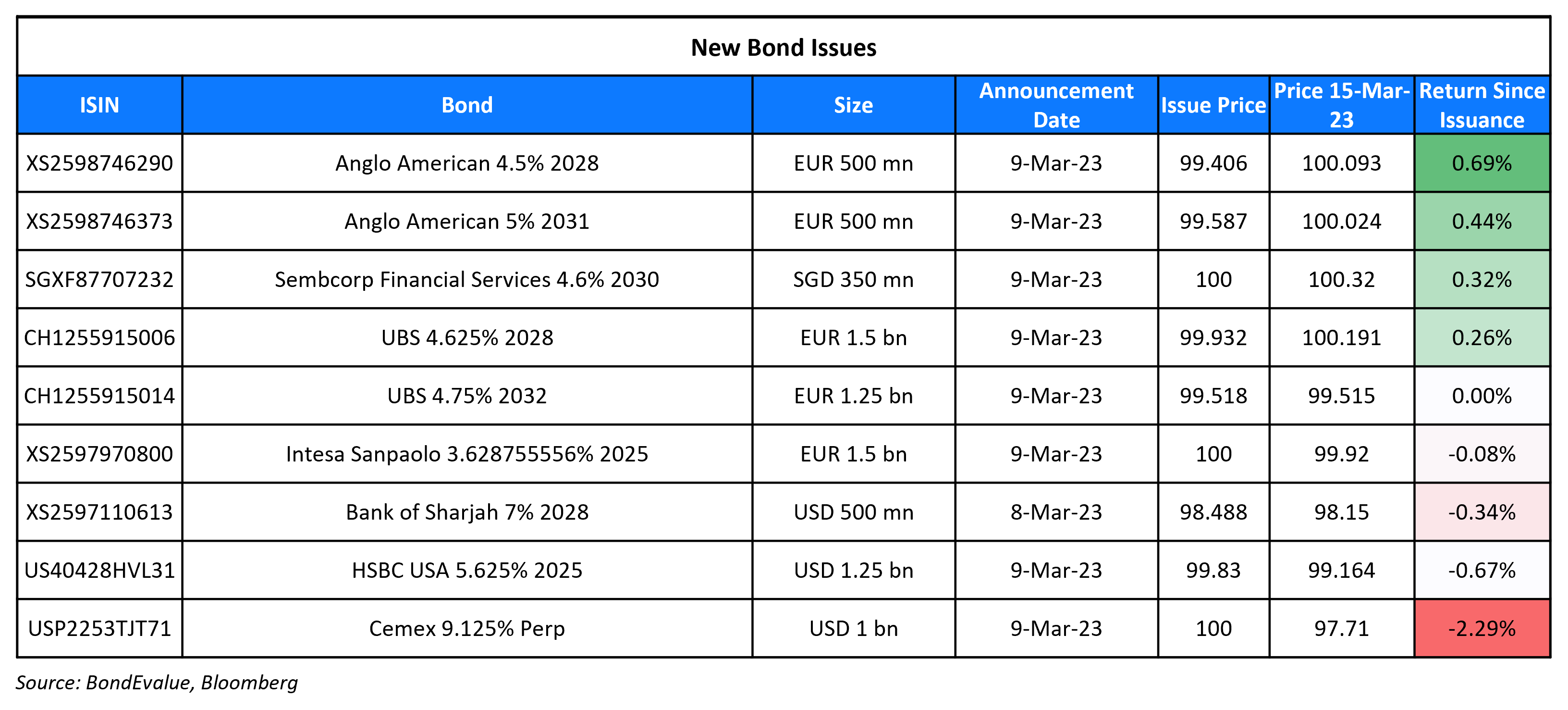 New Bonds Pipeline
Shinhan Bank hires for $ senior bond
REC hires for $ Long 5Y Green bond
Qatar plans for $ bond
Rating Changes
Term of the Day:

Change of control Put
A change of control put is a common covenant in bond offerings, mentioned in the bond's prospectus. Bonds that carry a change of control put offer bondholders the option to sell the bonds back to the issuer at a pre-defined price upon the occurrence of a change of control event, which is typically a change in ownership of the issuer. The option to redeem the bonds in this case lies with the bondholder, as against a call option, which lies with the issuer, not the bondholder.
Talking Heads
Credit Suisse CEO Ulrich Koerner on its revamp and inflows
"Nobody is pleased by the share price development, but we manage what we can manage, and this is the execution of our plan…We said it's a three year transformation, and you can't come after two months, 'Why is everything not done?'"
"We got inflows yesterday, which is a positive sign I would say…We want to get back all what we lost. And once we are there, we go beyond and grow the business again."
Zhi Wei Feng, senior analyst at Loomis Sayles Investments Asia
"The key is whether it's a U-shaped or L-shaped recovery. But there is no certainty in that…No more default and some successful cases of debt restructuring progress are key to discerning whether the policies are effective enough to support a U-shaped recovery."
Eddie Chia, portfolio manager at China Life Franklin Asset Management Co
"The sense of euphoria was caused by investors' fear of missing out instead of rekindled interest in property bonds…The rally could morph into volatility any time as investors shift their focus to fundamentals in the next few months."
Ben Bennett, head of investment strategy and research at Legal & General Investment Management Ltd
"Homebuyers are still wary of buying houses from defaulted developers … Investors are still waiting for better clarity on how home sales and the financing plans will turn out."
Karl Chan, analyst at JPMorgan
"The results announcements might in fact be a clearing event … As sales data over the next few months will likely continue to improve, we expect the sector to see a gradual re-rating."
Steven Leung, executive director at UOB Kay Hian (Hong Kong)
"the poor earnings should have been well expected" and there will be more policies to support the property market … This will be very important for China's GDP to reach that 5 per cent target, and will help share prices to stabilise at current levels."
Victoria Mio, head of Asia-Pacific equity research at Fidelity International
"It's probably not enough yet to declare a nationwide rebound for China's property sector … But as we've seen in recent weeks, the post-Covid pent-up demand is real."
Top Gainers & Losers – 15-March
-23*