US Treasury yields eased by~2bp across the curve with the peak Fed Funds rate also easing by 3bp to 4.97% for the May 2023 meeting. This follows a 5-8bp move higher across the benchmark curve after a stronger-than-expected ISM report. The probability of a 50bp hike at the FOMC's December meeting remained unchanged at 77%. US IG and HY CDS spreads widened 2.7bp and 16.2bp respectively. US equity markets ended lower with S&P down 1.4% and Nasdaq down 2%. 
European equity markets ended lower too. EU Main CDS spreads widened 1.6bp and Crossover spreads widened by 7.7bp. Turkey's inflation came in a tad lower at 84.4% in November, down from 85.5% a month prior, its first drop in inflation in over a year. Asian equity markets have opened lower today. Asia ex-Japan CDS spreads widened by 3.7bp.

---
---

New Bond Issues
ICBC Macau $ 2Y FRN at SOFR+120bp area


Toronto-Dominion Bank raised €1.25bn via a 7Y bond at a yield of 3.631%, 25bp inside the initial guidance of MS+135bp area. The senior unsecured bonds have expected ratings of A1/A/AA-.
New Bonds Pipeline
Korea Investment & Securities hires for $ Green bond

Zhongrong International Trust hires for $367mn Short 1Y bond

TSMC Arizona hires for $ bond
Rating Changes
Term of the Day
Initial Price Guidance
Initial price guidance (IPG) refers to the proposed yield on a new bond issue. Based on the IPG, investors will place orders with the lead managers of the new bond issue. Once the lead managers have received orders for the proposed bond, they will decide the final pricing on the bond, which in most cases will be tighter (lesser) than the IPG.
Talking Heads
On Wall Street Managers Learning to Love Treasury Bonds Again
Maribel Larios, founder and CEO of Fiduciary Experts
"People are excited, believe it or not. It's all relative, as they've seen these fixed-income accounts pay little to nothing in the past. So, 4% — or even about 2% to 3% in some cash accounts — is relatively good now."
Jason Bloom, head of fixed income, alternatives, and ETF strategies at Invesco
"Clients are leaning on the playbook from the post GFC with a 10-year seen heading back to 2.5% to 3%. … It's a bit of hopeful thinking to get really bullish on the long end."
On Inflation 'Moderating' But Warning Against Debt Default – Joe Biden's chief of staff, Ron Klain
"We see inflation moderating. But still a lot of work to do there. I'm not putting the 'mission accomplished' banner up here. We're going to have to find a way to continue to bring down inflation but strengthen growth"
On Wall Street Chorus Growing Louder That 2023 Will Be Ugly
Mark Haefele, chief investment officer at UBS Global Wealth Management
"We do not think the economic conditions for a sustained upturn are yet in place. Growth is slowing and central banks are still raising rates"
Charles Schwab & Co.'s Liz Ann Sonders
"We have to take our medicine still, meaning a weaker economy and a weaker labor market. The question is, is it better to take our medicine sooner or later? And I think sooner… The outlook is better for the latter part of 2023. The risk to that view would be if for whatever reason the economy continues to run really hot and the Fed has to really slam on the brakes."
Top Gainers & Losers – 07-December
-22*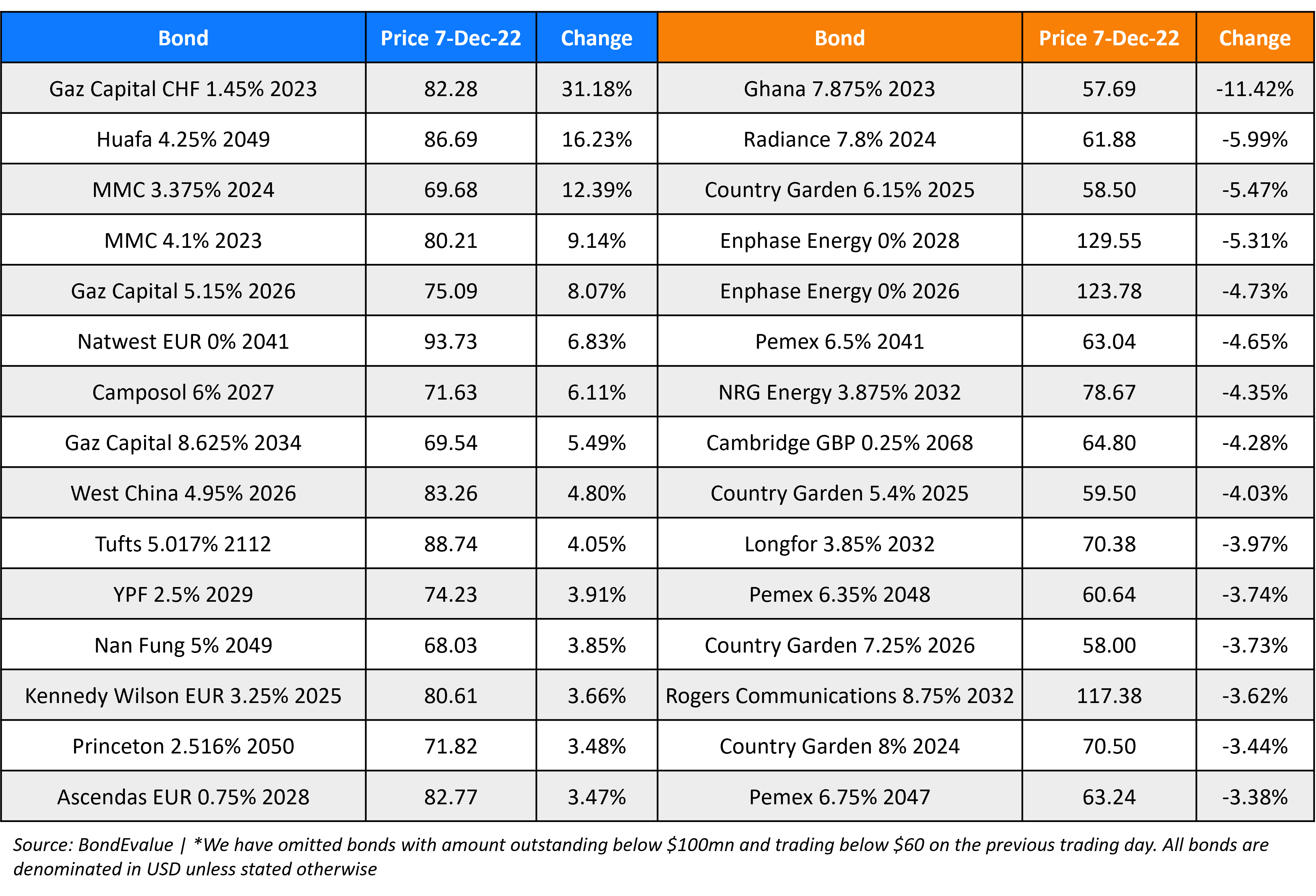 Other Stories
China's Evergrande Suspends Mass Production Due To Lack Of EV Orders