US Treasury yields eased 2-4bp across the mid-to-long end of the curve with the peak Fed funds rate inching 1bp to 5.37% for the July 2023 meeting. The FOMC's February meeting minutes came out yesterday with members referring inflation risks as a "key" to policy. Interestingly, "a few" participants favored a larger 50bp increase at the meeting, or said they "could have supported" it. However, the minutes did little to impact bond markets overall. Markets continue to price in a 24% chance of a 50bp hike in March vs. 9% a week ago. Going by the maximum probabilities, markets are pricing in 25bp hikes at each of the next three Fed meetings in March, May and June. US IG and HY CDS tightened by 0.8bp and 5.3bp. The S&P and Nasdaq closed ended the day mixed, with the former down by 0.1% and the latter up by 0.1% on Wednesday.
European equity markets ended marginally lower. The European main CDS spread tightened by 0.7bp and the crossover CDS spread tightened 5.7bp. Asian equity markets have opened with a negative bias. Asia ex-Japan CDS spreads tightened by 2.8bp, a day after it saw its largest widening move this year.
After witnessing stellar gains in January, global IG indices are on track to lose the gains witnessed last month. The Bloomberg US IG index has dropped 3.2% this month after seeing a 4% gain in January. The EU IG index is down 1.4% MTD vs a gain of 2.4% in January and the Asia IG dollar bond index is down 1.9% in February after seeing a 2.5% gain last month.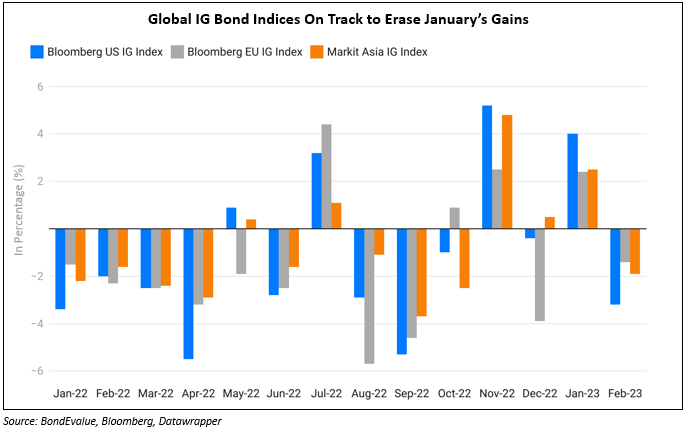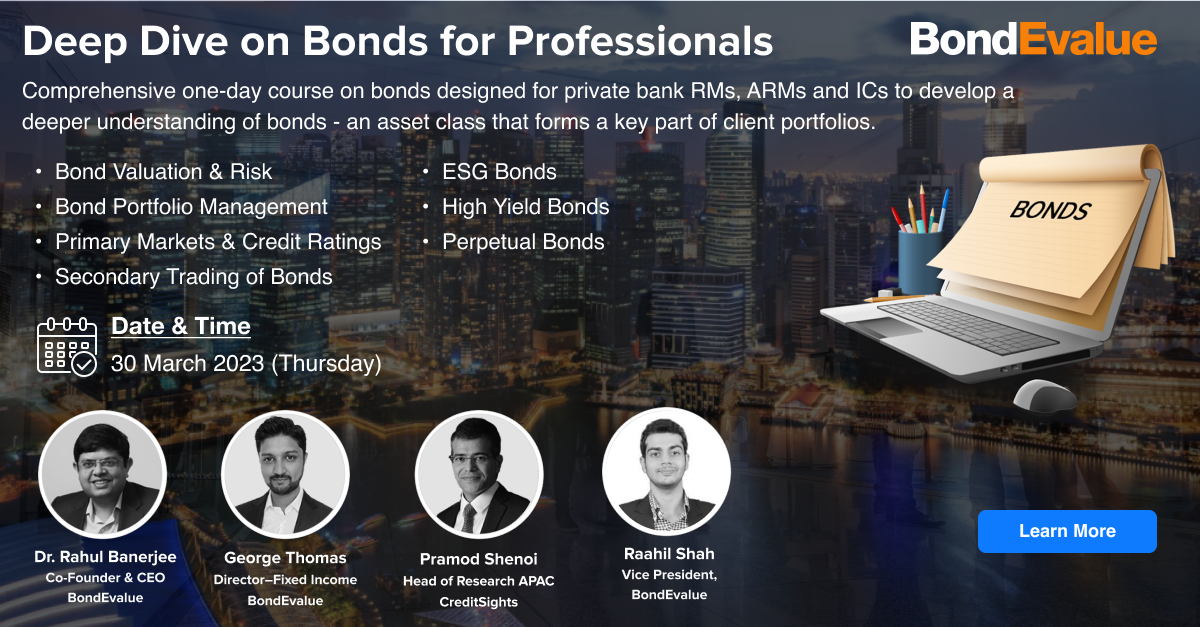 New Bond Issues
HDFC Bank $ 3Y at T+155bp area

Prudential Financial raised $500mn via a 30NC10 bond at a yield of 6.75%, 25bp inside initial guidance of 7% area. The junior subordinated notes have expected ratings of Baa1/BBB+/BBB. Proceeds will be used for general corporate purposes, which may include redemption of its 2044 junior subordinated notes. The new bonds are priced at a new issue premium of 27bp to its existing 6% 2052s (callable in June 2032 with a coupon reset in September 2032) that yield 6.48%.
Shanghai Commercial raised $350mn via a 10NC5 Tier 2 bond at a yield of 6.521%, 35bp inside initial guidance of T+275bp area. The subordinated notes have expected ratings of A3/BBB, and received final orders over $1.4bn, 4x issue size. Asia took 90% while EMEA and US took the remaining 10%. Asset/ fund managers took 55%, private banks 25%, insurance 15% and banks/financial institutions 5%. Proceeds will be used as Tier 2 Capital and for general corporate purposes. The new bonds are priced in-line with Dah Sing Bank's 3% 2031s (callable in 2026) that have ratings of Baa1/BBB-, yielding 6.53%.
New Bonds Pipeline
Qatar plans for $ bond
REC hires for $ Long 5Y Green bond
Rating Changes
Term of the Day
Bridge Financing
Bridge financing is a temporary form of financing used to cover the borrower's short-term costs until the moment when regular long-term financing is secured. This form of financing 'bridges' the gap between when the borrower's funds are set to dry up and its next long-term funding option.
Greenko took a bridge loan from several banks to repay its $435mn 6.25% bond due 21 February 2023.
Talking Heads
On Fed 'absolutely' committed to 2% inflation target – Fed's Williams
"Our job is clear: our job is to make sure we restore price stability, which is truly the foundation of a strong economy"
On Global shares, U.S. Treasury yields falling as Fed minutes called 'outdated' 
Moustapha Mounah, portfolio manager at James Investments in Dayton
"The minutes are a little bit outdated because of the data that came out after the Fed discussion and it's not as important as people think… The bond market has already priced in more rate hikes but the stock market hasn't repriced to reflect all of the movement in the rates"
Thomas Hayes, chairman at Great Hill Capital
"If the most hawkish guy, who is a non-voting member, is at 75bp of additional hikes, then maybe the consensus is 50bp and that is a little lower than the market"
On US Must Raise Debt Limit by Summer to Avoid a Default – BPC
Rachel Snyderman, BPC senior associate director
"The economic uncertainty injected into this model is significant. There is significant revenue volatility especially given the state of the economy"
Top Gainers & Losers – 23-February
-23*