The US 2Y yield eased by 2bp while the mid-longer tenor bonds were 2-4bp higher. The peak Fed Funds rate was down 3bp to 5.45% for the September 2023 meeting. Fed speaker Bostic said that he backs a 25bp hike at the March meeting rather than a 50bp increase, helping soften the tone for a more aggressive rate hike by the Fed. After having priced in four hikes yesterday at the next four policy meetings, markets are back to pricing in three hikes of 25bp each at the next three FOMC meetings in March, May, June based on the CME's maximum probability calculations. US IG and HY CDS spreads tightened by 0.8bp and 1.7bp respectively. The S&P and Nasdaq ended higher on Wednesday, up by 0.8% and 0.7%.
European equity markets also ended higher. European main CDS spreads widened 0.7bp flat while crossover CDS spread widened 4bp. EU CPI came in at 8.5% YoY vs estimates of 8.3% while Core CPI was at 5.6% YoY vs. estimates and the prior reading of 8.3%, indicating a hardening in inflation. Bund yields were up 5bp on the back of this data release. Asian equity markets have opened in the green. Asia ex-Japan CDS spreads widened by 1.4bp.
---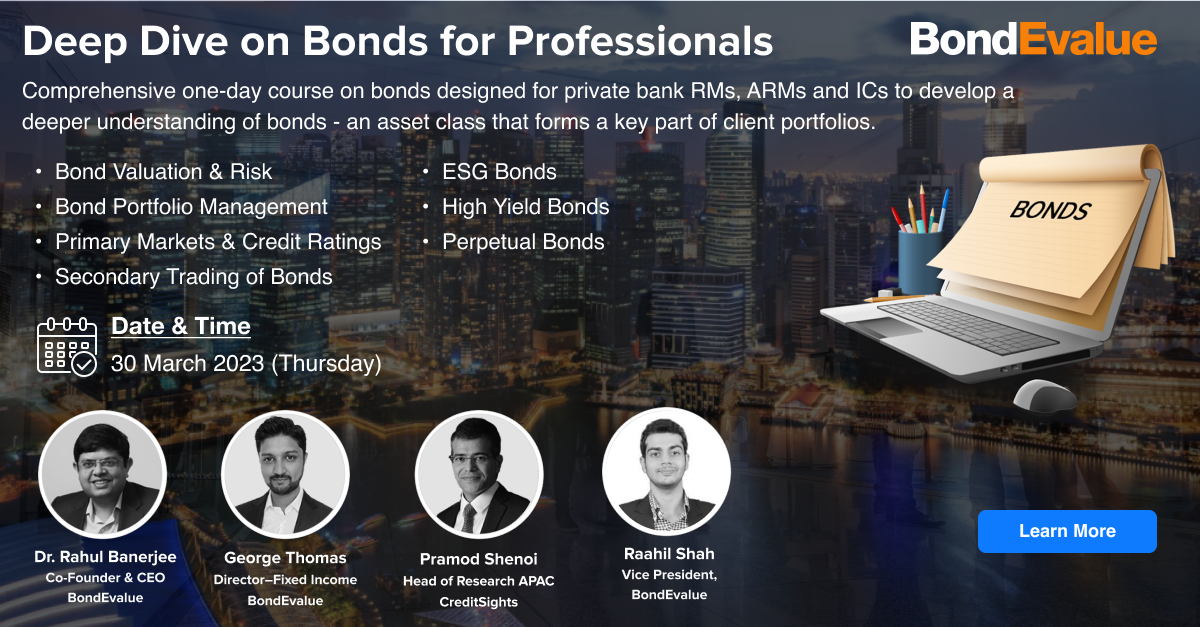 ---

New Bond Issues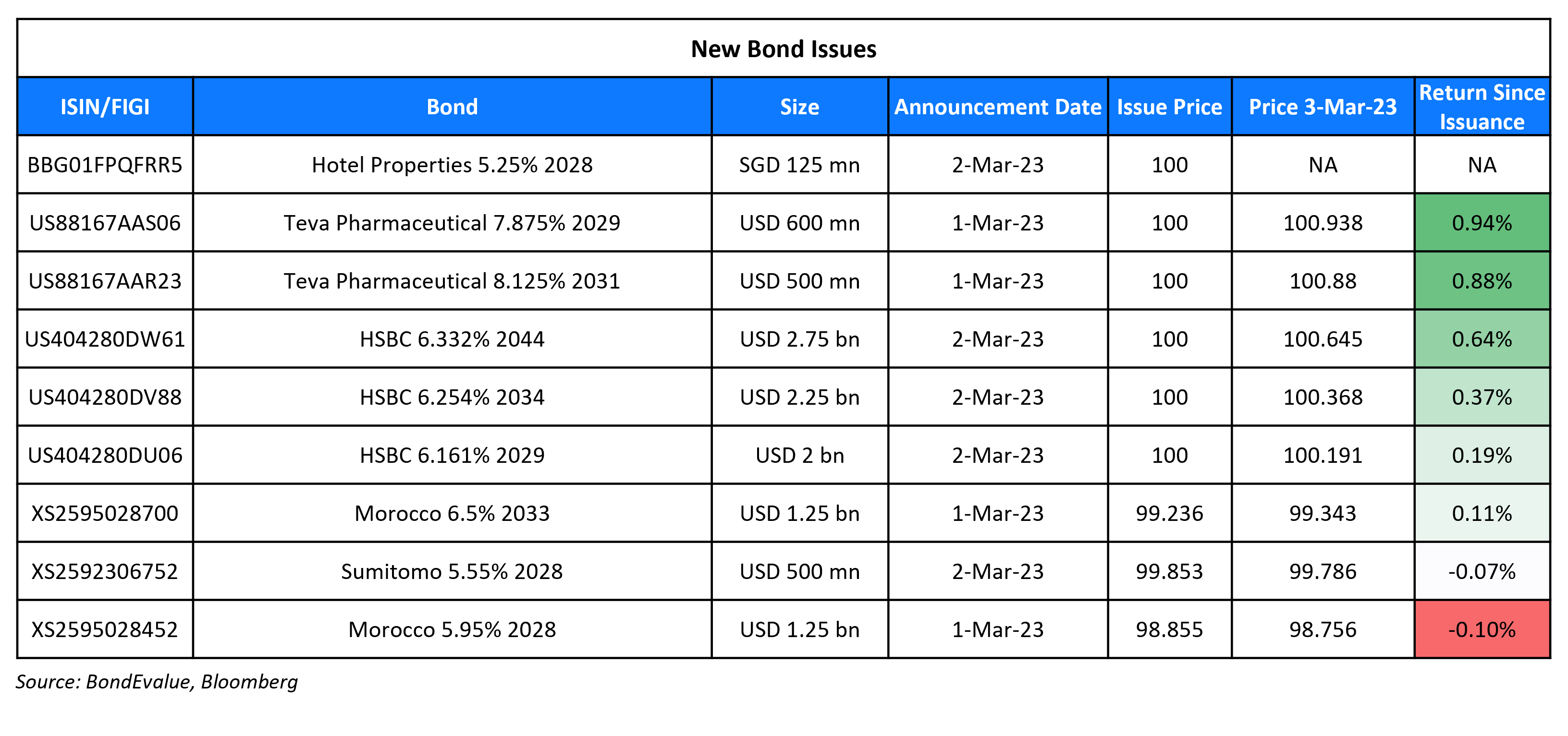 HSBC raised $7bn via a three-tranche TLAC deal. It raised:
$2bn via a 6NC5 bond at a yield of 6.161%, 25bp inside initial guidance of T+210bp area. The new bonds are priced at a new issue premium of 12.1bp to its existing 4.583% 2029s (callable in 2028) that yield 6.04%.
$2.25bn via a 11NC10 bond at a yield of 6.254%, 25bp inside initial guidance of T+245bp area. The new bonds are priced at a new issue premium of 13.4bp to its existing 5.402% 2033s (callable in 2032) that yield 6.12%.
$2.75bn via a 21NC20 bond at a yield of 6.332%, 35bp inside initial guidance of T+245bp area.
The senior unsecured bonds have expected ratings of A3/A-/A+. Proceeds will be used for general corporate purposes.
New Bonds Pipeline
REC hires for $ Long 5Y Green bond
Qatar plans for $ bond
Rating Changes
Fitch Upgrades Costa Rica to 'BB-'; Outlook Stable
Community Health Systems Inc. Downgraded To 'SD' From 'B-'; Rating On Junior-Priority Secured Notes Lowered To 'D'
Moody's places NagaCorp's B2 ratings on review for downgrade due to heightened refinancing risk
Term of the Day
Commercial Mortgage-Backed Securities (CMBS)
Commercial mortgage-backed securities (CMBS) are fixed-income products backed by mortgages on commercial properties. This differs from RMBS that are backed by residential real estate. The underlying securities of CMBS may include a number of commercial mortgages of varying terms, values, and property type.
Blackstone defaulted on a €531mn CMBS backed by a portfolio of Finnish offices and stores.
Talking Heads
On China junk-bond rally needs more catalysts to back 80% surge as Value Partners looks to diversify from property debt
"We may not increase our holding at current levels because the spread has already tightened and prices of many [better quality] bonds have jumped [a lot]… The opportunities have already passed"
On Fed wrestling whether recent data a 'blip' or a warning on inflation
Fed Governor Christopher Waller
"Last month we received a barrage of data that has challenged my view … that the Federal Open Market Committee was making progress in moderating economic activity and reducing inflation. It could be that progress has stalled, or it is possible that the numbers released last month were a blip… On the other hand if those data reports continue to come in too hot, the policy target range will have to be raised this year even more to ensure that we do not lose the momentum that was in place"
Atlanta Fed President Raphael Bostic
Data did not show inflation "clearly" heading back towards the central bank's 2% target from its January level of about 5.4%… "Slow and steady is going to be the appropriate course of action.
On Markets Bracing for Pakistan Default Risk as $7 Billion Debt Looms
Chinese Foreign Ministry, Mao Ning
"The Western-led commercial creditors and multilateral financial institutions are the basic creditors for developing countries, so China calls for a concerted effort of all parties to play a constructive role on the economic and social developments of Pakistan"
Moody's analysts led by Grace Lim
"In the current extremely fragile balance of payments situation, disbursements may not be secured in time to avoid a default"
Top Gainers & Losers – 03-March
-23*