US Treasury yields rose across the curve with 2Y yields up 10bp to 4.33% and 10Y yields up 6bp. House Speaker Kevin McCarthy said he and President Joe Biden had a productive talk but have not yet reached a deal to avert a US debt default. Separately, St. Louis Fed President James Bullard said he was thinking of two more rate hikes this year. Minneapolis Fed President Neel Kashkari, an FOMC voter, said that if they pause rates next month it should signal that tightening isn't over.
The peak Fed Funds Rate jumped 7bp to 5.17% with markets expecting an 85% chance of a status quo at the Fed's next meeting in June. Equity indices were marginally higher with the S&P just slightly in the green and Nasdaq up 0.5%. US IG CDS spreads tightened by 2.6bp and HY CDS spreads tightened by 12.9bp. 
European equity markets ended higher. European main CDS spreads were 0.9bp tighter and crossover CDS spreads were 2.6bp tighter. Asia ex-Japan CDS spreads tightened by 2.6bp. Asian equity markets have opened mixed today.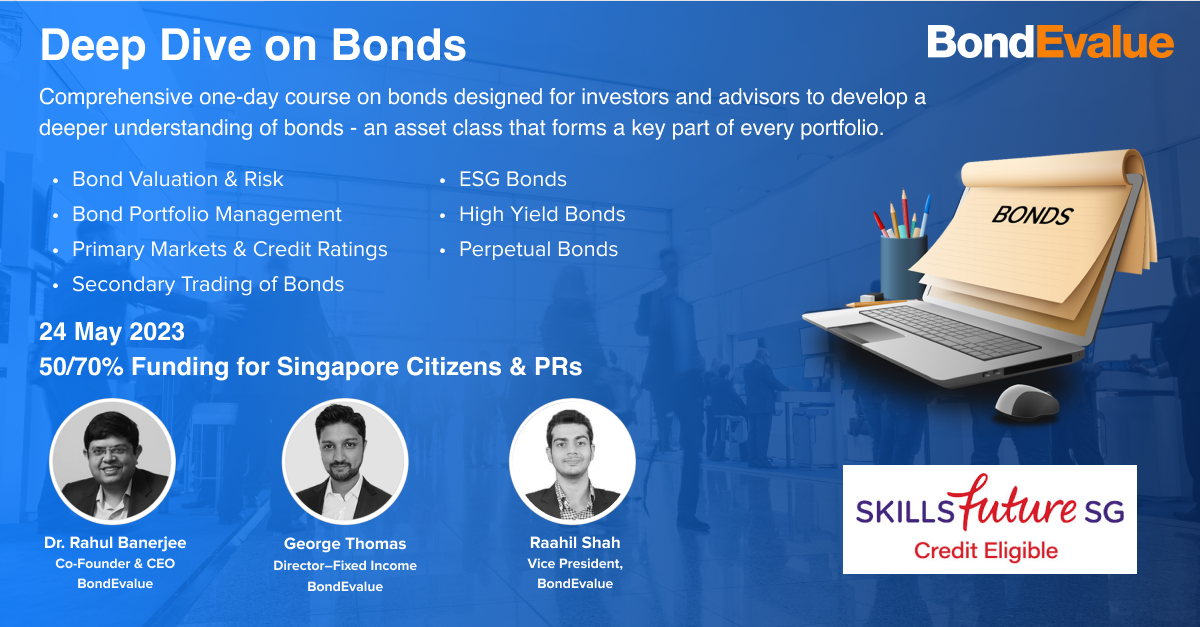 New Bond Issues
Kubota $ 3Y at T+130bp area

CCB Sydney $ 3Y Green at T+95bp area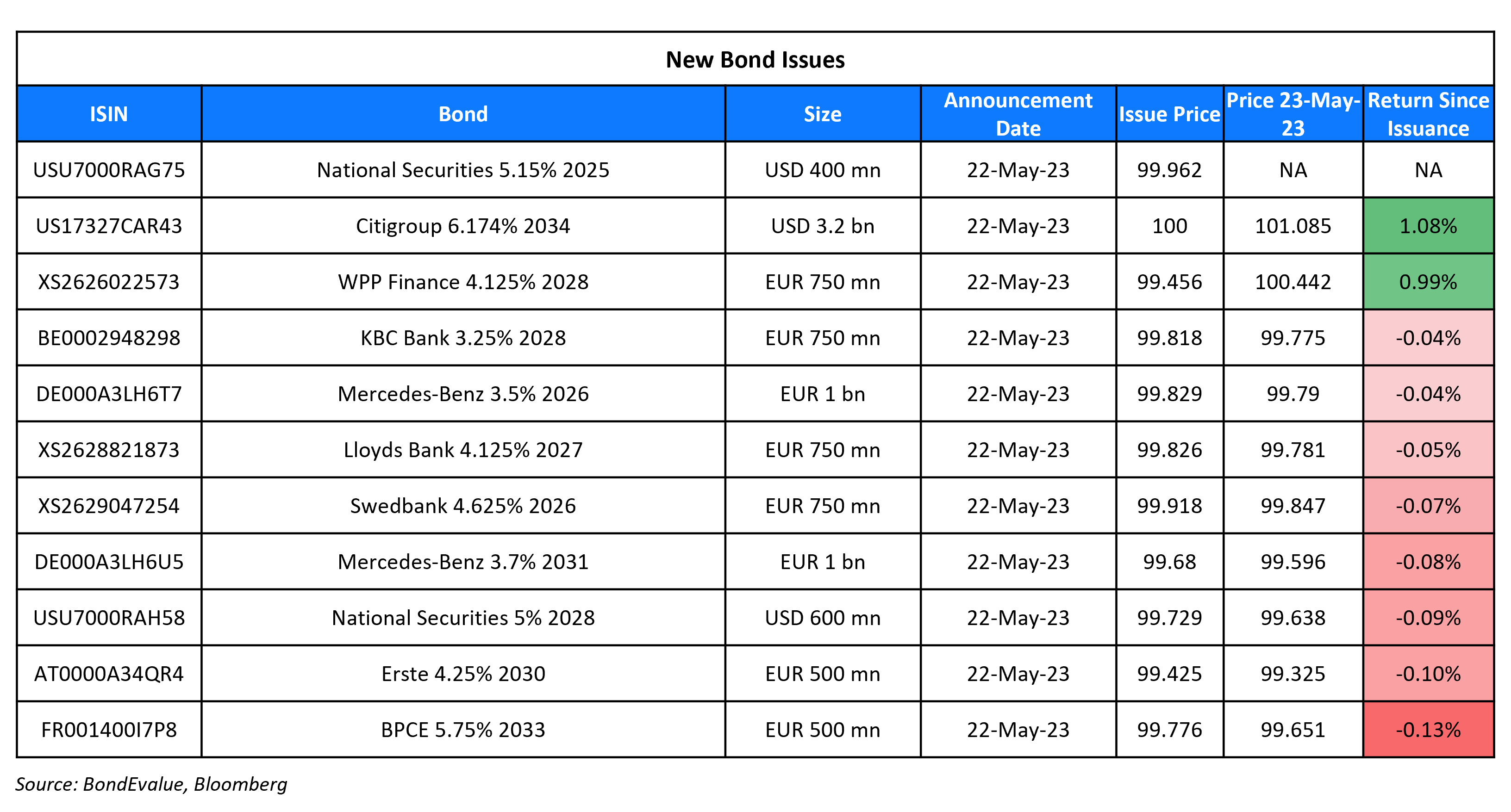 Citigroup raised $3.2bn via a 11NC110 bond at a yield of 6.174%, 35bp inside initial guidance of T+280bp area. The subordinated bonds have expected ratings of Baa2/BBB/BBB+.
Erste Bank raised €500mn via a 7NC6 bond at a yield of 4.361%, 15bp inside initial guidance of MS+140bp area. The senior preferred bonds have expected ratings of A2/A+/A.
Lloyds Bank raised €750mn via a 4Y bond at a yield of 4.173%, 25bp inside initial guidance of MS+120bp. The senior unsecured bonds have expected ratings of A1/A/A+.
New Bonds Pipeline
Bayer hires for € 3.25Y/6.25Y/10Y bond
Thomson Medical Group hires for S$ bond
Khazanah hires for $ 5Y/10Y conventional bond/Sukuk
BGK hires for $ 10Y bond
GS Caltex hires for bond
Rating Changes
Moody's upgrades Lufthansa's CFR to Ba1; outlook stable
Grupo Idesa Upgraded To 'B-' On Distressed Debt Exchange Completion, New Senior Secured Notes Rated 'B-', Outlook Stable
Moody's changes Seagate's ratings outlook to negative; affirms Ba2 CFR
Term of the Day:
Panda Bonds
Panda bonds are renminbi denominated notes sold by a non-Chinese issuer in onshore China. The first of its kind was issued by the IFC and ADB in 2005. While these bonds attract Chinese investors, they have also gained traction from international investors. It also helps issuers diversify investor bases and reduce currency risk.
Egypt is planning to issue Panda bonds with the ADB giving a partial guarantee on the notes.
Talking Heads
On Pimco, BlackRock Calling it an End of an Era of Stable Borrowing Costs
Michael Cudzil, a Sr. PM at Pimco
"The fed funds rate won't be as volatile as the past year, but higher inflation means the volatility around the Fed's main funds rate is higher… possible we do go back to a low rate-low inflation world, but after weighting all the probabilities we assign stronger odds of higher volatility in the next decade"
Harley Bassman, Simplify Asset Management
"We've gone back to the future – back to normal — which makes sense as the Fed has taken it's thumb off the scale"
Luca Paolini, chief strategist at Pictet Asset Management
"It's the volatility of inflation that matters"… expect "a decade of higher rate volatility".
Roger Hallam, global head of rates at Vanguard
"There are opportunities for active investors because central bank reaction functions are in flux… need to judge how long the Fed is on hold, and whether the next move is a hike or a cut"
On Recommending Buying 'Extremely Cheap' South Africa Bonds – Deutsche Bank Strategists
"Although local bonds have come under heavy pressure over the past couple of weeks, we view this as a very attractive opportunity to increase exposure on local assets… local bonds are now the cheapest we have seen over the past six years "
On JPMorgan seeing a rise in corporate defaults in Latin America
Corporate default rate forecast for all emerging markets upped to 6% from 5.5%… default rate for Latin American corporates forecasted at 6.6%, up from 5%, and if realized it would be the highest default rate for the region since 2016… "While we have already seen four defaults and distressed exchanges in Brazil, more are expected this year"
Top Gainers & Losers – 23-
May
-23*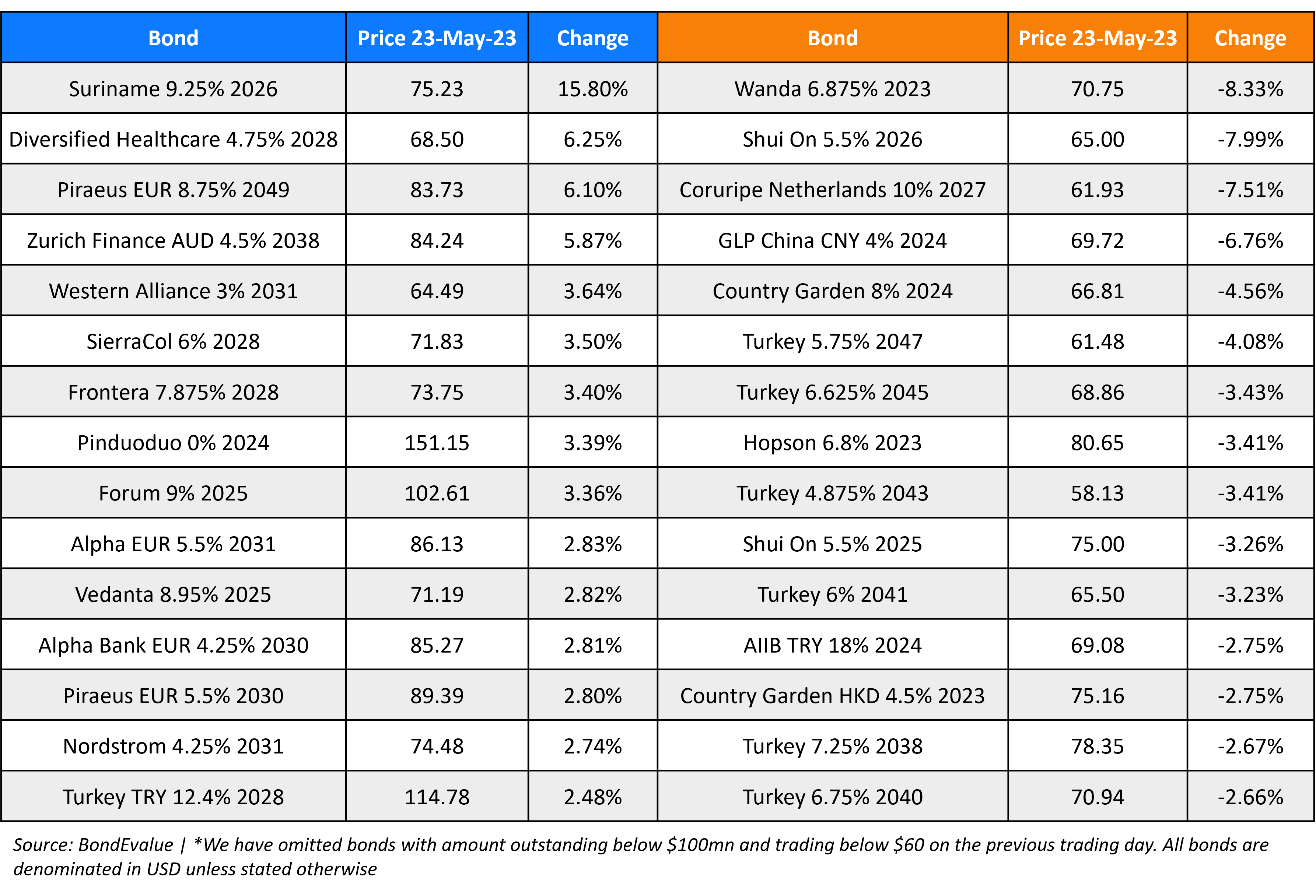 Other News
Vedanta declares first interim dividend for FY24 totaling $830mn
Mexico's Pemex Eyeing 48% Upstream Capex Increase in Effort to Maintain Natural Gas, Oil Production