Wall Street trudged higher with S&P and Nasdaq up 0.4% and and 0.5%. US 10Y Treasury yields were 1bp lower at 1.54%. Utilities were up 1.5% and Consumer Staples were up 1% while Energy fell 1.1% with most sectors in the green.
European stocks saw a sharp drop with the DAX, CAC and FTSE falling 1.5%, 1.3% and 1.2%. Brazil's Bovespa was marginally higher by 0.1%. In the Middle East, UAE's ADX was down 0.4% while Saudi TASI was up 0.1%. Asian markets have seen a positive move with the HSI up 2.3%, STI up 0.9% and Nikkei up 1.7%, while Shanghai remains closed.
US IG CDS spreads and HY CDX spreads were flat. EU Main CDS spreads were 1.3bp wider and Crossover CDS spreads widened 8.1bp. Asia ex-Japan CDS spreads widened 1.5bp.
German Factory Orders plummeted 7.7% MoM in August compared to forecasts for a 2.9% decline after the previous month's 4.9% increase. US ADP non-farm payrolls saw a 568k addition, higher than the 428k forecast. Weekly US crude inventories saw an increase of 2.35mn barrels with Brent crude falling 2%.
---
Masterclass on High Yield Bond Analysis | Today at 5pm SG/HK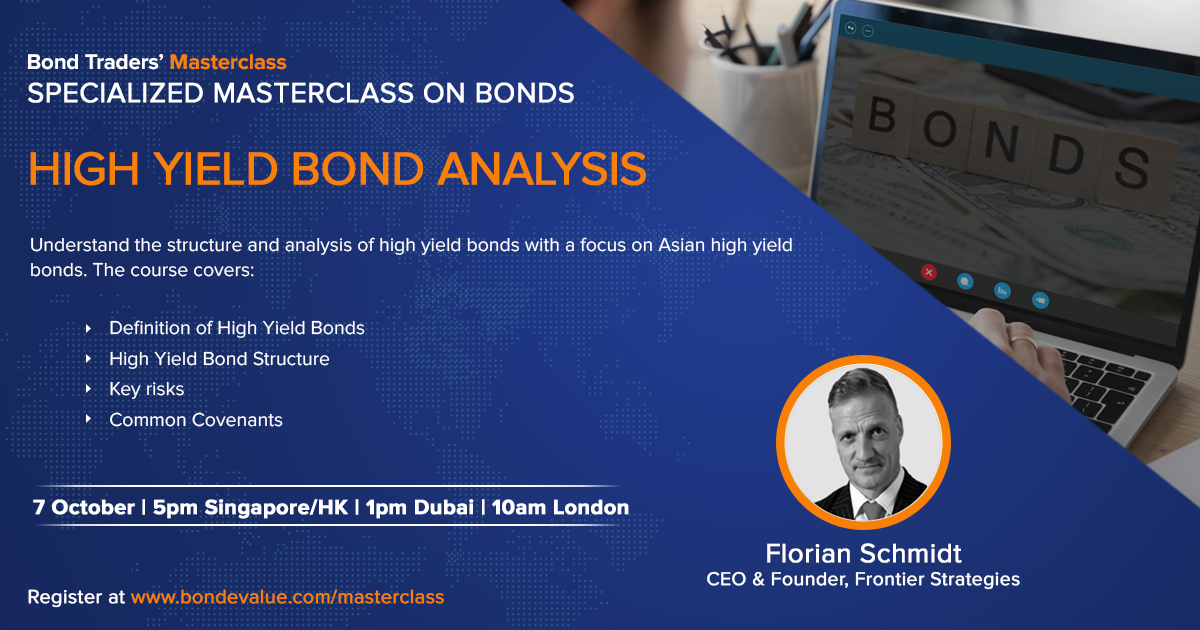 ---
New Bond Issues
SMBC Aviation Capital $ 5Y @ T+110-115bp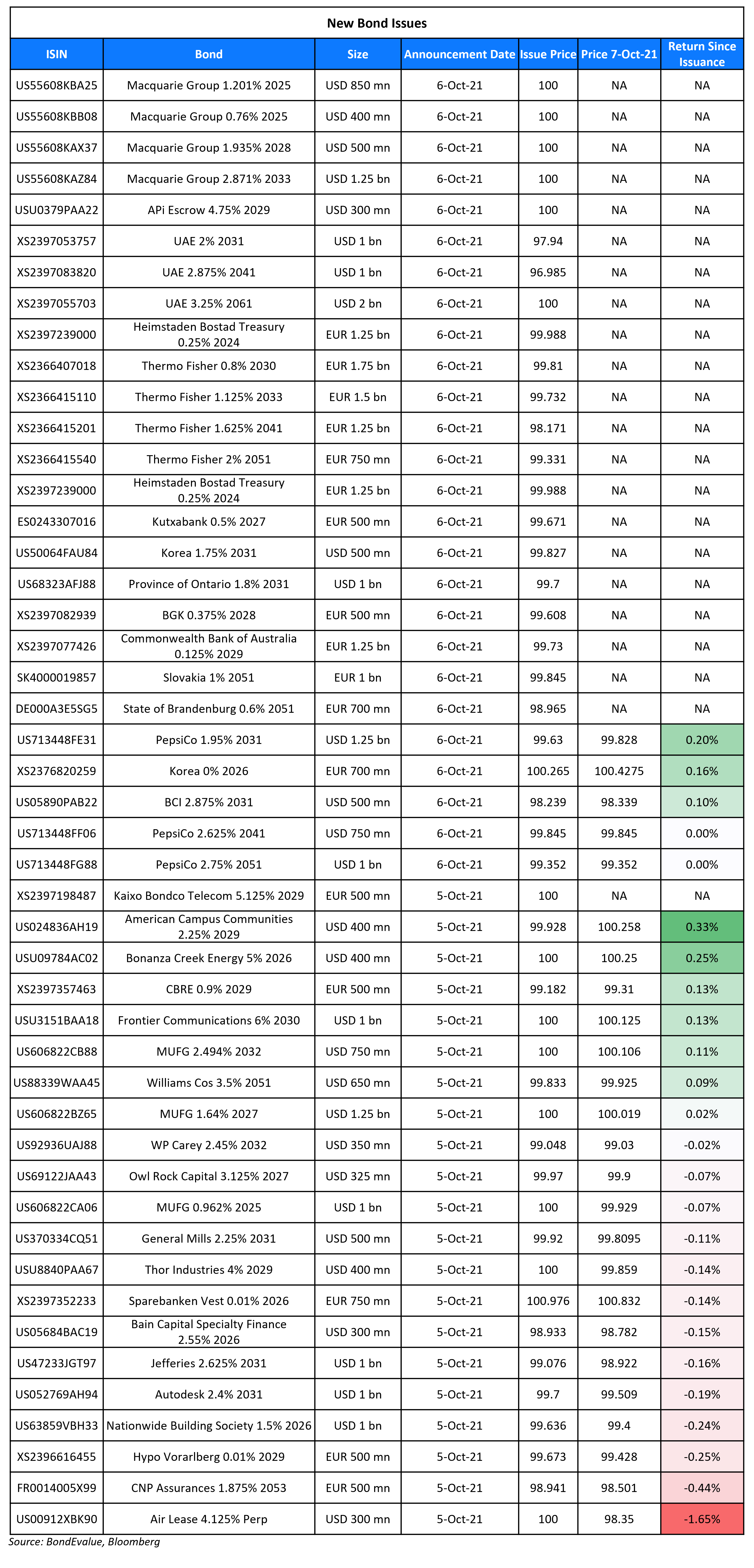 UAE
raised $4bn via a three-tranche deal. It raised:
$1bn via a 10Y bond at a yield of 2.231%, 35bp inside initial guidance of T+105bp area. The new bonds are priced flat to Abu Dhabi's 1.875% 2031s that also yield 2.23%
$1bn via a 20Y bond at a yield of 3.078%, 30bp inside initial guidance of T+135bp area
$2bn via a 40Y Formosa bond at a yield of 3.25%, 35bp inside initial guidance of 3.6% area.
The bonds have expected ratings of Aa2/AA– (Moody's/Fitch). This marks the first dollar bond issuance as a federation, as bonds have typically been issued by UAE's Emirate states like Abu Dhabi, Dubai and Sharjah.
Macquarie Group raised $3bn via a four-tranche deal. It raised:
$850mn via a 4NC3 bond at a yield of 1.201%, 23bp inside initial guidance of T+90bp area
$500mn via a 6.5NC5.5 bond at a yield of 1.935%, 15bp inside initial guidance of T+110bp area
$1.25bn via a 11.25NC10.25 bond at a yield of 2.871%, 20bp inside initial guidance of T+155bp area
$400mn via a 4NC3 FRN bond at a yield of 0.76% or SOFR+71bp vs initial guidance of SOFR-equivalent.
The bonds have expected ratings of A3 / BBB+ / A-.
Korea raised $1.3bn-equivalent in a dual-currency two-trancher. The Republic raised $500mn via a 10Y bond at a yield of 1.769%, 25bp inside initial guidance of T+50bp area; and €700mn via a 5Y green bond at a yield of -0.053%, 22bp inside initial guidance of MS+35bp area. The bonds have expected ratings of Aa2/AA/AA-. The dollar bonds received orders over $2.1bn, 4.2x issue size. Central banks and agencies took 37%, banks 46%, asset managers 13% and insurers and pension funds 4%. APAC bought 32%, EMEA 60% and the US 8%. Proceeds will become part of the foreign exchange stabilization fund established and managed under the Korean foreign exchange transactions act, whereas proceeds of the green note will be allocated to projects that fall under the eligible green asset categories in accordance with the sovereign's green and sustainability bond framework.
New Bonds Pipeline

KEB Hana Bank hires for $ PerpNC5 sustainability AT1 bond
Tuan Sing hires for S$ bond
China plans for $4bn 3/5/10/30Y bond
Saigon-Hanoi Bank hires for $ bond
Burgan Bank hires for $500mn 6NC5 bond
Kexim hires for $/€ bond
GD-HKGBA Holdings hires for $ 2Y bond
Rating Changes
Term of the Day
Capital Key
The capital key is a structure or mechanism that governs the proportion of bonds the ECB can buy from each country or national central bank. The key determines how much capital each country should contribute towards the ECB — the key determines how much capital each country should contribute towards the ECB and the calculation is based on the total population and GDP of each economy to the European Union. Germany, being the largest contributor has ~18% share in the capital key, France ~14% share, Italy ~12%, Spain ~8% while smaller economies, for example Cyprus and Latvia have a 0.15% and 0.27% share.
Talking Heads
On debt ceiling impasse as 'tail risk' market event – in a note by Barclays strategists
The likelihood of a US default is now "greater than at any point over the past decade." "With a 50-50 Senate and a three-member majority in the House, this leaves almost no margin for error." "This raises the risks of the process breaking down and Congress missing the October 18 debt ceiling deadline."
On debt-ceiling battle raising appeal of Treasuries
Margaret Kerins, head of fixed-income strategy at BMO Capital Markets
"Could you see a safe-haven flight into the very thing that's causing the issue? Yes, I definitely think it could play out that way." "It would be about what are the implications for other markets, with global risk markets not liking it if we got into a technical default situation. You'd have a run to the Japanese yen as well."
Zachary Griffiths, strategist at Wells Fargo & Co
"Long-term Treasuries rallied in a huge way in 2011, and we suspect you'd have a similar move this time to a lesser degree if things get down to the wire." "Further out the yield curve, in most notes and bonds, nobody would be concerned about the actual solvency of the U.S. government."
On non-performing loan (NPL) ratios expected to rise as GCC central banks cut back relief measures
According to Mohamed Damak and Zeina Nasreddine, S&P analysts
"We expect the NPL ratio to rise in the next 12-24 months without exceeding 5-6 per cent compared with 3.8 per cent as on June 30 2021 as forbearance measures are gradually withdrawn." "These factors underpin our expectations for average regional cost of risk to decline in 2021 and start to normalize from 2022." "Dubai's hosting of Expo 2020 and other factors will improve economic sentiment, but it is unclear if this will continue when the event ends in March 2022." "We expect a slight acceleration in lending in the second-half of 2021 as UAE economic sentiment continues to improve, especially with the start of Expo 2020."
In a GCC Banking Report by Kamco Invest
"Western and regional central banks' unprecedented interventions, which took the form of liquidity injections and regulatory forbearance measures, helped cushion regional banks from wider uncertainty and masked the true hit to their asset quality indicators."
On global investors demanding for more risk protection following Evergrande's woes
Arthur Lau, PineBridge Investments head of Asia ex-Japan fixed income
"These uncertainties have caused material impact to the risk appetite for the Chinese assets." "A higher risk premium may warrant given the unpredictability of policy reforms at the moment."
Adam Slater at Oxford Economics
"How much of the recent rise in risk premia prove to be permanent is as yet unclear," he said.
Top Gainers & Losers – 07-Oct-21*