US equities ended lower on Friday, with the S&P and Nasdaq down 0.1% and 0.8%. Sectoral gains were led by Financials, up 1.3% while Communication Services were down 2.3%. US 10Y Treasury yields eased 4bp to 1.64%. European stocks were higher with the DAX, CAC and FTSE up 0.5%, 0.7% and 0.2% respectively. Brazil's Bovespa was down 1.3%. In the Middle East, UAE's ADX was up 0.9% while Saudi TASI was down 0.8% on Sunday. Asian markets have opened broadly mixed – HSI and Shanghai were up 0.1% and 0.4% while STI and Nikkei were down 0.1% and 0.8% respectively while Shanghai was down US 0.3%. US IG and CDS spreads were 0.4bp wider and HY CDS spreads were 3.1bp wider. EU Main CDS spreads were 0.3bp wider and Crossover CDS spreads were 3.9bp wider . Asia ex-Japan CDS spreads tightened by 0.3bp.
German Manufacturing PMI came at 58.2 beating forecasts while Services PMI missed at 52.4. Overall, Eurozone Manufacturing PMI saw a 58.5 print vs. 57 forecasted while Services PMI saw a 54.7 print vs. forecasts of 55.5. 
---
New Bond Issues
KB Securities $ 5Y at T+125bp area

Huzhou Nanxun Tourism Investment $ 3Y at 2% final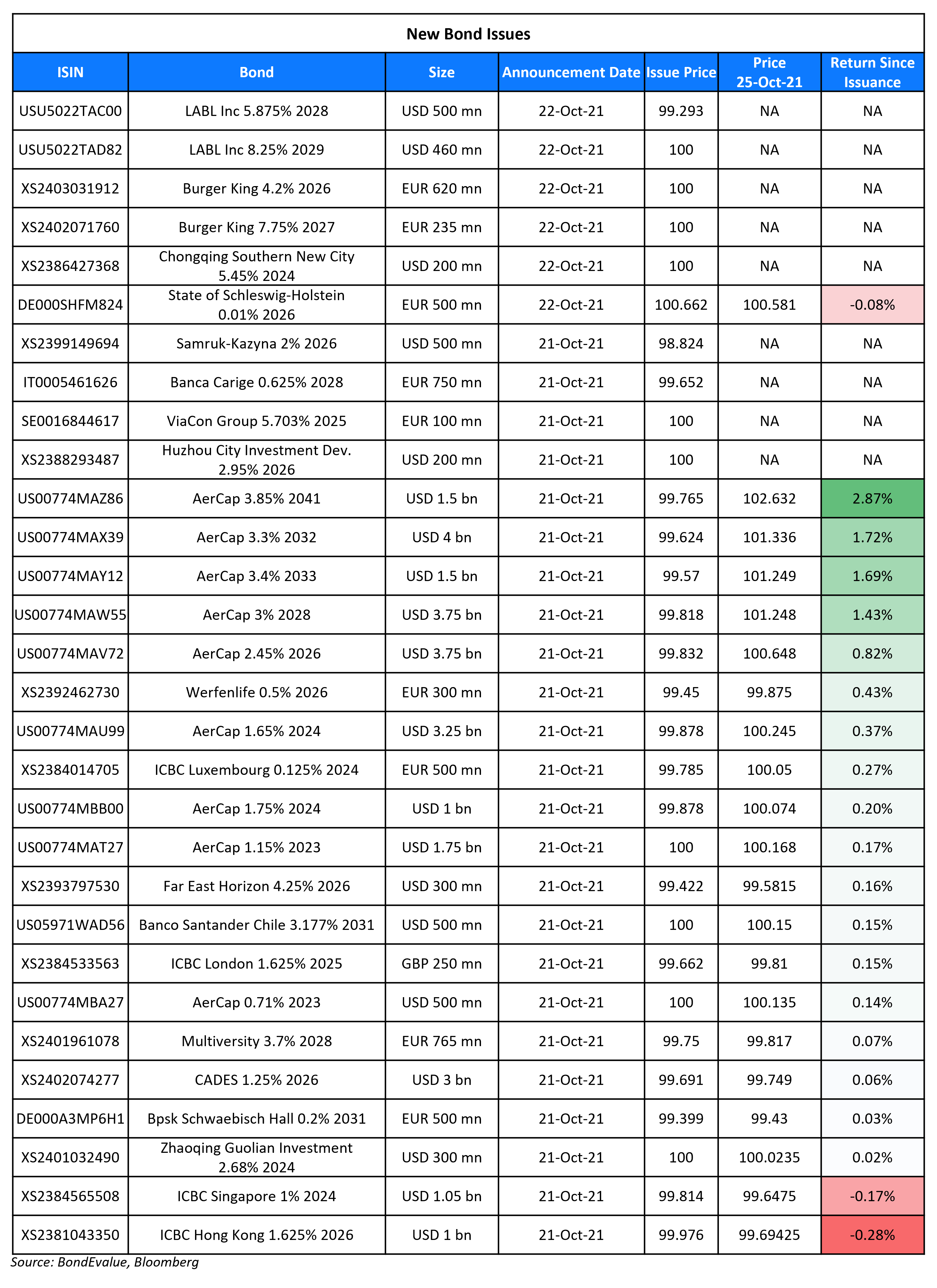 Chongqing Southern New City raised $200mn via a 3Y bond at a yield of 5.45%, 15bp inside initial guidance of 5.6% area. The bonds are unrated. The issuer is a major state-owned investment, financing, assets operation and management entity in Banan district, Chongqing, established and wholly owned by the Chongqing Banan SASAC in China.
Hebei Shunde Investment Group raised $75mn via a 3Y bond at a yield of 2%, 20bp inside initial guidance of 2.2% area. The bonds are unrated. Proceeds will be for working capital and debt refinancing. The bonds are supported by a letter of credit from Hua Xia Bank Shijiazhuang Branch.
XiAn Aerospace City Development raised $48mn via a 3Y bond at a yield of 3.5%, unchanged from initial guidance. The bonds are unrated. Proceeds will be used for domestic project construction, replenishing working capital and general corporate purposes. The bonds are supported by a letter of credit from Evergrowing Bank XiAn Branch. The issuer is a Chinese state-owned operating entity that undertakes land development and infrastructure construction within the Shaanxi National Aerospace Economic and Technological Development Zone. 
New Bonds Pipeline
Tower Bersama hires for $ 5.5Y bond
Globe Telecom hires for $ Perp bond
Prudential hires for $ 12NC7 tier 2 bond
Dah Sing Bank hires for $ 10NC5 tier 2 bond
BOC London branch hires for $ sustainability bond
IOI Corp hires for $ bond alongside tender offer
Hibiscus Petroleum hires for $ 5NC2 bond
Rating Changes
Term of the Day
PIK Toggle
Pay-in-kind (PIK) Toggle notes are a type of PIK note where the issuer can choose to pay interest in cash or in kind and, during the term of the loan/bond, can alternate back and forth between the two forms of interest payments within certain parameters. These are riskier for investors due to more credit risk with respect to the PIK interest amount, payment of which can be deferred until the maturity. In a toggle note, the issuer has the option to defer an interest payment by agreeing to pay an increased coupon in the future. With toggle notes, all deferred payments must be settled by the bond's maturity.
Burger King France's EUR-denominated 5Y floater has a PIK Toggle attached.
Talking Heads
On the view that now is time for Fed to taper bond purchases but not to raise rates – Jerome Powell, US Federal Reserve Chairman
"I do think it's time to taper; I don't think it's time to raise rates," Powell said. "We think we can be patient and allow the labor market to heal," he said. "Our policy is well positioned to manage a range of plausible outcomes," Powell added. "We need to watch, and watch carefully, and see if the economy is evolving consistent with our expectations, and adapt policy accordingly." "The risks are clearly now to longer and more persistent bottlenecks and, thus, to higher inflation," he said.
On the expectation of high inflation through mid-2022 before easing – Janet Yellen, US Treasury Secretary
"I don't think we're about to lose control of inflation," Yellen said. "Americans haven't seen inflation like we have experienced recently in a long time. But as we get back to normal, expect that to end." "The core of our financial system did very well because of the improvements in capital liquidity, risk management, stress testing," Yellen said. "And those improvements have stayed in place during the Powell regime."
On credit-trading robots getting sophisticated enough to enter junk and emerging markets
Kevin McPartland, head of research for market structure at Coalition Greenwich
"The Covid crisis gave the industry a whole set of new data on how markets react in a crisis." "That's very helpful for the folks writing the algorithms, to understand what might happen in the worst case."
Drew Mogavero, deputy head of credit products at Barclays
"One of the founding principles when we went and asked the bank to invest in algos was, 'We think we can make our people 10 to 20% more productive by building this technology'." "When you're not having to stare at a request-for-quotes screen and just punch numbers, you have more time to do those higher value-added things."
Richard Schiffman, head of open trading at MarketAxess
"The algos are getting better." "It's a steadily improving science that all these firms are performing."
Sanjay Jhamna, head of EMEA credit at JPMorgan
"People sometimes think of the relationship between algorithmic and human market-makers as a zero-sum game, but we never have because credit markets continue to grow." "The growing volume of tickets and number of issuers mean added pressure on traders to respond to more inquiries."
Sonali Theisen, Bank of America's head of fixed-income e-trading and market structure
"EM is coming into focus for greater efficiencies, and I think algos will start to play a bigger role." "I think of EM as more in the toddler phase versus U.S. investment grade, where the algos have grown into adolescence."
On uncertainties remaining for Evergrande's looming repayments despite coupon payment
Justin Tang, head of Asian research at United First Partners
On Evergrande's interest payment, "we have seen this before." This "does not solve the company's problem, and does not change the fact that it is the living dead."
Banny Lam of Ceb International Inv. Corp
"It is positive for dollar bond holders. However uncertainties remain if the Group can sell assets to pay for the offshore debt. Investors are watching if Evergrande can make agreement with creditors on how to settle the debt." "The interest payment today only occupies a small portion of total interest payment. Investors are more interested to watch the progress of Evergrande's debt restructuring, especially sales of valuable assets."
Ting Meng of ANZ Banking Group Ltd.
"We could see a rebound in the property sector in the short term." "Evergrande has larger principal repayments next March, which is a critical date to watch closely. It needs to accelerate asset selling to meet that critical deadline."
Chang Wei Liang of DBS Bank Ltd.
"The bringing forward of debt restructuring is unfavored by large developers like Evergrande, with valuable offshore assets that can be subject to legal enforcement or with a storied reputation to maintain." They are likely to "keep up their obligations as best as they can to avoid default."
On investors watching Hong Kong banks' third-quarter results amid concerns over world's most indebted developer
Yafei Tian, Citi analyst
"Liquidity events in the China property sector should have limited direct impact, although we remain watchful of any second-order impact."
Zhang Ning, UBS's senior China economist
"In the case of a sharp property downturn, we expect both fiscal and monetary policies to ease further towards the end of 2021." "With a delay, some modest easing of property policies may come as well, but we don't expect a 2015-16 style wholesale easing of national property policies."
Top Gainers & Losers – 25-Oct-21*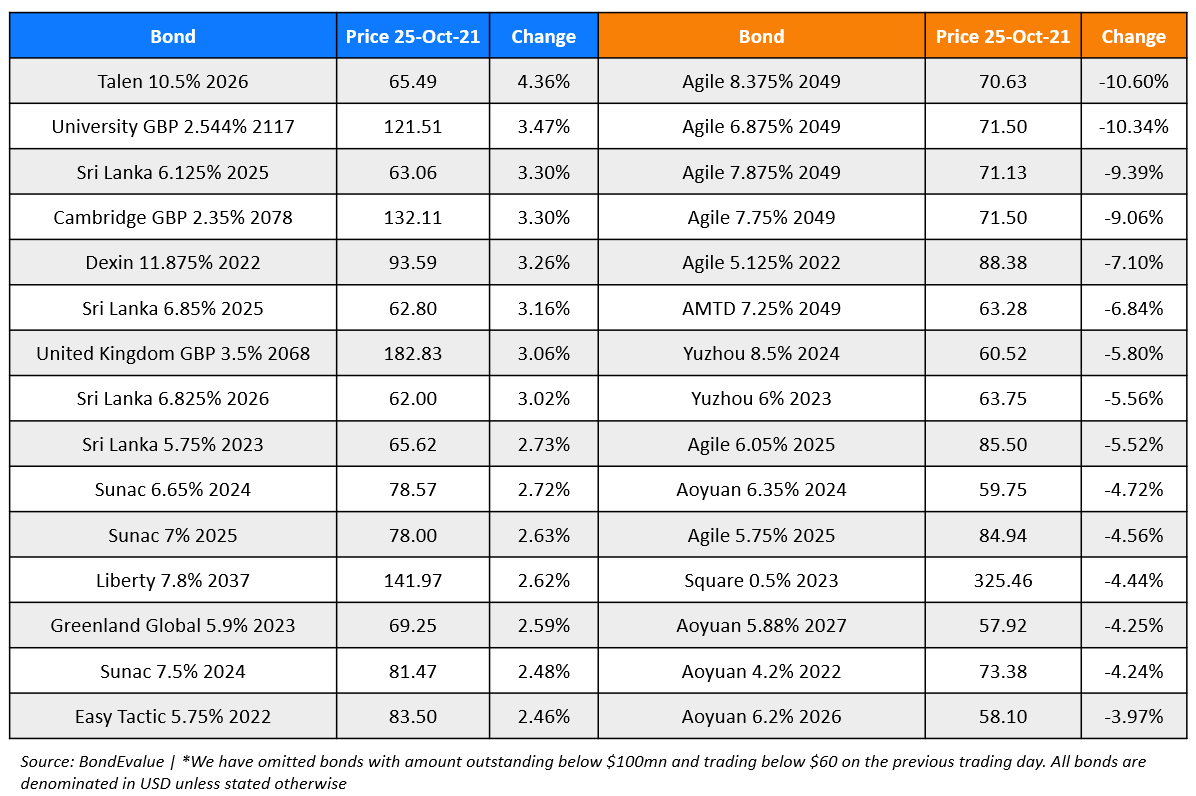 Other Stories