US equities ended higher with the S&P and Nasdaq up 0.5% and 0.9%. Sectoral gains were led by Consumer Discretionary and Energy, up 2.1% and 1.4%. US 10Y Treasury yields eased 1bp to 1.63%. European stocks were mixed with the DAX and FTSE up 0.4% and 0.3% while the CAC was down 0.3%. Brazil's Bovespa was up 2.3%. In the Middle East, UAE's ADX was down 0.2% while Saudi TASI was up 0.4%. Asian markets have opened broadly mixed – Shanghai was flat, Nikkei higher by 1.8% while HSI and STI were down 0.4% and 0.3% respectively. US IG and HY CDS spreads were 0.7bp and 0.5bp tighter. EU Main and Crossover CDS spreads were 0.2bp and 0.3bp tighter. Asia ex-Japan CDS spreads tightened by 1.1bp.
The German Ifo business climate index slightly missed expectations of 97.9, coming at 97.7 and the business expectations print missed forecasts of 96.4, coming at 95.4. However, the current assessment index was at 100.1, beating forecasts of 99.4.
---
New Bond Issues
ICBC Financial Leasing $ 3/5Y climate @ T+125/145bp area
Mapletree Logistics Trust S$ Perp NC5 @ 4% area
Tower Bersama $ 5.5Y @ 3.125% area
Globe Telecom $ Perp NC5 @ 4.5% area
Dah Sing Bank $ 10NC5 tier 2 @ T+230bp area
IOI Corp $ 10Y @ T+210bp area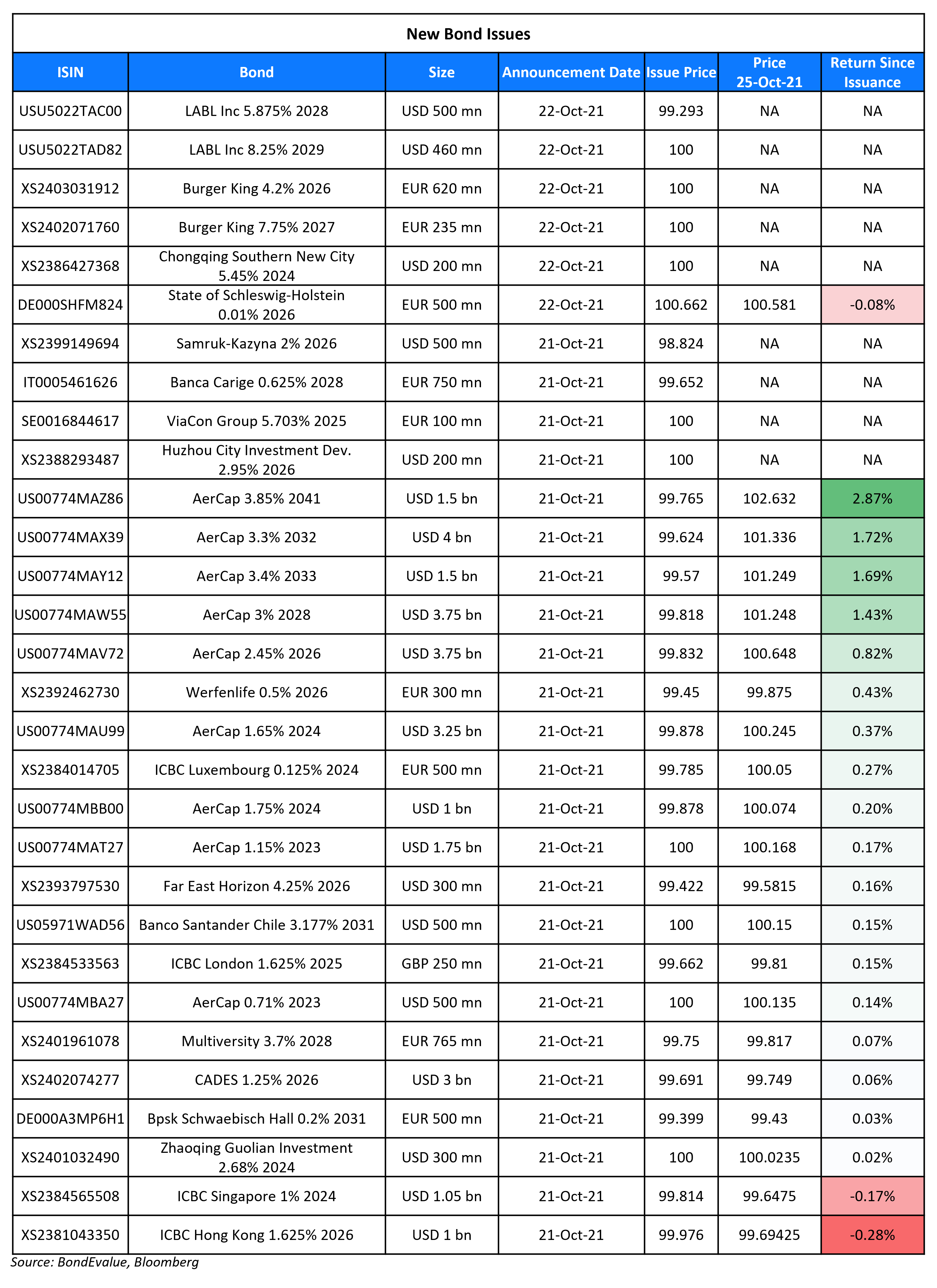 Goldman Sachs raised $750mn via a PerpNC5 bond at a yield of 4.125%, 25bp inside initial guidance of 4.375% area. The bonds have expected ratings of Ba1/BB/BBB-. The bond has a first call date on 10 Nov 2026, and if not called, the coupon will reset to the prevailing US 5Y Treasury + 294.9bp. The deal was upsized from $600mn. Proceeds will be used to provide additional funds for Goldman Sach's operations and for other general corporate purposes.

American Airlines raised $757.825mn via pass through certificates with a tenor of 12.7Y at a yield of 2.875%, 12.5bp inside initial guidance of low-mid 3% area and upsized from an initial amount of $591.9mn. The bonds have expected ratings of Baa1/A- and received orders over $4bn, 5.3x issue size. This is American Airline's first Enhanced Equipment Trust Certificate (EETC) (Term of the Day, explained below) since the start of the pandemic, and the certificates have a weighted average life of 9 years.
KB Securities raised $300mn via a 5Y bond at a yield of 2.149%, 30bp inside initial guidance of T+125bp area. The bonds have expected ratings of A3/A– (Moody's/S&P).
Dafa Properties raised $100mn via a 1.5Y bond at a yield of 13.5%. The bonds have expected ratings of B3 (Moody's). Proceeds will be used to refinance debt due within a year. 
New Bonds Pipeline
Emirates Islamic Bank hires for $ 5Y sukuk bond
CK Hutchison Holdings hires for € 8Y/12Y green bond
Wuhan Metro Group hires for € 3Y sustainability bond
China Cinda Asset Management hires for $ Perp NC5 AT1 preference shares
Nanjing Yangzi State-owned Assets Investment hires for $ bond
Prudential hires for $ 12NC7 tier 2 bond
BOC London branch hires for $ 3Y sustainability bond
Hibiscus Petroleum hires for $ 5NC2 bond
Rating Changes
Term of the Day
Enhanced Equipment Trust Certificates
Enhanced Equipment Trust Certificates (EETC) are secured pass-through debt instruments issued by an SPV trust to finance an asset while paying interest for it over time. Investors/creditors purchase the trust certificates, thereby providing the trust with the capital to purchase the equipment. EETC's are well secured by lease receivables, equipment or physical assets. If the borrower pays off the debt, the asset's ownership title is transferred to the borrower. However, if the borrower defaults, the lender has the right to repossess or foreclose on the asset. EETCs are commonly used in aircraft lease financing. Given that EETCs are well collateralized, they provide investors a safety net, while for issuers, they may give tax benefits. EETCs are insulated from a bankruptcy of the lessee since the trust can take back the planes it leased to the company. As with most EETCs, American Airlines new debut EETCs have expected ratings of Baa1/A-/A, several notches above its issuer rating of B2/B-/B-.
Talking Heads
On newly public companies with large equity valuation taking advantage of robust demand for yield to sell bonds – Anne Russ, Goldman's head of technology, media and telecom leveraged finance
"In 2021 thus far, we have done almost as much debut high-yield issuance for technology companies versus the last four years combined — both from the perspective of number of deals as well as dollars raised."
On the buying opportunity in the recent climb in Treasury yields – Dennis Gartman, former "Gartman Letter" publisher
"I haven't seen this sort of listing of the boat in a market in a very, very long time." "So a contrarian has to say, 'I should look at being bullish' [on bonds]." "Everybody, and I mean everybody, is bearish on the bond market and suddenly you had a reversal to the upside in the long bond," he said. "Five years from now, the 10-year yield would be about 4%," he says. "But for the next month or two, having seen the 10-year yield go from a little under 1% to 1.65%, can we get back to 1.35%? I think we can do that without too much difficulty."
On the view that inflation will remain elevated on a longer-term basis – Alan Greenspan, Former Federal Reserve Chairman
"The tendency toward inflation remains, unfortunately, well above the average of about 2% over the past two decades."
On the possible privatization of Brazilian state-run oil company Petrobras
Jair Bolsonaro, Brazilian President
"But privatizing a company is not just putting it on a shelf and whoever offers the highest bid takes it, it is very complicated."
In a statement by Petrobras
"Aligning our prices with international markets is especially relevant right now, as Petrobras has received atypical demand (from fuel distributors) for November."
On Sri Lanka's recent bout of inflation and liquidity injections – Ajith Nivard Cabraal, Sri Lanka's Central Bank Governor
"The fuel prices have risen not because Sri Lanka prints money. Gas prices have risen not because Sri Lanka printed money. Prices of milk powder have risen not because Sri Lanka prints money." "There are instances when you do need to have treasury bill issues to be made in order to ensure that the stability is also maintained," Cabraal said. "Sometimes in the interest of financial system stability as well as economic and price stability, there could be instances where additional treasury bills could be issued to the government," he explained. "We do recognise there will come a time where it has to be shrunk as well. So, we will be doing that as well and that has to be done again in consultation with the experts who are here and we will do that accordingly," he said.
Top Gainers & Losers – 26-Oct-21*