US equities ended slightly higher with the S&P and Nasdaq up 0.2% and 0.6% respectively. Energy and Consumer Discretionary led sectoral gains, up over 1.5% each. US 10Y Treasury yields were 1bp lower at 1.57%. European stocks were higher with the DAX, CAC and FTSE up 0.8%, 0.9% and 0.7% respectively. Brazil's Bovespa was up 2%. In the Middle East, UAE's ADX was up 0.7% and Saudi TASI was up 0.2%. Asian markets have opened mixed – Shanghai was down 0.3%, HSI up 0.9%, Nikkei down 0.2% while STI was unchanged. US IG and HY CDS spreads were 0.3bp and 1.6bp wider. EU Main CDS spreads were 0.1bp wider and Crossover CDS spreads were 0.7bp wider. Asia ex-Japan CDS spreads widened 0.5bp.
The US Treasury increased its Q4 borrowing estimates to $1.015tn vs. $703bn estimated in August. US ISM Manufacturing PMI came at 60.8, slightly ahead of estimates for a 60.5 print with the 'prices paid' component at 85.7, beating estimates of 78.5 and indicating rising price pressures. German retail sales disappointed by falling 2.5% MoM and 0.9% YoY as compared to forecasts of a 0.6% and 1.8% rise.
---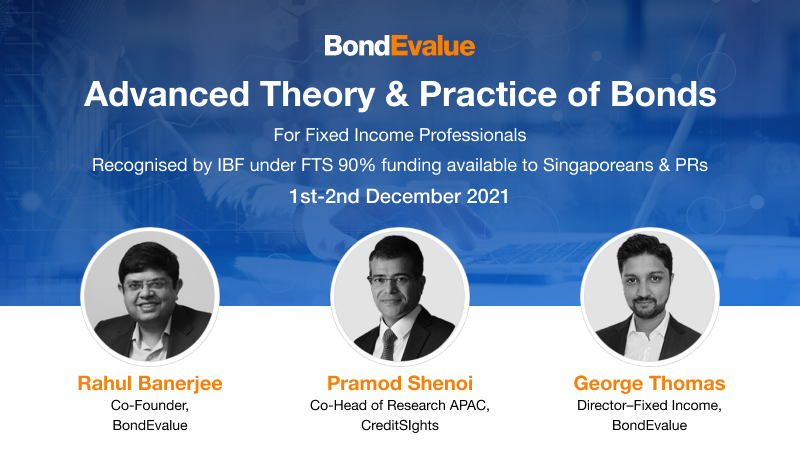 ---
New Bond Issues
Bank of China Group Investment (BOCGI) $ 5Y green @ T+115bp area
State Power Investment Corp $ PerpNC3 preference shares @ 3.8% area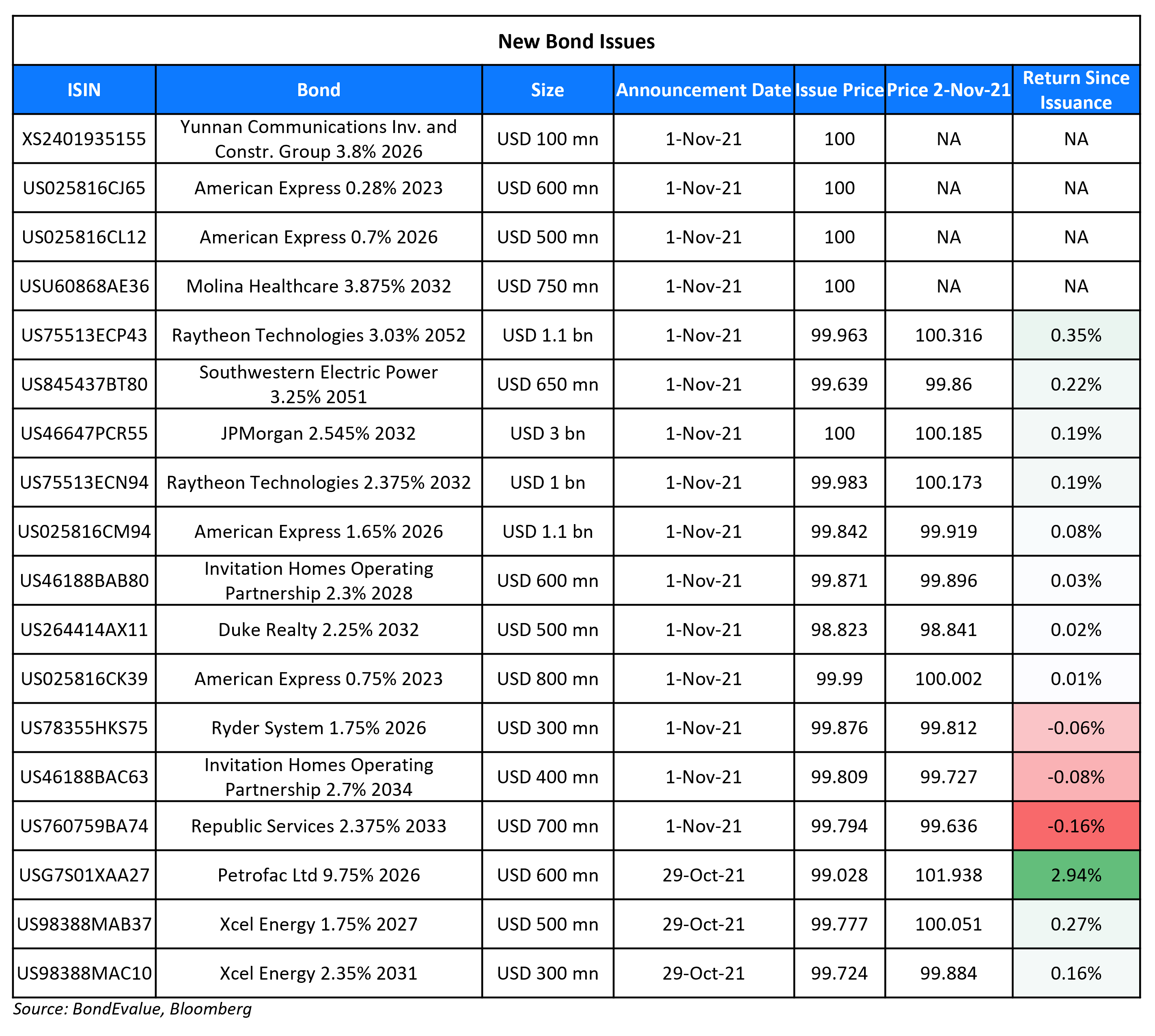 JPMorgan raised $3bn via a 11NC10 bond at a yield of 2.545%, 18bp inside initial guidance of T+115bp area. The bonds are unrated. The bonds have a make whole call (MWC) on 8 November 2031 at par, and if not called, the coupon will reset to the prevailing SOFR rate + 118bp. The bonds were priced just 1.5bp wider to its 2.956% 2031s that yield 2.53%.
Yunnan Communications Investment and Construction Group raised $100mn via a 5Y bond at a yield of 3.8%, unchanged from initial guidance. The bonds are unrated. The bonds are issued by wholly-owned subsidiary YCIC International (HK) and guaranteed by Yunnan Communications Investment and Construction Group, which is the main vehicle of the Yunnan provincial government for expressway investments and operations.
New Bonds Pipeline
Medco Energi hires for $ 7NC3 bond
Jinan City Construction Group hires for $ 3Y bond
China plans for € 3/7/12Y bond
Plaza Indonesia hires for $ sustainability-linked bond
VNET Group hires for $ senior bond
Rating Changes
Term of the Day
Preference Shares
Preference shares are a type of security issued by corporates that has features of both bonds and common stock. In terms of capital structure, preference shares pay dividends and have seniority over common stock but are subordinated to bonds. They do not have voting rights unlike common equity and pay dividends out of each year's net profits. There are various types of preference shares – non-cumulative, redeemable/irredeemable, convertible, participating etc.
State Power Investment Corp (SPIC) launched a USD PerpNC3 preference share at an initial guidance of 3.8%.
Talking Heads
On Worsening Treasury Liquidity Posing 'Spillover Risk,' BofA Says
"Liquidity strains are currently localized to the Treasury market but could spillover into other markets…sharply higher real rates may pose a threat to risky asset values"
On Yellen Dismissing Treasury-Market Jitters, Seeing 'Solid' Recovery
"I think what we're going to see is a good, solid recovery. The unemployment rate has gone down considerably, and this is nothing like the recovery from the 2008 financial crisis…The Fed has a framework that it's using to decide what to do. They've made clear they're going to begin tapering asset purchases"
On Singapore's Central Bank 'Ready to Act' Against Inflation Risks – Ravi Menon, managing director of the Monetary Authority of Singapore
"Overall, I'd say the balance of risk has shifted toward inflation… We will be very watchful of any risk of escalation in prices, and we stand ready to act."
On Petrobras privatization would be 'ideal' as fuel prices rise
Brazilian President Jair Bolsonaro
"Every bad thing that comes from Petrobras is my fault… I told (Economy Minister) Paulo Guedes that it would be ideal to push for Petrobras' privatization, but such a process would take more than a year"
Petrobras securities filing
"Petrobras does not anticipate decisions regarding price adjustments and reinforces that there are no decisions that have been made by its executive pricing committee that the market is not aware of"
Top Gainers & Losers – 02-Nov-21*

Other Stories