US equities ended mixed with the S&P down 0.1% and Nasdaq up 0.4%. Sectoral moves were led by IT, up 0.8% and Energy, down 3.9%. US 10Y Treasury yields were 4bp lower at 1.55%. European markets were trading slightly weak with the DAX, CAC and FTSE down 0.4-0.5% each. Brazil's Bovespa ended 0.6% higher. In the Middle East, UAE's ADX was up 0.1% and Saudi TASI was down 1.9% on Sunday. Asian markets have opened mixed – HSI and Nikkei were down 0.4% and 0.1% while Shanghai and STI were up 0.7% and 0.3% respectively. US IG CDS spreads widened 0.7bp and HY CDS spreads were 4.1bp wider. EU Main CDS spreads were 0.4bp wider and Crossover CDS spreads were 3.3bp wider. Asia ex-Japan CDS spreads tightened 1.8p.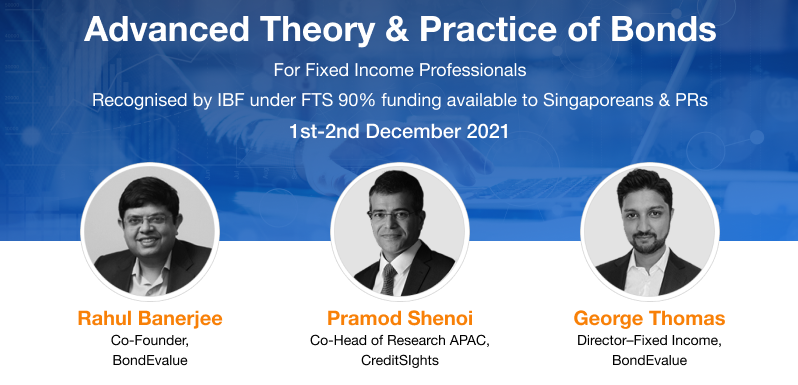 ---

New Bond Issues
Jinan Industry Development Investment Group $ 364-day at 4.5% final

Yueyang Construction and Investment Group raised $220mn via a 5Y bond at a yield of 3.48%, just 2bp inside initial guidance of 3.5% area. The bonds are unrated. Proceeds will be used for project construction and for working capital. The group is a state-owned asset management and infrastructure developer for the Yueyang municipal government in China's Hunan province.
Tianjin Free Trade Zone Investment raised $200mn via a 3Y bond at a yield of 3%, unchanged from initial guidance of 3%. The bonds are unrated. Proceeds will be used for refinancing offshore debt. The bonds are supported by a letter of credit from China Bohai Bank, Tianjin Pilot Free Trade Zone branch.
Jiangsu Kewei Holding raised $83mn via a 3Y bond at a yield of 1.98%, 22bp inside initial guidance of 2.2% area. The bonds are unrated. Proceeds will be used for replenishment of onshore and offshore capital and project construction. The bonds are issued by Boen Investment, guaranteed by Kewei Holding, and supported by a letter of credit from the Bank of Jiangsu Changzhou branch.
Maersk raised $500mn via a 10Y green bond at a yield of 0.875%, 25-30bp inside initial guidance of MS+95-100bp. The bonds have expected ratings of Baa2/BBB+. Proceeds will be used to finance and/or refinance Green Eligible Assets in line with Maersk's Green Financing Framework. This is the first euro bond issued by the company since 2018.
New Bonds Pipeline
Philippines plans for $ debut green bond
SGSP (Australia) hires for $ green bond
Shandong Energy Group hires for $ bond
Chengdu Communications Investment Group hires for $ bond
East Money Information hires for $ debut bond
NTT hires for € bond
Plaza Indonesia hires for $ 5NC3 sustainability-linked bond
Rating Changes
Term of the Day
Tokenized Bond
Tokenized bonds are a new type of bond that are issued digitally, typically using blockchain technology with smaller minimum denominations compared to conventional bonds. The use of blockchain allows for faster settlement of bond trades among other benefits. South American sovereign El Salvador plans to issue $1bn of tokenized bonds in 2022 where half of the proceeds will be converted into Bitcoin and the remainder for infrastructure and Bitcoin mining powered by geothermal energy.
Other issuers have also experimented with the issuance of tokenized bonds such as DBS' S$15mn six-month bonds carrying a coupon of 0.6% issued in May this year.
Talking Heads
On the possibility that the Fed may consider faster drawdown of asset purchases
Richard Clarida, Federal Reserve Vice Chairman
"I'll be looking closely at the data that we get between now and the December meeting," Clarida said. "It may well be appropriate at that meeting to have a discussion about increasing the pace at which we are reducing [asset purchases]."
Neel Kashkari, Minneapolis Fed President
"We shouldn't overreact to what is likely going to be a temporary factor."
Brett Ryan, senior U.S. economist at Deutsche Bank Securities Inc
"The risk of accelerating the taper at the December meeting has risen." "The latest inflation data has caused policy makers to reevaluate their inflation outlook and the December discussion will certainly be more in depth on tapering."
Stephen Stanley, chief economist at Amherst Pierpont Securities LLC
"They're open to the possibility that they're going to need to kick the normalization process into a faster gear," he said.
On the possibility that the Fed needs to consider faster taper – Fed Governor Christopher Waller 
"I believe that policy may need to pivot to a faster taper based on incoming data that I will be monitoring."
On the uncertainty of Fed chair position hampering inflation actions – Jon Tester, Montana Senator 
"I think we've got issues revolving around inflation that [Jerome Powell] can't do much about as long as he's not confirmed." "We need to confirm [Powell]. I think he would be confirmed by a large margin if the president appointed him. And then he can get to work as chairman of the Fed and do a good job as he's done in the past."
On China's central bank signalling easing as economic growth slows – Lu Ting from Nomura
"We expect Beijing to soon significantly step up its monetary easing and fiscal stimulus to counteract the increasing downward pressure," Lu said.
Top Gainers & Losers – 22-Nov-21*

Other Stories: