US equities were closed on account of Thanksgiving holidays. US 10Y Treasury yields were 5bp lower to 1.58%. European markets were higher with the DAX, CAC and FTSE up 0.3%, 0.5% and 0.3% respectively. German Q3 GDP came at 1.7% QoQ vs. 1.8% forecasted. Brazil's Bovespa ended 1.2% higher. In the Middle East, UAE's ADX was up 0.7% while Saudi TASI was down 0.7%. Asian markets have opened lower – Shanghai, HSI, STI and Nikkei were down 0.5%, 2.1%, 1.3% and 2.4% respectively most likely on the back of the new South African Covid variant. US IG CDS spreads and HY CDS spreads were flat . EU Main CDS spreads were 1.1bp wider and Crossover CDS spreads were 4.5bp wider. Asia ex-Japan CDS spreads widened 0.1bp.
---
Last Chance to Register for The Upcoming Course on Bonds for Fixed Income Professionals
The course will be conducted in-person at 79 Robinson Road, Singapore on 1-2 December. 90% IBF funding is available to eligible company-sponsored Singaporeans & PRs. Click on the banner below to sign up.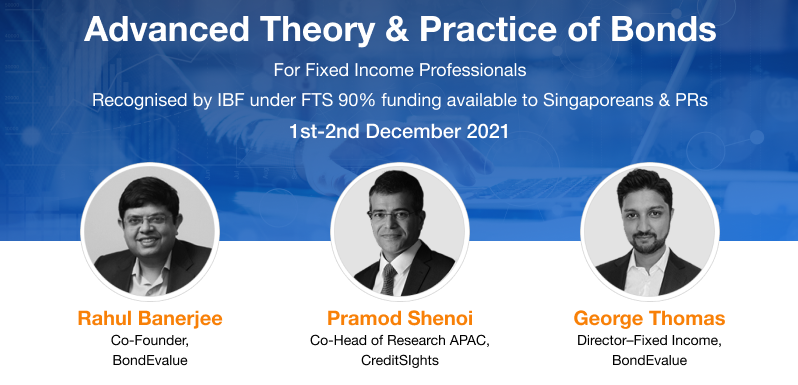 ---

New Bond Issues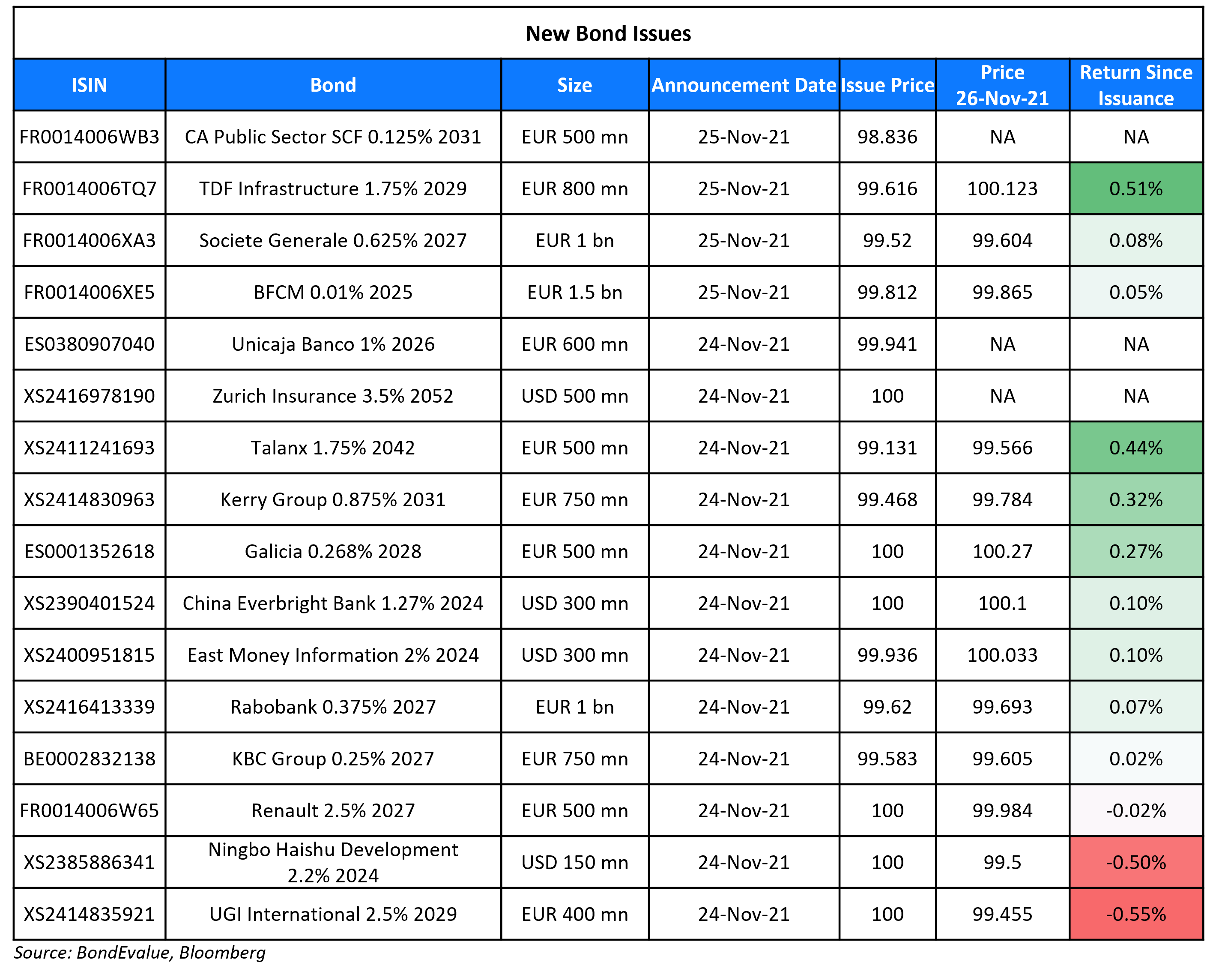 SocGen raised €1bn via a 6NC5 social bond at a yield of 0.723%, 20bp inside initial guidance of MS+100bp area. The bonds have expected ratings of Baa2/BBB/A-, and received orders over €2.2bn, 2.2x issue size. SocGen intends to use an amount equivalent to the net proceeds to finance and/or refinance, in part or in full, 'Eligible Social Activities' as defined in its Sustainable & Positive Impact Bond Framework. The bonds are callable only once on December 2, 2026, and if not called, the coupon will reset to the prevailing 3-month Euribor + 80bps.
New Bonds Pipeline
New Development Bank hires for $ bond


Del Monte Pacific hires for $ 3NC2 bond

Philippines plans for $ debut green bond

SGSP (Australia) hires for $ green bond
NTT hires for € bond
Rating Changes
Term of the Day
Blocking Vote
Blocking vote is a type of vote by holders of shares and/or bonds where an opposing party's bid or call for action can be blocked. For example, in CFLD's case, some dollar bondholders have sought support from other investors to reach a 25% blocking vote position across CFLD's dollar bonds. If they reach the 25% mark, then the bondholders have a right to make changes to the terms of restructuring so that it works in their favour. Another example of a blocking vote was in 2006, where Nasdaq made quick-fire acquisitions of LSE's shares to almost 25% so that it can block any opposing bidder for LSE.
Talking Heads
On BBVA Bondholders Keep Calm as Turkish Currency Crumbles
Romain Miginiac, head of research at Swiss investment management firm Atlanticomnium SA
"It's interesting that every time there's a headline on Turkey or other emerging markets where BBVA is involved, it triggers some concerns and mini sell-offs in the bank's instruments…I definitely don't think it's an issue for BBVA, on the contrary the deal should be seen as positive for bondholders."
JPMorgan Chase & Co. analyst Roberto Henriques
"There's potential downside risk but that is limited and not enough to undermine the financial stability of the parent's balance sheet"
Carlos Suarez Duarte, a credit analyst at Allianz Global Investors
"I still have confidence in BBVA, it's a strong credit," he said. "Even if things go really badly, BBVA will be able to manage it."
On BOE Chief Worried by El Salvador's Move to Adopt Bitcoin – BOE Governor Andrew Bailey
"It concerns me that a country would choose it as its national currency… What would worry me most of all is, do the citizens of El Salvador understand the nature and volatility of the currency they have… There is a strong case for digital currencies, but in our view it has to be stable, particularly if it's being used for payments. That is not true for crypto assets."
On Goldman Economists Expect Fed Will Taper, Raise Rates Faster – Jan Hatzius and colleagues
The central bank will double the pace it's withdrawing its massive asset purchase program to $30 billion a month from January and start raising interest rates from near zero in June… then hike rates in September and December as well as twice in 2023.
"The increased openness to accelerating the taper pace likely reflects both somewhat higher-than-expected inflation over the last two months and greater comfort among Fed officials that a faster pace would not shock financial markets,"
Top Gainers & Losers – 26-Nov-21*

---