US equity market optimism was only short-lived after Jerome Powell's remarks on inflation and tapering led the S&P and Nasdaq to close 1.9% and 1.6% lower respectively. All sectors ended in the red led by Communication Services and Utilities falling ~3%. US 10Y Treasury yields moved 2bp lower to 1.49%. European markets were also lower with the DAX, CAC and FTSE down 1.2%, 0.8% and 0.7% respectively. Brazil's Bovespa ended 0.9% lower. In the Middle East, UAE's ADX was up 0.8% and Saudi TASI was down 0.5%. Asian markets have opened broadly positive – Shanghai was flat while HSI, STI and Nikkei were up 1.5%, 1.2% and 0.8% respectively. US IG CDS spreads and HY CDS spreads widened 2.6bp each. EU Main CDS spreads were 1.9bp wider and Crossover CDS spreads were 8.7bp wider. Asia ex-Japan CDS spreads widened 0.8bp.
Fed Chair Powell sounded a hawkish tone by saying it probably was a good time to retire the word "transitory" regarding inflation. He added that the Fed plans to discuss accelerating the taper of asset purchases by a few months in the December meeting.
New Bond Issues
New Development Bank $ 3Y at SOFR+30bp area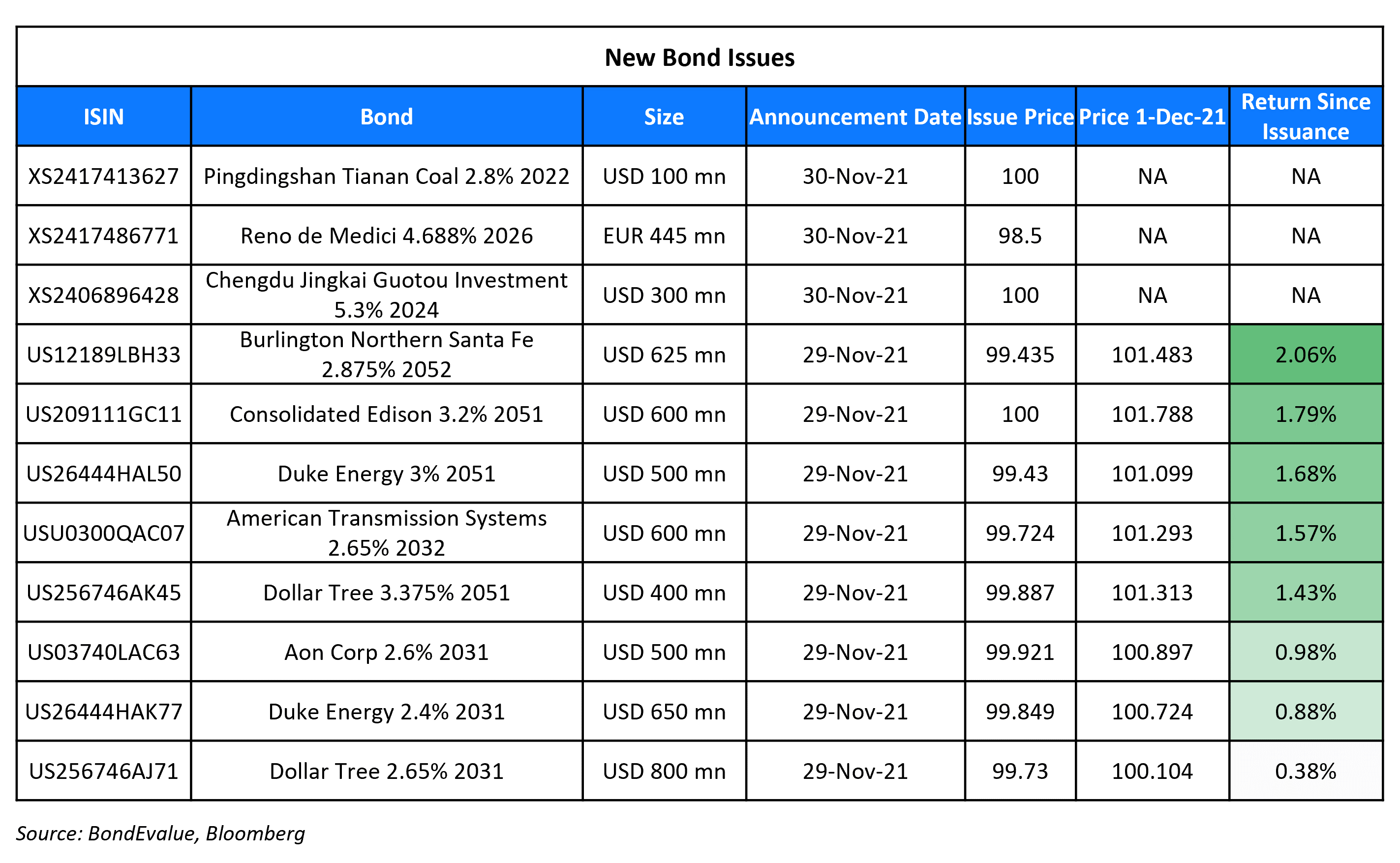 Chengdu Jingkai Guotou Investment Group raised $300mn via a 3Y bond at a yield of 5.3%, 50bp inside the initial guidance of 5.8%. The bonds have expected ratings of Ba2 (Moody's). Proceeds will be used for offshore debt refinancing. The issuer, formerly known as Chengdu Economic and Technological Development Zone State-owned Assets Investment, is a local state-owned housing and infrastructure development entity in the Chengdu Economic and Technological Development Zone in China's Sichuan province.
Pingdingshan Tianan Coal Mining raised $100mn via a 364-day bond at a yield of 2.8%. The bonds are unrated. The proceeds from the Hong Kong-listed trade will be used for working capital, as well as debt repayment. The bonds are supported by a letter of credit from Nanyan Commercial Bank (China) Qingdao branch. The borrower is based in China's Henan province. It mines and processes coal products including mixed coal and smelting clean washed coal.
New Bonds Pipeline
State Power Investment Corp hires for $ bond

Yantai Guofeng Investment Holdings Group hires for $ bond

Olympus Corp hires for $ 5Y bond

Del Monte Pacific hires for $ 3NC2 bond

SGSP (Australia) hires for $ green bond
Rating Changes
Term of the Day
Forbearance
A forbearance or moratorium is a temporary suspension on debt wherein the borrower does not have to make any repayments. It is a waiting period with some protections for the borrower before repayments begin. Typically interest is accumulated until the end of the moratorium period and the accrued interest is then added to the principal amount of the debt.
As per reports, a group of Kaisa bondholders have proposed a forbearance period for Kaisa. No further details have emerged.
Talking Heads
On Powell places faster bond-buying taper on Fed's Christmas table – Fed Chair, Jerome Powell
"Since the last meeting, we've seen basically elevated inflation pressures, we've seen very strong labor market data without any improvement in labor supply, we've seen strong spending data too"
High inflation, now running at more than twice the Fed's flexible target of 2% annually but which the central bank has for months characterized as "transitory," is only expected to ease in the second half of 2022. Powell said: "I think it's probably a good time to retire that word."
"The recent rise in Covid-19 cases and the emergence of the omicron variant pose downside risks to employment and economic activity and increased uncertainty for inflation,"
On Hawkish Powell Is a Force Markets Haven't Faced in Three Years
Max Gokhman, CIO at AlphaTrAI
"Not only is he speaking in a more hawkish tone, but he's dropping major policy implications almost without regard to how the markets may take them. "All of the predictability he's previously tried to cultivate in terms of taper and liftoff scheduling is in question."
Michael Kantrowitz, head of portfolio strategy at Cornerstone Macro
"Markets will be very reactive to the data, probably over-reactive… There is a lot of fog we need to get through."
Neil Dutta, head of U.S. economics at Renaissance Macro
Powell "is opening the door to an earlier rate hike by signaling a sooner end to taper… The risk to markets would be if the Fed started tightening well before the employment goals were achieved. That is not happening right now. Between now and the time the tapering is done, employment will continue accelerating."
On Turkish Interest Rates Will Fall 'Markedly' Until Elections – Turkish President Erdogan
"Our country has now come to the point of breaking this vicious cycle, and there is no turning back from here…The high interest rate policy imposed on us is not a new phenomenon. It is a model that destroys domestic production and makes structural inflation permanent by increasing production costs. We are ending this spiral."
Top Gainers & Losers – 01-Dec-21*

Other Stories
FLCT acquires prime UK freehold warehouse facility for £28.3m