US markets had a mixed start to the week – S&P was up 0.3% and Nasdaq was down 0.2%. The S&P recorded another peak as Healthcare closed 1.1% higher and Utilities and Consumer Staples were up 0.65%. Energy and Materials were down 1.8% and 0.5% respectively. European markets snapped their winning streak – FTSE, CAC and DAX were down 0.9%, 0.8% and ~0.3% respectively. Saudi's TASI was down 0.3% while UAE's ADX was up 0.8%. Brazil's Bovespa continued to trade weaker, down 1.7%. APAC stocks had a mixed start – the Nikkei and Shanghai were broadly flat while Singapore's STI and HSI were down 0.4% and 0.2% respectively. US 10Y Treasury yields were a tad tighter at 1.25%. US IG and HY CDS spreads widened 0.4bp and 2.3bp. EU Main and Crossover CDS spreads widened 0.2bp and 2bp respectively. Asia ex-Japan CDS spreads were 1.7bp tighter.
---
With CapBridge's fully digital investment platform, it's fast and easy to get started.
Hassle-free onboarding in 3 simple steps:  SingPass MyInfo onboarding available for Singapore residents
Curated list of fractional bonds
Yields of up to 7-9%
Fully transparent fee structure
Instant settlement
For a limited time, investors get to enjoy up to 50% rebate off annual fees. Now, enjoy an even lower cost of bond ownership.  
---
New Bond Issues
Central Nippon Expressway 5Y bond at Mid-Swaps+35bp area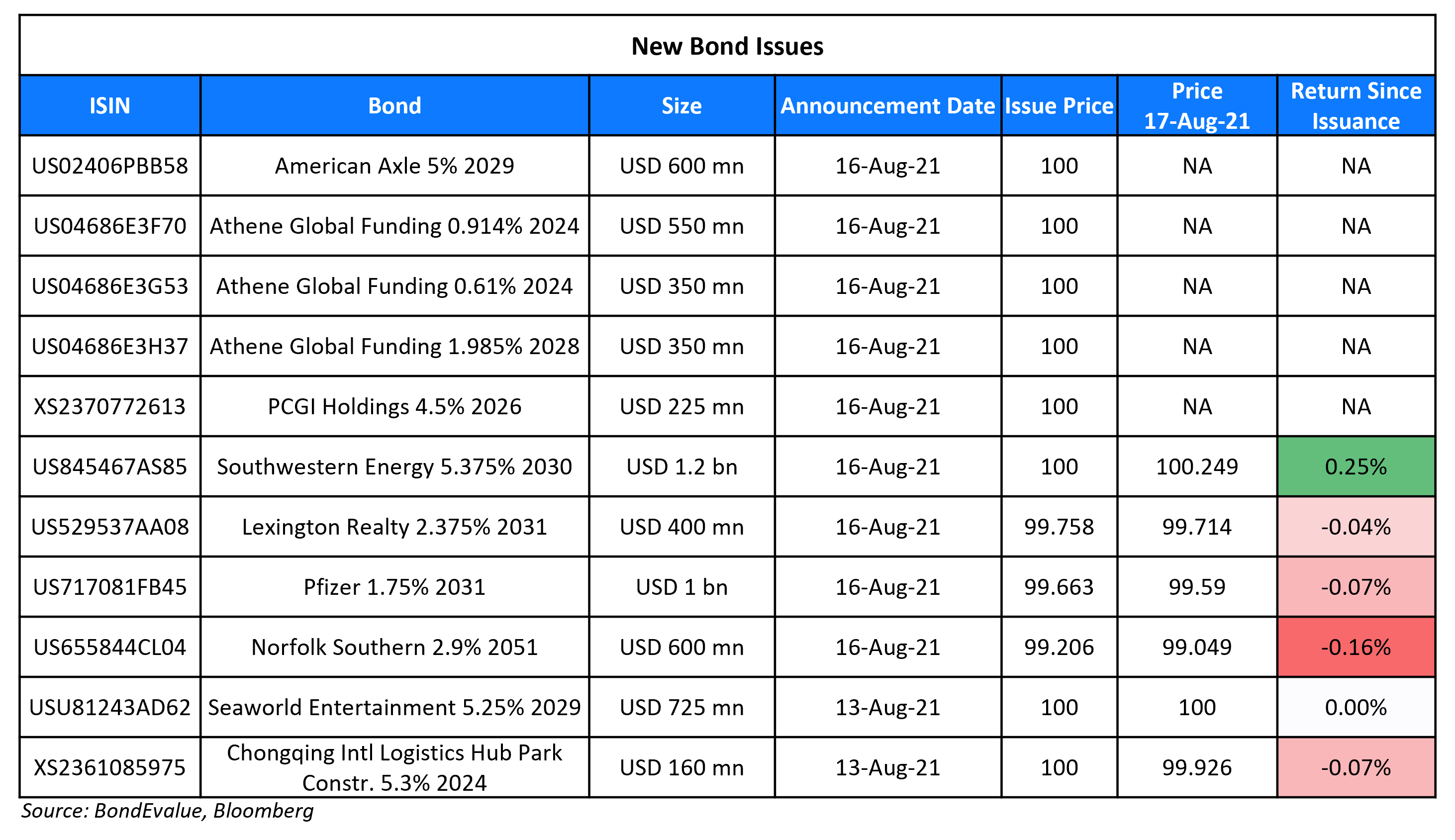 PCGI Holdings raised $225mn via a 5NC3 bond at a yield of 4.5%, in-line with the initial guidance. The bonds are unrated and received orders over $740mn, 3.3x issue size. The bonds will be issued by wholly-owned subsidiary PCGI Intermediate Holdings (III) and guaranteed by PCGI Holdings. There is a change of control put at 101 if its founder Richard Li or any of its affiliates cease to control more than 50% of the voting rights of PCGI Intermediate Holdings, another wholly-owned subsidiary that holds a 72.68% stake in both FWD Group and FWD.  Proceeds will be used for refinancing, capital injections into PCGI Intermediate Holdings, working capital and any other general corporate purposes.
New Bonds Pipeline
HDFC Bank hires for $ PerpNC5
Perusahaan Pengelola Asset hires for $ bond
Ping An International Financial Leasing hires for $ bonds
Henan Investment Group hires for $ bonds
Baidu hires for $ sustainability bond
Anhui Transportation Holding Group hires for $ bond
China Jianyin Investment hires for $ bond
Rating Changes
Term of the Day
High Frequency Indicators
High frequency indicators are economic data points that are published more frequently than other typical data points, which are typically published on a monthly basis. For example, every week in the US, the Department of Labor reports the 'Unemployment insurance weekly claims', aka initial jobless claims. Other data points like weekly consumer sentiment indices, Weekly Economic Index (WEI) published by the Federal Reserve Bank of New York, Atlanta Fed's GDPNow, weekly inflation expectations survey by Michigan, mobility and travel indices etc. are also considered high frequency indicators. These indicators can be inputted into economic models and help give a picture of economic conditions in advance, before the actual data release which may come out only once a month.
Talking Heads
Chris Ahrens, strategist at Stifel Nicolaus & Co
"We would all like to think that Jackson Hole will provide some clarity, because there is precedent for signaling policy actions at this venue." "The pathway of the delta variant and the virus generally looks like it will play a part in when Chair Powell chooses to signal FOMC intentions. If cases are still rising, he will have to shape the contour of his message to that reality."
In a note by Bank of America strategists including Mark Cabana
"Similar price action this year would not surprise us." "Powell is expected to deliver a speech that recounts U.S. economic progress since the pandemic and acknowledges the FOMC will continue debating taper but fall short of signaling it."
On Bolsonaro's election ploy rattles Brazil traders
Mariam Dayoub, chief economist at asset manager Grimper Capital
"The political situation, with the populist temptations ahead of a difficult election in 2022, are causing fiscal uncertainties, and will likely only grow as the elections near." "Fiscal risks should limit how much the real can rally even with a more hawkish central bank."
Tony Volpon, investment strategist at Wealth High Governance and former director at Brazil's Central Bank
"It's very clear that if it wasn't for fiscal and political noise, the real would be trading stronger than 5 per dollar, and markets would be forecasting a more benign trajectory for inflation."
Roberto Campos Neto, Brazil's Central Bank President
"Any news that affects debt levels generates a lot of noise," he said.
"That means disclosing the political and regulatory risk that the government of China could, as they've done a number of times recently, significantly change the rules in the middle of the game," Gensler said. "If the auditors of Chinese operating companies don't open up their books and records in the next three years, the companies — Cayman or Chinese — won't be able to be listed here in the US."
On China property results likely to bring some clarity on credit – in a report by Kenneth Ho, Goldman Sachs analyst and team
"They will provide indications on whether deleveraging across the sector has continued, and whether the deleveraging is at the expense of rising trade payables."
Top Gainers & Losers – 17-Aug-21*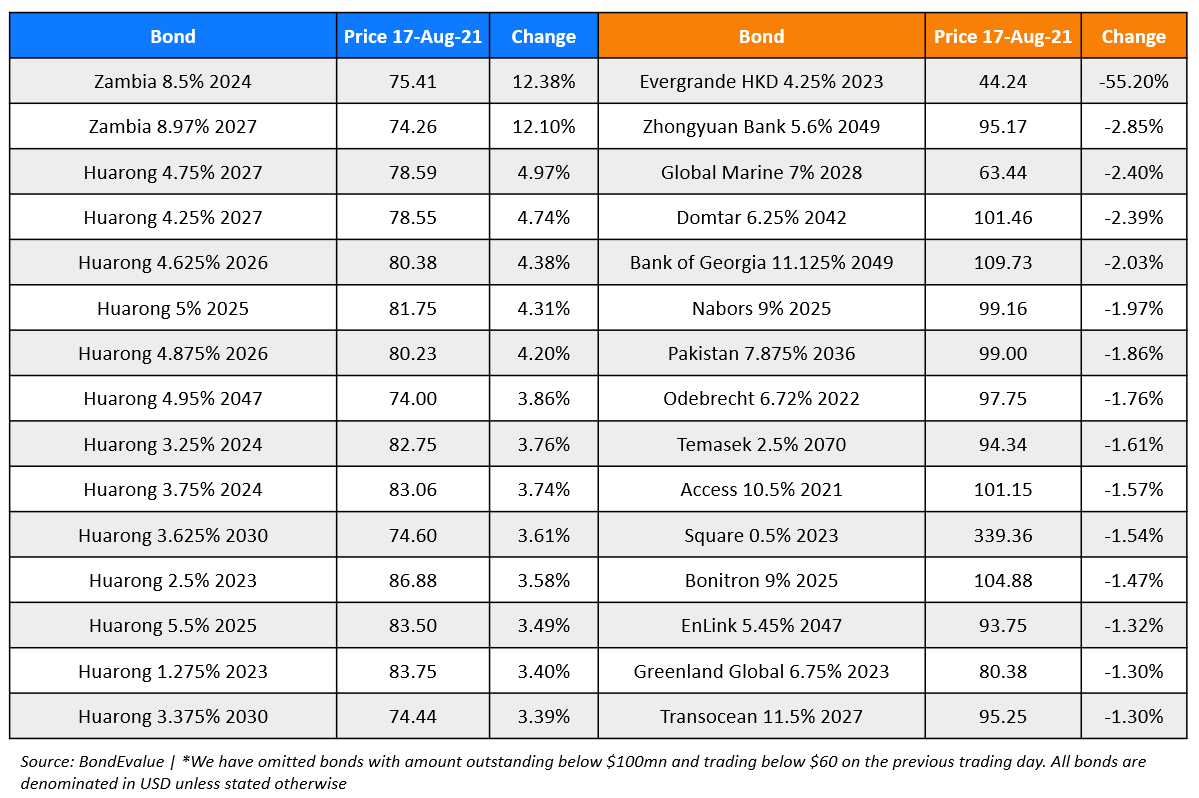 Other Stories: