US equity markets ended higher on Wednesday with the S&P and Nasdaq closing 1.9% and 1.6% higher each. Sectoral gains were led by Financials, Materials, Energy, IT and Industrials up over 2% each. European markets recovered some of Tuesday's losses – DAX, CAC and FTSE were up 0.7%, 1.6% and 1.4% each. US 10Y Treasury yields rose 10bp to 1.85%. Brazil's Bovespa was up 1.8%. In the Middle East, UAE's ADX was up 1.7% and Saudi TASI was down 0.2%. Asian markets have opened with a positive bias – Shanghai, HSI, STI and Nikkei are up 0.1%, 0.5%, 0.6% and 0.8% respectively. US IG CDS spreads tightened 2.4bp and HY spreads were 11.3bp tighter. EU Main CDS spreads were 2.3bp tighter and Crossover CDS spreads were a 15.9bp tighter. Asia ex-Japan CDS spreads were 2bp wider.
---
Learn About Bonds from Senior Bankers | Starting 28 March
In the current environment marred by geopolitical concerns, impending rate hikes and crisis in China real estate, it is imperative for investors and advisors to be able to analyze bonds effectively. This course will help you do just that via 8 interactive sessions conducted live via Zoom by senior bankers starting 28 March. Click on the banner below to know more and to sign up.

---
New Bond Issues
Honda Motor $ 3Y/5Y/10Y green bonds IPTs T+80-85/T+100-105/T+135-140bp areas

SuMi Trust $ 3Y at T+115bp/5Y green bond at T+130-135bp areas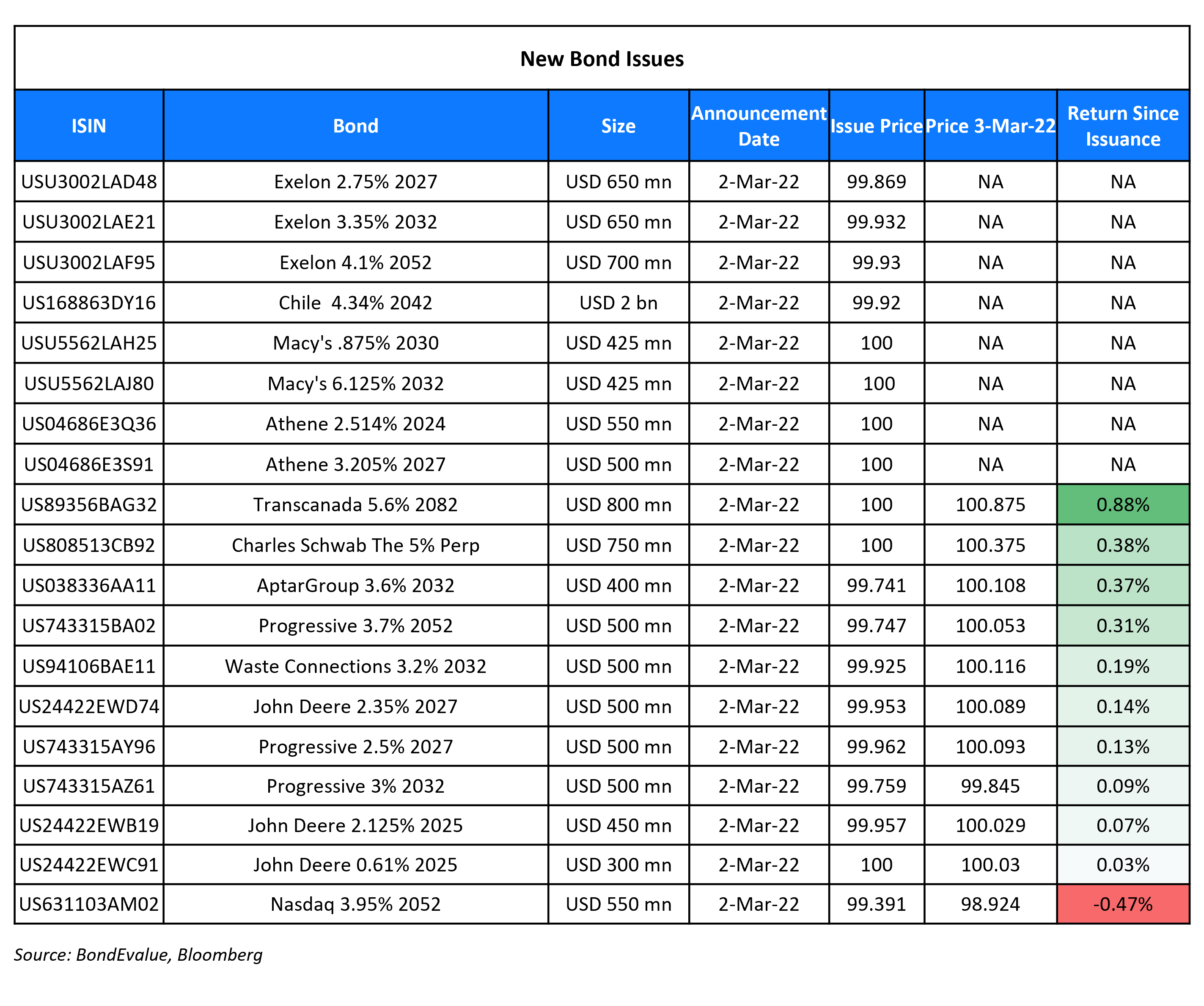 Chile raised $2bn via a 20Y Sustainability-Linked Bond (SLB) at a yield of 4.346%, 40bp inside initial guidance of T+240bp area. The bonds are rated A1/A. Proceeds will be used for general purposes of the government. The coupon will step-up by either 12.50bp or 25bp unless Chile has delivered an officers' certificate to the trustee at least 30 days prior to March 7, 2034 certifying that (i) each of the SPT Events below have been satisfied and (ii) the satisfaction of each SPT Event has been confirmed in the verification reports. The SPT events are:
Event 1:  Achieve annual GHG emissions of 95 MtCO2e by December 31, 2030 

Event 2: Achieve a maximum GHG emissions budget of 1,100 MtCO2e between January 1, 2020 and December 31, 2030

Event 3: Generate 60% of the total electricity generated in Chile in the year ended December 31, 2032 from nonconventional renewable sources
Macy's raised $850mn via a two-part deal. It raised $425mn via a 8NC3 bond at a yield of 5.875%, over 12.5bp inside initial guidance of low 6%s. It also raised $425mn via a 10NC5 bond at a yield of 6.13%, inside initial guidance of mid-6%s. Both bonds are expected to be rated BB. Proceeds, together with cash on hand will be used to redeem its 6.65% second-lien notes due 2024, 2.875% notes due 2023, 4.375% notes due 2023, 3.625% notes due 2024 and 6.650% notes due 2024. The new 8NC3s are offering a yield pick-up of 20bp over its older 4.5% 2034s that currently yield 5.67% despite the earlier maturity on the new bonds.
New Bonds Pipeline
Mumbai International Airport hires for $ bond

The Republic of the Philippines hires for $ bond
Aluminium Corporation of China hires for $ bond
Petron hires for $ 7NC4 bond
Electricity Generating (EGCO) hires for $ 7Y or 10Y bond
Rating Changes
Term of the Day
Sustainability-linked bonds (SLBs)
Sustainability-linked bonds (SLBs) are bonds wherein the issuer commits to certain sustainability targets within a timeline set in the bond document based on five elements:
Selection of Key Performance Indicators (KPIs)
Calibration of Sustainability Performance Targets (SPTs)
Bond Characteristics
Reporting
Verification
Unlike other ESG bonds, SLB proceeds can be used for general purposes but the characteristics of the bond can change depending on the issuer meeting their KPIs set in the document. A common characteristic change is a coupon step-up if the issuer fails to meet the committed targets within the set timeline.
---
Explore BondbloX Kristals – a basket of single bonds listed on the BondbloX Exchange following themes such as SGD REIT Perps, USD Bank Perps, and SGD Bank Perps. Avail an introductory discount of $1,000 for every purchase of $100,000 worth of BondbloX Kristals*. Click on the banner above to know more.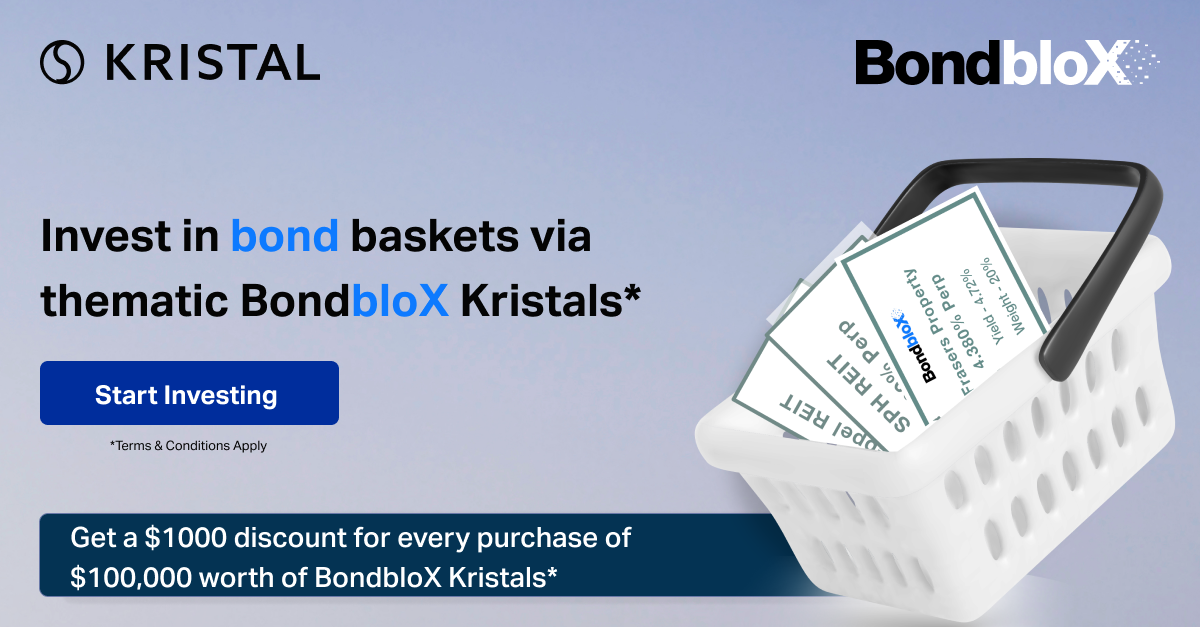 ---
Talking Heads
On Traders Stockpiling Bonds Are Causing a Great Collateral Squeeze
Marc Ostwald, global strategist at ADM Investor Services
"As soon as things get choppy and bid/offer spreads widen, finding paper to cover trades via the repo market is both more expensive and more challenging. The fact that central banks have absorbed so much of the 'free float' in markets via quantitative easing clearly also plays a role"
 John Edwards, global head of BrokerTec
There's "increased pressure on specific bond levels, potentially due to short positioning from the market looking to take directional risk"
On Sanctions significantly increasing chance of Russia international debt default
JPMorgan Note
"The sanctioning of Russian government entities by the United States, counter-measures within Russia to restrict foreign payments, and disruptions of payment chains present high hurdles for Russia to make a bond payment abroad… Sanctions…have significantly increased the likelihood of a Russia government hard currency bond default… The likelihood that the government and companies are unable or unwilling to make external debt repayments has risen significantly"
On Powell Plowing Ahead Toward Rate Hikes With Eyes on War Impact
Jerome Powell, Fed Chair
"I am inclined to propose and support a 25 basis-point rate hike… To the extent that inflation comes in higher or is more persistently high than that, then we would be prepared to move more aggressively by raising the federal funds rate by more than 25 basis points at a meeting or meetings."
Jeanette Garretty, chief economist at Robertson Stephens
"Monetary policy at the point we are at right now is primarily tactical… Over time the impact of Ukraine and the sanctions will become more apparent, and then the long term problem will be inflation and growth"
On Mexico central bank saying Ukraine crisis could spur new inflation
"We will be very attentive to how the conflict evolves. … It will depend on the length and scope it might have. It could impact the development of both energy and grains prices."
On Overhaul of online platforms run by Chinese fintech firms including Ant Group 'went well', though more work is needed -Regulator
"These innovative financial platforms, previously not under our supervision, have gradually come under our scrutiny. This process takes time as we encountered difficulties in areas such as the identification and evaluation of their products, besides the protection of private personal data, corporate information and commercial secrets… While this is very complicated, overall we are confident that we can do a good job on the overhaul."
Top Gainers & Losers – 03-Mar-22*