US Treasury yields continue to march higher with the 10Y yield up 6bp following the solid NFP report. US Non-Farm Payrolls (NFP) came at 263k, higher than expectations for a 255k print. Unemployment rate came lower at 3.5%, lower than the expected 3.7%. The peak Fed Funds Rate rose 6bp to 4.65% for the FOMC's March 2023 meeting, on the back of the jobs report. US credit markets saw CDS spreads widen with IG higher by 2.7bp and HY widening by 16.5bp. US equity markets ended lower with the S&P and Nasdaq down 2.8% and 3.8% respectively.
European equity markets ended in the red too and CDS spreads widened – EU Main and Crossover CDS spreads widened by 4.3bp and 23bp respectively. China's services PMI (Term of the day, explained below) in September contracted for the first time in four months to 49.3 from 55. Asia ex-Japan CDS spreads widened 3.2bp and Asian equity markets have opened broadly lower today by over 0.5%.
---
Complimentary Webinar | How to Use the BondEvalue App to Better Track Your Bonds | 10 Oct 2022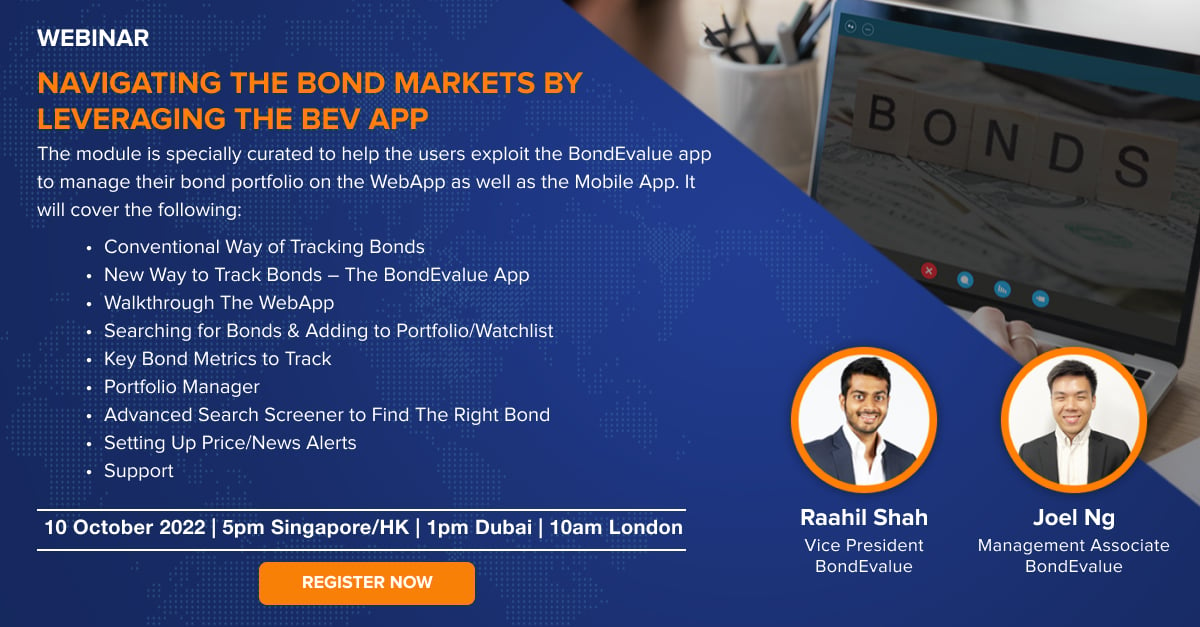 ---

New Bond Issues

New Bonds Pipeline
Aozora Bank hires for $ 3Y Green bond
Rating Changes
Term of the Day
Purchasing Managers Index (PMI) 
PMIs or Purchasing Managers' Index are an index composed of a monthly survey of purchasing managers/supply chain managers across industries. This is a diffusion index, a statistical measure of summarizing the common tendency of a series – if there are more number of values rising than falling, the index is above 50 and the index goes below 50 if the falling values exceed those rising. For PMIs, a value below 50 indicates contraction and a value above 50 shows expansion. These surveys are taken over different areas of the supply chain business: New Orders, Employment, Inventories, Supplier Deliveries and Production covering imports, exports, prices and backlogs. In most countries, Markit publishes the PMI numbers while other organizations publish them too. Markit generally publishes the month's PMIs in last week of the month.
Talking Heads
On Buying Short-Term Quality Bonds as Stocks Fall –  Erin Browne, PM at PIMCO
"What we're looking at is fixed-income investments that we think are going to be able to stand the test of time. It's a challenging time for investors where you have to skew more toward fixed-income in order to have stability of returns"
On Pakistan Contesting Moody's Downgrade Last Week
Pakistan's finance ministry
"Ministry of Finance strongly feels that the downgrading of Pakistan's rating is not truly reflective of Pakistan's macroeconomic conditions… The rating action by Moody's was carried out unilaterally without prior consultations and meetings with our teams from the Ministry of Finance and State Bank of Pakistan"
Pakistan's Finance Minister Ishaq Dar
"There's no need to worry. We first have to fix our economic indicators"
On Bond Traders Follow Fed's Lead With No Let-Up in Inflation Fight
Jeffrey Rosenberg, BlackRock senior portfolio manager
"A slight disappointment relative to hopes that this report would give a piece of evidence in favor of the camp that there's a slowdown and a pivot underway… next week we'll get the most important report, which is the CPI report" given the concern of some that "we are in a wage-price spiral"
Eric Stein, CIO, fixed income, at Morgan Stanley Investment Management.
"Markets are incredibly sensitive to CPI prints as there is a tug of war in the bond market over whether the Fed has does enough tightening or needs to be more hawkish"
On Erdogan Vowing to Cut Rates to Support Investors Ahead of Vote – Turkiye President, Erdogan
"As long as this brother of yours is in this position, the interest will continue to decrease with each passing day, each passing week, each passing month.. Let the investor come and request a loan from our state banks. We will not have them trounced by the rates. Investment does not come with high interest rates"
On Fed to deliver another big rate hike as job market fails to cool
Shawn Cruz, head trading strategist at TD Ameritrade
"If you are someone who is looking for a pause or pivot or whatever it is, they are pretty much flat-out telling you we are not doing that… People keep trying to convince themselves. It's like are you lying to me or lying to yourself, it seems like a lot of people are lying to themselves that the Fed will stop"
Top Gainers & Losers – 10-October
-22*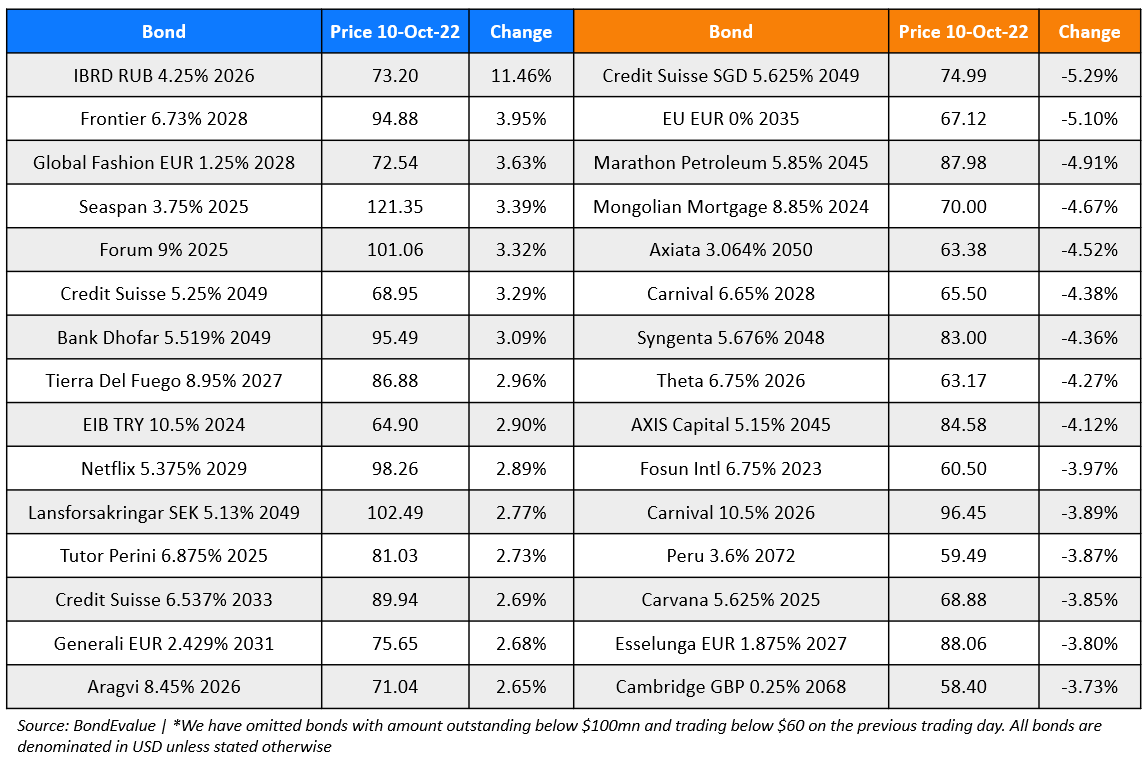 Other Stories
SPH Reit posts 2.2% rise in latest 12-month DPU on retail recovery