US Treasury yields eased slightly with the 5Y, 10Y and 30Y yields down 3-4bp. The peak Fed Funds Rate rose by 1bp to 4.68% for the FOMC's March 2023 meeting. The FOMC's September meeting minutes once again reiterated the Fed's stance of higher rates for longer. Fed officials "emphasized the cost of taking too little action to bring down inflation likely outweighed the cost of taking too much action". In the credit markets, US IG CDS spreads tightened 0.7bp and HY CDS spreads saw a 2.4bp tightening. US equity markets ended slightly lower with the S&P and Nasdaq down 0.3% and 0.1% respectively.  The focus today is on the US inflation report where headline CPI YoY is expected at 8.1% for September and Core CPI YoY is expected at 6.5%.
European equity markets ended slightly lower too and CDS spreads tightened – EU Main and Crossover CDS spreads tightened by 2bp and 8.7bp respectively. Asia ex-Japan CDS spreads widened 4.6bp and Asian equity markets have opened broadly lower today. Asian equity markets have opened broadly lower today with Asia ex-Japan CDS spreads 4.6bp wider to ~200bp, the highest level since March 2020 at the peak of the pandemic.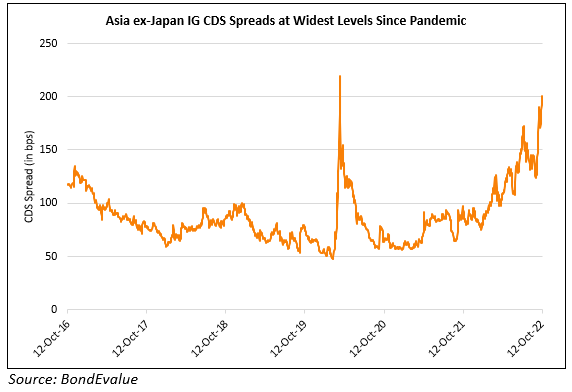 New Bond Issues

Syngenta Group raised $500mn via a 3.5Y bond at a yield of 5.144%, 45bp inside initial guidance of T+125bp area. The senior unsecured bonds have expected ratings of Baa1/BBB+/A, and received orders over $1.2bn, 2.4x issue size. Proceeds will be used for general corporate needs, including debt repayment. The bonds are issued by Syngenta Group Finance Ltd and guaranteed by Syngenta Group Co Ltd.  
New Bonds Pipeline
Aozora Bank hires for $ 3Y Green bond
Rating Changes
Moody's upgrades Deutsche Bank AG's long-term ratings, outlook stable
Term of the Day
Regulation S
A Regulation S or Reg S bond is one that is issued in the international bond market and is usually cleared through Euroclear and Clearstream. These bonds cannot be sold in the US, except to qualified institutional buyers (QIBs) under the SEC 144A Rule. The 144A Rule, issued in 1990, modified a two-year holding period rule on privately placed securities by permitting (Qualified Institutional Buyer) QIBs to trade in these securities among themselves. Thus, a 144A bond, with a unique identifier, is privately placed to US based QIBs and usually clears through DTCC.
Talking Heads
On Bar for Fed Policy Pivot on Rates Is 'Very High' – Neil Kashkari, Minneapolis Fed President
"If the economy entered a steep downturn, we could always stop what we're doing. We could always — if we needed to — reverse what we're doing, if we thought that inflation was headed back down very, very quickly… For me, the bar for such a change is very high because we have not yet seen much evidence that the underlying inflation — the services inflation, the wage inflation, the labor market — that that is yet softening… I think we're quite a ways away from anything like that. I think a much more likely scenario is we will raise to some level north of 4% — maybe 4.5 — and then pause and sit there for an extended period of time"
On Bailey Pressed to Extend Gilt Purchases Amid Deadline Confusion
Erik Nelson, a currency strategist at Wells Fargo
"This is looking like an increasingly untenable situation. Bailey will have to walk these comments back"
Patrick Bloomfield, a partner at consultant Hymans Robertson
"The market is under tremendous stress, and the overwhelming direction of trades is sell. It takes longer than a day for these sales to be organized. That's why we had the systemic issue in the first place"
On Seeing Rates Staying in 4.5%-5% Range for 'Long Time' – Ex-Fed Vice Chair, Richard Clarida
"Under Chair Powell's leadership, they are putting rates on a path where I think they'll probably need to get, which is somewhere between 4 1/2 and 5%, next year. They're going to keep them there for a long time."
Top Gainers & Losers – 13-October
-22*