The peak Fed Funds rate continues to sit at over 5% for the May 2023 FOMC meeting, after climbing 10bp higher on Wednesday. Treasuries sold-off further across the curve with the 10Y and 30Y yields surging 8-9bp higher as the curve bear steepened. In the credit markets, US IG CDS spreads widened by 2bp and HY CDS spreads saw a 13.4bp widening. US equity markets declined again on Thursday with the S&P and Nasdaq down 0.8% and 0.6% respectively.
European equity markets were marginally higher yesterday. EU Main CDS spreads tightened 1.3bp while Crossover CDS spreads widened by 0.8bp. In the UK, the Prime Minister Liz Truss resigned from her post six weeks after taking up the role. Asian equity markets have opened mixed today. Asia ex-Japan CDS spreads saw a widening of over 3.9bp. Indonesia's central bank raised its policy rates by 50bp as expected, to 4.75%.
---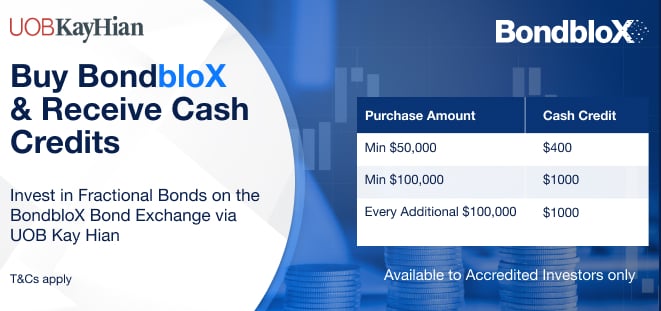 ---
New Bond Issues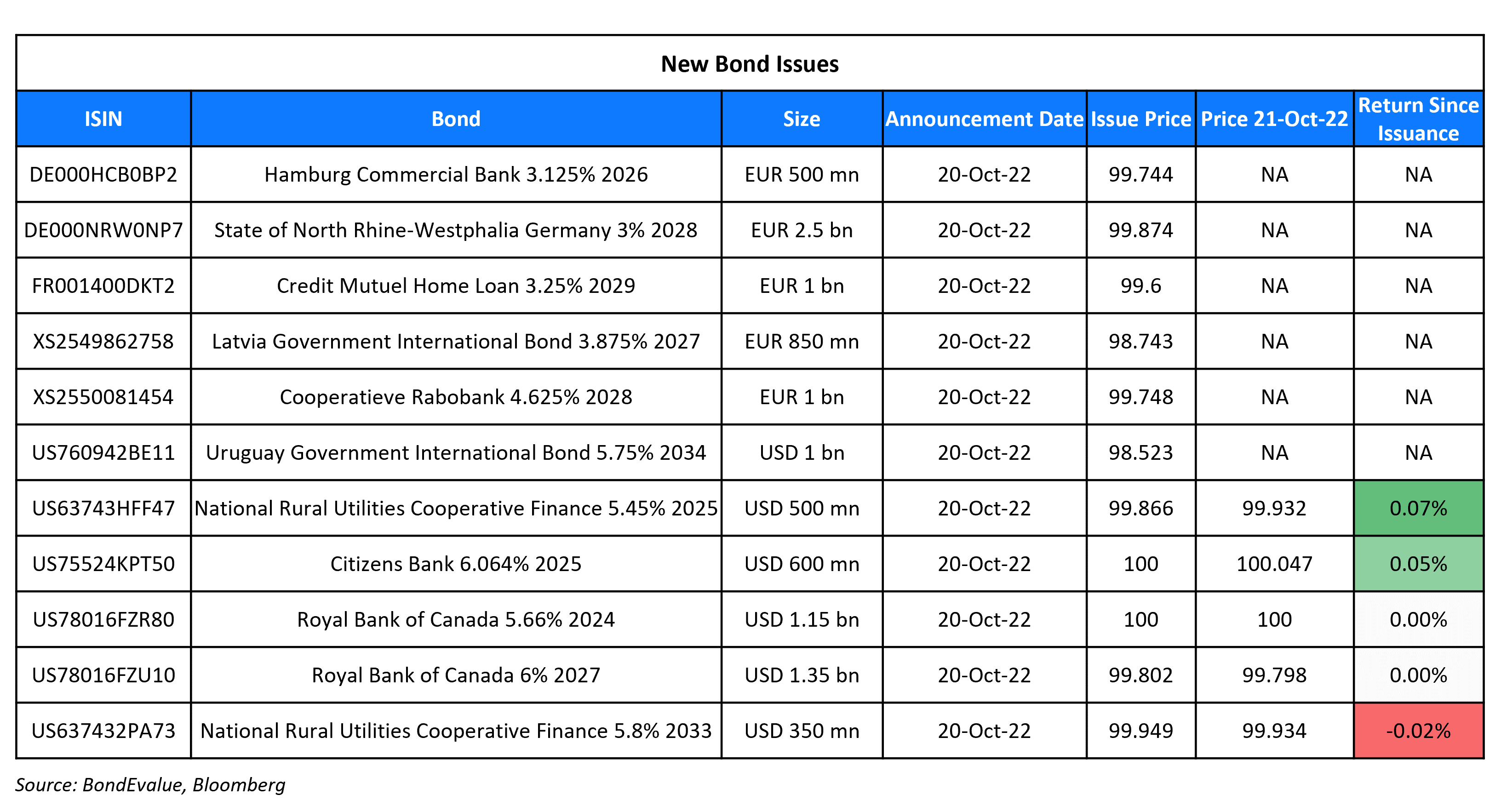 Orient Securities raised $300mn via a 3Y bond at a yield of 5.22%, 42bp inside initial guidance of T+105bp area. The senior unsecured bonds have expected ratings of Baa2.  The new bonds are priced 28bp tighter to its existing 3.5% 2025s that yield 5.5%.
New Bonds Pipeline
Export Finance Australia hires for $ 5Y bond
Aozora Bank hires for $ 3Y Green bond
Rating Changes
Term of the Day
Bail-in Bonds
Bail-in bonds are bonds which would be written off in a crisis, before depositors would lose any money. Thus, in the event of a failure or likely failure of a bank, shareholders and bondholders may be bailed-in (bear some of the burden of writing-off debt) to absorb the losses, instead of a bailout by taxpayers.
RBC issued $2.5bn of senior bail-in bonds via a two-tranche issuance. 
Talking Heads
On Vanguard Preparing Its Debt Funds for a Recession in 2023
"Ironically, the worse returns get, the better bonds should look in the future… The risk-reward profiles of various market sectors — including Treasuries, corporates, emerging markets, and long-term municipals — are more attractive than they were six months ago… higher yields mean bonds look better going forward"
On Fed Swaps Pricing In 5% Peak for Policy Rate in First Half of 2023
"This is a kind of milestone"… The market-implied terminal rate is "more likely than not to rise more," although its 400-basis-point climb over 18 months "is surely most of the increase we will see in this cycle."
On high inflation calling for more rate hikes – Fed's Harker
"Fed is actively trying to slow the economy" and "we are going to keep raising rates for a while"… "given our frankly disappointing lack of progress on curtailing inflation, I expect we will be well above 4% by the end of the year"
On Fed may have to slow or stop balance sheet trimming in 2023 – Barclays
The Federal Reserve may have to slow or stop shrinking its nearly $9 trillion balance sheet sooner than many now expect… That's because if the Fed were to press forward with allowing its balance sheet to shrink, bank reserves would, by the end of 2023, fall to levels that would complicate maintaining firm control of the federal funds rate. "Our sense is that these changes to the shape and location of the demand curve for bank reserves will mean that the Fed reaches 'ample' much sooner than it expect"
Top Gainers & Losers – 21-October
-22*