Treasuries rallied on Tuesday, particularly the long-end with 10Y and 30Y yields moving 13bp lower. The peak Fed Funds rate was down 1bp to 4.92% for the May 2023 FOMC meeting, after having crossed 5% last week. While a 75bp hike has been priced in for the November meeting, markets are divided between a 50bp and a 75bp hike in its December meeting, with probabilities of 47.6% and 49.5% currently. The probability of a 75bp hike in December has come down from 64.3% a week ago. In the credit markets, US IG CDS spreads tightened by 0.7bp and HY CDS spreads saw a 6bp tightening. US equity markets rallied on Monday, with the S&P and Nasdaq up 1.6% and 2.3% respectively.
European equity markets broadly rallied too. EU Main CDS spreads tightened 5.2bp and Crossover spreads tightened by 20bp. Asian equity markets have opened over 1% higher today. Asia ex-Japan CDS spreads saw a modest 5bp tightening after having widened by 13.1bp a day earlier, to a decade high.
---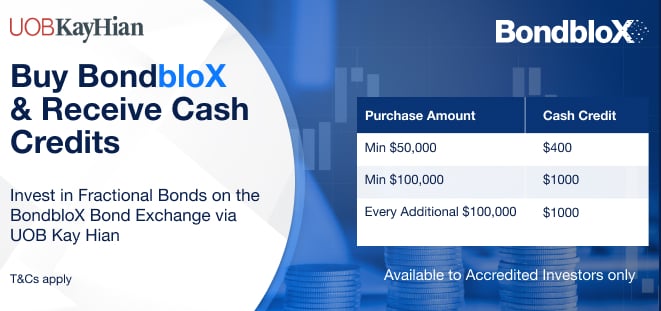 ---
New Bond Issues
Shanghai Lingang Economic Development $ 366-day Green at 3.6% area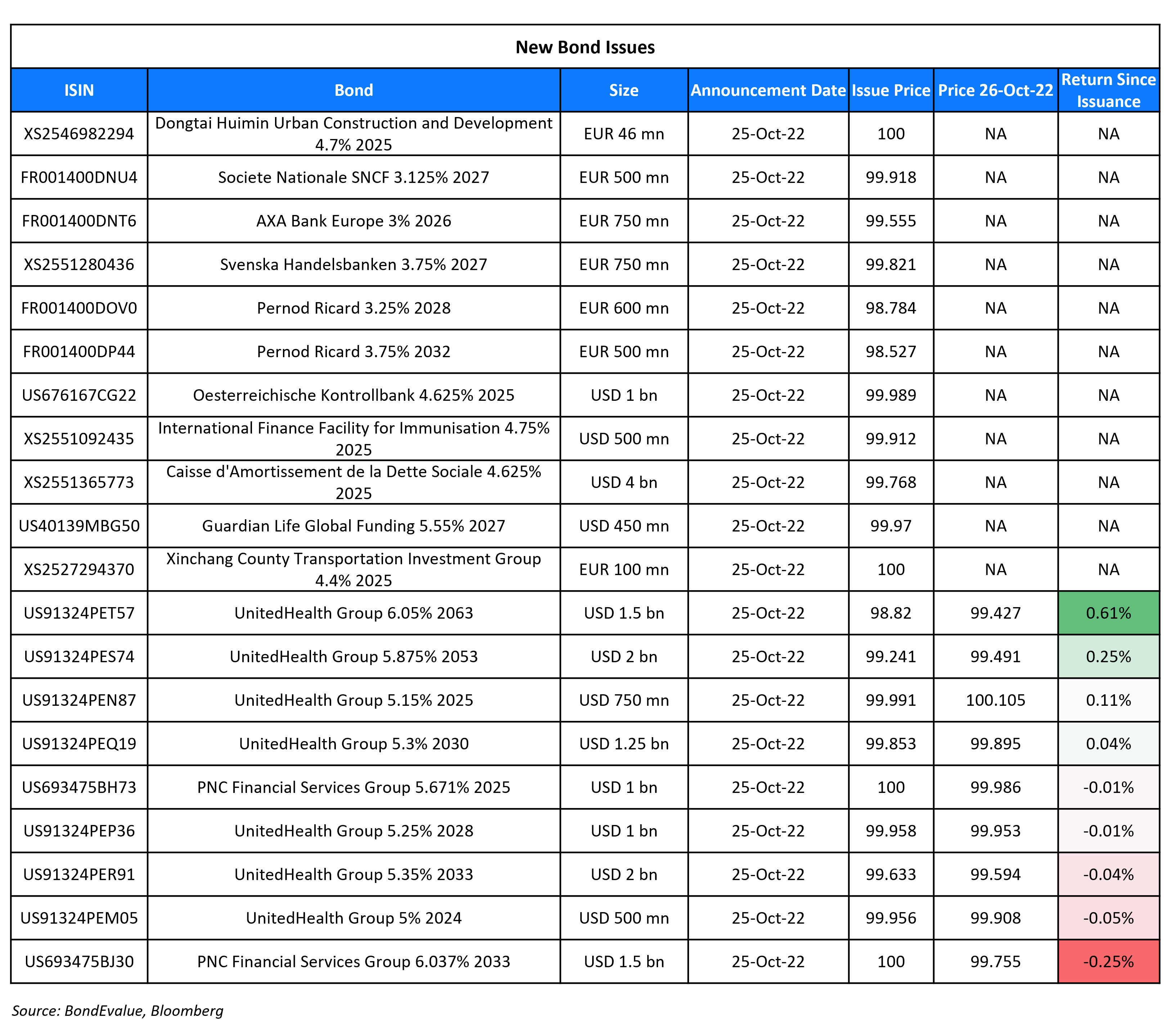 UnitedHealth raised $9bn via a seven-tranche deal as shown in the table below,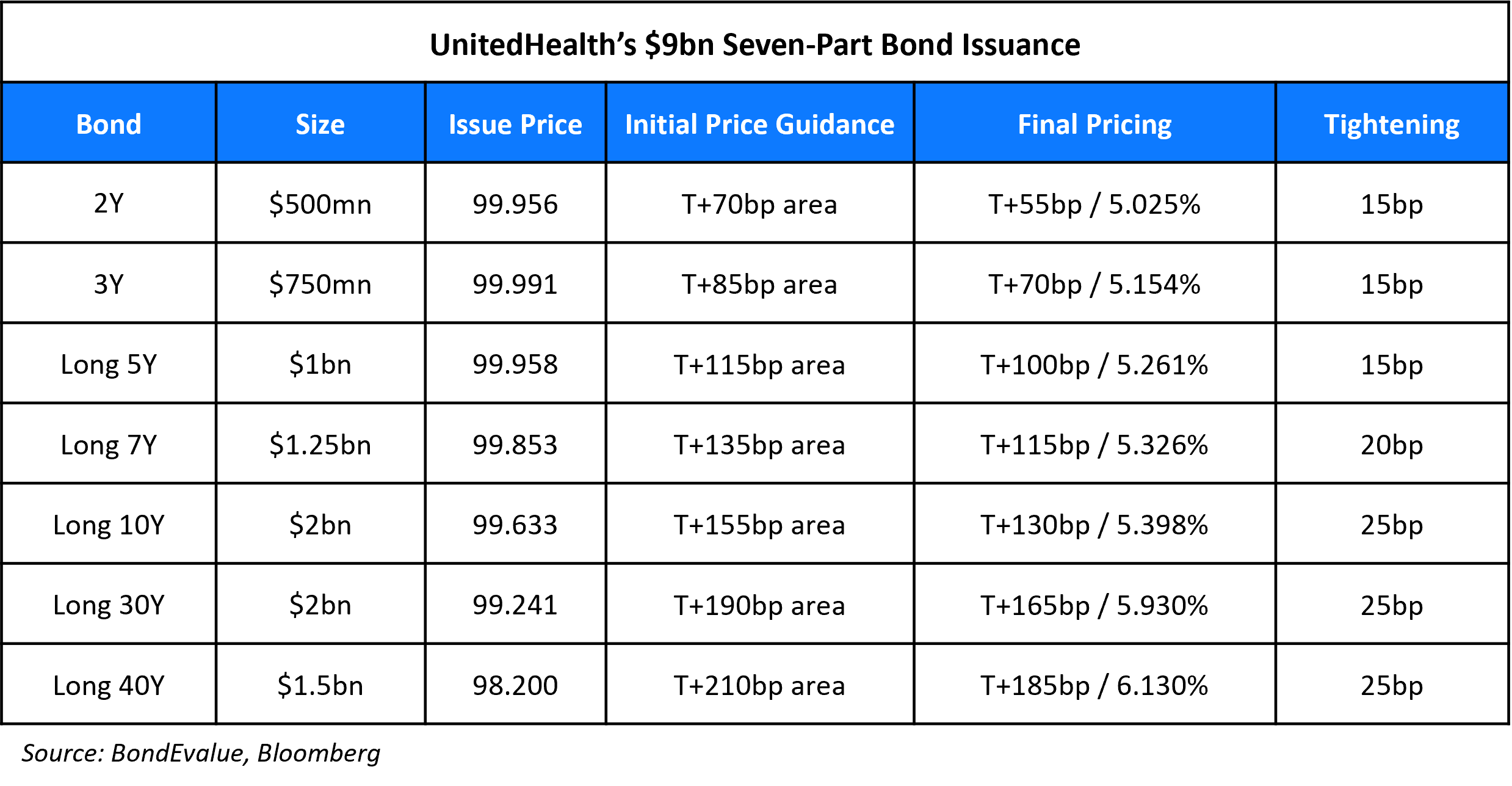 The senior unsecured bonds have expected ratings of A3/A+/A. Proceeds will be used for general corporate purposes, including the refinancing of commercial paper used to partially fund UnitedHealth's acquisition of Change Healthcare Inc. earlier this month.
Xinchang County Transportation Investment Group raised €100mn via a 3Y bond at a yield of 4.4%, 10bp inside initial guidance of 4.5% area. Proceeds will be used for project construction and general corporate purposes.
New Bonds Pipeline
Yichun Development Investment Group hires for $ bond
Korea Investment & Securities hires for $ Green bond

Aozora Bank hires for $ 3Y Green bond
Rating Changes
Moody's changes Panama's outlook to negative from stable; affirms Baa2 ratings
Term of the Day
Convertible Bonds
As the name suggests, convertible bonds are debt instruments issued by a company where the bonds can be converted into equity shares of the company by the bondholders at a particular ratio and at particular points in time. Thus, it is a hybrid security as it has characteristics of both debt and equity. Convertibles generally carry a lower coupons and sometimes tax advantages for the issuer.
Talking Heads
On Hedge Funds Diving Into Junk Bonds as Distress Spreads to Corporate Debt
Barclays strategists led by Bradley Rogoff
"Dollar prices have declined and distressed rates have increased, likely drawing more attention for high yield, specifically from distressed/special situations funds"
Tim Schwarz, co-portfolio manager of multi-asset credit funds at asset manager Ninety One
"Certainly for hedge funds or more opportunistic buyers, it's gotten a lot more attractive. Those investors are more set up to take, and handle, and absorb volatility."
Sonali Pier, high-yield and multi-sector credit portfolio manager at PIMCO
"We're at a point where what we would say is high quality BBBs, over a long term hold, do offer value… However, in high yield, the technicals are really why the BBs have continued to outperform"
On Hedge Funds Slashing Leverage to Weather Market Slump
Charles Lemonides, chief investment officer of Valueworks
"A further market decline is going to stress that at some point. With every month that the Fed says they'll get tighter and tighter, you resolve yourself to the fact we may enter one of those big liquidity-driven sell offs"
Charles Lemonides, chief investment officer of Valueworks
Hedge funds want to "make sure they are not getting too close to levels that would force them to sell"… "It really costs you money to borrow today. It was almost free for a long time. That is going to have an impact on the profitability of hedge funds."
On UK's Battered Corporate Bonds Rally as a 'Grown-Up' Takes Charge
Paola Binns, portfolio manager at Royal London Asset Management
"There's a bit of a relief rally going on as a grown-up appears to be in charge of the government. I would expect corporate bond markets to improve.
Pierre Verle, head of credit at Carmignac Gestion
"If the UK regains credibility with investors and rates stabilize, of course it will benefit credit markets"
Top Gainers & Losers – 26-October
-22*