US Treasury yields dropped across the curve with the 2Y, 5Y and 10Y yields down 13-15bp. The peak Fed Funds rate also eased by 4bp to 5.06% for the June 2023 meeting. Current probabilities of a 50bp hike at the FOMC's December meeting stand at 57% and that of a 75bp at 43%. In the credit markets, US IG CDS spreads widened 2.6bp and HY CDS spreads saw an 20.4bp widening. US equity markets dropped after rallying for three straight days with the S&P and Nasdaq down 2.1% and 2.5% respectively. The broad weakness across US markets come after the update from the mid-term elections where the Republicans are not expected to see a 'red wave' even as they nudge closer to winning a majority in the House. Regarding the Senate majority, both parties have an equal chance of a majority, it was noted.
European equity markets were lower too. EU Main CDS spreads widened 1.3bp and Crossover spreads widened 7.5bp. Asian equity markets have opened lower today. Asia ex-Japan CDS spreads tightened by 2.9bp as Korean credit markets continue to ease.
---

---

New Bond Issues
Credit Suisse raised $5bn via a EUR and USD denominated bond issuance. Scroll down for details.
BNP Paribas raised $1bn via a PerpNC5 AT1 bond at a yield of 9.25%, 50bp inside initial guidance of 9.75% area. The subordinated bonds are rated Ba1/BBB-/BBB (Moody's/S&P/Fitch). The coupon is fixed at 9.25% until the first reset date of 17 November 2027) and if not called back, the coupon resets then and every five years thereafter to the 5Y CMT plus the initial margin of 496.9bp. There is no coupon step-up. A trigger event would occur if the group's consolidated CET1 ratio falls below 5.125%. As of the quarter ended September 2022, BNP's CET1 ratio stood at 12.4%. The new bonds were priced at a new issue premium of 104bp to its existing 5.125% Perp callable in November 2028 that currently yields 8.21%. 
Citigroup raised $2.75bn via a 11NC10 bond at a yield of 6.27%, 20bp inside initial guidance of T+230bp area. The senior unsecured bonds are rated A3/BBB+/A (Moody's/S&P/Fitch). Proceeds will be used for general corporate purposes.
SocGen raised €2.25bn via a two-trancher. It raised €1bn via a 5Y bond at a yield of 4.04%, 115bp inside initial guidance of MS+135bp area. It also raised €1.25bn via a 5Y bond at a yield of 4.36%, 25bp inside initial guidance of MS+165bp area. The senior preferred bonds are rated A1/A/A, and received combined orders of over €3.5bn, 1.6x issue size.
Westpac raised $2.5bn via a two-tranche deal. It raised $1.25bn via a 2Y bond at a yield of 5.383%, 20bp inside initial guidance of T+105bp area. It also raised $1.25bn via 5Y bond at a yield of 5.457%, 20bp inside initial guidance of T+145bp area. It dropped a 2Y FRN tranche which was initially planned.
GE Healthcare raised $8.25bn via a six-part offering. Details are given in the table below: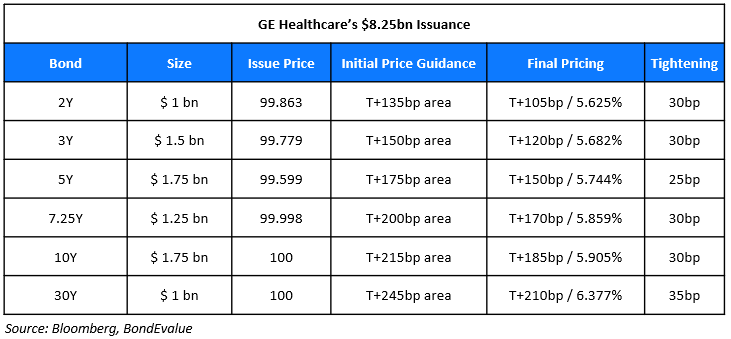 The senior unsecured bonds are rated Baa2/BBB/BBB. Proceeds will be used with regard to the spin-off of GE HealthCare where it will distribute the aggregate amount of net proceeds from the offering to GE.

Double Dragon hires for tap of $130mn 7.25% 2025s
Korea Investment & Securities hires for $ Green bond
Rating Changes
Term of the Day
TLAC
Total Loss Absorbing Capacity (TLAC) is an international standard designed for banks, particularly Global Systemically Important Banks (G-SIBs) by the Financial Stability Board (FSB) in 2015 to ensure that these banks have ample equity and bail-in debt in place to minimize tax payer and government bailout mechanisms. Securities eligible under TLAC include common equity, subordinated debt, some senior debt and unsecured liabilities with a maturity greater than one year. FSB requires that 33% of TLAC be filled with debt securities and a maximum of 67% with equity.
Talking Heads
On Turkey's Bonds Looking Overpriced for Morgan Stanley After Rally
Neville Mandimika, a London-based emerging market sovereign strategist at Morgan Stanley
"In both absolute and relative terms, Turkey looks expensive. Given the uncertain policy path, we retain our dislike stance as risk/reward is clearly not favorable… Historically, Turkey has issued when the market has been trading relatively well: low volatility and at times when EMBI spreads have been compressing. They could still come to the market for another $2 billion if market conditions hold up"
On Being the Time to Jump Back Into Stocks, Bonds – JPMorgan Asset Management's David Kelly
"This is a time to be overweight equities for a long-term investor. I think bonds are back… Republicans always feel worse about the economy when there's a Democrat in the White House and vice versa… The one thing that's coming out of this election is there will be no fiscal stimulus before 2025, so at some stage, this economy weakens or falls into recession… The only game in town will be the Federal Reserve cutting interest rates to stimulate the economy. Gridlock means a more dovish Fed down the road"
On Fed terminal rate to reach just under 5% – Bond Strategists
The median forecast from over 30 bond strategists who answered an additional question in the Nov. 4-9 poll put the terminal fed funds rate at 4.75%-5.00%, with one forecast as high as 5.50%-5.75%.
Subadra Rajappa, head of U.S. rates strategy at SocGen
"Global central banks might have a 'ways to go' before pausing. We expect bonds to retain a bearish bias this year as inflation remains the dominant theme. Higher for longer argues in favour of flatter curves, especially as recession risks continue to rise.'
Top Gainers & Losers – 10-November
-22*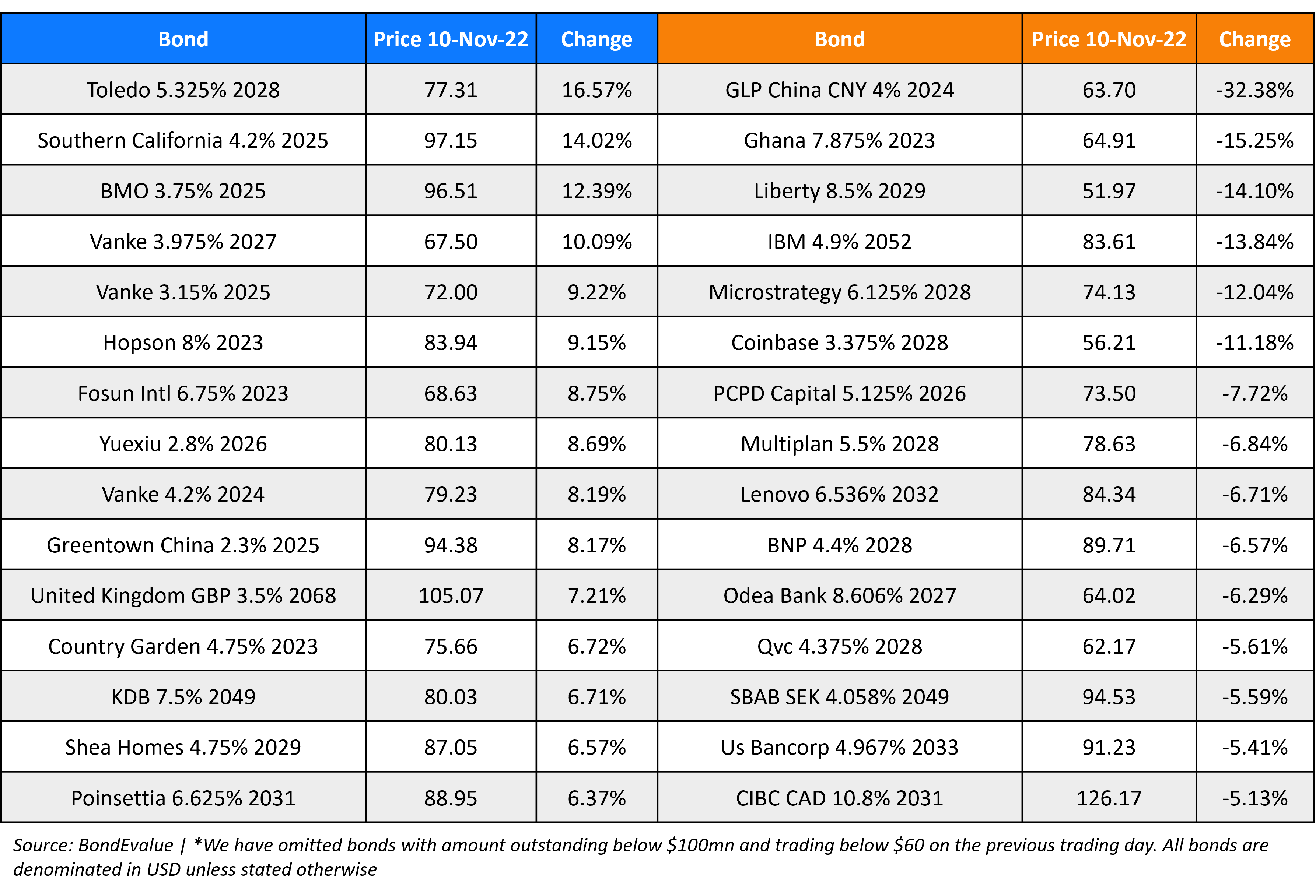 Other Stories
Singtel posts 23% higher H1 profit of S$1.2b; A$140m provision made for Optus attack