US equity markets dropped sharply with the S&P and Nasdaq ending 2.4% and 3.7% lower. Sectoral losses were led by Communication Services down 6.8%, while IT and Consumer Discretionary were down over 3%. US 10Y Treasury yields rose 7bp to 1.84%. European markets were also lower with the DAX, CAC and FTSE down 1.6% 1.5% and 0.7%. Brazil's Bovespa closed 0.2% lower. In the Middle East, UAE's ADX was down 0.1% and Saudi TASI closed 0.4% lower. Asian markets have opened mixed with HSI and STI up 2.4% and 0.2% while Nikkei was down 0.1%. Shanghai remains closed on account of the lunar new year holidays. US IG CDS spreads were 2.6bp wider and HY CDS spreads were 11.2bp wider. US IG CDX spreads are at its widest levels since November 2020 (see the chart below). EU Main CDS spreads were 4.6bp tighter and Crossover CDS spreads were 19.3bp wider. Asia ex-Japan CDS spreads were flat.
The Bank of England hiked its policy interest rate for the second consecutive meeting from 0.25% to 0.5%. The ECB on the other hand kept status quo on rates with ECB President Christine Lagarde saying, "Inflation is likely to remain elevated for longer than previously expected, but to decline in the course of this year."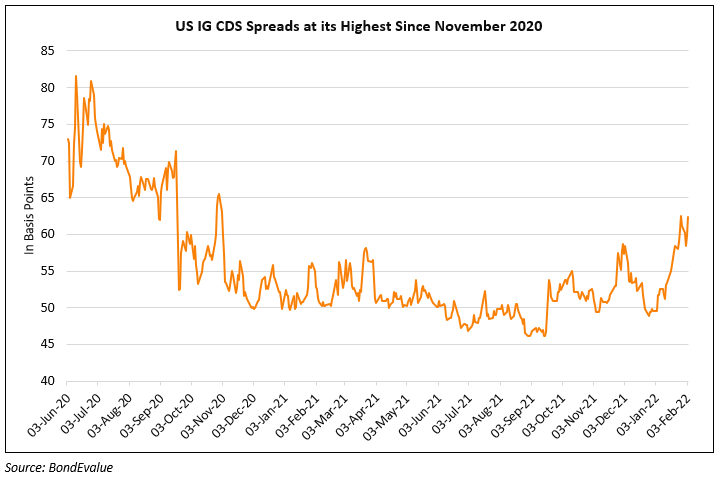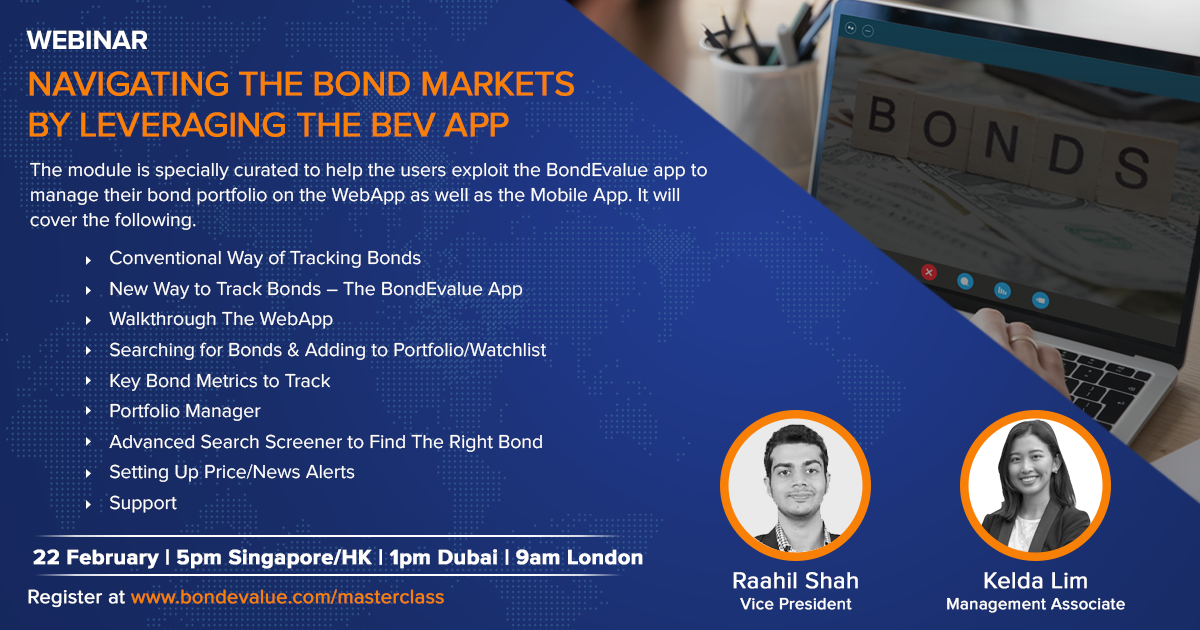 New Bond Issues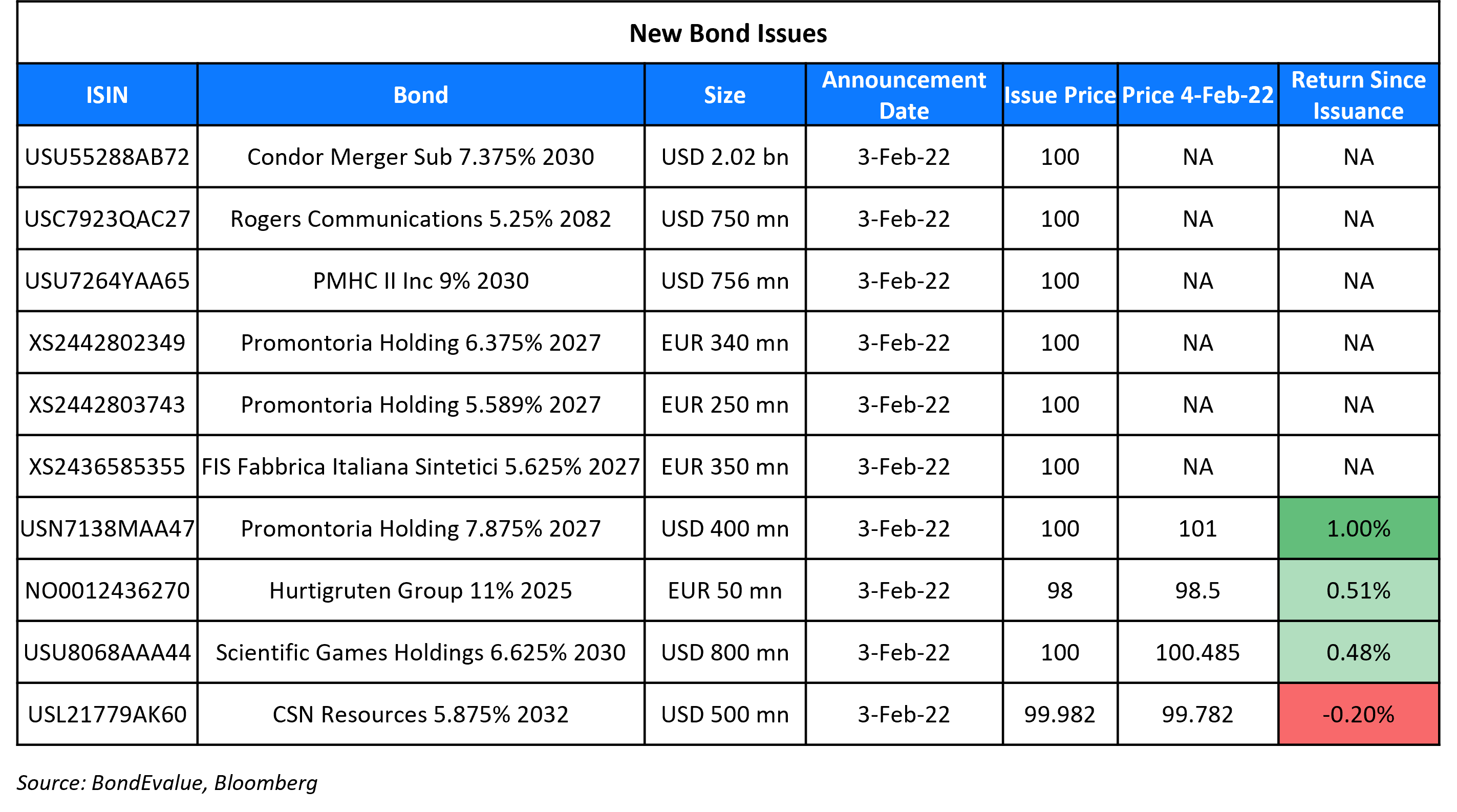 New Bonds Pipeline
Kia Corp hires for $ green bond
Zhengzhou Airport Economy Zone Xinggang Investment Group hires for $ bond
Dongtai Communication hires for $ 65mn 180-day bond
Kalyan Jewellers India hires for $ 5Y bond
Electricity Generating (EGCO) hires for $ 7Y or 10Y bond
Petron hires for $ 7NC4 bond
Rating Changes
Term of the Day
Spin Off
Spin-offs are a corporate re-organization strategy used by companies to create a new subsidiary from its parent company. The parent separates (spins-out) part of its business into a new entity and distributes shares of the new entity to its current shareholders. Spin-offs are typically carried out to increase shareholder value of the business being spun-out or to separate out a business that is no longer core to the parent's business. Spin-offs come in different types like pure play spin-offs, equity carve outs etc. American telecom major AT&T announced on Tuesday that it will be spinning-off WarnerMedia in a deal worth $43bn and concurrently merge its media properties with Discovery Inc.
Talking Heads
On Treasury Market Selloff Resuming With Global Bond Yields Rising
William O'Donnell, strategist at Citigroup
"There is no question that all central banks realize they are behind the curve due to higher inflation and bond markets have woken up to that. The U.K started the selling in Treasuries and then it was followed by bund yields moving higher."
Ian Lyngen, head of U.S. rates strategy at BMO Capital Markets
The Bank of England's hawkish tone "has served as a reminder that global markets are pushing for higher policy rates and that will be this year's theme. London, Frankfurt, and Washington are now all in decidedly hawkish stances and it follows intuitively that there would be a bearish impetus in Treasuries."
Rick Rieder, chief investment officer of global fixed income at BlackRock
"The next couple of months are going to see higher inflation prints that leaves the market dealing with Fed policy uncertainty. The international bid for Treasuries is not going away, with the ECB and Bank of Japam moving much slower than the Fed."
Bund Yields, Euro Soar as Traders Add Bets on ECB Hikes in 2022
Danske Bank's chief strategist Piet PH Christiansen
"This is hawkish Lagarde, 2022 is in play. The press conference is in a stark contrast to the decision."
On BOE Hike Leaving Bailey on Brink of Fastest Tightening Since 1997
Georgina Taylor, a multi-asset fund manager at Invesco
"There is likely to be a sharper rate-hiking cycle as they play catch-up to current inflation dynamics and try and retain credibility in relation to their inflation mandate. However, they may have to stop hiking very quickly or risk a policy mistake by putting the brakes on the economy too fast and too quickly."
Allan Monks, an economist at JPMorgan in London
"The message from today is that weak growth is not enough to prevent the BOE from tightening further
On Argentina's Fernandez, in Russia, saying they must end economic 'dependence' on U.S., IMF
"I'm certain Argentina has to stop being so dependent on the Fund and the United States and has to open up to other places, and that is where it seems to me that Russia has a very important place"
Top Gainers & Losers – 04 -Feb-22*

Other Stories:
Amazon Shares Jump as Cloud Unit Helps Drive Profit Past Estimates