US Treasury yields were marginally higher by ~3bp across the curve. The peak Fed Funds rate moved 1bp higher to 4.99% for the June 2023 meeting. The probability of a 50bp hike at the FOMC's December meeting currently stands at 66% while chances of a 75bp hike has risen to 34% from 24% a day earlier. Federal Reserve's James Bullard said, "We've got a ways to go to get restrictive" restating his conviction that the Fed's target rate needs be at least at 5-5.25% to be "sufficiently restrictive" to reduce inflation. Also, the Fed's Loretta Mester said that the costs of stopping tightening too early are high, adding to the hawkish outlook. US IG CDS spreads widened 4.1bp and HY spreads saw a 21bp widening. S&P and Nasdaq closed 1.5% and 1.6% lower.
European equity markets were slightly higher. EU Main CDS spreads widened 2.7bp and Crossover spreads widened 10bp. Asian equity markets have opened lower today. Asia ex-Japan CDS spreads tightened by 2.4bp.

---
---

New Bond Issues
Guilin ETDZ Investment $ 3Y Sustainability at 6.8% area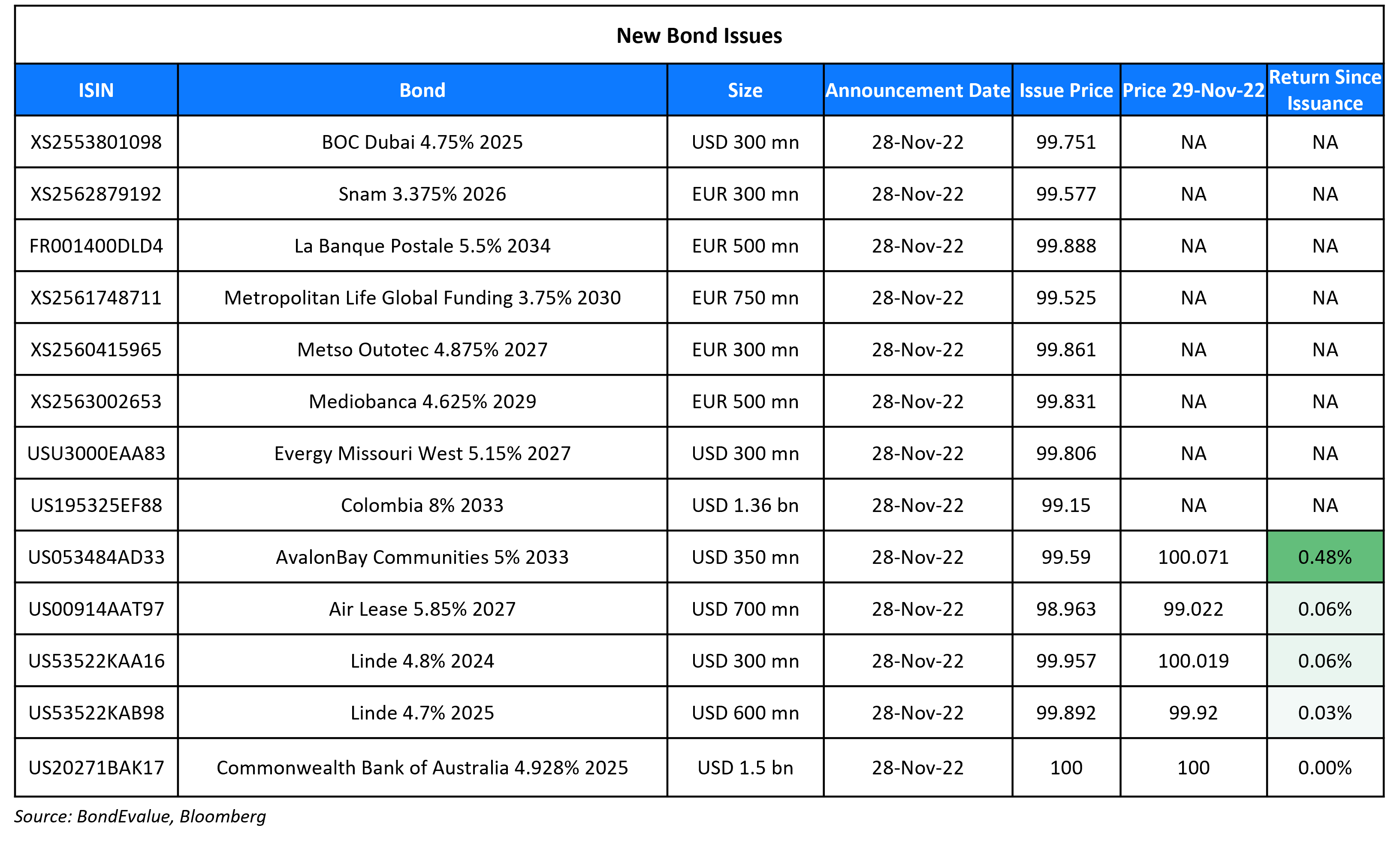 BOC Dubai raised $300mn via a 3Y bond at a yield of 4.84%, 100bp inside  initial guidance of T+100bp area. The senior unsecured bonds have expected ratings of A1/A/A. Proceeds will be used for general corporate purposes.
Colombia raised $1.36bn via a 10Y long bond at a yield of 8.125%, 37.5bp inside initial guidance of 8.5% area. The senior unsecured bonds have expected ratings of Baa2/BB+/BB+. Proceeds will be used for liability management transactions and/or general budgetary purposes.  The new bonds are priced 69.5bp wider to its existing 3.25% 2032s that yield 7.43%.
New Bonds Pipeline
Zhongrong International Trust hires for $ 367 mn Short 1Y bond
Korea Investment & Securities hires for $ Green bond
Rating Changes
Term of the Day
Samurai Bonds
Samurai bonds are yen-denominated bonds issued by foreign entities in Japan. These bonds, which are subject to bond market regulations in Japan, are issued by foreign countries and corporations to attract Japanese investors. Another reason to issue Samurai bonds is to capitalize on lower interest rates in Japan compared to the issuer's local market.
Credit Agricole has launched a five-tranche Samurai bond deal.
Talking Heads
On Bond Markets Around the World Flashing a Warning About Global Recession
Bespoke Investment Group
"Inverted yield curves in the US have raised concerns of a recession in the US, but with yield curves now inverted in the majority of the world's largest economies, a global recession looks increasingly likely… The pace of flattening in the global yield curve has also been extreme"
On Oaktree Saying Higher Quality Junk Bonds Primed for Bargain Hunting
Armen Panossian, who is also the chief executive of Oaktree Specialty Lending
"There are some bargains to be had. The percentage of BB rated high-yield bonds is the highest it has been in 10 years with 60% of the market being lightly levered and offering attractive return with dollar prices on those instruments in the seventies and eighties… If you look at the maturity schedule for high-yield bonds, only 6% of that market matures between now and the end of 2024"
On Company Debt With a Long Maturity Jumped the Most Since 2008
Nicholas Elfner, co-head of research at Breckinridge Capital Advisors
"With the sharp rise in interest rates, the long end of the [investment-grade] corporate bond market was the hardest hit during 2022. Today we see opportunities to invest in unusually low-dollar-priced bonds of high-quality companies… Investors have started to redeploy capital in longer-duration asset classes"
Steven Boothe, head of IG at T. Rowe Price Group
"Relative to lower-rated credit sectors, the asset class offers compelling relative valuations given current dollar prices… With a year-ahead view that [investment-grade] bond yields will be lower in 2023, higher-duration bonds would outperform"
Top Gainers & Losers – 29-November
-22*