US equity markets closed almost flat with the S&P ending 0.15% lower and Nasdaq closing almost unchanged. The indices erased gains of over 2% post the hawkish FOMC meeting (details below). Sectoral gains were led by IT, up 0.7% while Real Estate led the losses, down 1.7%. US 10Y Treasury yields jumped 7bp higher to 1.85%. European markets recovered sharply yesterday with the DAX, CAC and FTSE up 2.2%, 2.1% and 1.3%. Brazil's Bovespa closed 1% higher. In the Middle East, UAE's ADX was flat and Saudi TASI was up 0.6%. Asian markets have opened in the red with Nikkei and HSI down 3.1% and 2.6% while Shanghai and STI are down 0.9% and 0.6% respectively. US IG CDS spreads were 1.4bp wider and HY CDS spreads were 5.4bp wider, EU Main CDS spreads were 1.3bp tighter and Crossover CDS spreads were 6.2bp tighter. Asia ex-Japan CDS spreads were 2bp tighter.
The US Federal Reserve sounded hawkish in its policy meeting on Wednesday with Powell saying that officials were "of a mind" to raise rates in March. He added that the Fed would end its asset purchase program in early March and begin shrinking its bond holdings after rate hikes begin. Whilst the December 2021 dot plots indicated three hikes in 2022, Powell indicated that the Fed was open to more hikes than forecast if needed in an effort to combat prolonged inflation risk.
New Bond Issues
Sino-Ocean Group $ tap of 2.7% 2025 green at 6.5% area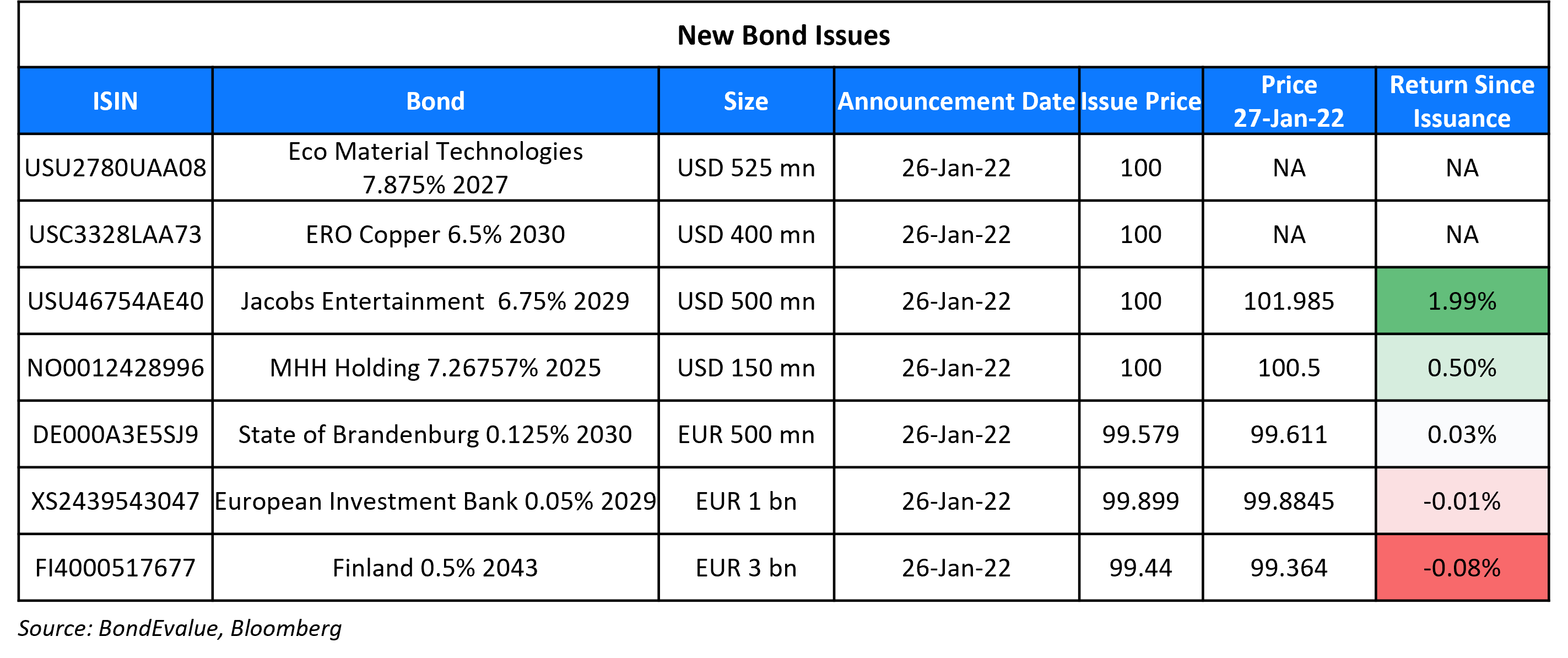 European Investment Bank (EIB) raised €1bn via a 7Y green bond at a yield of 0.063%, 3bp inside initial guidance of MS-17bp area. No ratings were provided. The bonds received orders over €7.5bn, 7.5x issue size. The proceeds will be allocated to EIB's lending to activities contributing substantially to climate change mitigation in line with evolving EU sustainable finance legislation, including the EU Taxonomy Regulation. 

New Bonds Pipeline
Kia Corp hires for $ green bond
Zhengzhou Airport Economy Zone Xinggang Investment Group hires for $ bond
Dongtai Communication hires for $ 65mn 180-day bond
Kalyan Jewellers India hires for $ 5Y bond
Electricity Generating (EGCO) hires for $ 7Y or 10Y bond
Petron hires for $ 7NC4 bond
Rating Changes
Term of the Day
Samurai Bonds
Samurai bonds are yen-denominated bonds issued by foreign entities in Japan. These bonds, which are subject to bond market regulations in Japan, are issued by foreign countries and corporations to attract Japanese investors. Another reason to issue Samurai bonds is to capitalize on lower interest rates in Japan compared to the issuer's local market. Maybank returned to the Samurai market for the first time in two years to raise ¥30bn ($262mn) from the sale of three-tranche samurai bond offering
Talking Heads
On the view that the bond market is already pricing in the Fed's balance sheet runoff – Steven Major, HSBC Holding Plc Global Head of Fixed Income Research
"Our more considered view is that it is already being factored in." "We believe that today's level of bond yield is best explained by the expected path of the policy rates, and the trend of the longer-run equilibrium."
On Treasury yields surging following Powell's hawkish remarks at the Federal Open Market Committee meeting
Jerome Powell, US Federal Reserve chairman
"Our communication channel with the markets is now working," Powell said. "Markets are now pricing in a number of rate increases. Surveys show that market participants are expecting balance-sheet run off to begin at the appropriate time — sometime later this year perhaps. Financial conditions are reflecting in advance the decisions we make."
In a statement by the Federal Open Market Committee
"It will soon be appropriate to raise the target range for the federal funds rate."
Mike Feroli, chief U.S. economist at JPMorgan Chase & Co.
"Powell's remarks after the meeting were arguably the most hawkish he's made as Fed Chair."
Tom di Galoma, managing director of government trading and strategy at Seaport Global
"I do not think Fed Chair Powell could have been more hawkish during his press conference than if he raised rates today."
On investment-grade credit default spread surging to 14-month high
Dominique Toublan, head of U.S. credit strategy at Barclays Plc
"The bigger fallout in credit could be to come." "We will pay careful attention to the fund flows in the coming days to see if this causes outflows."
Travis King, head of U.S. Investment-Grade Corporates at Voya Investment Management
"You'll probably see more IG investors using CDX to hedge positions or make tactical calls."
Top Gainers & Losers – 27-Jan-22*

Other Stories: