US equity markets were mixed on Monday with the S&P Nasdaq ending 0.2% lower and Nasdaq ending 0.4% higher. Sectoral gains were led by Energy, up 2.6%. European markets were lower – DAX, CAC and FTSE were down 0.7%, 1.4% and 0.4%. US 10Y Treasury yields eased 5bp to 1.85%. Brazil's Bovespa was closed on account of Carnival holidays. In the Middle East, UAE's ADX was up 2.2% and Saudi TASI was up 1.4%. Asian markets have opened with a positive bias – Shanghai, STI and Nikkei are up 0.3%, 0.8%, 1.5% and HSI was down 0.1% respectively. US IG CDS spreads widened 1.4bp and HY spreads were 6.1bp wider. EU Main CDS spreads were 3.1bp wider and Crossover CDS spreads were a 12.8bp wider. Asia ex-Japan CDS spreads were 4bp wider.
---
Learn About Bonds from Senior Bankers | Starting 28 March
In the current environment marred by geopolitical concerns, impending rate hikes and crisis in China real estate, it is imperative for investors and advisors to be able to analyze bonds effectively. This course will help you do just that via 8 interactive sessions conducted live via Zoom by senior bankers starting 28 March. Click on the banner below to know more and to sign up.

---
New Bond Issues

AVIC International raised $200mn via a 5Y bond at a yield of 3.351%, 30bp inside initial guidance of T+185bp area. The bonds are rated A. The issuer is AVIC International Finance & Investment and guaranteed by AVIC International Holding Corp. Proceeds will be used for refinancing purposes. The bonds were priced 10bp inside its 2.5% bonds due 2026 that yield 3.45%.
BOC Sydney raised $400mn via a 3Y sustainability bond at a yield of 2.045%, 40bp inside initial guidance of T+75bp area. The bonds will be rated A1/A/A. Proceeds will be used to finance and/or refinance sustainability projects.
New Bonds Pipeline
Honda Motor hires for $ green bond

Mumbai International Airport hires for $ bond

The Republic of the Philippines hires for $ bond
Aluminium Corporation of China hires for $ bond
Petron hires for $ 7NC4 bond
Electricity Generating (EGCO) hires for $ 7Y or 10Y bond
Rating Changes
Term of the Day
War Bonds
A war bond is a bond issued by a government to finance military operations during times of war or conflict Ukraine is planning to issue a "war bond" to fund its military as they try to counter Russian invasion, seeking to reassure international investors that it will not default on its debt. 
---
Explore BondbloX Kristals – a basket of single bonds listed on the BondbloX Exchange following themes such as SGD REIT Perps, USD Bank Perps, and SGD Bank Perps. Avail an introductory discount of $1,000 for every purchase of $100,000 worth of BondbloX Kristals*. Click on the banner above to know more.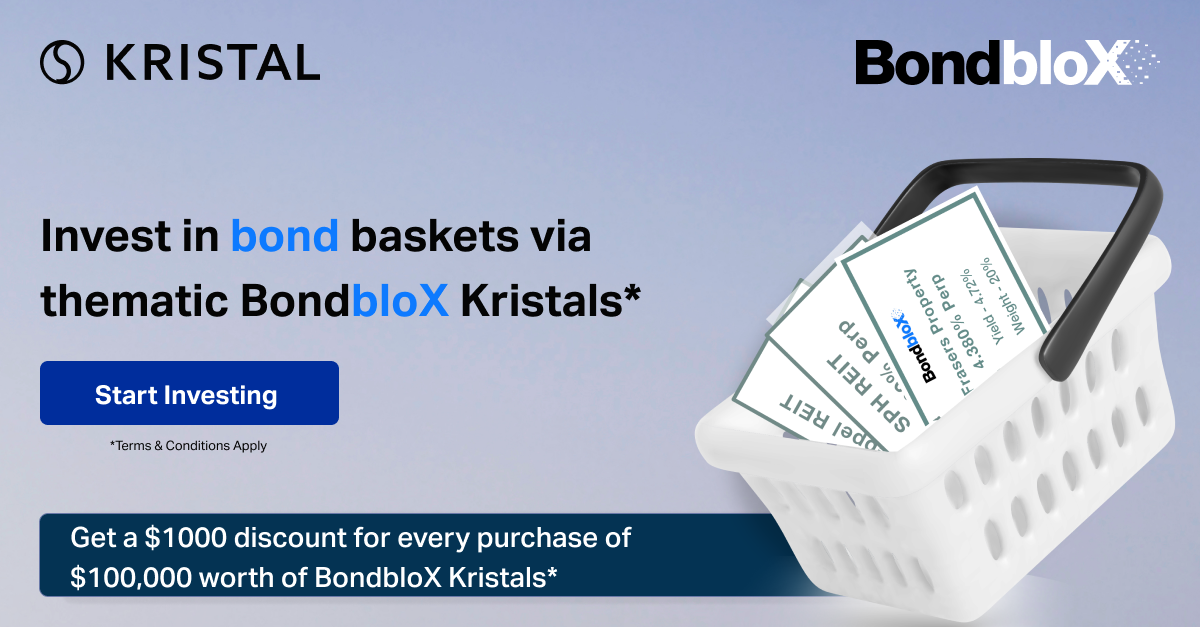 ---
Talking Heads
On Bond World Sees Ukraine Paying $300 Million Coupon Even as War Rages
Tim Ash, senior emerging market sovereign strategist at BlueBay Asset Management
"I think they have the cash to pay. The West will be very willing to make sure they pay and Ukraine could get technical assistance. Going into default at a time of invasion would not be great."
Alberto Gallo, a portfolio manager at Algebris UK Ltd
"We see more upside for Ukraine assets here than for Russia. Even if negotiations end with an agreement today, as we hope, Russia will remain isolated from financial markets and from diplomacy as long as Putin's regime stays. Ukraine, on the other hand, is likely to join a stronger and more united Europe. It might be late on a coupon. But the long term picture is they will be part of Europe, not Russia."
On Demand for Cash Jumps From Fund Managers Stressed by Russia
John Hancock Investment Management
"That's a sign that we're seeing a lot of negative sentiment out there. Right now, it's hard to find very many bulls."
Art Hogan, chief market strategist at National Securities
"Whenever there is a preponderance of geopolitical uncertainty, one of the natural instincts in a defensive fashion is to raise cash levels. It represents pent-up demand for other investments down the road".
David Sadkin, president at Bel Air Investment Advisors
"Staying in cash and bonds — you're going to lose your purchasing power. At current yields, cash and bonds have a negative real return so investors in those asset classes are losing ground versus inflation".
On 'Just Sell': Russia Bondholders Jump Right Before Repayment
Kshitij Sinha, a portfolio manager at Canada Life Asset Management
"If you are forced to sell them because of sanctions then you don't have an option but to just sell. I can also see a case for taking the loss now and selling because now Russia has become un-investable".
On Fed's Bostic Says Half-Point Move Possible If Inflation Persists
"I am still in favor of a 25 basis-point move at the March meeting. One data point that I am looking at in particular is month-to-month change in inflation. To the extent we start to see that trend down, then I will be comfortable pretty much with a 25 basis-point move. If that continues to persist at elevated levels, or even moves in the other direction, then I am really going to have to look at a 50-basis-point move for March…. Historically, over the last 10 years or so our moves have been in 25 basis point increments. I was hearing and getting a sense that many expected that was the only type of move we could do. I actually think that is wrong. We need to make sure people have different levels of move in mind, and awareness of those are possibilities".
On The List of Foreign Companies Pulling Out of Russia Keeps Growing
"Shell have made the right call. There is now a strong moral imperative on British companies to isolate Russia. This invasion must be a strategic failure for Putin."
Anders Opedal, Equinor ASA CEO
"In the current situation, we regard our position as untenable"
llen Good, sector strategist at Morningstar
"I wouldn't be surprised if you see more announcements coming down the line about exits. BP had extra pressure given the U.K. government, I'm not sure TotalEnergies will face the same pressures given that the relationship between France and Russia is different."
Ford Motor Co.
"Our current interest is entirely on the safety and well-being of people in Ukraine and the surrounding region. We won't speculate on business implications"
Top Gainers & Losers – 01-Mar-22*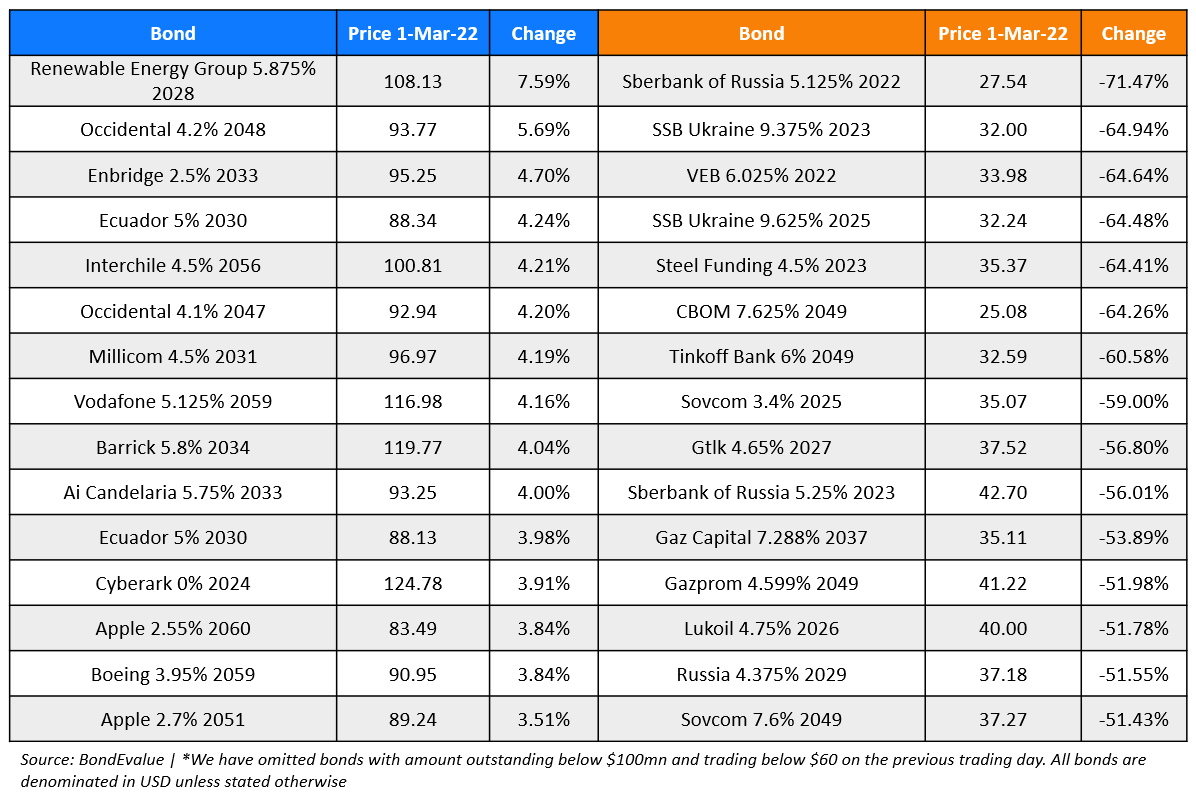 Other Stories