US equity markets ended lower on Wednesday with the S&P and Nasdaq down 0.7% and 0.8%. US 10Y Treasury yields were 6bp higher to 2.93%. European markets were lower with the DAX, CAC and FTSE down 0.3%, 0.8% and 1% respectively. Brazil's Bovespa closed unchanged from previous day's levels. In the Middle East, UAE's ADX was down 1.6% and Saudi TASI was down 1.2%. Asian markets have opened broadly lower today – HSI, STI and Nikkei were down 1.6%, 0.4% and 0.1% each while Shanghai was up 0.1%. US IG CDS spreads widened 1.2bp and HY spreads were 4.8bp wider. EU Main CDS spreads were 1.6bp wider and Crossover spreads were 8.5bp wider. Asia ex-Japan CDS spreads were 1.7bp wider.
Pakistan inflation climbed to 13.8% in May from 13.4% in April. SCMP reported that Asia ex-Japan bond funds saw $6.3bn in outflows in May, the highest this year.
---
Advanced Two-Day Course on Bonds | 7-8 June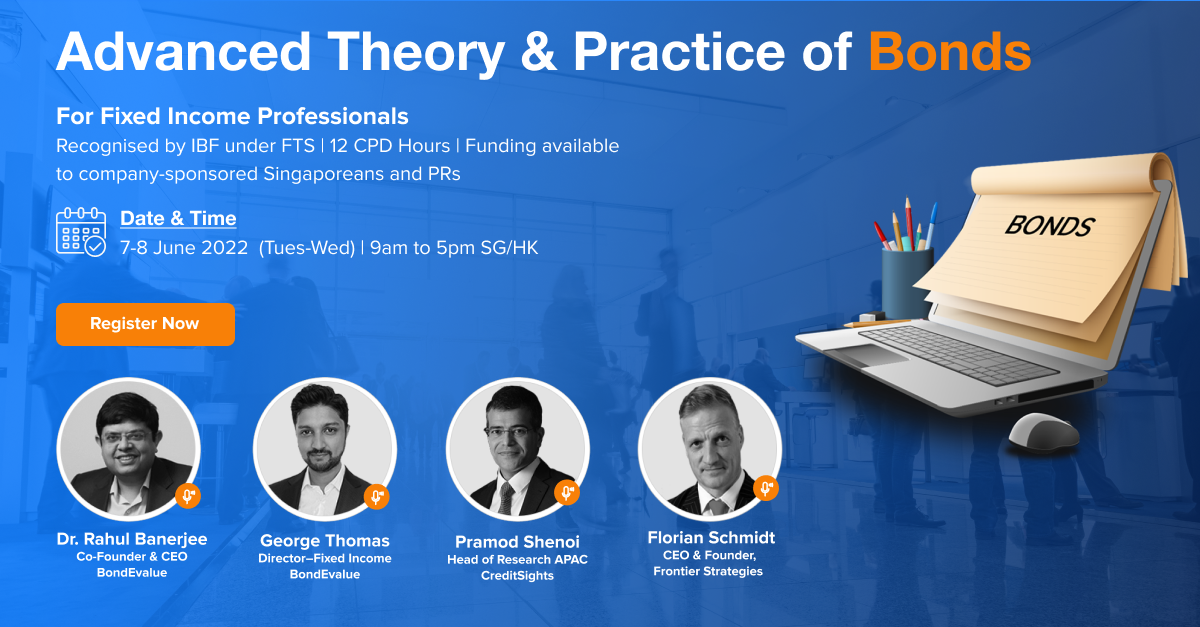 This course, designed for private bankers, wealth managers and advisors, will cover topics such as:
Bond Valuation & Risk
Bond Portfolio Optimization & Use of Leverage
New Bond Issues
Secondary Trading of Bonds with a Live Simulation
Using Excel to Understand Bond Calculations
ESG Bonds
Perpetual/AT1 Bonds
Asian High Yield Bond Analysis
When: 7-8 June 2022, 9am – 5pm Singapore/Hong Kong time
Where: 79 Robinson Road, Singapore (in-person) and Virtual via Zoom for those outside Singapore
Fees: SGD 2,140 per candidate. 80/90% IBF funding is available to eligible company-sponsored candidates from Singapore.
---
New Bond Issues
ESR-Logos REIT S$ Perp NC5 at 5.75% area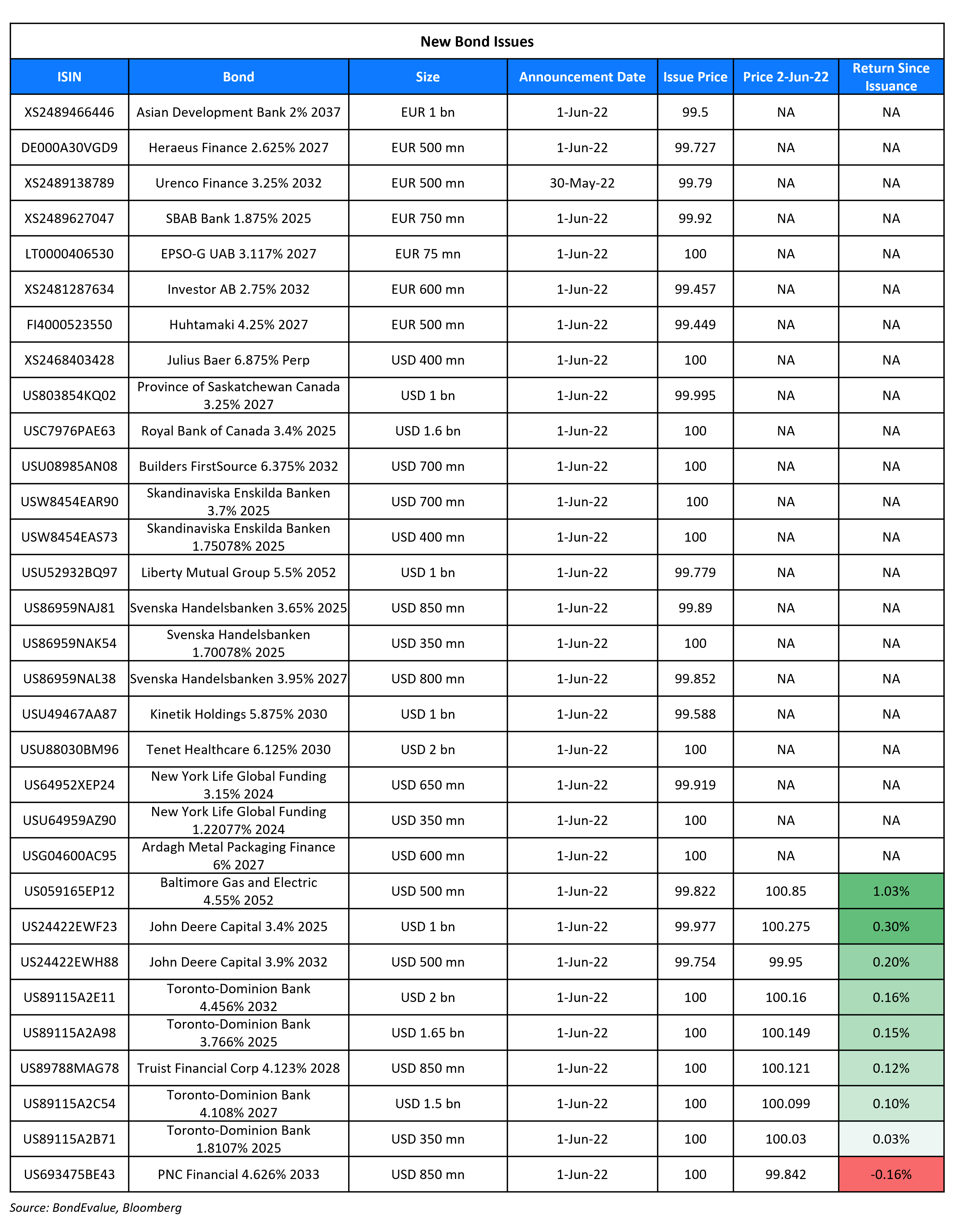 Julius Baer raised $400mn via a PerpNC5.5 AT1 bond (Term of the Day, explained below) at a yield of 6.875%, 50bp inside initial guidance of 7.375% area. The bonds are rated Baa3, and received orders over $3.7bn, 9.25x issue size. Proceeds will be used for general corporate purposes. Coupons are payable semi-annually until the first reset date of December 9, 2027 and. Resets and every 5 years thereafter to the prevailing 5Y CMT Rate+394bp.
OCBC raised S$500mn via a PerpNC5 AT1 bond at a yield of 3.9%, 35bp inside initial guidance of 4.25% area. The bonds are rated Baa1/BBB-/BBB+, and received orders over S$1.4bn, 2.8x issue size. Singapore investors were allocated 94% of the bonds, and the balance 6% went elsewhere. Private banks took 74%, fund managers, insurers and agencies 24%, and banks and corporations 2%. If not called by issuer, the coupon resets at first reset date of June 8, 2027 and every five years thereafter at the prevailing 5Y SORA-OIS benchmark rate plus the initial spread of 141.6bp. The bonds have a dividend stopper and no coupon step-up. Proceeds will be used for general corporate purposes. Loss absorption would occur if the MAS  believes that: (i) a write down or conversion is necessary, without which issuer would become non-viable or (ii) a public sector injection of capital or equivalent support would be required without OCBC would have become non-viable.
Toronto-Dominion Bank raised $5.5bn via a four-tranche deal. Details are given in the table below:

The senior unsecured bonds have expected ratings of A1/A.
New Bonds Pipeline
Korea Electric Power mandates for $ green bond
Kyobo Life hires for $ Sustainability bond
Busan Bank hires for $ Social bond
Continuum Energy Aura hires for $ Green Bond
Jubilant Pharma plans $ bond
Sael Limited hires for $ 7Y Green bond
Rating Changes
Term of the Day
AT1 Bonds
Additional Tier 1 (AT1) bonds are hybrid securities issued by financial institutions to meet their regulatory capital requirements. AT1s typically carry a provision wherein the instruments can be fully or partially written-down or converted to equity if the issuing bank's capital ratio falls below a certain threshold. This is why AT1s are also known as contingent convertibles (CoCos). The key characteristics of AT1 bonds are: They have a perpetual maturity with a call option:
They are subordinated in nature, and the first line of debt to incur losses
They can be written-down or converted into equity on the occurrence of a "trigger event"
Coupons are usually higher as compared to other debt by the issuer, to compensate investors for the higher risk AT1s carry
For a complete guide to CoCos and AT1s, click here
Talking Heads
On No 'red line' against central bank digital currency – BoE's Andrew Hauser
"The dog may be old, but it can still perform new tricks. By themselves, balance sheet considerations do not obviously present any 'redline' arguments against CBDC adoption… The use of the central bank balance sheet to provide state-backed transactional money is one of our most longstanding functions."
On seeing evidence of slowdown in housing market – BOE Deputy Governor Jon Cunliffe 
"We see evidence of a slowdown in the housing market. There are some straws in the wind that show the market is starting to turn…The Bank expects the economy … to slow quite a lot over next year or so and I think that will have an impact on the housing market… When rate of increase goes down, that is a correction, and then there's a question of whether house prices rise faster than other prices"
On Asia ex-Japan bond funds see highest outflow of the year in May as rate hikes, Ukraine war and Covid hit risk appetite
Freddy Wong, head of APAC fixed income at Invesco
"We expect the [Chinese] central bank's focus to turn more towards credit easing than liquidity easing down the road, to boost the economy, and this will limit room for further downward moves in government bond yields"
Riad Chowdhury, head of APAC at MarketAxess
"Many global investors might [also] think twice about going into other Asian high yield bonds if they've lost money in China high yield"
On Half-Point ECB Hike Needed After Inflation Record – ECB's Holzmann
"A 50 basis-point rise would send the necessary clear signal that the ECB is serious about fighting inflation. A clear interest-rate signal would also help to support the euro's exchange rate. The weak euro is not helpful on the inflation front."
Top Gainers & Losers – 02-June-22*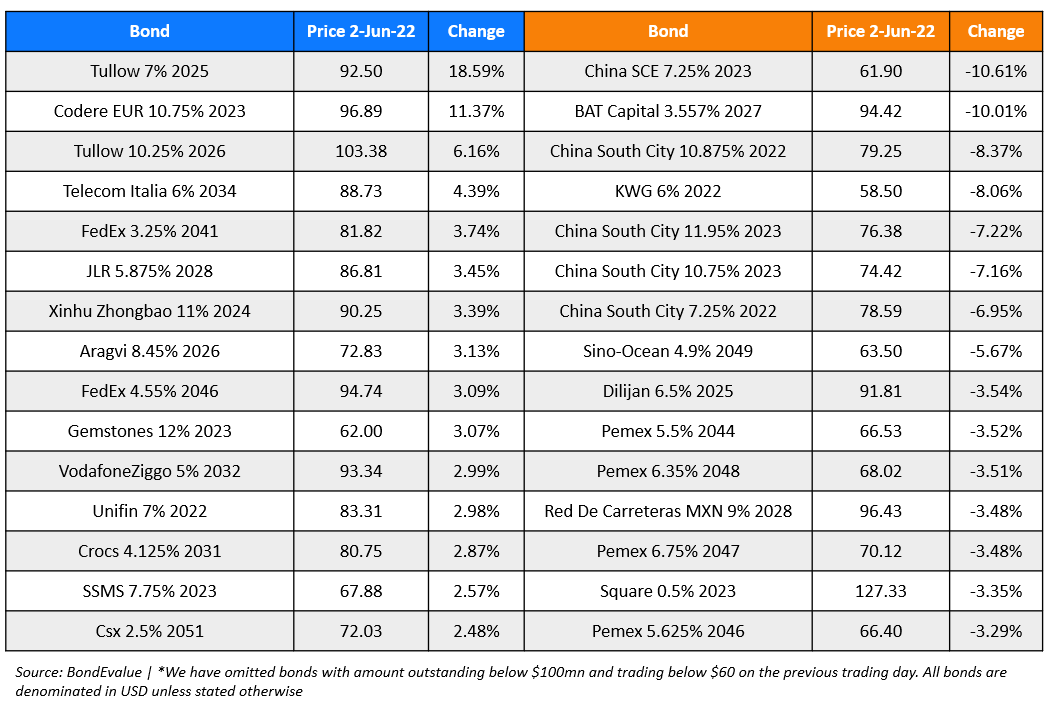 Errata: The maturity dates in the Gainers & Losers table were incorrect in yesterday's newsletter
---