US equity markets saw a sharp uptick on Thursday with the S&P and Nasdaq up 1.8% and 2.7%. Sectoral gains were led by Consumer Discretionary up 3%, followed by Materials and Communication Services up over 2.5% each. US 10Y Treasury yields were 1bp higher to 2.92%. European markets were mixed, with the DAX and CAC down 1% and 1.3% while FTSE was down 1%. Brazil's Bovespa was up 0.9%. In the Middle East, UAE's ADX was down 2% and Saudi TASI was down 1.3%. Asian markets have opened mixed today – Shanghai and Nikkei were up 0.4% and 1.1%, while STI was flat and HSI was down 1%. US IG CDS spreads tightened 1.2bp and HY spreads were 6.4bp tighter. EU CDS spreads were closed. Asia ex-Japan CDS spreads were 0.7bp wider.
Ukraine hiked its policy rate to 25% from 10% in its meeting on Thursday, the highest level since September 2015. This is the first such move by Ukraine's central bank in four months, since the Russian war started.
---
Advanced Two-Day Course on Bonds | 7-8 June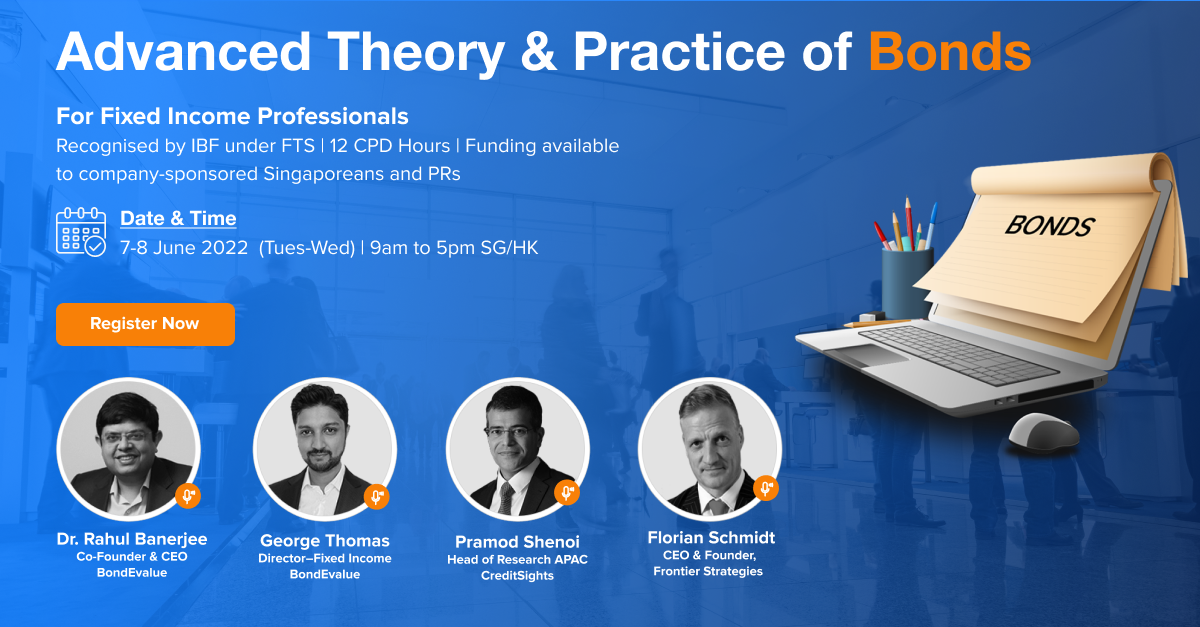 This course, designed for private bankers, wealth managers and advisors, will cover topics such as:
Bond Valuation & Risk
Bond Portfolio Optimization & Use of Leverage
New Bond Issues
Secondary Trading of Bonds with a Live Simulation
Using Excel to Understand Bond Calculations
ESG Bonds
Perpetual/AT1 Bonds
Asian High Yield Bond Analysis
When: 7-8 June 2022, 9am – 5pm Singapore/Hong Kong time
Where: 79 Robinson Road, Singapore (in-person) and Virtual via Zoom for those outside Singapore
Fees: SGD 2,140 per candidate. 80/90% IBF funding is available to eligible company-sponsored candidates from Singapore.
---
New Bond Issues

ESR-Logos REIT raised S$150mn via PerpNC5 bond at a yield of 5.5%, 25bp inside initial guidance of 5.75% area. The bonds are unrated. RBC Investor Services Trust Singapore Ltd. (in its capacity as trustee of ESR-LOGOS Reit) is the issuer. The bonds have an optional redemption on June 9, 2027 and on every distribution payment date thereafter at par. If not redeemed, at end of the fifth year and every five years thereafter, the coupon will reset based on the prevailing SGD 5Y SORA-OIS plus the initial spread of 295.8bp. The bonds have a dividend stopper (Term of the Day, explained below). Proceeds will be used for refinancing borrowings, financing or refinancing acquisitions and investments, funding development and asset enhancement works, as well as supporting working capital.
Pemex raised $1.5bn via a 7Y bond at a yield of 9.25%. Bloomberg notes that the bond was sold at a discount of about 97.6 cents on the dollar with the yield above the 8.75% coupon. While the amount of orders received were not available, it adds that there was weak demand. Pemex is said to have had initially planned to raised $1bn. Pemex will refinance debts owed to its suppliers via the issuance of new 8.75% 2029s. The new bonds offer a new issue premium of 60bp over its older 6.5% January 2029s that currently yield 8.65%.
New Bonds Pipeline
Korea Electric Power mandates for $ green bond
Kyobo Life hires for $ Sustainability bond
Busan Bank hires for $ Social bond
Continuum Energy Aura hires for $ Green Bond
Jubilant Pharma plans $ bond
Sael Limited hires for $ 7Y Green bond
Rating Changes
Term of the Day
Dividend Stopper
Dividend stopper is a common covenant seen in perpetual bond structures that requires the bond issuer to not pay a dividend, if it decides to stop coupon payments on the perpetual bonds. Some contingent convertible (CoCo) perpetual bonds have a clause that allows the issuer to skip a coupon payment at their discretion, if the financial situation of the issuer is stressed. In such cases, a dividend stopper covenant is beneficial to the CoCo bondholders as it restricts the issuer from paying dividends on its equity in times when it has not paid coupon to its CoCo bondholders. This is why the presence (or absence) of a dividend stopper covenant is seen as the determining factor on whether the CoCo perpetual bonds are not (or are) subordinated to its equity.
Talking Heads
On Fed's Brainard Says Case for September Rate Pause Is 'Very Hard'
"From where I sit today, market pricing for 50 basis points, potentially in June and July, from the data we have in hand today, seems like a reasonable path. Right now it's very hard to see the case for a pause. We've still got a lot of work to do to get inflation down to our 2% target… If we don't see the kind of deceleration in monthly inflation prints, if we don't see some of that really hot demand starting to cool a little bit, then it might well be appropriate to have another meeting where we proceed at the same pace.
On ECB Traders See Historic Half-Point Rate Hike in December
Jan von Gerich, chief strategist at Nordea Bank
"While the door is not totally shut for a 50 basis point move in July, it would be quite surprising for the ECB to start its hiking cycle with such a big step… but risks are clearly tilted towards the ECB hiking rates at every meeting this year, while also the chance of a 50 basis point rate hike in September has grown."
On Pemex Debt Sale Falling Short on Weak Demand, Adding to Debt Woes
Aaron Gifford, EM sovereign-debt analyst at T. Rowe Price
"This transaction left a bad taste in investors' mouths. What is going to prevent Pemex from doing this again in six months?"
David Herzberg, analyst at Stifel Nicolaus & Co Inc.
"The transaction has left some investors with a number of unanswered questions and there have been several articles discussing the transaction that highlight the issues Pemex has with its suppliers"
Top Gainers & Losers – 03-June-22*