US equity markets dropped on Tuesday with the S&P and Nasdaq down 1.3% and 2.3% each. Sectoral losses were led by Consumer Discretionary and IT, down over 2%. US 10Y Treasury yields jumped 21bp higher to 2.61%, again led by short-end yields climbing higher and the curve continues to stay inverted. Federal Reserve Governor Lael Brainard said that the FOMC was prepared to take stronger action if inflation indicators and expectations indicate that such actions are warranted. European markets were mixed – the DAX and CAC were down 0.7% and 1.3% while FTSE was up 0.7%. Brazil's Bovespa ended 2% lower. In the Middle East, UAE's ADX was up 0.3% and Saudi TASI was also up 0.3%. Asian markets have opened lower – Shanghai, HSI, STI and Nikkei were down 0.2%, 1.4%, 0.6% and 1.8% respectively. US IG CDS spreads tightened 3.2bp and HY spreads were 13.3bp wider. EU Main CDS spreads were 2.5bp tighter and Crossover CDS spreads were 15.7bp wider. Asia ex-Japan CDS spreads widened 2.8bp.
---
Happening Today | Asian High Yield Bond Analysis
Sign up for today's masterclass on Asian High Yield Bond Analysis that will cover High Yield Bond Structures and "The Box", Chinese High Yield Bonds & Structural Subordination, Covenants, Key Risks, and a Discussion on Current Markets with a Focus on Evergrande and Other Developers. The session will begin 5pm Singapore / 1pm Dubai / 10am London. Click on the banner below to register.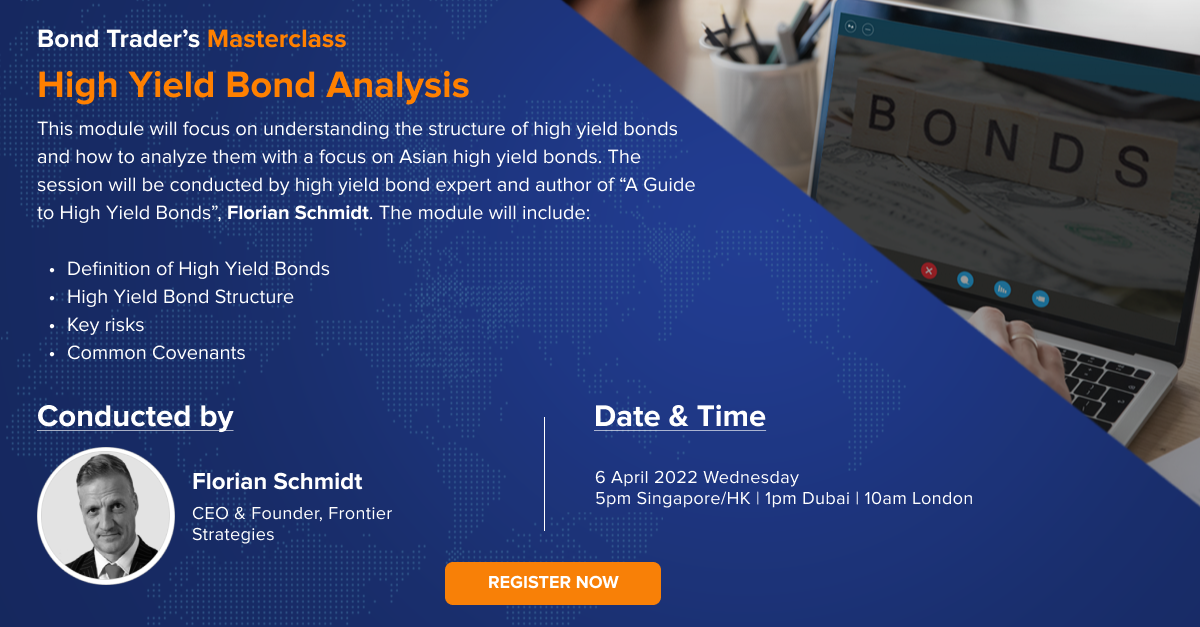 ---
New Bond Issue
Shinhan Bank $ 10Y Tier 2 Climate Bond at T+225bp area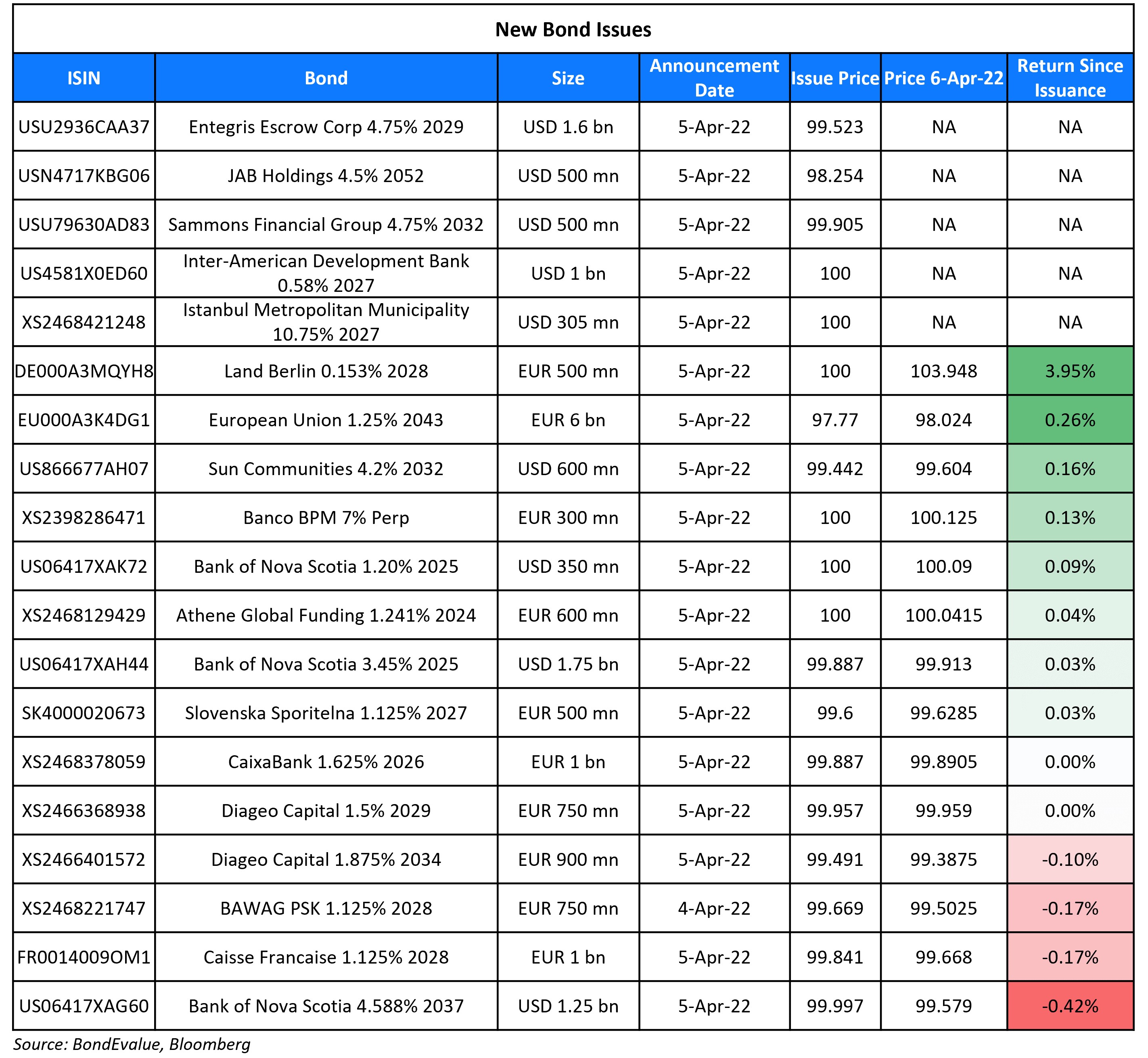 CapitaLand Investment raised S$400mn via a 5Y at a yield of 3.33%, 27bp inside initial guidance of 3.6% area. The bonds are unrated and received orders over S$780mn, 1.95x issue size. Insurance companies and funds took 30%, private banks 33%, banks and corporates 25% and agencies and public sector entities 12%. Singapore accounted for 99% with others at 1%. The bonds are issued via CLI Treasury and guaranteed by the Temasek-owned property owner and manager. Proceeds will be used to refinance debt as well as fund investments and general corporate needs.
Bank of Nova Scotia raised $3.35bn via a three-tranche deal. It raised:
$1.75bn via a 3Y bond at a yield of 3.49%, 20bp inside initial guidance of T+100bp area
$350mn via a 3Y FRN bond at a yield of 1.2%, vs. initial guidance of SOFR-equivalent area
$1.25bn via a 15NC10 bond at a yield of 4.588%, 20bp inside initial guidance of T+225bp area
The bonds have expected ratings of A2/A-. Proceeds will be used for general corporate purposes. The 3Y fixed bond was priced 14bp tighter to its existing 4.5% bonds due December 2025 that yield 3.63%
New Bonds Pipeline
Freeport Indonesia hires for $ bond
Sael Limited hires for $ 7Y Green bond
JR East hires for € 11Y bond
Kalyan Jewellers India hires for $ bond
South32 hires for $ bond
Korea Mine Rehabilitation and Mineral Resources hires for $ 5Y bond


Shinhan Bank hires for $ Green bond

Aluminium Corporation of China hires for $ bond

Petron hires for $ 7NC4 bond
Electricity Generating (EGCO) hires for $ 7Y or 10Y bond
Rating Changes
Term of the Day:
Priming
Priming is the practice where a company in need of cash offers a new bond backed by collateral that was previously pledged to other creditors. The new collateral-backed bond thus has seniority over the previously issued debt. In other words, the new collateral-backed bonds and holders "prime" its old bonds and bondholders. This strategy is used mostly by high yield companies to make their debt offering more attractive.
Troubled aerospace supplier Incora secured a financial lifeline from a group of investors including Silver Point Capital and Pacific Investment Management Co. that primed its rival creditors.
---
Explore BondbloX Kristals – a basket of single bonds listed on the BondbloX Exchange following themes such as SGD REIT Perps, USD Bank Perps, and SGD Bank Perps. Avail an introductory discount of $1,000 for every purchase of $100,000 worth of BondbloX Kristals*. Click on the banner below to know more.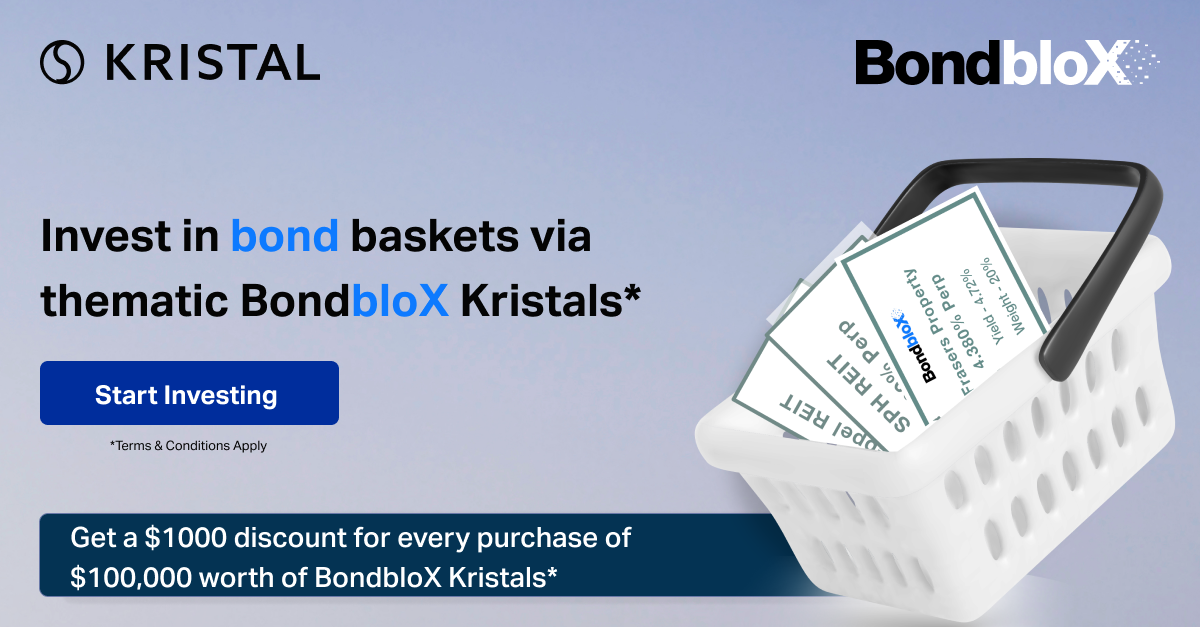 ---
Talking Heads
On Deutsche Bank Predicts U.S. Recession in '23 as Fed Boosts Rates
"Our call for a recession in the U.S. next year is currently way out of consensus. We expect it will not be so for long… The U.S. economy is expected to take a major hit from the extra Fed tightening by late next year and early 2024″
On ECB's Lane Sees Inflation Peaking by Mid-Year 
Most likely, with the nature of the energy shock, prices will either level off at these high prices or will start to decline… But the momentum of inflation will slow down, so we do think that in the second half to the year, as you say, the inflation rate will come down. And we do think it will be a lot lower next year and the year after."
On Petrobras's Turmoil Is a Prelude to Brazil's Presidential Brawl
Schreiner Parker, the head of Latin America of Rystad Energy
"Volatility in Petrobras's leadership is foreshadowing the volatility Brazil will see during the presidential campaign and after… The idea of a long-term experienced executive helming Petrobras, rather than a political ally, seems distant in either a Lula or Bolsonaro presidency."
Former President Luiz Inácio Lula da Silva
"Petrobras needs to turn into a national battle…The trucker who can't fill his tank anymore needs to know that this fight is for him."
Top Gainers & Losers – 06-Apr-22*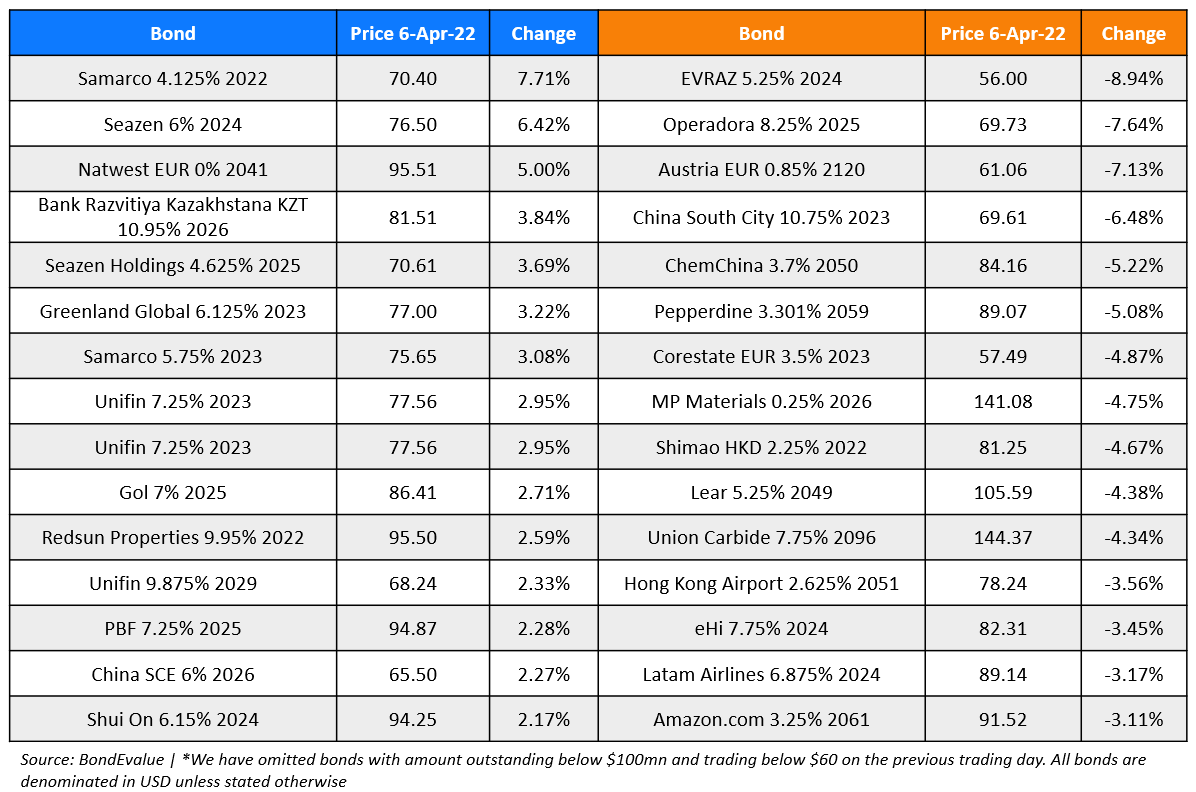 Other Stories