US equity markets saw a downturn on Friday with the S&P and Nasdaq down 1.6% and 2.5%. Sectoral losses were led by Consumer Discretionary and IT, down over 2.5% each. US 10Y Treasury yields were 1bp higher to 2.92%. The Energy sector was the only gainer, up 1.4% – Saudi Arabia raised crude prices for sales in July. European markets were lower with the DAX and CAC down 0.2% each while FTSE was closed. Brazil's Bovespa was down 1.2%. In the Middle East, UAE's ADX was down 2.2% and Saudi TASI was up 0.4% on Sunday. Asian markets have opened broadly higher today – Shanghai, HSI and Nikkei were up 1%, 1.1% and 0.7% respectively, while STI was down 0.1%. US IG CDS spreads widened 2bp and HY spreads were 13.4bp wider. EU CDS markets were closed. Asia ex-Japan CDS spreads were 0.1bp tighter.
US NFP for May came at 390k, higher than the expected 318k print, but lower than the prior month's 428k. Turkey's inflation hit a 23Y high of 73.5% in May. Separately, South Korea's inflation hit a nearly 14Y high with consumer prices jumping 5.4% in May.  
---
Final Call: Advanced Two-Day Course on Bonds | 7-8 June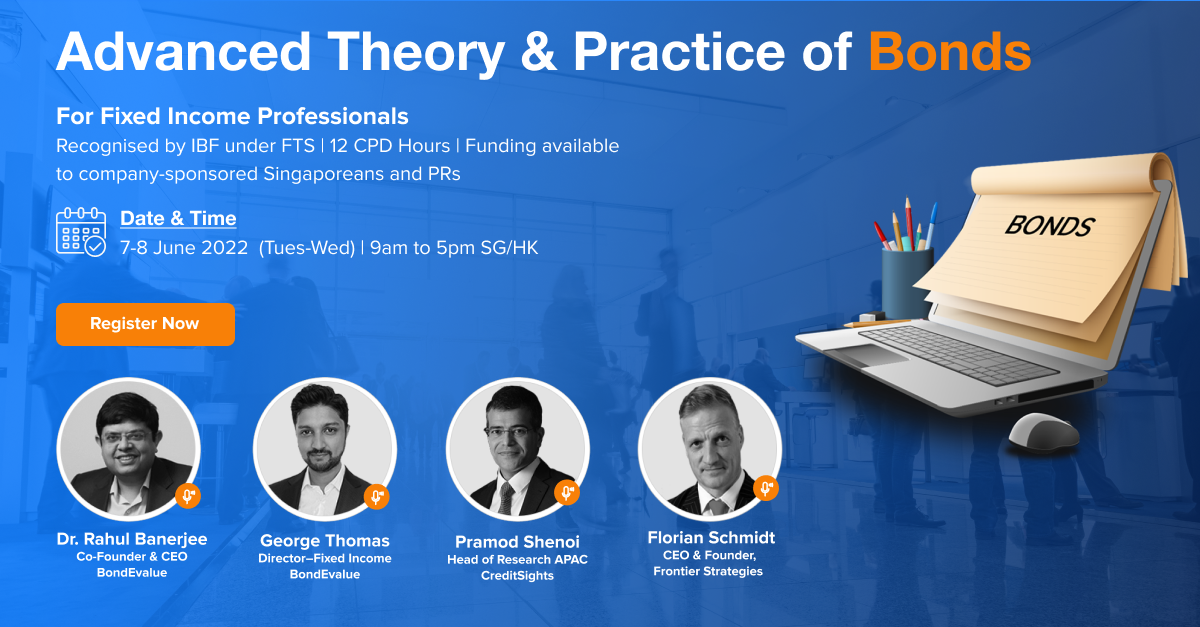 This course, designed for private bankers, wealth managers and advisors, will cover topics such as:
Bond Valuation & Risk
Bond Portfolio Optimization & Use of Leverage
New Bond Issues
Secondary Trading of Bonds with a Live Simulation
Using Excel to Understand Bond Calculations
ESG Bonds
Perpetual/AT1 Bonds
Asian High Yield Bond Analysis
When: 7-8 June 2022, 9am – 5pm Singapore/Hong Kong time
Where: 79 Robinson Road, Singapore (in-person) and Virtual via Zoom for those outside Singapore
Fees: SGD 2,140 per candidate. 80/90% IBF funding is available to eligible company-sponsored candidates from Singapore.
---
New Bond Issues
CCB Singapore S$ 2yr at 3.05% area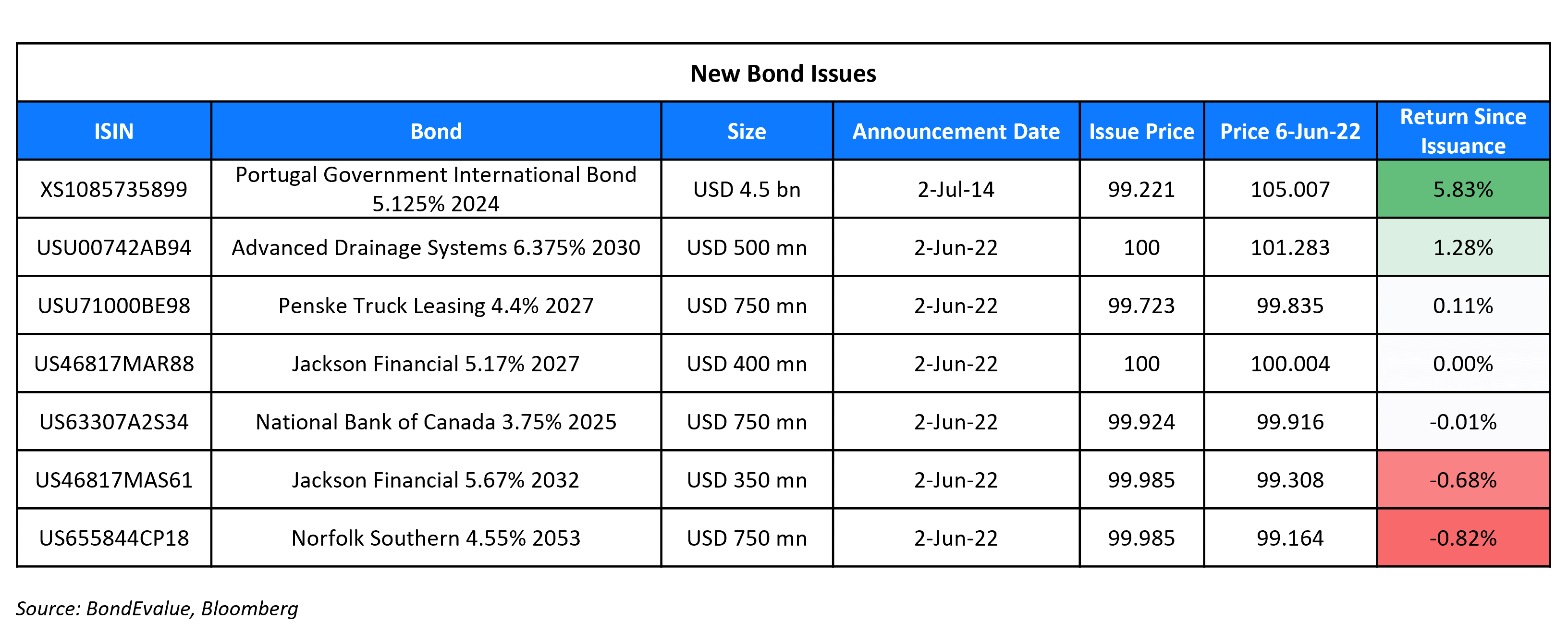 New Bonds Pipeline
ASB Bank hires for $ 10NC5 bond

Changchun Urban mandates for $ green bond
Korea Electric Power mandates for $ green bond
Kyobo Life hires for $ Sustainability bond
Busan Bank hires for $ Social bond
Continuum Energy Aura hires for $ Green Bond
Jubilant Pharma plans $ bond
Sael Limited hires for $ 7Y Green bond
Rating Changes
Term of the Day
Chapter 15
Chapter 15 is legal bankruptcy filing where a foreign debtor filed for bankruptcy in US courts. In general Chapter 15 bankruptcy is an ancillary case to a primary proceeding brought in another country, typically the debtor's home country. As an alternative the debtor may commence a complete Chapter 7 or Chapter 11 bankruptcy case in the US provided its assets in the US are sufficiently complex to warrant a full-blown domestic bankruptcy case. Bloomberg notes that non-US based companies that are in financial jeopardy tend to file for Chapter 15 bankruptcy to ensure that they will not be sued by creditors in the US or have assets seized there. Chapter 15 gives foreign creditors the right to participate in US bankruptcy cases and prohibits discrimination against foreign creditors. 
Talking Heads
On Yellen Denying Urging Smaller Biden Relief Plan in Early 2021
"When President Biden assumed office, the nation was facing acute economic challenges. It was a time of great economic uncertainty, with legitimate risks of a downturn that could match the Great Depression… I never urged adoption of a smaller American Rescue Plan package, and I believe that ARP played a central role in driving strong growth throughout 2021 and afterwards."
On US Junk Issuance Set to Weaken After Deal Rally
Bradley Rogoff, head of fixed income research at Barclays Plc
Spreads across BB corporate bonds are "too tight for comfort". The macro picture remains gloomy in both the US and the rest of the world. We expect volatility to remain elevated as the Fed tries to find the right balance."
On Seeing Signs Fed Tightening Having Impact on US Economy – Former Treasury Secretary Larry Summers
"We're seeing a little bit of indications that some firms are no longer reporting the kind of huge labor shortages that they were before. We're seeing some indications of inventory buildups… If the capacity of the economy to produce has been reduced, we've got to reduce the level of demand… there may not be any path of monetary policy that enables inflation to come down to the 2, 3% range and also keeps the economy growing rapidly"
Top Gainers & Losers – 06-June-22*