US equity markets saw a massive drop with the S&P and Nasdaq crashing 3.6% and 5% respectively. All of the 11 major industry groups declined, with the information technology, consumer discretionary, communication services and financials sectors leading losses. The move comes a day after a rally in the indices as the Fed cooled down fears of any 75bp hike expectations, after a 50bp hike. US 10Y Treasury yields shot up 13bp. European markets were broadly weak – the DAX and CAC were down 0.5% and 0.4%, while FTSE was up 0.1%. Brazil's Bovespa closed 2.8% lower. In the Middle East, UAE's ADX was flat while Saudi TASI was closed. Asian markets have opened lower – Shanghai, HSI and STI were down 2.3%, 3.6% and 1.3%, while Nikkei was up 0.9%. US IG and HY CDS spreads widened 5.2bp and 30bp respectively. EU Main CDS spreads were 2.5bp wider and Crossover spreads were 19.3bp wider. Asia ex-Japan CDS spreads were 2bp tighter.
The Bank of England (BOE) hikes its policy rate by 25bp to 1%. 6 rate setters voted for a 25bp hike while 3 others called for a 50bp hike, a more hawkish voting outcome vs. forecasts of an 8-1 dovish voting pattern. Turkey's annual inflation jumped to a 20Y high of 69.97% in April, with the Russia-Ukraine conflict coupled with rising energy and commodity prices weighing on inflation.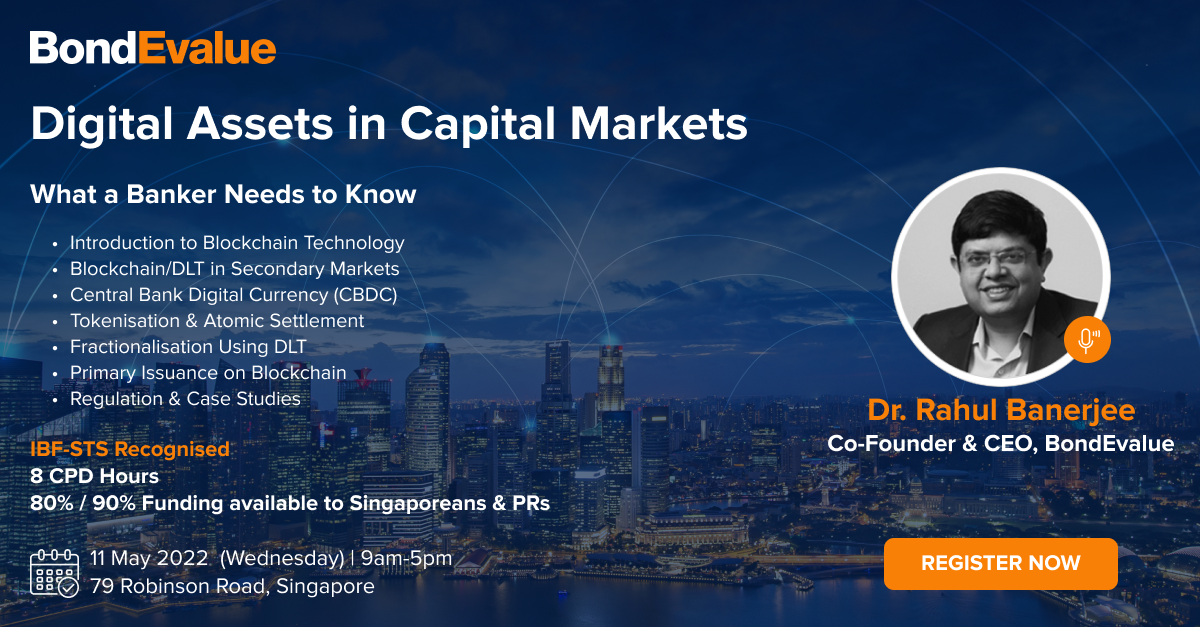 New Bond Issues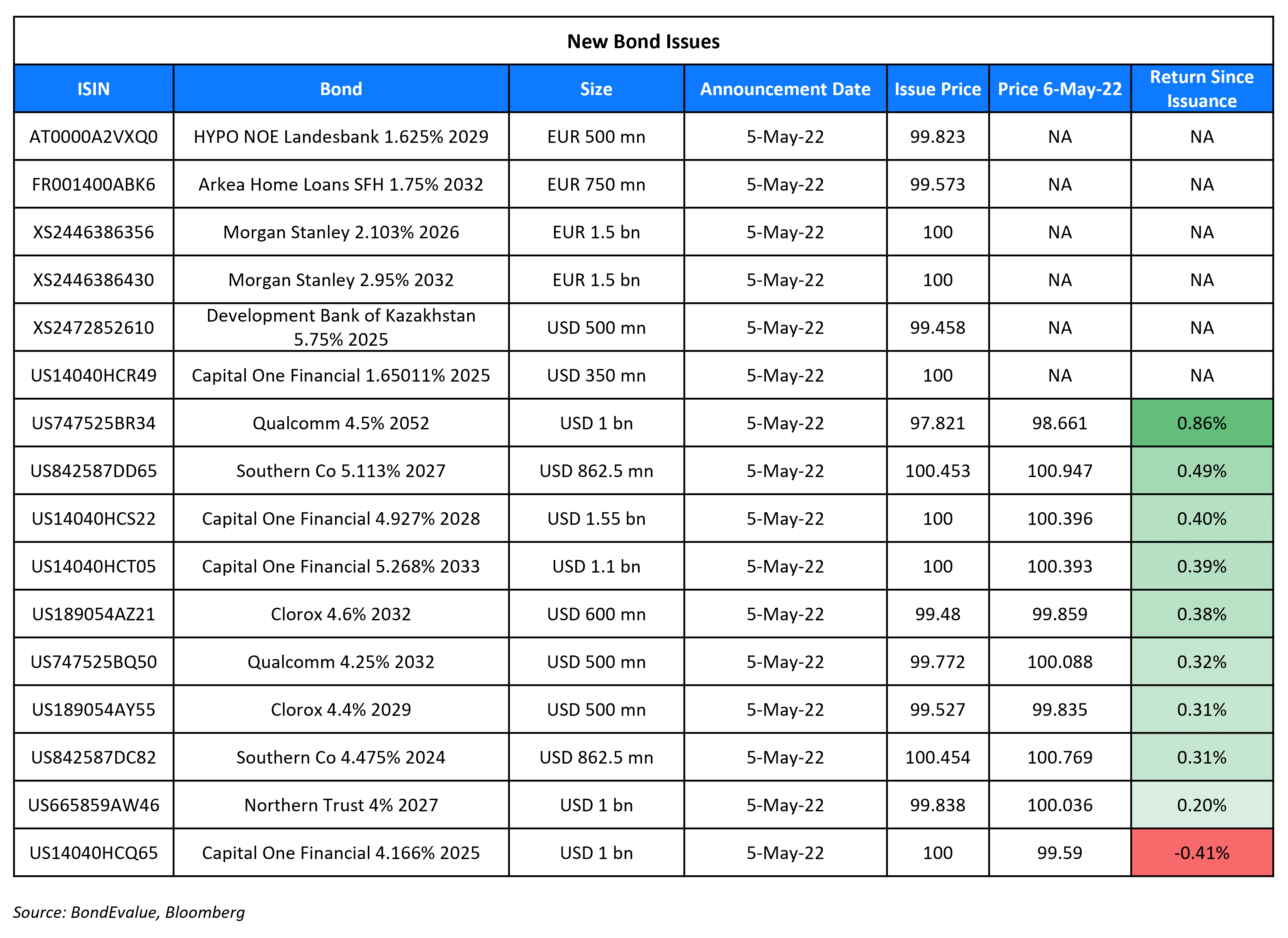 Morgan Stanley raised €3bn via a two-tranche deal. It raised:
It raised €1.5bn via a 4NC3 bond at a yield of 2.103%, 22bp inside initial guidance of MS+110bp area. The bonds received orders over €2.75bn, 1.8x issue size.
It raised €1.5bn via a 10NC9 bond at a yield of 2.95%, 22bp inside initial guidance of MS+145bp area. The bonds received orders over €2.6bn, 1.7x issue size.
The bonds have expected ratings of A1/BBB+/A and the proceeds will be used for general corporate purposes. Coupons are fixed until optional redemption date, if not called, 4NC3 coupon refixes at 3mE+90.4 and 10NC9 refixes at 3mE+124.5; quarterly, ACT/360.
Development Bank of Kazakhstan raised $500mn via a 3Y bond at a yield of 5.95%, unchanged from guidance. The bonds are rated Baa2/BBB (Moody's/Fitch). Proceeds will be used for general corporate purposes and to finance the purchase of its 2022s under a tender offer to be announced soon.
New Bonds Pipeline
ENN Energy hires for $ Green bond
Korea Expressway hires for $ bond
Busan Bank hires for $ Social bond
Kookmin Card hires for $ Sustainability bond
Continuum Energy Aura hires for $ Green Bond
Jubilant Pharma hires for $ bond
Sael Limited hires for $ 7Y Green bond
Rating Changes
Term of the Day
Oil Bonds
Bonds that are issued, linked to oil warrants are known as oil bonds. Congo plans to issue these bonds to  to commodity traders Glencore and Trafigura to refinance its outstanding debts. Linking debt to oil warrants will enable Congo to hedge external payments against the cycle of crude prices. While the finalized details are yet to be structured, Bloomberg notes that the deal is currently constructed such that Congo will have to pay more interest on the bonds when oil prices rise and less when prices fall.
Talking Heads
On Ex-Fed Vice Chair Clarida Saying Rates Must Rise to at Least 3.5%
"The funds rate will I believe ultimately need to be raised well into restrictive territory, by at least a percentage point above the estimated nominal neutral rate of 2.5%."
On China Should Lead $17 Billion Zambia Debt Talks
Zambian Finance Minister Situmbeko Musokotwane
"It does make sense for our biggest creditor to play a leading part, to take a leading role in the proceedings. They are willing to participate as a co-chair, and we welcome that because it will improve the chances of resolution — them being the biggest single creditors… We are just very happy that they've now made a public announcement that they'll now join"
On Fastest Tokyo Inflation in Decades Complicating BOJ's Messaging
Taro Saito, head of economic research at NLI Research Institute
"A weak yen is going to add more inflationary pressures for a wider range of products as it affects all imported goods. Price growth is no longer going to be only about soaring energy and raw material prices."
Yuki Masujima, economist
"The climb in prices were mostly due to a technical factor, along with higher costs for imported food and energy — not the wage-driven inflation the BOJ seeks. We see the BOJ sticking to its stimulus, even as other central banks unwind theirs."
Top Gainers & Losers – 06-May-22*