US equity markets ended lower on Friday with the S&P and Nasdaq closing 0.8% and 1.7% lower each. Sectoral losses were led by Financials and IT, down 1.8-2.0%. European markets ended sharply lower as the Russia-Ukraine crisis worsens – the DAX, CAC and FTSE were down 4.4%, 5% and 3.5% respectively. US 10Y Treasury yields eased a strong 12bp to 1.74%. Brazil's Bovespa ended 0.6% lower. In the Middle East, UAE's ADX was up 0.7% and Saudi TASI was up 0.8%. Asian markets have opened lower – Shanghai, HSI, STI and Nikkei were down 1.5%, 3.3%, 0.7% and 3.2% respectively. US IG CDS spreads widened 3.4bp and HY spreads were 15.4bp wider. EU Main CDS spreads were 7.8bp wider and Crossover CDS spreads were 25.7bp wider. Asia ex-Japan CDS spreads were 3.7bp wider.
US NFP data for February 2022 came at 678k, higher than the surveyed 423k and last month's 467k. Unemployment rate was at 3.8%, lower than surveyed 3.9%.
---
Learn About Bonds from Senior Bankers | Starting 28 March
In the current environment marred by geopolitical concerns, impending rate hikes and crisis in China real estate, it is imperative for investors and advisors to be able to analyze bonds effectively. This course will help you do just that via 8 interactive sessions conducted live via Zoom by senior bankers starting 28 March. Click on the banner below to know more and to sign up.

---
New Bond Issues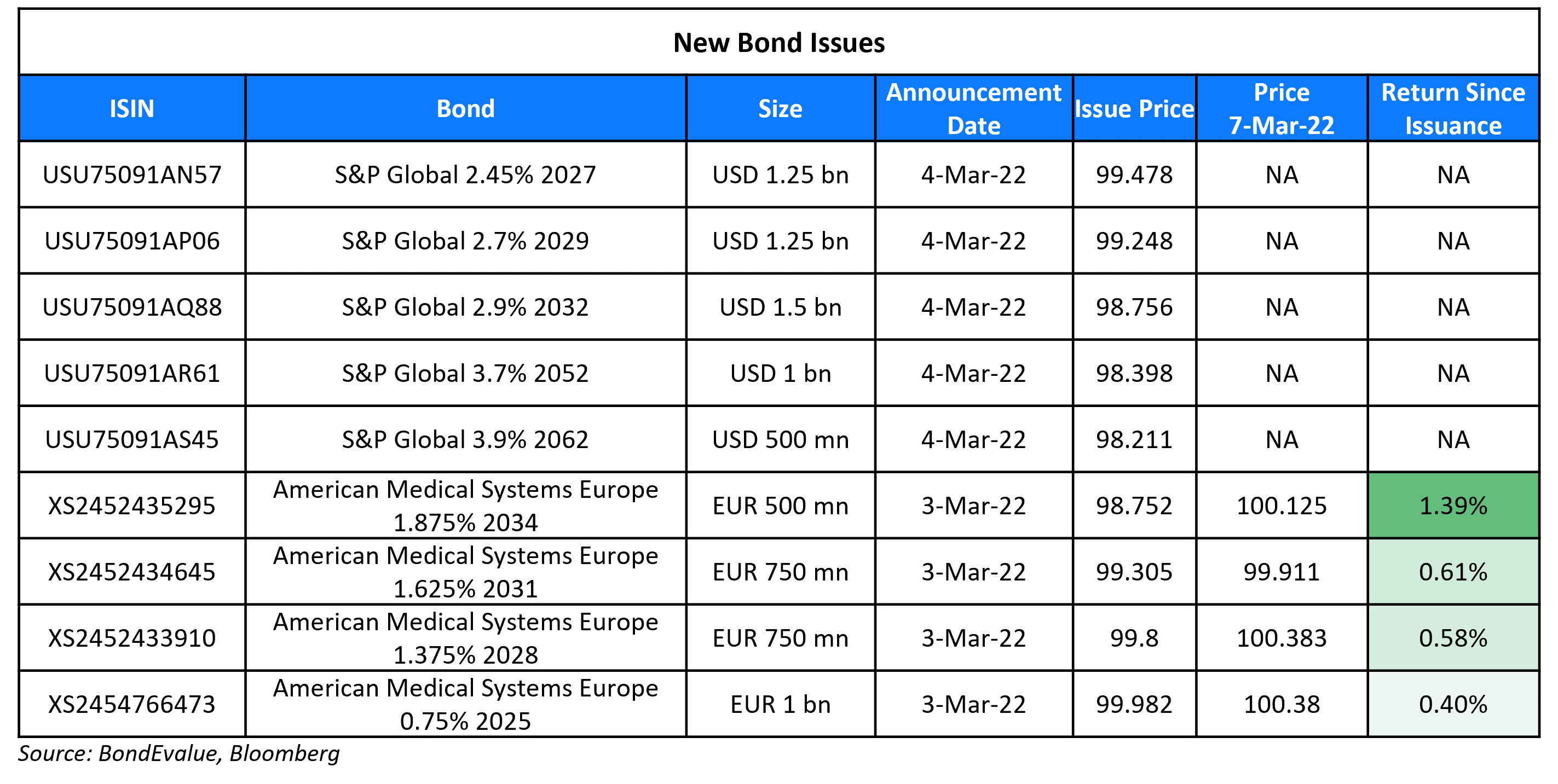 S&P
raised $5.5bn via a five-part deal. Details are given in the table below: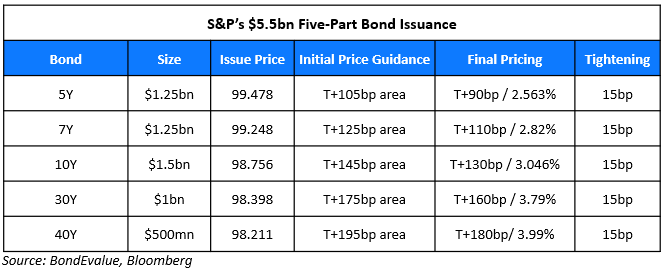 Zhoukou Urban Construction Investment Development raised $120mn via a 3Y bond at a yield of 4.8%, 20bp inside initial guidance of 5% area. The bonds are unrated. Proceeds will be used for working capital and general corporate purposes. The bonds have a change of control put at 101. The state-owned issuer is a municipal-level state-owned enterprise authorized by the Zhoukou municipal government to be responsible for the development, financing and operation of urban infrastructure development in Zhoukou city.
New Bonds Pipeline
Mumbai International Airport hires for $ bond

The Republic of the Philippines hires for $ bond
Aluminium Corporation of China hires for $ bond
Petron hires for $ 7NC4 bond
Electricity Generating (EGCO) hires for $ 7Y or 10Y bond
Rating Changes
Term of the Day
Private Investment in Public Equity
A PIPE (Private Investment in Public Equity) refers to a private placement of securities of an existing public company that is made to selected accredited private investors/private equity funds. In turn, the company agrees to file a resale registration statement so that the investors can resell the shares to the public. The Nasdaq note that PIPE transactions usually occur when equity valuations have fallen and the company is looking for new sources of capital.
---
Explore BondbloX Kristals – a basket of single bonds listed on the BondbloX Exchange following themes such as SGD REIT Perps, USD Bank Perps, and SGD Bank Perps. Avail an introductory discount of $1,000 for every purchase of $100,000 worth of BondbloX Kristals*. Click on the banner above to know more.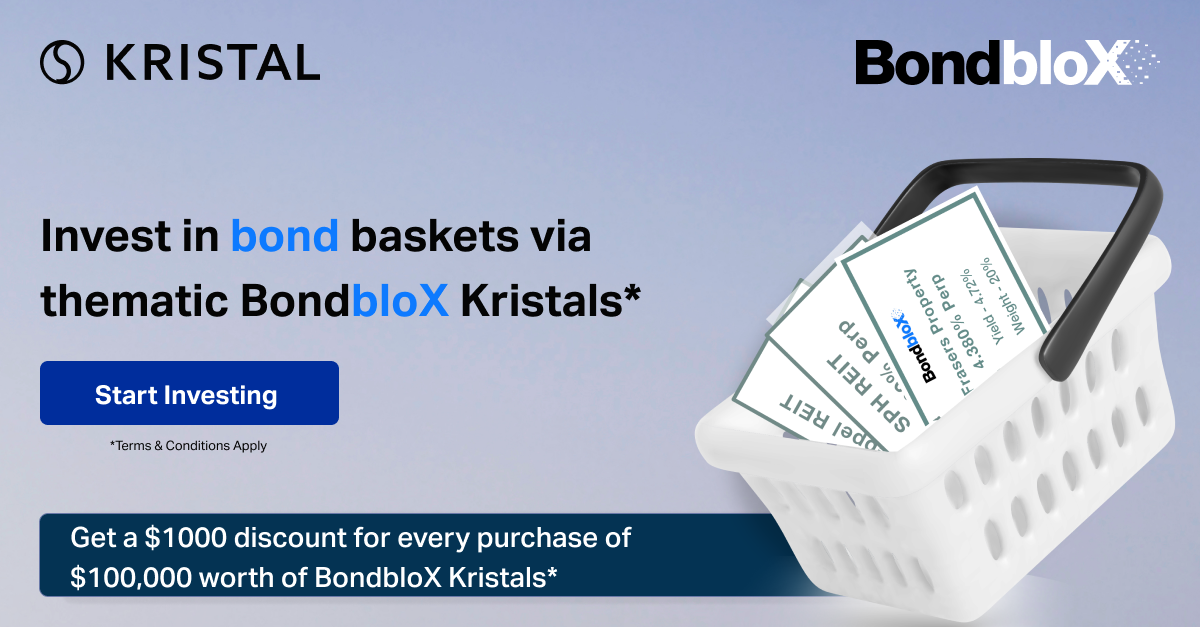 ---
Talking Heads
On Russia warning sovereign bond holders that payments depend on sanctions
"The actual possibility of making such payments to non-residents will depend on the limiting measures introduced by foreign states in relation to the Russian Federation"
On Wall Street Pouncing on Russia's Cheap Corporate Debt
Athanassios Diplas, a veteran derivatives trader at Goldman Sachs
"The whole point of the sanctions is to make them and their instruments untouchable. I have no issues looking at arbitrage opportunities in distressed situations, like back in 1998. But this is different."
Sally Greig, a money manager at Baillie Gifford
"What we're seeing is a bit of revulsion — more and more institutions are steering clear of Russia due to reputational risks and pure difficulties in clearing and executing trades. You have to tear up the distressed playbook. This is not the usual distressed situation. This is a very difficult time."
On Russia now 'utterly uninvestable' – Schroders CEO
"My anticipation would be that sanctions get stronger, and the cumulative impact of running down reserves will be felt ever more acutely, so things that are xseemingly difficult now will feel impossible in a week's time".
On Argentina to Get $9.8 Billion From IMF After Agreement Approval
Alejo Costa, chief Argentina strategist at BTG Pactual
"Even if the program does address Argentina's deficit monetization, the agreement seems very generous for the country. That's not a good thing, as it could give Kirchnerism the space to continue with unorthodox policies."
Top Gainers & Losers – 07-Mar-22*
---