US equity markets dropped again on Friday with the S&P and Nasdaq closing 0.6% and 1.4% lower respectively. Sectoral losses were led by Consumer Discretionary, Communication Services and Materials down over 1.3% each. US 10Y Treasury yields move 7bp higher to 3.14%. European markets dropped – the DAX, CAC and FTSE were down 1.6%, 1.7% and 1.5%. Brazil's Bovespa closed 0.6% lower. In the Middle East, UAE's ADX was flat while Saudi TASI closed 0.6% higher on Sunday. Asian markets have opened with a negative bias- STI and Nikkei were down 0.1% and 2.2% while Shanghai was flat and HSI was closed. US IG and HY CDS spreads widened 3.1bp and 20bp respectively. EU Main CDS spreads were 1.9bp wider and Crossover spreads were 9.5bp wider. Asia ex-Japan CDS spreads were 6.7bp wider.
US NFP came at 428k in April 2022 above forecasts of 391k. Unemployment rate was unchanged at 3.6%. Average hourly earnings jumped 5.5% YoY.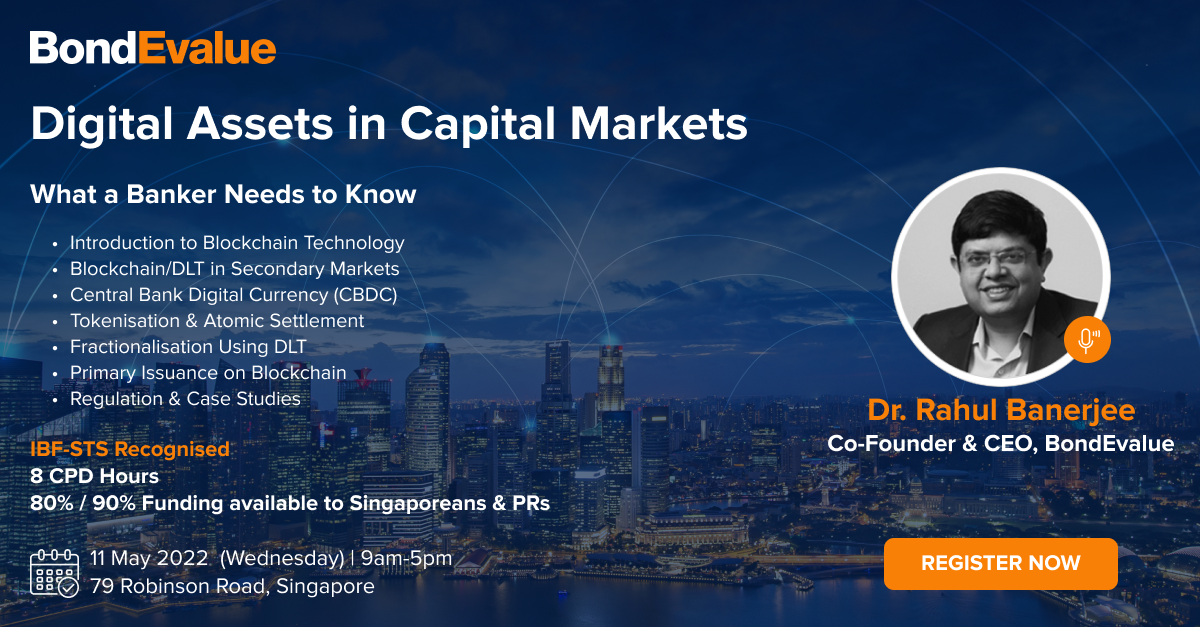 New Bond Issues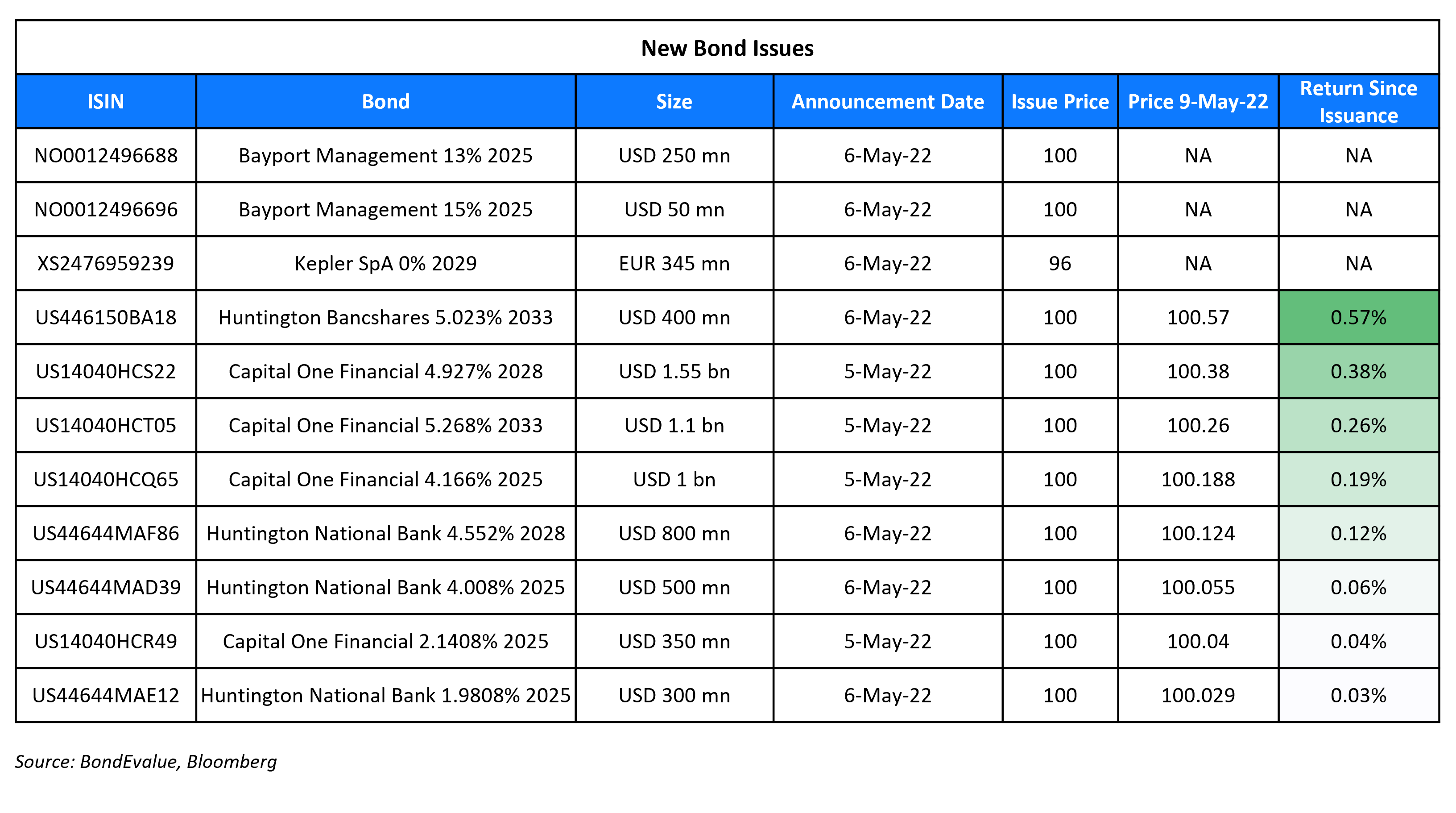 Capital One raised $2bn via a four-trancher. It raised:

The bonds are rated Baa1/BBB/A-. Proceeds will be used for general corporate purposes.
New Bonds Pipeline
ENN Energy hires for $ Green bond
Korea Expressway hires for $ bond
Busan Bank hires for $ Social bond
Kookmin Card hires for $ Sustainability bond
Continuum Energy Aura hires for $ Green Bond
Jubilant Pharma hires for $ bond
Sael Limited hires for $ 7Y Green bond
Rating Changes
Term of the Day
Bear Steepening
Bear Steepening refers to a move in the yield curve where the longer dated bond yields move higher than the shorter dated bond yield (far maturity bonds sell-off more than near maturity ones). In last week's move, the US 2s10s curve primarily bear steepened – the 10Y yield jumped 16bp while the 2Y yield was 4bp lower. Thus, the 10Y yield contributed to the bulk of the move, the net effect being a bear steepening of 20bp. A bear steepening move can occur due to different reasons some of them being long term expectations of inflation picking up, higher supply of longer dated bonds, central banks tapering purchases with a focus on the long-end bonds etc.
---
Talking Heads
On Fed Can Still Achieve Soft Landing – Jeremy Zirin, senior portfolio manager and head of private client US equities at UBS Asset Management
"I do think that the Federal Reserve being very clear that they're not contemplating far more aggressive tightening… really interesting was that Chair Powell said that he will strive to avoid adding uncertainty…  I don't think that if we do see a recession, it would be your normal, typical markets-go-down-30%… in our base case, the economy slows. It doesn't roll over."
"Taking at least two, or even three steps would be appropriate. The moves can be 25 basis points each, but raising rates above zero next year would be a strong signal to the public, even if there would still be a "fair part of the way to go" before achieving neutral.
On Stagflation Not Being the Base Case – ECB's Lagarde
"Stagflation isn't our baseline scenario presently. While extraordinarily large uncertainty could cause a slowdown in economic growth accompanied by high inflation, the current situation can't be compared to that of the 1970s."… based on the data at hand, net asset purchases are expected to end "at the beginning of the third quarter."
On Fed Officials Defending Policies, Saying Forward Guidance Is Working
St. Louis Fed's James Bullard
"Credible forward guidance means market interest rates have increased substantially in advance of tangible Fed action"… This provides another definition of 'behind the curve,' and the Fed is not as far behind based on this definition."
Federal Reserve Governor Christopher Waller
"When looked at this way, how far behind the curve could we have possibly been if, using forward guidance, one views rate hikes effectively beginning in September 2021?… If we knew then what we know now, I believe the Committee would have accelerated tapering and raised rates sooner"
Richmond Fed's Thomas Barkin
"I never rule anything out. So I think anything would be on the table… I'll just say our pace is pretty accelerated right now, and so if you go to the pace that the chairman suggested, that's a pretty accelerated pace."
Top Gainers & Losers – 09-May-22*